How to Preserve Meats
Buying meat in bulk is an excellent way to save money at the grocery store. However, traditional methods for storing these purchases may lead to freezer burn. To keep your purchases fresh and tasty, you should use the FoodSaver® Food Preservation System to keep air out and flavor in. This method keeps your meat fresh for up to three years!
The Value of Vacuum Sealing
Unlike other forms of food storage, vacuum sealing your meats provides a vast range of unique benefits. It's one of the best ways to ensure they don't spoil. Because the FoodSaver® System removes oxygen from the bag, meat is less likely to become oxidized and discolor. When food is exposed to air, it can cause bacteria to grow and go bad, however, meat preserved with the FoodSaver® System blocks out the air and keeps it fresh up to 5X longer (compared ordinary methods such as conventional plastic bags or portable containers).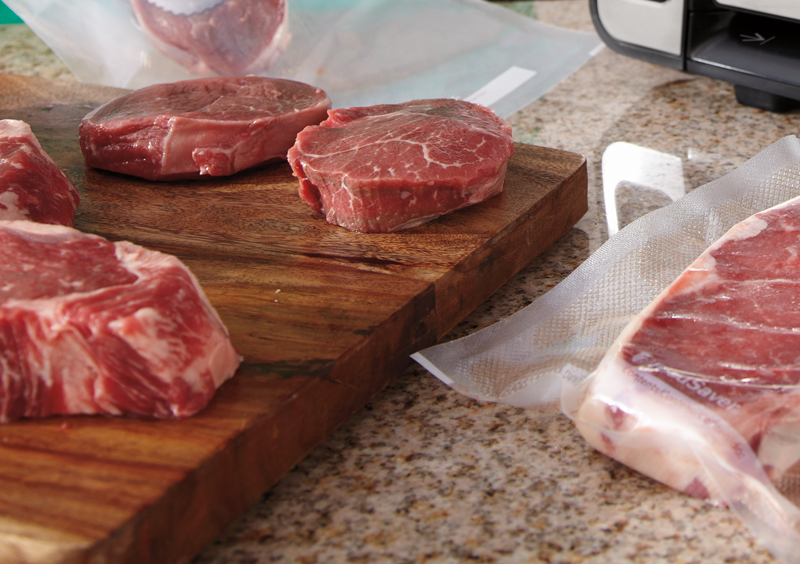 Benefits of Vacuum Sealing and Freezing
Since many of the types of bacteria that affect your food thrive at room temperature, you can pre-freeze your meats before vacuum sealing them for long-term storage in the freezer. By freezing first, you can ensure the bacteria have been killed before storing your meats for the long-term.
Depending on the type of meat that's preserved, the way it's been prepared and its initial freshness, its shelf life can vary. For the most part, however, foods that have been preserved with a vacuum sealer can last up to three years – which is a great advantage for budget-minded shoppers who can spot a good deal on bulk purchases. Remember to label each bag with the type of meat and date so you can easily identify them in the freezer.