FoodSaver® Bottle Stoppers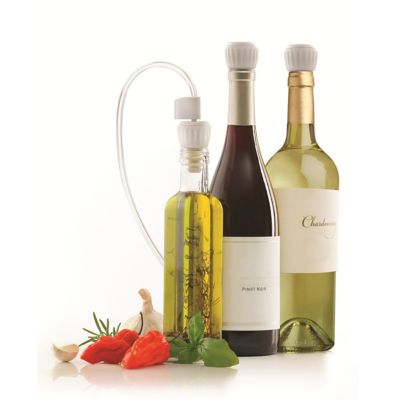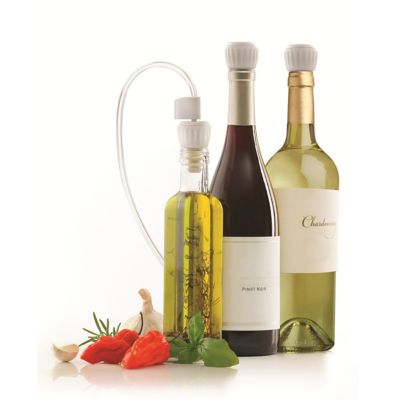 FoodSaver® Bottle Stoppers
Become a FreshBucks Rewards member to earn points and save on FoodSaver purchases, Join Now
Already a member? Log in now
Final Sale: may not be returned or exchanged
Become a FreshBucks Rewards member to earn points and save on FoodSaver purchases, Join Now
Already a member? Log in now
Final Sale: may not be returned or exchanged
Want us to let you know when the item you wanted is back in stock?
---

Free Standard Shipping on Orders $50+

Free Express Shipping on Orders $100+ Details
---
Product Details
Description
FoodSaver® WineSaver® Bottle Stoppers replace corks and vacuum seal wine, oils or infusions to keep them fresh with your FoodSaver® vacuum sealing system. Extend the life of your wine by sealing out air - the enemy of freshness. FoodSaver® Bottle Stoppers work on any standard wine bottle to create a vacuum seal that keeps wine fresh longer. BPA-free.
Features
Fits standard wine bottles
Keep wine fresh up to 5X longer
BPA-free
This accessory kit includes (3) Bottle Stoppers
Dishwasher safe: No
Rated

1

out of

5
by
Torbett
from
Wont hold suction long.
Wont hold suction long. I've gone back to my manual hand pump vacuum device.
Date published: 2011-12-07
Rated

3

out of

5
by
PopeJohnII
from
Works for me
Caveaut: not a wine guru, rarely will spend > $20/bottle. That said, these are ugly little plugs that are easy to use and have held vacuum & taste - for me - up to a week (usually at least semi-horizontal because most bottles are too tall with the plug to stand upright).
Date published: 2014-03-20
Rated

5

out of

5
by
Lovie1
from
this product is great!!!!
I now use this product to save my cooking oils, it is worth its weight in gold.
Date published: 2012-03-01
Rated

5

out of

5
by
Grandma Lois
from
Bottle Stoppers Stoppers
I have had one for ages and couldn't find in store. I love them I use for olive oil and vanilla besides wine.. Have had one on vanilla I bought in Mexico 5 years ago and it is just as fresh as the day I bought it. Love them.
Date published: 2017-02-13
Rated

5

out of

5
by
Cincinnatus
from
Best bottle stopper made
We routinely store partially opened bottles of wine in the refrigerator. Every stopper we tried leaked: corks leaked. lever activated stoppers leaked. The Food Saver stopper is the only stopper that doesn't. We have used our original stopper for years and it still doesn't leak. We are buying more to give away as Christmas gifts.
Date published: 2016-12-06
Rated

4

out of

5
by
honda1000
from
so far so good, but only time will tell
1. the bottle stoppers have fit all the bottles I've tried so far. 2. inserting and removing the stopper is smooth and easy. 3. they fit in the frig. door so hight isn't an issue. 4. the appearance is neutral. having said all that, a bottle of wine doesn't last more than 2-3 days around here so freshness and flavor over a week or two has yet to be determined.
Date published: 2014-11-09
Rated

5

out of

5
by
Inger427
from
Great on Vinegar Bottles Also!
I use red and white wines in my cooking and so they are not used as often as wines served for drinking. Freshness was always a big problem. Now with the Bottle Stoppers, the wines stay fresh much longer. I also love different vinegars and they have much the same problem. The good thing is that the bottle stoppers fit most of my vinegar bottles. These Bottles Stoppers are a major money saver for me and I am thrilled that Foodsaver offers them in their line of great sealing products.
Date published: 2015-08-16
Rated

5

out of

5
by
Jeever1
from
Easy to use, better than any hand pump equivalent.
We used to use a hand pump bottle stopper to save our leftover wine. They worked reasonably well. We recently opened a bottle and only had 2 glasses. I used the food saver stopper to save the remaining wine. We would normally try to drink the bottle the next day with our old stopper, otherwise the wine would start to turn. We forgot about this bottle and drank the rest of it 3 days later. It tasted better than the night we opened it.
Date published: 2014-11-26
Rated

5

out of

5
by
mc00000000
from
I am impressed!
I bought a less expensive vacuum sealer a while back. It used inexpensive poly film rolls for sealing meals. I worked- kind of. Bags often did not vacuum tight, frequently leaked. I thought it was a problem with the method. I saw this ad for the Food Saver brand. Checked online for ratings - very good. My local Costco also carries the unit, and I find 95+% of the time that the hardware Costco selects and sells is high quality. Got the sealer and was very impressed with the way it works. Only down side is that it does not work with the refill rolls I purchased for the cheapey. Not sure if the life extension of the sealed packs match the ad hype, time will tell.
Date published: 2015-10-20
Rated

1

out of

5
by
Akadude
from
Will not hold vacuum
These stoppers really need a gasket at the top to seal the wine bottles better. They lose vacuum overnight and your wine will go bad. Rarely, have I had a bottle that will "hiss" when the stopper is pulled out and the air can be heard going back in. If you don't finish the bottle, this is better than just sticking the cork back in. Just finish the bottle soon, or vacuum frequently.
Date published: 2019-12-24
Rated

5

out of

5
by
ElCariso
from
Keeps oils fresh
I bought 6 bottle stoppers and now use them to stopper all of my cooking oils (olive, sesame, avocado, etc.). I even have 2 leftover for my wine! It is so easy to use my oils and then stopper them back up with my FoodSaver. I have one larger bottle of olive oil where the opening was too big for a stopper. I might have to save a wine bottle to transfer it into.
Date published: 2015-11-05
Rated

5

out of

5
by
gram2
from
Works Great
These bottle stoppers work great with bottles of wine. I buy wine for cooking which I keep for quite a while and with these stoppers, the wine will still be good. I used to use pump wine stoppers but these are much better.
Date published: 2017-12-24
Rated

2

out of

5
by
Gmanjack
from
Product doesn't hold vacumn long enough.
Not happy with this bottle stopper. Vacumn is good to start, but is gone in a few hours. Does noot keep Wine fresh.
Date published: 2014-06-21
Rated

5

out of

5
by
DanWind
from
ease of use with great benifits
The mere fact these products keep my oils fresh and my food fresh for long periods of time with todays prices is a given. I would be lost with out my various Food Saver products and intend to purchase more before spring. I recently created a few dishes and used the bags that hold liquids in as marination bags, they worked excellent. I then used them to hold the leftovers that also had liquid aspects and they are holding up very well. I don't know how I could live without them.
Date published: 2015-01-20
Rated

5

out of

5
by
Rebecca739
from
This product preformed as expected.
We ordered the marinating container for small portions. It worked great. But consider the amount of what you want to marinate. I cook for 2, and that will make servings for 2 or 3 if they are Tapas or small servings.Just think how much product you wish to marinate and decide how much you will need to serve. Remember' your FoodSaver has the ability to vacuum seal as large an amount as you may want to marinade foods and seal them. It works even if you have to make multiple seal bags.
Date published: 2015-06-07
Rated

5

out of

5
by
chrisannsaz
from
Wonderful product!
These bottle stoppers are fabulous...not do they assist in keeping things like wine and olive oil fresh...it save you $$. Lets face it neither of these items are cheap but the way the bottle stoppers work really provide longer shelf life...thank you food saver!
Date published: 2017-11-10
Rated

5

out of

5
by
Deadeye
from
For wine and soda bottles!!
Great concept for preserving freshness to both wine and soda bottles!!! As soon as a soda bottle is opened, IMMEDIATELY it goes flat......not with "stoppers"!!! Life is extended!!
Date published: 2015-08-16
Rated

5

out of

5
by
Jeannie C
from
Wine for dinner
I am very pleased with the foodsaver bottle stoppers. We hesitate to open a bottle of wine because of the waste, but the bottle stoppers have eliminated this concern
Date published: 2020-11-09
Rated

2

out of

5
by
Neumba
from
Great idea.,.but won't last long
This product works well for a short while but then stops holding the seal. I expected better of Foodsaver. Sadly there is a pattern here. Foodsaver products work very well, but they lack durability.
Date published: 2021-01-30
Rated

4

out of

5
by
No1ConMan
from
Suck it up!
Gets all of the air out of your wine bottles and keeps it out! I own nine of these and two were dead on arrival from years and years ago (No Springs inside the device to hold the ball down) the rest have been outstanding! The two I have that don"t work were from Tilia the old company.
Date published: 2016-01-14
Rated

5

out of

5
by
MissHattie
from
Bottle Stoppers
We use these stoppers on our wine bottles to keep the wine fresh for the next one or two days. I just started using one on my olive oil, but presume it will help keep the oil from getting rancid.
Date published: 2013-11-24
Rated

5

out of

5
by
tevyb
from
First stopper that works
I have been looking along time for wine stopper that lives up to its' hype and this one really does. Easy to use and holds the seal for ever. After storing a bottle wine for over a month and opening it the wine was just like the day i first uncorked it.
Date published: 2015-03-01
Rated

5

out of

5
by
jimmyd2
from
My new stoppers work great!
I make homemade wine as a hobby, so you can imagine how many bottles of open wine I have sitting around! These stoppers keep those partial bottles just as fresh as the day that I corked them. Great product. Jim from leitchfield ky.
Date published: 2016-01-18
Rated

4

out of

5
by
Mustangfrank
from
Worth the effort to preserve good wine.
Bringing out the machine is not the first thing we want to do after a couple glasses of wine but well worth the effort. My girlfriend's go to wine is over $20 a bottle and before using these she never drank leftover wine. The stoppers work as advertised and keep the wine fresh for multiple openings. Nice to not have to waste good wine or hesitate to open a bottle when you just want a glass or two.
Date published: 2015-12-31
Rated

5

out of

5
by
jessicathemonkey
from
Very effective
Ultra-easy to use and as effective as could be! They're just a little bit of a challenge to get out, though...but I would expect that. Well worth it.
Date published: 2014-09-09
Rated

5

out of

5
by
dtrainer
from
Preservation of opened wine bottles
These work great for still wines. Now I can preserve them along with my sparkling wines, which require a different type of stopper.
Date published: 2019-12-30
Rated

5

out of

5
by
Mswick08
from
Cheers!
I love having the ability to open up a nice bottle of wine without the worry of the wine going bad due to the fact that I may not be able to finish the bottle! The system is so easy to use & takes only a few seconds! I would highly recommend this to anyone who has a food saver machine & loves wine.
Date published: 2014-07-28
Rated

5

out of

5
by
Kattnip
from
Great for wine, oils, etc
I use this for wine, especially expensive wine I do not want to throw out. Great for preventing rancidity in oils too.
Date published: 2020-09-09
Rated

5

out of

5
by
XXII
from
Easy to use. Great for more occasional wine use.
Have only used on wine so far. We use several oils and vinegars which I will try out soon.
Date published: 2017-05-21
Rated

5

out of

5
by
Sabrina33
from
This is an amazing way to keep wine fresh
My husband was buying expensive canisters of nitrogen to store half finished bottles of wine. I introduced him to these stoppers. And showed him how to use the foodsaver. Now he always pumps up his bottle himself and we have saved a small fortune on nitrogen.
Date published: 2012-03-11
bvseo_sdk, dw_cartridge, 18.2.0, p_sdk_3.2.0
CLOUD, getReviews, 0ms
reviews, product
---
<!--begin-bvseo-questions--> <!--begin-questions--> <div id="bvseo-questionsSection"> <div class="bvseo-question-answer" data-questionid="4725005"> <h2 class="bvseo-question"> do you carry the mason jar attachment for model &amp;quot;FoodSaver V4400&amp;quot; </h2> <div class="bvseo-question-detail"> </div> <div class="bvseo-author">Asked by: Jean60</div> <div class="bvseo-answer" data-answerid="5379412"> We deeply apologize for the delay. We appreciate your patience as we diligently work on replenishing our stock. We do not have a firm date when this item will be available. Keep an eye on our site for availability. <div class="bvseo-author">Answered by: FoodSaver Brand</div> <div class="bvseo-pubdate">Date published: 2021-08-01</div> </div> </div> <div class="bvseo-question-answer" data-questionid="4524548"> <h2 class="bvseo-question"> Is this compatible with model V3880? Do I just push the accessory button when using this? Does it stop automatically when it is done sealing? </h2> <div class="bvseo-question-detail"> </div> <div class="bvseo-author">Asked by: Boltman</div> <div class="bvseo-answer" data-answerid="5244125"> Yes, it is compatible! Also yes, you can just push the button for accessory and it will directly go to the options for using the accessory of your machine. Lastly, yes it will automatically stop when it is done sealing. <div class="bvseo-author">Answered by: FoodSaver Brand</div> <div class="bvseo-pubdate">Date published: 2021-08-01</div> </div> </div> <div class="bvseo-question-answer" data-questionid="4401340"> <h2 class="bvseo-question"> Can this wine sealer work with FM3941 model vacuum sealer? </h2> <div class="bvseo-question-detail"> </div> <div class="bvseo-author">Asked by: MikeG47</div> <div class="bvseo-answer" data-answerid="5145465"> Yes, these bottle stoppers will defimitely work on model FM3941. To detach the hose, pull the clear bottom portion from top portion (black upper piece) firmly and insert tip into the bottle stopper port. <div class="bvseo-author">Answered by: FoodSaver Brand</div> <div class="bvseo-pubdate">Date published: 2020-07-13</div> </div> </div> <div class="bvseo-question-answer" data-questionid="4390590"> <h2 class="bvseo-question"> Is this compatible with the V2244. If so, what hose do I need </h2> <div class="bvseo-question-detail"> </div> <div class="bvseo-author">Asked by: Slau1</div> <div class="bvseo-answer" data-answerid="5140215"> Great question! Yes, you will need our FoodSaver&amp;reg; accessory hose part number T17-0059 to do so. We appreciate your patience as we diligently work on replenishing our stock for this item. Alternatively, you may search the part number on our partner retailer websites which also brings out the best of the FoodSaver brand. <div class="bvseo-author">Answered by: FoodSaver Brand</div> <div class="bvseo-pubdate">Date published: 2020-05-04</div> </div> </div> <div class="bvseo-question-answer" data-questionid="4386577"> <h2 class="bvseo-question"> Does this work with FM5200? </h2> <div class="bvseo-question-detail"> </div> <div class="bvseo-author">Asked by: Jacks</div> <div class="bvseo-answer" data-answerid="5139702"> Yes, it will work! Simply remove the top part of the machine&#39;s retractable handheld sealer from its liquid chamber to reveal a nozzle that can connect to the bottle stoppers. <div class="bvseo-author">Answered by: FoodSaver Brand</div> <div class="bvseo-pubdate">Date published: 2020-05-09</div> </div> </div> <div class="bvseo-question-answer" data-questionid="4367119"> <h2 class="bvseo-question"> Will this work with the V100 handheld </h2> <div class="bvseo-question-detail"> </div> <div class="bvseo-author">Asked by: MJLeBeau</div> <div class="bvseo-answer" data-answerid="5134304"> Yes, it will! We hope that our response helps you in making informed decisions for you and your family. <div class="bvseo-author">Answered by: FoodSaver Brand</div> <div class="bvseo-pubdate">Date published: 2020-04-27</div> </div> </div> <div class="bvseo-question-answer" data-questionid="4369012"> <h2 class="bvseo-question"> Why can&#39;t you just bring back the softer gray tops? I finally lost the last one I had and have tried to use the white ones. They simply are inferior to the older ones. They don&#39;t seem to seal as well... I had good wine go flat after just a few days. </h2> <div class="bvseo-question-detail"> </div> <div class="bvseo-author">Asked by: tbidder</div> <div class="bvseo-answer" data-answerid="5123625"> We appreciate you taking time out of your busy schedule to let us know what you think. Your feedback has been valued and definitely appreciated. We apologize for the inconvenience. We stand behind our products 100% and would like to rectify this issue the best we can for you. We want to learn more about your situation and what exactly happened. We encourage you to contact our customer care department at 1-877-777-8042 or send us a direct message via live chat here on the website and allow us to turn this experience around for you. We are here for you Monday-Friday 9 am-6 pm EST, and looking forward to hearing from you. <div class="bvseo-author">Answered by: FoodSaver Brand</div> <div class="bvseo-pubdate">Date published: 2021-04-26</div> </div> </div> <div class="bvseo-question-answer" data-questionid="3408439"> <h2 class="bvseo-question"> Can I use the bottle stoppers on growlers of beer? </h2> <div class="bvseo-question-detail"> </div> <div class="bvseo-author">Asked by: KASH90277</div> <div class="bvseo-answer" data-answerid="5102409"> Thank you for contacting us! We recommend that please don&#39;t use the FoodSaver&amp;reg; Bottle Stoppers with growlers of beer as this is not intended to be used this way. We hope this helps and always stay safe! <div class="bvseo-author">Answered by: FoodSaver Brand</div> <div class="bvseo-pubdate">Date published: 2020-06-04</div> </div> </div> <div class="bvseo-question-answer" data-questionid="3401791"> <h2 class="bvseo-question"> Can u use with the FM1510? </h2> <div class="bvseo-question-detail"> </div> <div class="bvseo-author">Asked by: DeeMG</div> <div class="bvseo-answer" data-answerid="5102364"> Great question! The FoodSaver FM1510 Vacuum Sealing System is not compatible with our FoodSaver&amp;reg; Bottle Stoppers. We hope this helps and always stay safe! <div class="bvseo-author">Answered by: FoodSaver Brand</div> <div class="bvseo-pubdate">Date published: 2020-04-07</div> </div> </div> <div class="bvseo-question-answer" data-questionid="3988626"> <h2 class="bvseo-question"> My food saver (Costco) has built in attachment for vacuuming from container. I&amp;rsquo;m looking for something to vacuum air from wine bottle. What do I need? </h2> <div class="bvseo-question-detail"> </div> <div class="bvseo-author">Asked by: oneputt824</div> <div class="bvseo-answer" data-answerid="5097546"> Thank you for loving our product. Sorry for the delayed response. We need to buy the bottle stoppers. the Retractable Handheld Sealer from the machine is compatible with wine or bottle stoppers. <div class="bvseo-author">Answered by: FoodSaver Brand</div> <div class="bvseo-pubdate">Date published: 2020-04-09</div> </div> </div> <div class="bvseo-question-answer" data-questionid="4165253"> <h2 class="bvseo-question"> Are the current bottle stoppers the white stiff model? I can&#39;t tell for sure, but the photo appears to show gray stoppers on the table top and white stoppers in the bottles. If current model is only white, has any effort been made to improve them? </h2> <div class="bvseo-question-detail"> </div> <div class="bvseo-author">Asked by: JamesRB</div> <div class="bvseo-answer" data-answerid="5095051"> We deeply apologize for the delayed response. We&#39;d like to learn more about your situation and what exactly happened. We want to make things right. So, please give us a call at 1-877-777-8042 or send us a message via live chat here on the site and we will get you all taken care of. For your convenience, we are available Mon-Sat, from 9 am-6 pm, EST. We look forward to hearing from you! <div class="bvseo-author">Answered by: FoodSaver Brand</div> <div class="bvseo-pubdate">Date published: 2022-04-11</div> </div> </div> <div class="bvseo-question-answer" data-questionid="4323525"> <h2 class="bvseo-question"> Can this be used with the 4800 Food sealer </h2> <div class="bvseo-question-detail"> </div> <div class="bvseo-author">Asked by: Jerry L</div> <div class="bvseo-answer" data-answerid="5094944"> We apologize for the delayed response. Yes, you can. The Bottle Stoppers (T03-0024-02P) can be used with the 4800 Food sealer. For reference and instructions, please click the links below:&#13;&#10;&#13;&#10;https://www.foodsaver.com/on/demandware.static/-/Sites-food-saver-Library/default/dwdfe16f9e/documents/instruction-manuals/T03-0024-02P-FS_Bottle%20Stopper_IB.pdf&#13;&#10;&#13;&#10;https://www.foodsaver.com/service-and-support/how-to-videos/how-to-video-page-bottle-stopper.html <div class="bvseo-author">Answered by: FoodSaver Brand</div> <div class="bvseo-pubdate">Date published: 2020-04-03</div> </div> </div> <div class="bvseo-question-answer" data-questionid="4128727"> <h2 class="bvseo-question"> Are the bottle stoppers reusable </h2> <div class="bvseo-question-detail"> </div> <div class="bvseo-author">Asked by: Shopper95</div> <div class="bvseo-answer" data-answerid="5088628"> We deeply apologize for the delayed response. Yes! FoodSaver&amp;reg; Bottle Stoppers is reusable. <div class="bvseo-author">Answered by: FoodSaver Brand</div> <div class="bvseo-pubdate">Date published: 2020-04-09</div> </div> </div> <div class="bvseo-question-answer" data-questionid="3902363"> <h2 class="bvseo-question"> Does this order have 1 stopper or 3 as it states </h2> <div class="bvseo-question-detail"> </div> <div class="bvseo-author">Asked by: Donelle</div> <div class="bvseo-answer" data-answerid="5087661"> Thank you for showing interest in our product. Sorry for the delayed response. Yes, it includes 3 bottle stoppers. <div class="bvseo-author">Answered by: FoodSaver Brand</div> <div class="bvseo-pubdate">Date published: 2020-04-09</div> </div> </div> <div class="bvseo-question-answer" data-questionid="4177298"> <h2 class="bvseo-question"> Which hose do I need to use with these? &amp;nbsp;My FoodSaver did not come with a hose. </h2> <div class="bvseo-question-detail"> </div> <div class="bvseo-author">Asked by: Monimar</div> <div class="bvseo-answer" data-answerid="5085296"> Thank you for your question and we apologize for the delay in reply. You can use all food saver hose as long as with FoodSaver&amp;reg; Bottle Stoppers. <div class="bvseo-author">Answered by: FoodSaver Brand</div> <div class="bvseo-pubdate">Date published: 2020-03-27</div> </div> </div> <div class="bvseo-question-answer" data-questionid="4292467"> <h2 class="bvseo-question"> Will the wine bottle stoppers work with soda bottles (ie Coke or 7-Up) </h2> <div class="bvseo-question-detail"> </div> <div class="bvseo-author">Asked by: mjl89123</div> <div class="bvseo-answer" data-answerid="5083914"> Thank you for your question and we apologize for the delay in reply. We regret that you cannot use the wine bottle stoppers to use with soda bottles. This is for your safety. <div class="bvseo-author">Answered by: FoodSaver Brand</div> <div class="bvseo-pubdate">Date published: 2020-03-26</div> </div> </div> <div class="bvseo-question-answer" data-questionid="4203749"> <h2 class="bvseo-question"> I have an FM 5400 series model. Will your glass jar and wine bottle attachments work with this model? </h2> <div class="bvseo-question-detail"> </div> <div class="bvseo-author">Asked by: John N</div> <div class="bvseo-answer" data-answerid="5081647"> Thank you for reaching out! Yes, you can use the FoodSaver&amp;reg; Bottle Stoppers with your FoodSaver&amp;reg; FM5400 Model. We hope this helps and if there&#39;s anything we can do to assist you or for updates, please send us a direct message via live chat here on the website or give us a call at 877-777-8042. For your convenience, we are available 9 am-6 pm Mon- Fri, EST and 9 am-6 pm Saturday, EST. <div class="bvseo-author">Answered by: FoodSaver Brand</div> <div class="bvseo-pubdate">Date published: 2020-03-25</div> </div> </div> <div class="bvseo-question-answer" data-questionid="3376542"> <h2 class="bvseo-question"> Do you need to keep the wine chilled after using the wine saver? </h2> <div class="bvseo-question-detail"> </div> <div class="bvseo-author">Asked by: j122945</div> <div class="bvseo-answer" data-answerid="3577281"> Excellent question! If your wine normally requires that you chill it after opening then yes, you will still need to keep it chilled. Vacuum sealing simply keeps it fresher longer. <div class="bvseo-author">Answered by: FoodSaver Support</div> <div class="bvseo-pubdate">Date published: 2018-12-22</div> </div> </div> <div class="bvseo-question-answer" data-questionid="3372936"> <h2 class="bvseo-question"> How long dies it take the vacuum dealer to remove air from the bottle. Does it stop by itself? </h2> <div class="bvseo-question-detail"> </div> <div class="bvseo-author">Asked by: Marilena</div> <div class="bvseo-answer" data-answerid="3570221"> Great question! It should take approximately 15-20 seconds to vacuum out all of the air. Your FoodSaver should stop on its own once all of the air has been evacuated. <div class="bvseo-author">Answered by: FoodSaver Support</div> <div class="bvseo-pubdate">Date published: 2018-12-17</div> </div> </div> <div class="bvseo-question-answer" data-questionid="3355450"> <h2 class="bvseo-question"> What is the part number of the hose that goes with the wine stoppers </h2> <div class="bvseo-question-detail"> </div> <div class="bvseo-author">Asked by: Empty</div> <div class="bvseo-answer" data-answerid="3562647"> Thank you for asking! FoodSaver Wine Stoppers will work with all of our accessory hoses. <div class="bvseo-author">Answered by: FoodSaver Support</div> <div class="bvseo-pubdate">Date published: 2018-12-12</div> </div> </div> <div class="bvseo-question-answer" data-questionid="3223807"> <h2 class="bvseo-question"> Once the wine is sealed how do you unseal it </h2> <div class="bvseo-question-detail"> </div> <div class="bvseo-author">Asked by: yoman</div> <div class="bvseo-answer" data-answerid="3471267"> Thanks for asking! To remove the FoodSaver&amp;reg; Bottle Stopper, simply twist and pull up on the bottle stopper to release the vacuum. <div class="bvseo-author">Answered by: FoodSaver Support</div> <div class="bvseo-pubdate">Date published: 2020-02-10</div> </div> </div> <div class="bvseo-question-answer" data-questionid="3211461"> <h2 class="bvseo-question"> I ordered this and have model #54-1258, do I need to order another accessory? It seems like I need a grey adapter. </h2> <div class="bvseo-question-detail"> </div> <div class="bvseo-author">Asked by: Teeny0517</div> <div class="bvseo-answer" data-answerid="3465666"> For assistance, please contact us via live chat on our site. Specialists are available Monday-Saturday 9am-6pm EST. We will be happy to chat with you! <div class="bvseo-author">Answered by: FoodSaver Support</div> <div class="bvseo-pubdate">Date published: 2019-07-02</div> </div> </div> <div class="bvseo-question-answer" data-questionid="3089826"> <h2 class="bvseo-question"> would this wine stopper work with a bottle of champagne? </h2> <div class="bvseo-question-detail"> </div> <div class="bvseo-author">Asked by: JoyceR</div> <div class="bvseo-answer" data-answerid="3452434"> Their video specifically says that this does NOT work on Champagne or carbonated beverages. &amp;nbsp;So I don&#39;t understand this answer.&amp;nbsp; <div class="bvseo-author">Answered by: DakotaDeb</div> <div class="bvseo-pubdate">Date published: 2019-10-24</div> </div> </div> <div class="bvseo-question-answer" data-questionid="3152841"> <h2 class="bvseo-question"> Does these stoppers work with the Foodsaver model 5230? It appears the nozzle that does into the stopper is not the save accessory that is on my food saver model.&amp;nbsp; </h2> <div class="bvseo-question-detail"> </div> <div class="bvseo-author">Asked by: Greg73</div> <div class="bvseo-answer" data-answerid="3413355"> They sure do! Simply remove the clear reservoir portion at the end of your accessory hose and insert the tip of your hose into the bottle stopper. <div class="bvseo-author">Answered by: FoodSaver Support</div> <div class="bvseo-pubdate">Date published: 2019-11-19</div> </div> </div> <div class="bvseo-question-answer" data-questionid="3058223"> <h2 class="bvseo-question"> Why can&#39;t you make an adapter so that handheld sealer i.e. FSFRSH0051 will work with the jar and wine bottle sealers?&#13;&#10;This is the only purpose for which I use my sealer - it&#39;s ridiculous to trundle out the big sealer just for sealing Mason Jars! </h2> <div class="bvseo-question-detail"> </div> <div class="bvseo-author">Asked by: lokainvest</div> <div class="bvseo-answer" data-answerid="3328037"> We apologize for your frustrations and will pass you comments along to the appropriate department. Happy FoodSaving! <div class="bvseo-author">Answered by: FoodSaver Support</div> <div class="bvseo-pubdate">Date published: 2020-01-11</div> </div> </div> <div class="bvseo-question-answer" data-questionid="2898903"> <h2 class="bvseo-question"> Are the gray ones available any more? </h2> <div class="bvseo-question-detail"> </div> <div class="bvseo-author">Asked by: sulu</div> <div class="bvseo-answer" data-answerid="3147134"> This is the new color of our Bottle Stoppers. Rest assured the quality and durability of the Bottle Stoppers remains intact. <div class="bvseo-author">Answered by: FoodSaver Support</div> <div class="bvseo-pubdate">Date published: 2018-04-09</div> </div> </div> <div class="bvseo-question-answer" data-questionid="2834770"> <h2 class="bvseo-question"> Will the handheld vacuum system work with these stoppers? </h2> <div class="bvseo-question-detail"> </div> <div class="bvseo-author">Asked by: Freddo</div> <div class="bvseo-answer" data-answerid="3091434"> The FreshSaver is designed to work with containers and vacuum zipper bags. To use the bottle stoppers, you need a regular FoodSaver. If you have any further questions, feel free to send us a direct message via live chat here on the site. For your convenience our chat team is available Mon-Sat 9am-6pm, EST. <div class="bvseo-author">Answered by: FoodSaver Support</div> <div class="bvseo-pubdate">Date published: 2018-03-08</div> </div> </div> <div class="bvseo-question-answer" data-questionid="2787650"> <h2 class="bvseo-question"> how many stoppers in an order? </h2> <div class="bvseo-question-detail"> </div> <div class="bvseo-author">Asked by: Johnny Cool</div> <div class="bvseo-answer" data-answerid="3066773"> One box will include 3 bottle stoppers. <div class="bvseo-author">Answered by: FoodSaver Support</div> <div class="bvseo-pubdate">Date published: 2018-04-20</div> </div> </div> <div class="bvseo-question-answer" data-questionid="2782502"> <h2 class="bvseo-question"> do I need a addinatiol hose for my model V4400 or will the retracable handheld sealer work </h2> <div class="bvseo-question-detail"> </div> <div class="bvseo-author">Asked by: marz</div> <div class="bvseo-answer" data-answerid="3065881"> The retractable handheld sealer of your V4400 will work with these bottle stoppers. To use this accessory, simply remove the liquid reservoir (clear container) from the hose. Happy sealing! <div class="bvseo-author">Answered by: FoodSaver Support</div> <div class="bvseo-pubdate">Date published: 2018-12-17</div> </div> </div> <div class="bvseo-question-answer" data-questionid="2764474"> <h2 class="bvseo-question"> With which liquids/food bottles can these be used? Marinades? Sauces? Salad Dressing? </h2> <div class="bvseo-question-detail"> </div> <div class="bvseo-author">Asked by: taligirl</div> <div class="bvseo-answer" data-answerid="3035865"> Great question! Our FoodSaver&amp;reg; bottle stoppers fits standard wine bottles. You can vacuum seal any liquids (wine, salad dressing, sauces and marinades) once the mouth is the size of a standard wine bottle. <div class="bvseo-author">Answered by: FoodSaver Support</div> <div class="bvseo-pubdate">Date published: 2018-03-08</div> </div> </div> </div> <script type="text/javascript"> if (document.getElementById('bvseo-questionsSection')) { document.getElementById('bvseo-questionsSection').style.display = 'none'; } </script> <!--end-questions--> <!--begin-pagination--> <ul id="bvseo-paginationSection"> <li class="bvseo-paginationItem"><a class="bvseo-paginationLink" href="https://www.foodsaver.com/parts-accessories/jar-bottle-sealers/foodsaver-bottle-stoppers/SAP_T03002402P.html?&bvrrp=Main_Site-en_US/questions/product/3/SP_446929.htm">FoodSaver&reg; Bottle Stoppers Questions - page 3</a></li> </ul> <!--end-pagination--> <ul id="BVSEO_meta" style="display:none!important"> <li data-bvseo="bvDateModified">y_2022, m_5, d_16, h_21CST</li> <li data-bvseo="ps">bvseo_bulk, prod_bvqa, vn_bulk_3.0.27</li> <li data-bvseo="cp">cp_2, bvpage2n</li> <li data-bvseo="co">co_hasquestionsanswers, tq_83</li> <li data-bvseo="cf">loc_en_US, sid_SP_446929, prod, sort_[SortEntry(order=LAST_APPROVED_ANSWER_SUBMISSION_TIME, direction=DESCENDING)]</li> <li data-bvseo="diagnostics">clientName_foodsaver</li> </ul> <!--end-bvseo-questions--> <ul id="BVSEOSDK_meta" style="display: none !important;"> <li data-bvseo="sdk">bvseo_sdk, dw_cartridge, 18.2.0, p_sdk_3.2.0</li> <li data-bvseo="sp_mt">CLOUD, getContent, 0ms</li> <li data-bvseo="ct_st">questions, product</li> </ul>
product-detail-view
oos-pdp