FoodSaver® VS3182 Multi-Use Vacuum Sealing & Food Preservation System, Stainless Steel, with FoodSaver Bags, Rolls, and Bonus Items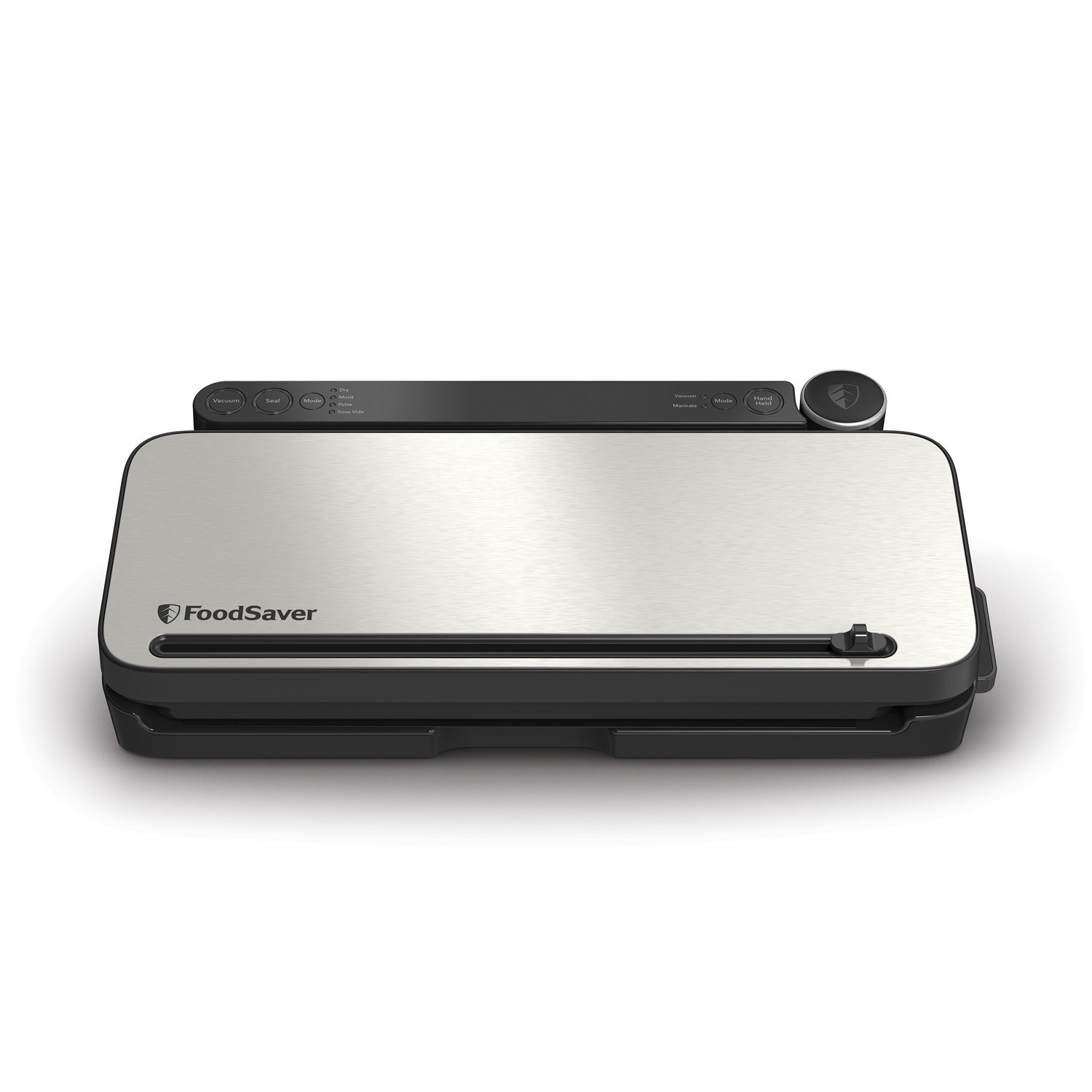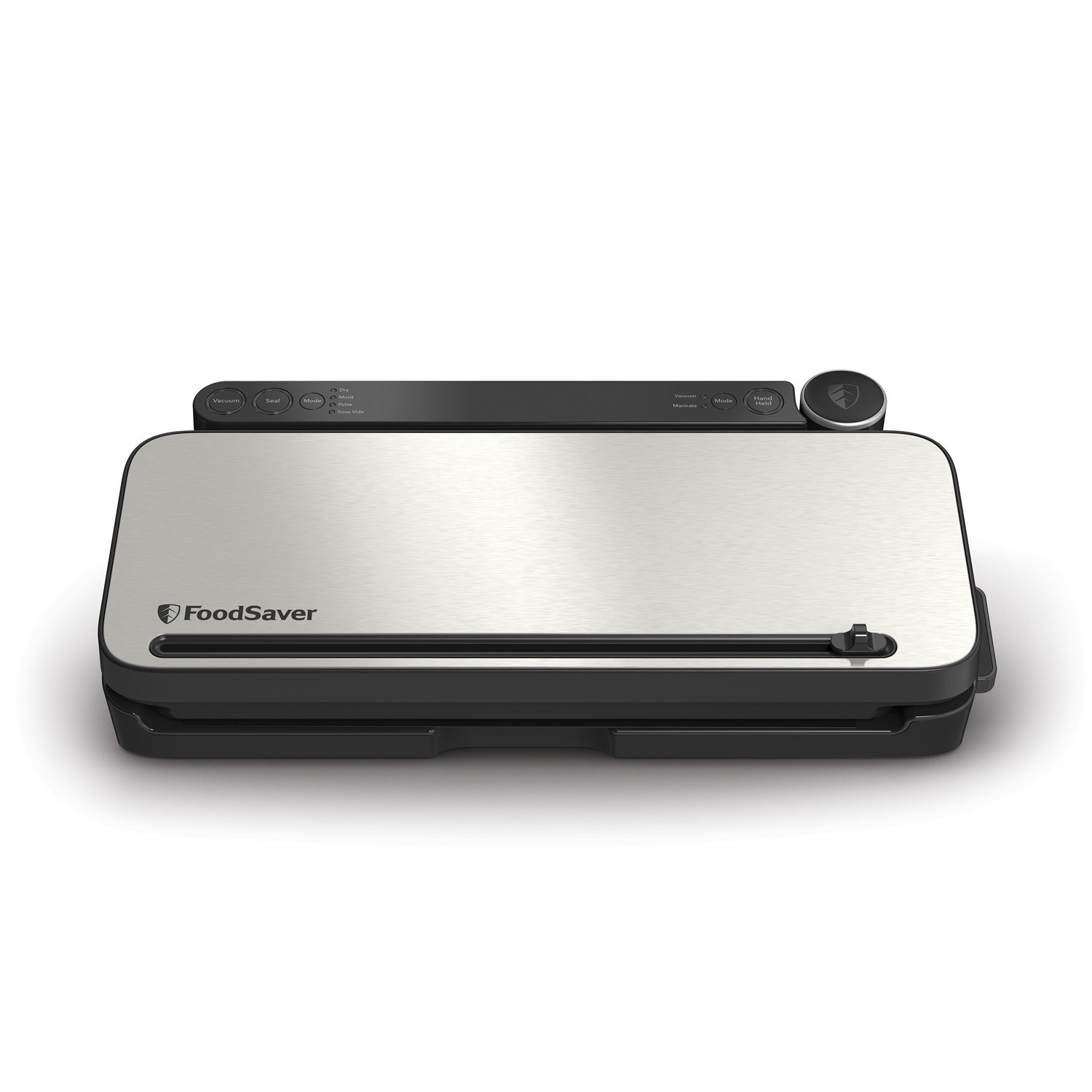 FoodSaver® VS3182 Multi-Use Vacuum Sealing & Food Preservation System, Stainless Steel, with FoodSaver Bags, Rolls, and Bonus Items
Sale Price
$199.99
Strikethrough List Price

$220.49
Become a FreshBucks Rewards member to earn points and save on FoodSaver purchases, Join Now
Already a member? Log in now
Final Sale: may not be returned or exchanged
Sale Price
$199.99
Strikethrough List Price

$220.49
Become a FreshBucks Rewards member to earn points and save on FoodSaver purchases, Join Now
Already a member? Log in now
Final Sale: may not be returned or exchanged
Want us to let you know when the item you wanted is back in stock?
---

Free Standard Shipping on Orders $50+

Free Express Shipping on Orders $100+ Details
---
Product Details
Description
This FoodSaver Multi-Use Food Preservation System combines the power of a heat sealer with the convenience of a retractable handheld vacuum sealer, in one unit. Use the heat seal strip for long-term preservation in the freezer, and the handheld sealer for short-term preservation in the fridge or pantry. This Food Preservation System keeps food fresh up to 5x longer in the freezer compared to ordinary storage methods, and also helps prevent freezer burn. FoodSaver can also help fridge and pantry items stay fresh for longer. For even more ways to use your FoodSaver, try the sous vide setting to seal food for delicious sous vide cooking, the pulse setting to safely seal delicate foods, the marinate setting for flavor in minutes, and the dry and moist settings for an airtight seal, regardless of the type of food you're sealing. This unit's sleek, modern design features a stainless steel finish that looks great in any kitchen. So you can make the most of your FoodSaver system, it comes with six 1-quart vacuum seal bags, five 1-gallon vacuum seal bags, five 1-quart Easy Fill Bags, six 1-quart vacuum zipper bags, five 1-gallon vacuum zipper bags, one expandable and two 11" x 16' vacuum seal rolls, a Portion Pouch roll, a bottle stopper, and a 10-cup Preserve & Marinate Container.
Features
KEEP FOOD FRESH LONGER: This FoodSaver Multi-Use Preservation System keeps food fresh in the freezer up to 5x longer, and fresher longer in the fridge and pantry, compared to ordinary storage methods—and helps prevent freezer burn as well
VERSATILE: Combines heat sealer and handheld vacuum sealer in one unit; use the heat seal strip for freezer storage, and the handheld sealer for fridge and pantry storage
SOUS VIDE/PULSE/ MARINATE/MOIST/DRY SETTINGS: Create the perfect seal for delicious sous vide recipes with the sous vide setting; seal delicate foods, like baked goods, without crushing using the pulse setting; marinate in minutes with marinate setting; dry and moist settings ensure an airtight seal is achieved regardless of the type of food you are sealing
MORE FEATURES: Roll storage with built-in cutter bar so you can create custom-sized vacuum seal bags; time-saving feature makes bags from rolls faster by cutting your bag as you're sealing your next bag; alignment tool and angled opening ensure ideal bag placement; removable drip tray
EASY TO USE: Simply press vacuum button to remove air and seal, and LED light indicates sealing is complete
INCLUDES: Six 1-quart vacuum seal bags, five 1-gallon vacuum seal bags, five 1-quart Easy Fill Bags, six 1-quart vacuum zipper bags, five 1-gallon vacuum zipper bags, one expandable roll, two 11" x 16' vacuum seal rolls, one Portion Pouch roll, one bottle stopper, and one 10-cup Preserve & Marinate Container
DURABLE: Guaranteed to reach an optimal vacuum level and airtight seal; 5-year warranty
NRTL TESTED & CERTIFIED: All FoodSaver appliances are ETL or UL certified by Nationally Recognized Test Laboratories (NRTLs) for compliance with applicable product safety test standards; safety is our #1 priority
Included Parts
1 - VS3180 Vacuum Sealer
6 - Quart Vacuum Seal Bags
5 - Gallon Vacuum Seal Bags
6 - Quart Vacuum Zipper Bags
5 - Gallon Vacuum Zipper Bags
1 - Bottle Stopper
1 - Expandable Roll
2 - 11" x 16' Vacuum Seal Roll
1 - Portion Pouch Roll (11" x 5')
5 - Quart Easy Fill Bags
1 - 10 Cup Preserve & Marinate Container
Product Instructions
Specifications
Dimensions:

5.9" H x 16.2" W x 8.4" D
Rated

5

out of

5
by
moneymike12
from
Love the design
Replaced my old food saver (that was still going strong) with this new model and it works as advertised. I got this particular model because it matches everything else in my kitchen and I love the looks of it. It comes with plenty of bags to last you a while and the plastic container is big enough to store just about any left over meal. The machine is very easy to use and works extremely well. I vacuumed sealed about 20 bags of homemade jerky and I didn't have any issues with it.
Date published: 2021-02-24
Rated

5

out of

5
by
Shan2609
from
Extra freshness!
I'm super happy about the Food Saver. It's a total game changer in regards to keeping my families food fresher for much longer. I'm able to buy fresh meat in bulk and portion it out and vacuum seal it to keep it fresh. While only using what I need to feed my family without wasting any and saving money buying in bulk. I love how quick and easy to use it is. I've always wanted one and I've heard such great things about it. I love how versatile it is for everything not just food.
Date published: 2021-01-28
Rated

1

out of

5
by
NCMstGardener
from
Defective out of the box
Never sealed the first bag. Rather than draw a vacuum and seal the bag, the unit burned through the bag. It goes back to Costco on next visit.
Date published: 2021-04-29
Rated

5

out of

5
by
Sandra S
from
Great Vacuum Sealer
Love it. Except that my liquid chamber that hooks on pull out sealer needs to be replaced and I can't find where to purchase a replacement.
Date published: 2022-02-23
Rated

2

out of

5
by
Lovin
from
Disappointed
Bought my FoodSaver VS3180 from Coscto about 3 months ago, at first it did it's job but now the vacuum suction setting doesn't even work.
Date published: 2021-04-19
Rated

2

out of

5
by
Jc525
from
Poorly Designed
Unless you're sealing food that is entirely flat or hanging off the counter, the downwards angle of the lid makes it impossible to seal your food without wasting an incredible amount of material. Then for some reason the cutting blade is positioned within the seal, so the first time using this I ended up cutting open the bag I just created... Tried using this to replace my GameSaver sealer which had separate issues after a short time and it turned out to be a bad decision.
Date published: 2021-10-14
Rated

4

out of

5
by
Bill of SD
from
VS3182
We certainly enjoy using this machine but wish it pumped faster. We do bulk food prep so time is important.
Date published: 2021-08-30
Rated

3

out of

5
by
Jane phillips
from
Sealing
Now a quick sealer like the ones I had before ..the first one was the best
Date published: 2021-07-29
Rated

1

out of

5
by
MCSLP
from
Disappointed
Plugged in, no light, nothing. Following instruction manual (strangely hidden in provided bags) and there is no indication the unit works at all.
Date published: 2020-12-26
Rated

1

out of

5
by
slowry
from
Not very promising
Just got this one at Costco yesterday to replace a V4840 that stopped vacuuming inexplicably after cleaning the drip tray. This is probably my 4th or 5th Foodsaver, and the only reason to stick with the brand is I have so many accessories, etc. now, and because Costco carries them and I guess when it completely stops working, I can take it back. But despite having had quite a few different models over the years, it still took my about 10 tries on a simple piece of hard cheese to get this one to work correctly. Vacuum suction seems weak, and it repeatedly failed to seal after vacuuming. Plus, this design seems to be the worst in terms of plastic waste as well, the seals leave way too much wasted plastic on each end. If it weren't for Costco's generous return policy I would return it immediately. Other annoyances: extremely short electrical cord, the accessory cord is also small and hard to get to retract, and the lever on the side to open and close is annoying. I will give this a chance and see if I get used to it over time, but it's not looking promising. Oh! and the quick start guide said to see the manual for more information, but there was no manual. I even checked inside the bag of included plastic to see if it was hidden inside, but it simply doesn't exist.
Date published: 2021-11-05
Rated

5

out of

5
by
Pixeybee59
from
Great features!
I recieved this about a week or so ago. Boy was I shocked! The Foodsaver multi use system is absolutely awesome! I have an older one, but this one has the rolls of bags built right in!! The other built in feature is the built in hand pump! The design is sleek not bulky. You can go from bag to hand pump containers! I would highly recommend this food saver. Awesome product. Great for making bulk items stay fresher and last longer .A must buy!!!!
Date published: 2021-02-03
Rated

1

out of

5
by
DJBB
from
Missing instruction manual
I am upset that I have to make another trip to Costco to return this. Do they not come with instruction manuals or am I just the lucky one who happened not to get one in my box? Also, I was hoping this model would work with the jar sealers I already have from a previous unit but with no manual, I don't know.
Date published: 2020-12-21
Rated

5

out of

5
by
Anonymous
from
Exceptional Product
This is the real-deal sealer for most any need. The start a bag as soon as you cut a bag feature is exceptional. It has always been a sore spot with me to do my projects one bag at a time. This feature makes it convenient to make two or ten bags in advance, one end open - one sealed. Then easily filled and sealed. Now I make and fill all the bags, then run them through sealing. the only thing it is lacking is a time and date stamper!
Date published: 2021-07-25
Rated

5

out of

5
by
Anonymous
from
BEST EVER KITCHEN TOOL!!!
Best So Far!! This is my 3rd Food Saver over the 20 years I have been using them. I love this one. Everything is much easier especially the separate vacuum sealer. I keep my food saver on my counter because I use the little vacuum sealer every day. Either for my containers or to keep my foods in the vacuum seal bags. I wouldn't be without it. I plan on taking it abroad with me too when we move.
Date published: 2021-10-08
Rated

1

out of

5
by
KB0000
from
Sent it back…twice!
Gave our son the old foodsaver and got this. It does not clamp down tight enough to get a vacuum on the bag without pushing down hard on the top. I know our old unit required you to push but this does not. Even then it didn't work as well as the old one. Exchanged the first unit but the second unit was even worse. Think I'll try another brand. Nesco makes one that will double seal if you choose.
Date published: 2022-01-20
Rated

5

out of

5
by
Stargazer2
from
Quality "Seal" of Approval
The FoodSaver VS3182 Multi-Use Vacuum Sealing & Food Preservation System is very easy to setup and use, and it comes with everything you need to preserve your food. I absolutely love the marinating container. It seals in the flavors to have a moist delicious meal! It prevents freezer burn which in turn saves money! Overall this is a well made machine that is a must have for your kitchen.
Date published: 2021-02-09
Rated

1

out of

5
by
whit6
from
Shouldn't have bought
My biggest problem with this machine is that it didn't come with an instruction manual, and I can't find one online. Lame!
Date published: 2020-12-30
Rated

1

out of

5
by
Bsmart
from
Broken out of the box
I just bought this from Costco 1/10/22 tried it for the first time and it wouldn't vacuum. I tried different bags as well as tried their suggestion putting a spoon in the bag and nothing. I tested the hand held controller it worked however the main vacuum wouldn't, I've owned a couple other food savers and was always happy with them but this unit is awful would not recommend.
Date published: 2022-01-19
Rated

5

out of

5
by
MarleneS
from
Love the Foodsaver
This is my second Foodsaver. I LOVE this one. My first unit was a V3840 with auto start by inserting the bag and was a little difficult, but after over 6 years of use it was no longer sealing tightly, so time for a new one! The sealing feature on this new unit is much easier and I really like that, once a bag is cut, you can seal the end in preparation for the next bag.
Date published: 2021-02-05
Rated

1

out of

5
by
EatsFish
from
Still looking
We purchased this at Costco. It was not as fast as our very old and simple food saver that we keep in our RV, if it sealed at all. The vacuum pump would run but not pull a vacuum. We really liked the angle of the sealer which makes it easier to seal soups, so we exchanged it for the same. The second unit would not seal at all. Ended up going with a different brand.
Date published: 2022-01-23
Rated

1

out of

5
by
VickS
from
Retractable hose for hand held vacuum accessory
I bought this vacuum sealer from costco a few weeks back. I needed to use it yesterday and noticed the hand held part's hose/tubing is missing. I am assuming it has somehow retracted inside the unit. How it happened no one seems to know. The hand held part is free. What do I do? It was very flimsy to begin with. Hardly used the hand held once. Thanks
Date published: 2022-01-08
Rated

5

out of

5
by
JLat
from
I love this product!!!
This food vacuuming and sealing device Hass to be top of the line! Top-notch quality easy to use easily clean friendly an absolute must have everybody in their home especially if you buy food in stock pile for durations of time!Also great for bagging leftover meals and recycling for other times definitely recommend this to anybody and everybody!
Date published: 2021-02-02
Rated

5

out of

5
by
Wormstiz
from
Great machine
I love it! It works very well. Easy to use. It takes 20 seconds per vacuum and seal and it seals air tight. I eat a lot of vegetables and I don't ever have to waist my leftovers. I can use the option of "vacuum only" first to vacuum the bag to the level you want, then you use " seal only " to seal it. It's very convenient. I recommend it!
Date published: 2021-01-29
Rated

5

out of

5
by
Pammelt
from
Great food saver
I absolutely love this food saver. First of all, it's very stylish looking and looks great in my kitchen. It's so simple to use . I can now buy family size packs of meat and separate into smaller sizes, vacuum seal and freeze. Saving me time and money. Works great with meats, fruits ,veggies and cheeses. Such a great product to own.
Date published: 2021-02-06
Rated

5

out of

5
by
mwagner1298
from
The name says it all!
I have tried other vacuum dealers before and none of them are even close to how good of a product this is! Very easy to use and very powerful. It also is a very stylish appliance. I've used it to marinade steaks and freeze soups and stews. I cannot express how great this product is. The name really does speak for itself!
Date published: 2021-02-04
Rated

1

out of

5
by
Debfred
from
Horrible
We bought this model about one month ago to replace an old one (different FoodSaver model) that we'd had for several years. It's difficult to maneuver, and most of the sealed bags lose the seal after a short time. I would really appreciate an explanation from the company or a huge discount on a different model.
Date published: 2021-11-14
Rated

5

out of

5
by
Edro1us
from
Wonderful appliance
I needed a new vacuum sealer and decided to try this unit from Food Saver product. The unit came with the vacuum sealer, several rolls of plastic to make bags from and a kit for marinades. Making the bags is easy just seal one end and then cut the length off that you need. Sealing the food you want to package is easy as well. I just followed the instructions for sealing meats and vegetables. It also works great for leftovers and make ahead meals. The marinating attachment is easy to use as well. Just add the marinade to the container over the meat that you want to marinade seal up the container and let it do the work for 12 minutes. After 12 minutes you get meat that's marinated like you let it marinade for hours. Works great with beef, chicken and pork. I love this product and the money saved by not getting freezer burn as well as being able to freeze items over a year without worrying makes this a great value. It pays for itself. I highly recommend this product!
Date published: 2021-02-05
Rated

5

out of

5
by
halaj55
from
Easy to use
I love my Foodsaver vacuum sealing system. I love that it's stainless steel, easy to wipe clean, sleek looking and doesn't take up much room. It is easy to use and seals bags very well. I use it to buy in bulk and store for future use. It saves me time and money so I don't have to go shopping often.
Date published: 2021-02-21
Rated

5

out of

5
by
toyyaw26
from
Love this Product
At first I was a little unsure on how to use it but after a few tries I got it down perfectly! Its a wonderful machine and so necessary for when I buy in bulk. I had been using those resealable bags and wasting tons of money but this product is saving me money and keeps my food fresher longer.
Date published: 2021-01-29
Rated

5

out of

5
by
Gussy
from
I'm happy
We bought this at Costco in Torrance, CA in Nov. and I have used it extensively since then. I have had no issues and I really like the hand held vac for the bags. That's a great feature if you are vacing something that you will be using part of and then want to vac the rest again.
Date published: 2020-12-30
bvseo_sdk, dw_cartridge, 18.2.0, p_sdk_3.2.0
CLOUD, getReviews, 0ms
reviews, product
---
<ul id="BVSEOSDK_meta" style="display: none !important;"> <li data-bvseo="sdk">bvseo_sdk, dw_cartridge, 18.2.0, p_sdk_3.2.0</li> <li data-bvseo="sp_mt">CLOUD, getContent, 0ms</li> <li data-bvseo="ct_st">questions, product</li> <li data-bvseo="ms">bvseo-msg: Unsuccessful GET. status = 'ERROR', msg = 'Not Found.';</li> </ul>
product-detail-view
oos-pdp