FoodSaver® VS3182 Multi-Use Vacuum Sealing & Food Preservation System, Stainless Steel, with FoodSaver Bags, Rolls, and Bonus Items - a $300 Value for Just $199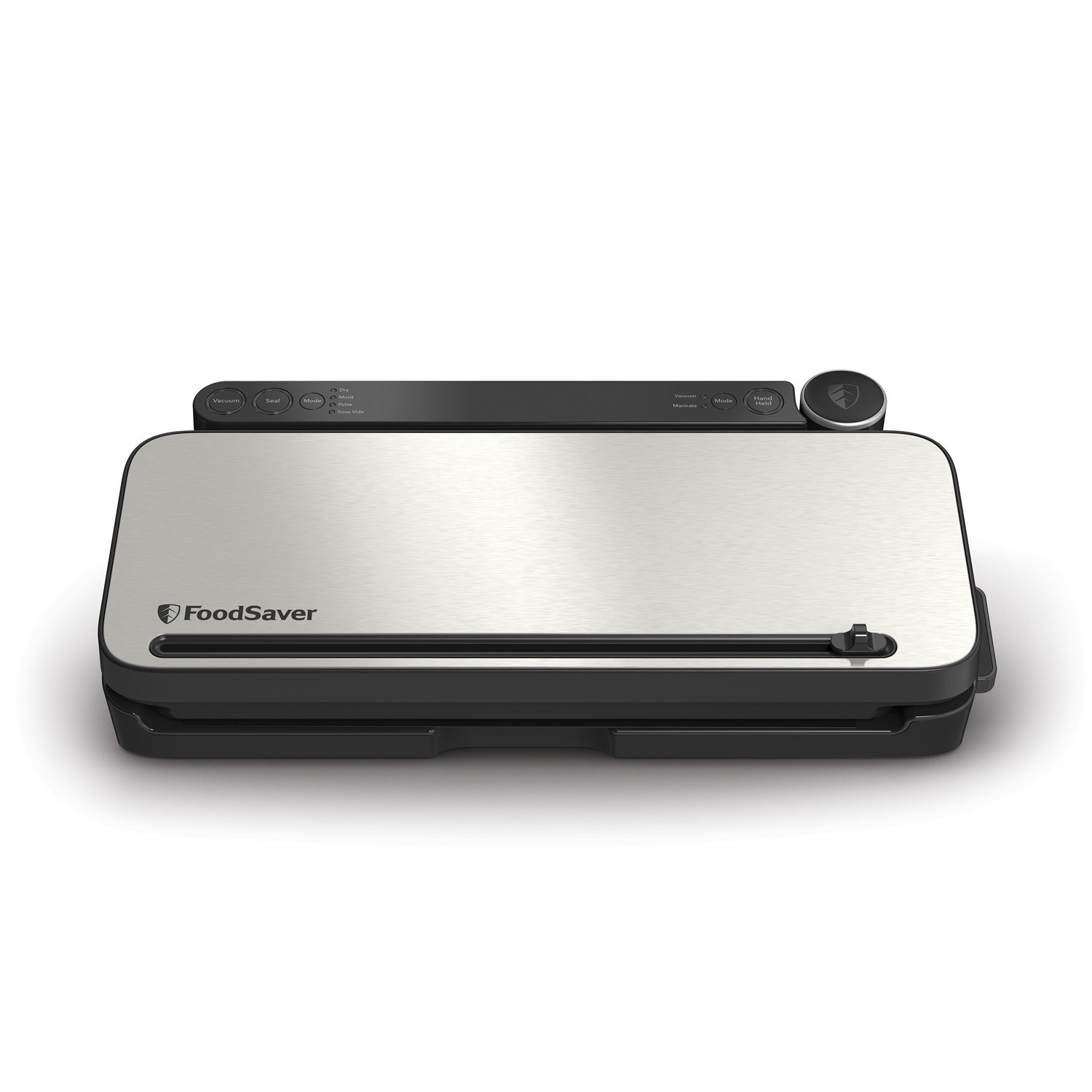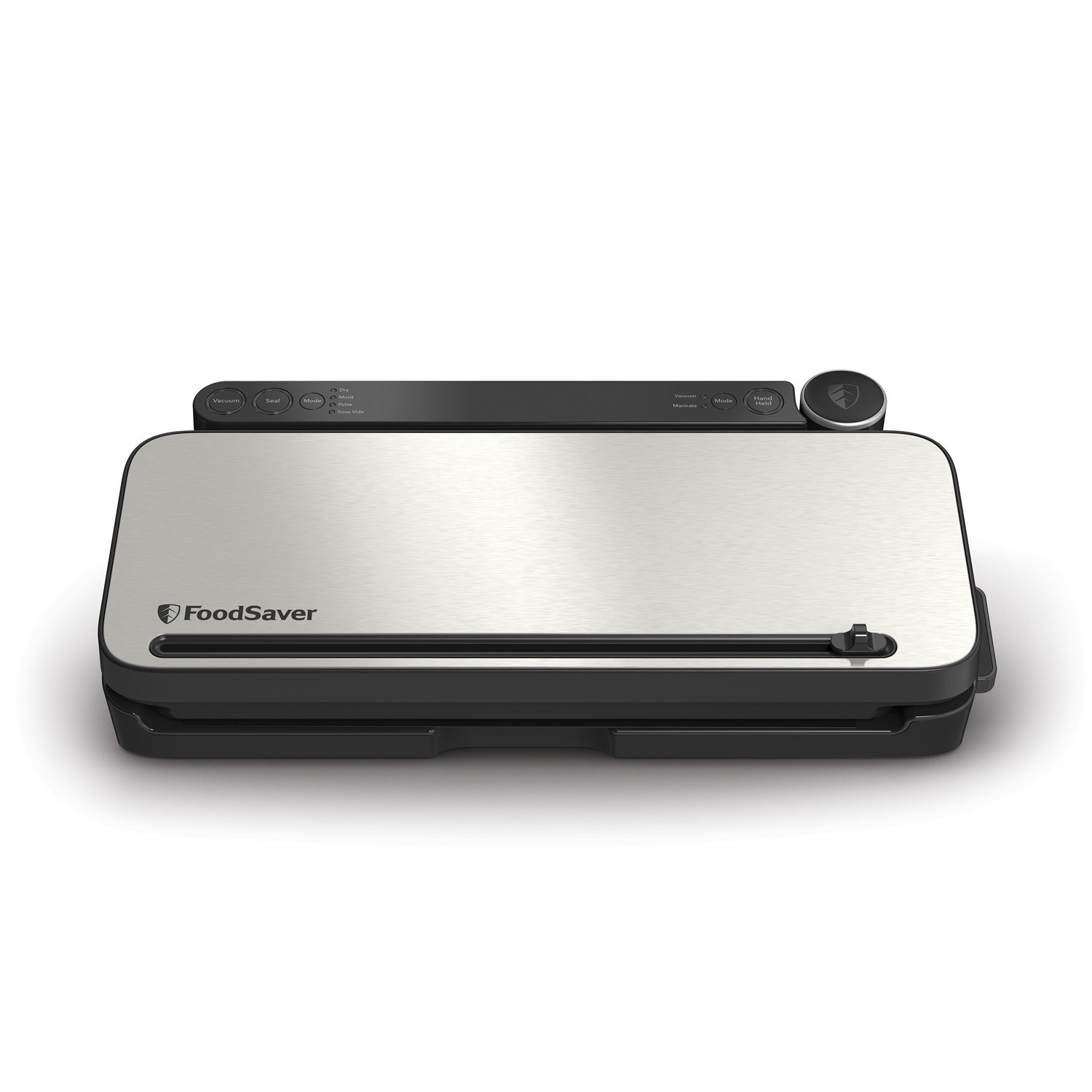 FoodSaver® VS3182 Multi-Use Vacuum Sealing & Food Preservation System, Stainless Steel, with FoodSaver Bags, Rolls, and Bonus Items - a $300 Value for Just $199
Become a FreshBucks Rewards member to earn points and save on FoodSaver purchases, Join Now
Already a member? Log in now
Final Sale: may not be returned or exchanged
Become a FreshBucks Rewards member to earn points and save on FoodSaver purchases, Join Now
Already a member? Log in now
Final Sale: may not be returned or exchanged
Want us to let you know when the item you wanted is back in stock?
---

Free Standard Shipping on Orders $50+

Free Express Shipping on Orders $100+ Details
---
Product Details
Description
This FoodSaver Multi-Use Food Preservation System combines the power of a heat sealer with the convenience of a retractable handheld vacuum sealer, in one unit. Use the heat seal strip for long-term preservation in the freezer, and the handheld sealer for short-term preservation in the fridge or pantry. This Food Preservation System keeps food fresh up to 5x longer in the freezer compared to ordinary storage methods, and also helps prevent freezer burn. FoodSaver can also help fridge and pantry items stay fresh for longer. For even more ways to use your FoodSaver, try the sous vide setting to seal food for delicious sous vide cooking, the pulse setting to safely seal delicate foods, the marinate setting for flavor in minutes, and the dry and moist settings for an airtight seal, regardless of the type of food you're sealing. This unit's sleek, modern design features a stainless steel finish that looks great in any kitchen. So you can make the most of your FoodSaver system, it comes with six 1-quart vacuum seal bags, five 1-gallon vacuum seal bags, five 1-quart Easy Fill Bags, six 1-quart vacuum zipper bags, five 1-gallon vacuum zipper bags, one expandable and two 11" x 16' vacuum seal rolls, a Portion Pouch roll, a bottle stopper, and a 10-cup Preserve & Marinate Container.
Features
KEEP FOOD FRESH LONGER: This FoodSaver Multi-Use Preservation System keeps food fresh in the freezer up to 5x longer, and fresher longer in the fridge and pantry, compared to ordinary storage methods—and helps prevent freezer burn as well
VERSATILE: Combines heat sealer and handheld vacuum sealer in one unit; use the heat seal strip for freezer storage, and the handheld sealer for fridge and pantry storage
SOUS VIDE/PULSE/ MARINATE/MOIST/DRY SETTINGS: Create the perfect seal for delicious sous vide recipes with the sous vide setting; seal delicate foods, like baked goods, without crushing using the pulse setting; marinate in minutes with marinate setting; dry and moist settings ensure an airtight seal is achieved regardless of the type of food you are sealing
MORE FEATURES: Roll storage with built-in cutter bar so you can create custom-sized vacuum seal bags; time-saving feature makes bags from rolls faster by cutting your bag as you're sealing your next bag; alignment tool and angled opening ensure ideal bag placement; removable drip tray
EASY TO USE: Simply press vacuum button to remove air and seal, and LED light indicates sealing is complete
INCLUDES: Six 1-quart vacuum seal bags, five 1-gallon vacuum seal bags, five 1-quart Easy Fill Bags, six 1-quart vacuum zipper bags, five 1-gallon vacuum zipper bags, one expandable roll, two 11" x 16' vacuum seal rolls, one Portion Pouch roll, one bottle stopper, and one 10-cup Preserve & Marinate Container
DURABLE: Guaranteed to reach an optimal vacuum level and airtight seal; 5-year warranty
NRTL TESTED & CERTIFIED: All FoodSaver appliances are ETL or UL certified by Nationally Recognized Test Laboratories (NRTLs) for compliance with applicable product safety test standards; safety is our #1 priority
Included Parts
1 - VS3180 Vacuum Sealer
6 - Quart Vacuum Seal Bags
5 - Gallon Vacuum Seal Bags
6 - Quart Vacuum Zipper Bags
5 - Gallon Vacuum Zipper Bags
1 - Bottle Stopper
1 - Expandable Roll
2 - 11" x 16' Vacuum Seal Roll
1 - Portion Pouch Roll (11" x 5')
5 - Quart Easy Fill Bags
1 - 10 Cup Preserve & Marinate Container
Product Instructions
Specifications
Dimensions:

5.9" H x 16.2" W x 8.4" D
Rated

4

out of

5
by
eddierey
from
Includes a great FoodSaver Container!
This FoodSaver vacuum sealing system included a great container that you can set to either marinate mode or vacuum/store mode. You use the FoodSaver to vacuum out the air. Nice addition to the regular FoodSaver. The unit itself came with an ample supply of sealing bags and the instructions were easy to follow. When you are cooking for only 1 or 2 people, it is nice to make a normal recipe-size portion and then just seal and freeze the rest to eat another day. This is a great way to accomplish that.
Date published: 2021-01-31
Rated

4

out of

5
by
Purplekat
from
Good to have food saver
This FoodSaver is easy enough to use. I experimented with sealing different things. One was a ice bag for therapeutic purposes. Worked like a champ. I sealed precooked salmon burgers to put in the freezer. And, I sealed a bag of cereal. All pretty easy. There is one design flaw I have to mention. You have to push down extra hard on right hand corner to make the safety interlock make connection. I will get a lot of use from my FoodSavor VS3182.
Date published: 2021-02-05
Rated

1

out of

5
by
GApe
from
Doesn't work out of the box
Have used FoodSaver for many years. Needed to replace and purchased VS3130 at Kohl's. Did not know there were so many versions that appear to do the same thing. Handheld sealer does minor work (at all) on machine. Does not give me confidence in the brand after having a much simpler design years ago that simply worked until I wore it out. Also, do not like that sits so tall that cannot line up bags as easily as once before, can't see where you are putting the bag while closing lid and keeping everything in place. Lastly, where did the accessory port for the hose go? That worked, and especially much better than the cheaply conceived handheld thing that doesn't work in my case.
Date published: 2021-07-24
Rated

5

out of

5
by
MandyDe
from
SEALS GREAT
If you do not put the top of the bag to about the top of the drip tray, then no, it won't seal properly. But if you do it right, it's AMAZING. Its called "user error". Just check out a YouTube video or something. I love mine.
Date published: 2020-11-18
Rated

1

out of

5
by
NOWAY
from
Hand Sealer for bags doesn't work
This is the second unit where the pump doesn't work with the hand sealer. Exchanged the first one now the same problem. Worked for two days. Now pump just runs with no suction. Turned it off put it on regular seal, opened closed the unit. Terrible.
Date published: 2020-11-21
Rated

5

out of

5
by
4runner
from
Love it!
We got this to use with a variety of foods. We bulk buy steak, ground meat, chicken, sausage and we divide up and vacuum seal! Easy to use, does a great job! We make and slice our own bacon and vacuum seal that in meal sized portions and love it! Best choice we could have made!
Date published: 2021-02-05
Rated

2

out of

5
by
Shari Shopper
from
Had high hopes for this FoodSaver !
I had to get a FoodSaver replacement in a hurry because mine stopped working. However this one isn't one that I would recommend! The manual part that I use a lot has a broken piece of plastic in it, and I can't find any way to remove it. The FoodSaver is very MANUAL, 1. you have to close and open it with a manual lever, very confusing. There is NO ACCESSORY PORT for my canisters, bottle sealers! Can't believe it would be a very reasonable purchase as it's so limited in use.
Date published: 2020-12-16
Rated

5

out of

5
by
Marksan
from
Vacuum Sealing and Food preservation system
This is seriously the life saver! We buy some meat as a bulk when it comes to the sale. After we started using this vacuum sealing system, we don't see any ice burn on our meat. This keeps foods fresh. I use this for meat, fish and also use for my cooked prep meal. This helps our daily life so much easier. This is one of the amazing kitchen gadget I got so far. It's very easy to use. I hope a lot of people try this. This is great. I would like to recommend this to anybody and especially who wants to keep their food fresher for a longer time.
Date published: 2021-02-08
Rated

3

out of

5
by
SKReece
from
Not so happy...
This product is not a easy to use as the last one I had. We thought the manual option would be better and less parts to break. The problem is it is hard to figure out where to put the bags and how to use it product. Not real happy.
Date published: 2021-01-06
Rated

5

out of

5
by
MikeW of Wheaton
from
So far, so good!
So far, so good! I am getting the hang of using the device, after wanting one for years. Basic items, like left over Christmas ham, are easy and work as expected. Just tried pre-freezing a quiche (hash brown crust - thanks Steve Docy!) and it appears to have worked great with minimal deformation. Will thaw in a week or so, but I expect good results. Yesterday I used the pulse mode on bread: Very happy. It looks evacuated and I did not crush the bread. Someday I will try Souse Vide... Putting a block of cheese in an extra long bag has worked well. You can re-open and reseal, keeping the cheese fresh for longer in the refrigerator. I may look into buying Ziplock, vacuum seal bags now that I see the value.
Date published: 2021-02-07
Rated

4

out of

5
by
bwa1234
from
Great variety of capabilities!
This food saver is elite! It has so many great features that makes sure my food stays fresher longer. Plus, it helped me better organize my refrigerator by reducing the amount of Tupperware containers I used to have taking up space. I vacuum seal raw meat and fruit when I get it and it greatly increases the amount of time I had to eat it, I hate when food goes bad before I have the chance to eat it, and am especially anxious about storing meat. It also has a handheld vacuum that works on zipper bags and Tupperware. Plus, a cutter to size the bags based on the food so there is less waste. It sits well on my counter and has a nice silver finishing, so it looks premium. I'm glad I got this!
Date published: 2021-02-03
Rated

5

out of

5
by
Linda V
from
Replacement unit, a step up
Replacement purchase and I really like it. I have used the Food Saver devices for many many years. I have always stuck with the basics, as I did not feel I needed the advanced features. Over the years, units have worn out, and I was able to replace gaskets and tubes, but this last time, the gaskets are no longer available. I decided it was time for a new unit, and went with the unit with the built in hand held attachment. I like that it has been designed to hold bag rolls in the bottom and can seal new bags quickly and the slicer works from either direction. I like the elevated design and more visible labels on the buttons. Not super fancy, but definitely a step up from the older flat design.
Date published: 2021-04-22
Rated

1

out of

5
by
Lobbylee
from
Terrible!!
Does not seal properly!!!! I haven't had a good FoodSaver since the first one I purchased over 15 years ago.
Date published: 2020-11-08
Rated

5

out of

5
by
EvanF
from
Sleek and efficient
This was beyond what I could imagine for a vacuum sealer; we had one that was probably 15 years old and I had no idea what i was missing with an upgrade. This is sleek and easy to store. Easy set up and easy to use. Makes a great seal and also has tons of extra items to make storing food a breeze. Overall super happy with this product. So far haven't noticed any downsides to it. Instructions make it easy even for a first time user. Great for sealing and infusing meats to avoid freezer burn. Or saving leftovers for winter food prep including fresh summer veggies.
Date published: 2021-02-16
Rated

5

out of

5
by
LanYoung
from
Such a value item for my kitchen
I have never had a food saver before and I have to say that I love this machine. It is very compact and it matches my stainless steel kitchen. I read reviews before getting this and many said it doesn't seal. I totally understand why. If you don't have the end of the bag inside the dip tray properly, it won't seal. But if you make sure you cut the bag long enough to be able to have the whole end in the tray, then it seals beautifully and wonderfully. I love watching how it sucks all the air out. The hand held sealer is a life saver. It helps me marinade food fast and delicious. This machine comes with many bags and rolls it is such a great deal. I love my food saver and I highly recommend this model.
Date published: 2021-02-07
Rated

5

out of

5
by
kim322
from
love it!
Where has this been all my life??! I had so much fun operating it. At first it seemed really complicated but its not . Just go step by step with the instructions and you'll be good. It came with a couple of pre-made bags and and plastic rolls to make customized packaging. I've already recommended it to all my friends.
Date published: 2021-02-28
Rated

1

out of

5
by
LovedTheOldModel
from
After having Vacuum Sealer #V3880 for more than 5 years I purchase model #VS3180. The Vacuum Sealer had very little suction...it took 5 or more minutes to vacuum & seal 2 frozen Chicken Thighs. Attempted to seal 2 more. The bag popped inside the machine. I returned the machine to COZTCO.
Date published: 2021-04-30
Rated

5

out of

5
by
Sbrankin
from
Love this vacuum sealer!
I love this FoodSaver vacuum sealer! Not only does it work great at vacuuming and sealing, it also has a handheld vacuum sealer that works perfectly with resealable bags and the 10-cup Preserve & Marinate Container, which is my favorite feature! It has several settings including moist, dry, marinate and sous vide to handle all your needs. It also has a place to store the roll that is an added convenience. This unit is very easy to use and works great!!
Date published: 2021-02-08
Rated

1

out of

5
by
Hamistastey
from
Wow, great failire
Foodsaver definitely had quality in mind when they engineered this product, they made sure to avoid every checkbox for a quality product with extra close attention paid to the little details that would make any sane person yell with rage. Cord storage: terrible. Cord length: just barely longer than the length of the machine but offset to one side so you can only use it as n one direction. Locking mechanism: sub par and not strong enough to operate without human interaction. Bag cutter: hidden to make you waste bags since that's where they make their money. Vacuum motor: not wining any races. I wouldn't recommend this product to anyone with rage issues or who's marriage is rocky as it will certainly add tension to any situation.
Date published: 2021-11-29
Rated

1

out of

5
by
Jacki82
from
Two defective machines
I purchased this machine and returned it twice. It did not vacuum and the second one would not vacuum or seal. No product support available regarding problems. I'm very disappointed.
Date published: 2020-12-03
Rated

3

out of

5
by
lizzyvm
from
Super finicky
So I don't use this a lot, and recently bought a sous vide system and pulled this machine out. My meal was completely thrown off because it would not seal. I put it away and tried again. Same thing. I tried cleaning it. I tried multiple settings. I tried ...and tried...took breaks and tried. No go. WHEN it works, it works. And when it decides not to your way out of luck. Will probably return it to Costco. So bummed.
Date published: 2021-05-29
Rated

4

out of

5
by
txmomof3
from
A Little Tricky to Use
I finally had the opportunity to use this. I had an original model of the food saver from when they first released them. I was hoping this newer model would work a little better. It's basically the same technology but with a newer exterior. I followed the instructions to a T and still had issues consistently getting the air out of the bags. I was hoping it would work a little better. I have not had the chance to use the marinating function but I will say that I like that it has a spot to magnetically hold the piece that sucks the air out of the marinate container. The older model you had to attach the tube and it was one more thing to keep up with. On this unit it sits towards the back and attaches with a magnet. That is a nice feature. The unit came with a lot of bags and supplies which is nice. Overall, I give it a good review because perhaps I will get better at it sucking the air out over time.
Date published: 2021-02-18
Rated

5

out of

5
by
moneymike12
from
Love the design
Replaced my old food saver (that was still going strong) with this new model and it works as advertised. I got this particular model because it matches everything else in my kitchen and I love the looks of it. It comes with plenty of bags to last you a while and the plastic container is big enough to store just about any left over meal. The machine is very easy to use and works extremely well. I vacuumed sealed about 20 bags of homemade jerky and I didn't have any issues with it.
Date published: 2021-02-24
Rated

5

out of

5
by
Shan2609
from
Extra freshness!
I'm super happy about the Food Saver. It's a total game changer in regards to keeping my families food fresher for much longer. I'm able to buy fresh meat in bulk and portion it out and vacuum seal it to keep it fresh. While only using what I need to feed my family without wasting any and saving money buying in bulk. I love how quick and easy to use it is. I've always wanted one and I've heard such great things about it. I love how versatile it is for everything not just food.
Date published: 2021-01-28
Rated

1

out of

5
by
NCMstGardener
from
Defective out of the box
Never sealed the first bag. Rather than draw a vacuum and seal the bag, the unit burned through the bag. It goes back to Costco on next visit.
Date published: 2021-04-29
Rated

2

out of

5
by
Lovin
from
Disappointed
Bought my FoodSaver VS3180 from Coscto about 3 months ago, at first it did it's job but now the vacuum suction setting doesn't even work.
Date published: 2021-04-19
Rated

2

out of

5
by
Jc525
from
Poorly Designed
Unless you're sealing food that is entirely flat or hanging off the counter, the downwards angle of the lid makes it impossible to seal your food without wasting an incredible amount of material. Then for some reason the cutting blade is positioned within the seal, so the first time using this I ended up cutting open the bag I just created... Tried using this to replace my GameSaver sealer which had separate issues after a short time and it turned out to be a bad decision.
Date published: 2021-10-14
Rated

4

out of

5
by
Bill of SD
from
VS3182
We certainly enjoy using this machine but wish it pumped faster. We do bulk food prep so time is important.
Date published: 2021-08-30
Rated

3

out of

5
by
Jane phillips
from
Sealing
Now a quick sealer like the ones I had before ..the first one was the best
Date published: 2021-07-29
Rated

1

out of

5
by
MCSLP
from
Disappointed
Plugged in, no light, nothing. Following instruction manual (strangely hidden in provided bags) and there is no indication the unit works at all.
Date published: 2020-12-26
bvseo_sdk, dw_cartridge, 18.2.0, p_sdk_3.2.0
CLOUD, getReviews, 0ms
reviews, product
---
<!--begin-bvseo-questions--> <!--begin-questions--> <div id="bvseo-questionsSection"> <div class="bvseo-question-answer" data-questionid="4969100"> <h2 class="bvseo-question"> Can the hand sealer be removed for cleaning? &amp;nbsp;Can it be separated from the hose ir is it permanently attached to the hose? </h2> <div class="bvseo-question-detail"> </div> <div class="bvseo-author">Asked by: SBATL</div> <div class="bvseo-answer" data-answerid="5636375"> Thank you for your interest with our FoodSaver&amp;reg; VS3182 Multi-Use Vacuum Sealing &amp;amp; Food Preservation System, Stainless Steel. We understand that you want to know if the retractable hose is removable to be cleaned. In line with this, we want to inform you that the retractable hose is not removable, however, the liquid chamber that you use to vacuum seal the zipper bags, you can simply remove it by pull it out and you can wash it with soapy warm water and dried it completely before you attach it again on your retractable hose. Hope this information helps. Should you have any inquiries or further questions, please let us know by sending an email through our FoodSaver website or you may call us at our toll-free number 1-877-777-8042. For your convenience, we are available from 8:00 am to 5:00 pm Monday - Friday, EST. <div class="bvseo-author">Answered by: FoodSaver Brand</div> <div class="bvseo-pubdate">Date published: 2021-12-11</div> </div> </div> <div class="bvseo-question-answer" data-questionid="4975208"> <h2 class="bvseo-question"> Is anyone else having trouble with the vacuum setting of this machine not working properly? Both of mine (original and warranty) will pump but not seal. Also, not sure why two of my reviews saying as much were rejected? </h2> <div class="bvseo-question-detail"> </div> <div class="bvseo-author">Asked by: LabMammoth</div> <div class="bvseo-answer" data-answerid="5636271"> Thank you for your interest in our FoodSaver&amp;reg; VS3182 Multi-Use Vacuum Sealing &amp;amp; Food Preservation System, Stainless Steel. We are sorry for the delay in response. We understand that your vacuum sealer is not sealing. We understand your disappointment and we apologize for any inconvenience that this may have caused you. If our product has failed due to poor quality, we will be happy to replace it for another model for you not to have the same issue. For us to further assists you with your concern, please let us know by sending an email through our FoodSaver website or you may call us at our toll-free number 1-877-777-8042. For your convenience, we are available from 8:00 am to 5:00 pm Monday - Friday, EST. <div class="bvseo-author">Answered by: FoodSaver Brand</div> <div class="bvseo-pubdate">Date published: 2021-05-03</div> </div> </div> <div class="bvseo-question-answer" data-questionid="5006596"> <h2 class="bvseo-question"> Will I still be able to use my containers with the oval seal fixture? Also, why is the staff not answering the previously asked questions? </h2> <div class="bvseo-question-detail"> </div> <div class="bvseo-author">Asked by: PeterHand</div> <div class="bvseo-answer" data-answerid="5631174"> Thank you for your interest in our FoodSaver&amp;reg; VS3182 Multi-Use Vacuum Sealing &amp;amp; Food Preservation System, Stainless Steel. We understand that you want to know if you can still use your containers with the oval seal fixture on your vacuum sealer. Yes, you may simply remove the liquid chamber of the retractable hose and attach it to your containers. Hope this information helps. Should you have any inquiries or further questions, please let us know by sending an email through our FoodSaver website or you may call us at our toll-free number 1-877-777-8042. For your convenience, we are available from 8:00 am to 5:00 pm Monday - Friday, EST. <div class="bvseo-author">Answered by: FoodSaver Brand</div> <div class="bvseo-pubdate">Date published: 2021-05-05</div> </div> </div> <div class="bvseo-question-answer" data-questionid="5010735"> <h2 class="bvseo-question"> Before I buy this machine, I would appreciate a detailed engineering answer to the question about the sous vide setting. A vacuum is a vacuum and I fail to understand how the sous vide setting is any different from the dry or moist setting. </h2> <div class="bvseo-question-detail"> </div> <div class="bvseo-author">Asked by: Peter73</div> <div class="bvseo-answer" data-answerid="5631149"> Thank you for your interest in our FoodSaver&amp;reg; VS3182 Multi-Use Vacuum Sealing &amp;amp; Food Preservation System, Stainless Steel. We are sorry for the delay in response. We understand that you want to know the difference between sous vide settings and dry or moist. 3a. Dry For optimal vacuuming and sealing of dry foods. This is the default setting. 3b. Moist For optimal vacuuming and sealing of moist or juicy foods. 3c. Pulse (available on select models) Press and hold to manually control the vacuum function. Press Seal Button when ready to seal bag. 3d. Sous Vide (available on select models) For optimal vacuuming and sealing of bags to use in Sous Vide cooking. Hope this information helps. For other concerns, please let us know by sending an email through our FoodSaver website or you may call us at our toll-free number 1-877-777-8042. For your convenience, we are available from 8:00 am to 5:00 pm Monday - Friday, EST. <div class="bvseo-author">Answered by: FoodSaver Brand</div> <div class="bvseo-pubdate">Date published: 2021-08-30</div> </div> </div> <div class="bvseo-question-answer" data-questionid="5022995"> <h2 class="bvseo-question"> Can i plug the VS3182 into 220v power socket?&#13;&#10;If not, which model can ? thanks </h2> <div class="bvseo-question-detail"> </div> <div class="bvseo-author">Asked by: Anonymous</div> <div class="bvseo-answer" data-answerid="5630822"> Thank you for your interest in our FoodSaver&amp;reg; VS3182 Multi-Use Vacuum Sealing &amp;amp; Food Preservation System, Stainless Steel. We understand that you want to know if you can plug in this vacuum sealer into 220V. We are sorry for the delay in response. In line with this, we want to inform you that all the vacuum sealer is 110V. However, this vacuum sealer wattage is 130V. Hope this information helps. Should you have any inquiries or further questions, please let us know by sending an email through our FoodSaver website or you may call us at our toll-free number 1-877-777-8042. For your convenience, we are available from 8:00 am to 5:00 pm Monday - Friday, EST. <div class="bvseo-author">Answered by: FoodSaver Brand</div> <div class="bvseo-pubdate">Date published: 2021-06-11</div> </div> </div> <div class="bvseo-question-answer" data-questionid="4915659"> <h2 class="bvseo-question"> Does this model have an accessory port that fits with the FoodSaver Jar Adapters for vacuum sealing canning/mason jars? </h2> <div class="bvseo-question-detail"> </div> <div class="bvseo-author">Asked by: ad blocker off</div> <div class="bvseo-answer" data-answerid="5516680"> The liquid resevior is removed from the built in handheld sealer. &amp;nbsp;There is a plastic nub that sticks out and is inserted into the hole on top of the jar sealer accessory.&amp;nbsp; <div class="bvseo-author">Answered by: tkjeep</div> <div class="bvseo-pubdate">Date published: 2021-05-15</div> </div> </div> <div class="bvseo-question-answer" data-questionid="4814129"> <h2 class="bvseo-question"> We purchased this machine a few days ago. It did not come with an owner&#39;s manual. Is there one on-line? I haven&#39;t been able to find one. Thank you. </h2> <div class="bvseo-question-detail"> </div> <div class="bvseo-author">Asked by: KimL</div> <div class="bvseo-answer" data-answerid="5437357"> The Owner Manual is in the bags, wrapped up. <div class="bvseo-author">Answered by: Maria62</div> <div class="bvseo-pubdate">Date published: 2021-05-05</div> </div> </div> </div> <script type="text/javascript"> if (document.getElementById('bvseo-questionsSection')) { document.getElementById('bvseo-questionsSection').style.display = 'none'; } </script> <!--end-questions--> <ul id="BVSEO_meta" style="display:none!important"> <li data-bvseo="bvDateModified">y_2022, m_1, d_15, h_20CST</li> <li data-bvseo="ps">bvseo_bulk, prod_bvqa, vn_bulk_3.0.20</li> <li data-bvseo="cp">cp_2, bvpage2n</li> <li data-bvseo="co">co_hasquestionsanswers, tq_15</li> <li data-bvseo="cf">loc_en_US, sid_SP_615097, prod, sort_[SortEntry(order=LAST_APPROVED_ANSWER_SUBMISSION_TIME, direction=DESCENDING)]</li> <li data-bvseo="diagnostics">clientName_foodsaver</li> </ul> <!--end-bvseo-questions--> <ul id="BVSEOSDK_meta" style="display: none !important;"> <li data-bvseo="sdk">bvseo_sdk, dw_cartridge, 18.2.0, p_sdk_3.2.0</li> <li data-bvseo="sp_mt">CLOUD, getContent, 0ms</li> <li data-bvseo="ct_st">questions, product</li> </ul>
product-detail-view
oos-pdp