FoodSaver® VS1150 Space Saving Food Vacuum Sealer, Silver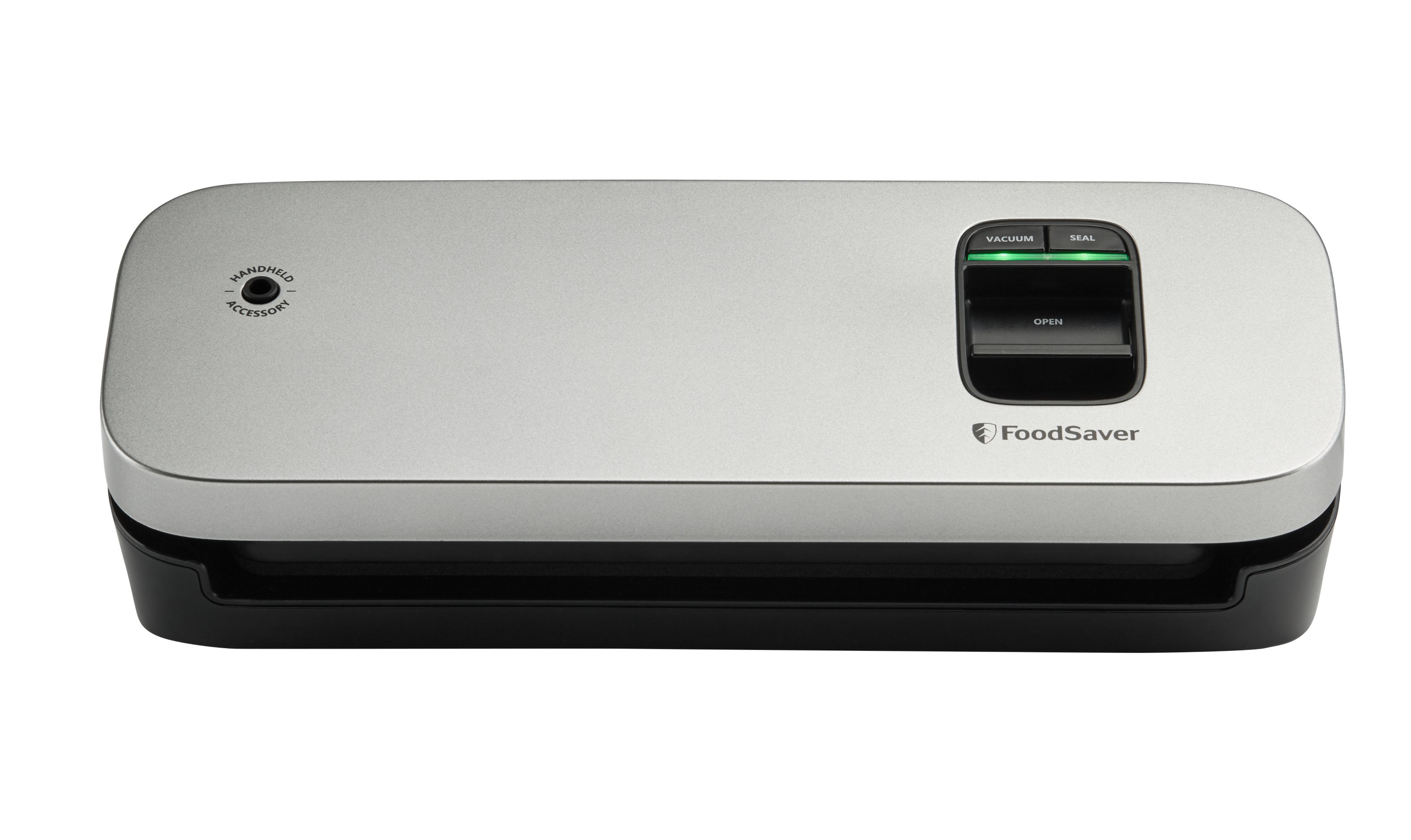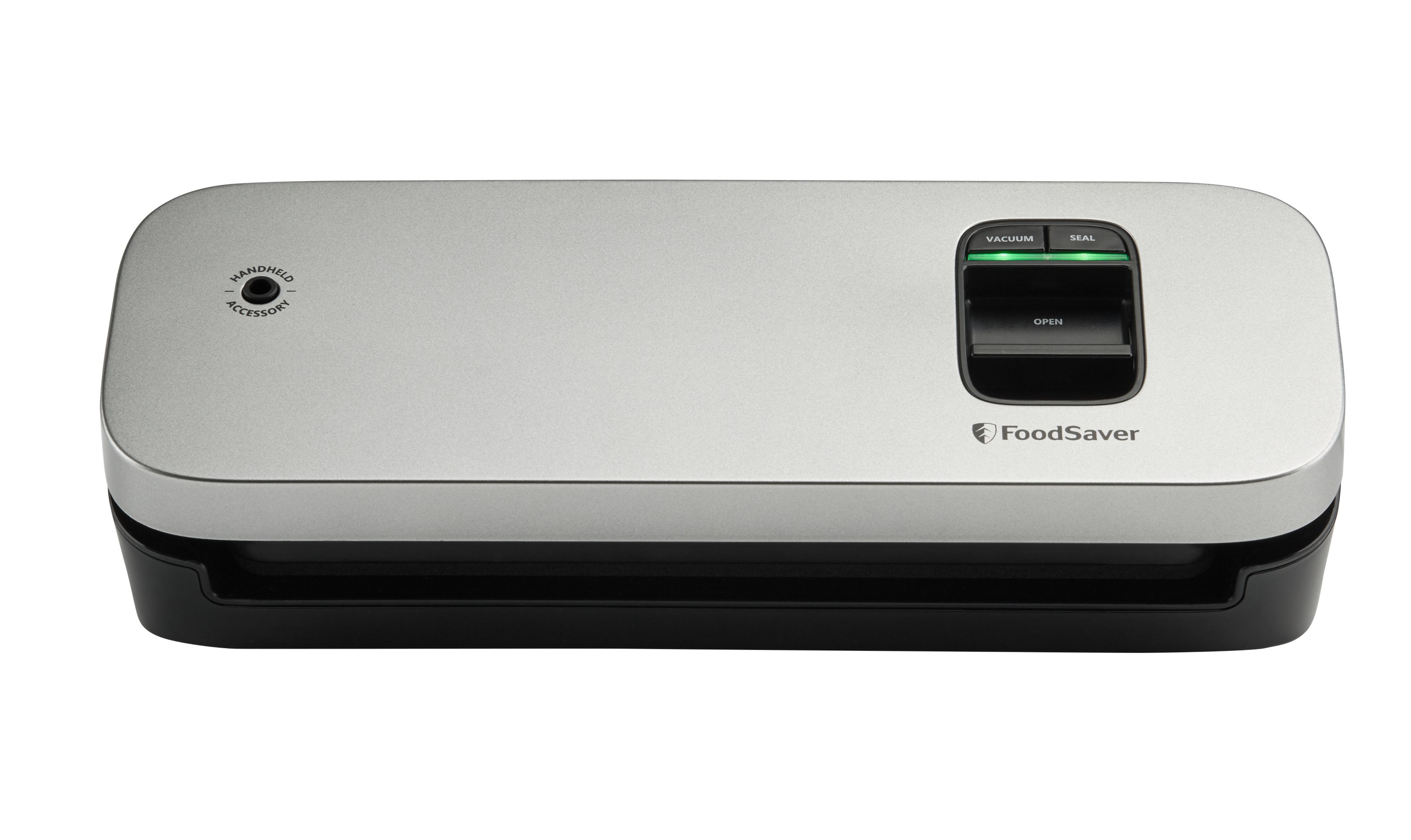 FoodSaver® VS1150 Space Saving Food Vacuum Sealer, Silver
Become a FreshBucks Rewards member to earn points and save on FoodSaver purchases, Join Now
Already a member? Log in now
Final Sale: may not be returned or exchanged
Become a FreshBucks Rewards member to earn points and save on FoodSaver purchases, Join Now
Already a member? Log in now
Final Sale: may not be returned or exchanged
Want us to let you know when the item you wanted is back in stock?
---

Free Standard Shipping on Orders $50+

Free Express Shipping on Orders $100+ Details
---
Product Details
Description
The FoodSaver Space Saving Food Vacuum Sealer lets you enjoy all the benefits of vacuum sealing in a new space-saving design! Featuring the same vacuum sealing power as traditional models, this compact vacuum sealer also features an innovative angled bag insertion opening so you can precisely align your FoodSaver bag to the machine's sealing strip—allowing for a perfect seal and less bag waste.
Features
Compact space-saving design saves 50% more space compared to regular-sized FoodSaver machines for easy storage and frequent use
Features the same vacuum sealing power as traditional FoodSaver vacuum sealing machines
Easy bag alignment makes it easier than ever to precisely line up the vacuum seal bag to the machine's sealing strip
Easy and intuitive control panel for greater efficiency
Compatible with FoodSaver 8" vacuum seal rolls and 1-quart and 1-pint vacuum seal bags, and when used with Handheld Sealer attachment (sold separately) works with FoodSaver Zipper Bags and Fresh Containers
Includes (1) 8" x 10' roll and (10) 1-quart vacuum seal bags
Included Parts
10 – Quart size vacuum seal bag
1 – 8" x 10' vacuum seal roll
Specifications
Dimensions:

4" H x 12.2" W x 5.7" D
Rated

5

out of

5
by
ibafilfan
from
Love Love Love this little space saver
I recently purchased after my food saver my mother gave me - won't seal any more - very old! I used to use it all they time - I purchased this and love that it is small and for the two of us it is perfect!
Date published: 2020-03-23
Rated

2

out of

5
by
Lynelle
from
accessory hose doesn't connect
I bought this Foodsaver yesterday. I used my previous foodsaver frequently to vacuum seal jars. Today I tried using it to seal jars. The foodsaver accessory hose does not fit into the accessory port! It sits partially into the the accessory port but does not snug into it. The hose falls off and there is no suction. We tried and tried, watched videos, and studied the manual, and checked the website.The port will not fit the accessory hose that is show to use with it. We are so upset!
Date published: 2020-11-29
Rated

1

out of

5
by
JSBj
from
worst unit I have ever seen had it two or three months not used much it wont seal good tried to order upper and lower gaskets but you cant find a single gasket for the VS1100 only 2000,3000,4000,5000 series apparently they don't sell gaskets for the VS1100 and it is worthless because it want pull a vaccum or seal! terrible unit !!!!!!!!!!!!!!!!!
Date published: 2020-09-20
Rated

4

out of

5
by
NikkiSC
from
Easy to use!
My space saver arrived just in time for my monthly trip to the wholesale store. We I arrived back home divided up my foods. I plugged in the food saver vacuum sealer. I used the smaller precut bags for my ground meats and pork chops. Those were great. I used the roll of saver package for the chicken and larger meats. The only downside is you cant do alot of bulky packs. Breaking it down to small portions is great. The vacuum sealer has a nice simple look that you can leave sitting on the counter top. It does not take up alot of space. Wish it had come with the vacuum hose. Now I need to find a place to get that .
Date published: 2019-07-23
Rated

3

out of

5
by
Patrick323
from
Decent
I bought this product and was initially pleased. Bought the bags; different sizes only to come to find out after 20 minutes of trying that it will not seal gallon bags despite any amount of work around; selling corners, cutting the width to match etc. Terrible, terrible, terrible. $100, plus expensive bags only to find out after the fact. Not good. Any suggestions or work arounds to be had? Please help!
Date published: 2020-12-15
Rated

5

out of

5
by
pgmrjen
from
Space saver gets the job done
I bought this a few months ago. I had no idea how much I needed this! We like to buy bulk meats at Costco, and I used to separate them into freezer bags. Now, I put enough for a meal for just us 2, along with a marinade, and freeze till I need it. No more freezer burn, and fresher food.
Date published: 2020-09-07
Rated

5

out of

5
by
Hammerboss
from
Excellent product
We have had an older, larger food sealer for quite a while. When we had a house full of kids and their companions this food saver was worth its weight in non-spoiled left overs. As we have down Sized to just 2 the larger unit was overkill. The smaller unit has served us much better!
Date published: 2019-08-11
Rated

3

out of

5
by
LyndaH
from
I love the size, but accessories?
I love the size of this unit compared to the standard one. The vacuum sealer itself works great. However, the jar sealer kit (the one with 2 gray ends on the hose) doesn't seem to work with this unit. The point where the hose should plug into the sealer is just loose and there is no suction. I can't find any documentation of what attachments, or hose, is supposed to be used with the compact unit. A little frustrated that I can't use my attachment.
Date published: 2020-01-09
Rated

5

out of

5
by
Neek80
from
Just what I needed.
I ordered my foodsaver space saving product about two weeks ago. Once received I was t sure how I would like this. But I was having such a hard time wrapping and sealing opened food. This is very easy to use and space saving Sufficient. I truly am grateful for this product.
Date published: 2019-07-26
Rated

5

out of

5
by
Jihye
from
I am happy with this so far.
It's very compact so doesn't really need a lot of space (you may just take it out from your shelf only when you really need it). And, I only need to store small amount items because I live by myself. So, if your purpose is similar as mine, this would be good choice. Vacuum and sealing work very well too.
Date published: 2020-08-09
Rated

2

out of

5
by
DebT
from
Bummed that gallon bags don't fit
I bought this recently and just learned today that I can't seal gallon bags. It also does not consistently seal bags after the vacuum cycle. I so should have purchased a better model, but options were limited due to the supply chain. Our model is VS1130 which I can't even find on this site. Sad.
Date published: 2020-09-13
Rated

4

out of

5
by
dolphin
from
it does the job!
this is my first food saver... My use is simple, I love cooking fresh steaks on the grille. I only buy my favs when on sale. Howver, once frozen, they do not grille up the same vs. fresh. I thought this was the solutin...and guess what, it is ! the secret really is, remove all the air !! very simple to use.... put food in bag, place in machine, turn on vacum, and then seal it... good instructions, nice build quality considering the price (these are made at many different price points, check the food saver web site) Does not take u too much space when stored un pantry....overall, a great gadget, and finally I will feel good making large meat buys when the big sales come!
Date published: 2019-07-31
Rated

5

out of

5
by
Judith Harris
from
Great Food Saver!
I love my new Food Saver! It's perfect compact size fits into my kitchen so well. I have learned how to operate it and it's just the best appliance ever!
Date published: 2020-04-28
Rated

1

out of

5
by
Bocce
from
Terrible : Does not work!
Does not work as stated. Not only are there air bubbles, it doesn't even automatically seal after the vacuum, as per the instruction manual.
Date published: 2020-03-23
Rated

1

out of

5
by
h53pilot
from
Accessory port useless
I bought the jar sealing accessory. The plug doesn't fit the accessory port so I can't use the jar sealing accessory. Why have an accessory port if the accessory plugs don't work? There is no mention that the VS1110 port is different anywhere. Additionally, with the VS110, the seal function is hit and miss. There is often a small section of the seal line that does not seal. And it's hard to see. Very disappointed. I definitely don't recommend the VS1110. I had a old FoodSaver that lasted many years and was intuitive to use. I'm really hesitant to buy anything else from FoodSaver.
Date published: 2021-07-10
Rated

1

out of

5
by
Sam9909
from
Cheaply made, waste of money
I bought this a week ago after my last food saver broke. I emailed the company and asked for help, but I now know these are disposable machines. The counter top one lets air back in when sealing. It would be cheaper and easier to use a ziplock bag. I could at least then press out most of the air. So disappointed. Looking for other brands that last longer.
Date published: 2020-05-20
Rated

4

out of

5
by
KrisG
from
Small compact
I bought this one a couple months back. Didn't use it for a while. I bought to use with my jars. However, I cannot find the hose attachment anywhere? Didn't come with the machine or either of the jar sealers. Where can I get it? I would have given it five stars had I been able to use it for my intended purposes. The sealing feature works great!
Date published: 2020-11-14
Rated

4

out of

5
by
jayhawk74
from
Great Product
I have always wanted one of these products and pleased I was able to receive one. The instructions are clear and concise. It has been put to use several times and functions exactly as promised. I waited a couple of weeks to review in order to have ample opportunity to evaluate it before reviewing. There are no signs of freezer burn in our freezer anymore.
Date published: 2019-08-06
Rated

3

out of

5
by
Slross
from
Not an intuitive product.
Arrived without a user manual and no apparent model number to look up. Used to repackage pork chops and about half of them vacuum sealed successfully. The seal feature worked most of the time. Even YouTube offered little help, other models were there though.
Date published: 2019-08-16
Rated

1

out of

5
by
Rnae72
from
Disappointed
I was excited to relieve this but it hasn't lived up to my expectations. Does not remove all the air, maybe 50% on a good day. Very disappointing :-(
Date published: 2020-06-12
Rated

1

out of

5
by
FSY00
from
Product Does Not Work
Every single time I've tried to use this machine it does not work. It doesn't seal even vegetables air tight, let alone meat or anything else. You're pretty much paying for the name and not the quality. What a waste
Date published: 2021-03-06
Rated

5

out of

5
by
Jessica W
from
I love my food saver
My food saver vacuum seals the food perfectly. I have not had any problems with freezer burn even with items that have been in the freezer for a month. It is also compact enough to keep on your counter top.
Date published: 2020-05-07
Rated

3

out of

5
by
jharlan518
from
Useful sometimes
This appliance is great for packaging food in tight spaces. However for everyday use and storage of leftovers in the fridge, I would probably resort to a tupperware bin. I could see a use for this at certain times, but not everyday.
Date published: 2019-08-20
Rated

2

out of

5
by
Don 1436
from
VS100
Bought this as Christmas present only to find out after using it . It does not work with gallon bags and doesn't want to seal anything with liquid. I would not recommend buying it.
Date published: 2021-03-22
Rated

5

out of

5
by
Mpyatte
from
Super Small
I can leave this one out all the time! I can run to the grocery store come home grab my bags and split up my food!! I have a family of 6 so i always buy in bulk!
Date published: 2019-11-03
Rated

1

out of

5
by
RSchmidt
from
Don't buy it
I bought model# VS 1130, which is identical to this one. It worked fine at first, but I was unable to use it with my Mason jar sealers. Even though I was given a different hose for free to attach to this unit, it still did not work. After looking at some of the reviews and trying different things to get it to work it is now broke it won't work at all. Also, you cannot take bigger bags cut them into smaller sizes to fit this one seal it and use it. It won't seal appropriately and air gets into the bag. Save yourself the money and get a bigger machine. I bought a handheld sealer for the jars and it works fine! I was trying to save counterspace and a little bit of money for bags, but now I'm gonna have to spend more money to buy a bigger one.
Date published: 2022-04-07
Rated

1

out of

5
by
BobbyB
from
Wont seal jars with food saver accessory
Bought this specifically to seal wide mouth jars and the attachment hose won't go into the port and seal.
Date published: 2020-05-01
Rated

5

out of

5
by
Ms Connie
from
Love it
I got this earlier this month and I love it. It's not big like my previous food saver. It doesn't take up much space and it meets my needs. It's just me and my husband so I don't have as much to save anymore. This is perfect for us.
Date published: 2019-11-14
Rated

5

out of

5
by
Joe0620
from
Food stays fresher longer
I have seen these advertised for years and always thought it sounded like a good idea. I tend to buy in bulk and store in the freezer. Up until now I have used standard freezer bags that I would try to squeeze all of the air out of. With the foodsaver everything lasts much longer whether it is in the refrigerator or freezer. I am very pleased with it.
Date published: 2019-07-31
Rated

1

out of

5
by
Mardais
from
Pain in the neck!!!
I bought this Food Saver mainly for using with the accessory attachment. I already had the accessory tubing from another Food Saver so I did not order another accessory. However, the accessory that I have, even though it looks EXACTLY like the one in the picture, does not work. I had to go to a friend who had made the same mistake and find that this saver needs the accessory with the green tip. That is not explained anywhere that I could find and definitely not simple to figure out in the on line pictures. Why in the heck when we are paying $100 plus tax, do we have to dig and research to figure out what $3.00 tubing goes with it to make the darned thing work like it should for what we got it for!! Why on earth can't they just include it with the saver? If it costs us $3 plus probably shipping, handling and tax, it probably doesn't cost them $, if that. And then according to other comments it's a pain to get put in and often not even possible.
Date published: 2021-08-31
bvseo_sdk, dw_cartridge, 18.2.0, p_sdk_3.2.0
CLOUD, getReviews, 0ms
reviews, product
---
<!--begin-bvseo-questions--> <!--begin-questions--> <div id="bvseo-questionsSection"> <div class="bvseo-question-answer" data-questionid="4686594"> <h2 class="bvseo-question"> Where is this made? </h2> <div class="bvseo-question-detail"> </div> <div class="bvseo-author">Asked by: Cgk112</div> <div class="bvseo-answer" data-answerid="5632898"> Thank you for your interest in our The FoodSaver&amp;reg; V1100 Space Saving Food Vacuum Sealer, Silver. We are sorry for the delay in response. We understand that you want to know where this vacuum sealer made of? We do have vacuum sealer that made in US and China, however, this vacuum sealer is made in China. Hope this information helps. Should you have any inquiries or further questions, please let us know by sending an email through our FoodSaver website or you may call us at our toll-free number 1-877-777-8042. For your convenience, we are available from 8:00 am to 5:00 pm Monday - Friday, EST. <div class="bvseo-author">Answered by: FoodSaver Brand</div> <div class="bvseo-pubdate">Date published: 2021-08-04</div> </div> </div> <div class="bvseo-question-answer" data-questionid="4673229"> <h2 class="bvseo-question"> How do I use the foodsaver for Mason jars </h2> <div class="bvseo-question-detail"> </div> <div class="bvseo-author">Asked by: Invested</div> <div class="bvseo-answer" data-answerid="5631778"> Thank you for bringing this up to our attention. We are sorry for the delay in response. We understand that you want to know how you can use the FoodSaver&amp;reg; Jar Sealing Kit with Wide-Mouth Jar Sealer, Regular Jar Sealer, and Accessory Hose, White with your FoodSaver&amp;reg; V1100 Space Saving Food Vacuum Sealer. You can use it with the New Handheld Sealer hose with part number FA20000, it&#39;s amounting $24.99 on our website. Simply remove the liquid chamber from the hose and attached it the jar sealer. Hope this information helps. Should you have any inquiries or further questions, please let us know by sending an email through our FoodSaver website or you may call us at our toll-free number 1-877-777-8042. For your convenience, we are available from 8:00 am to 5:00 pm Monday - Friday, EST. <div class="bvseo-author">Answered by: FoodSaver Brand</div> <div class="bvseo-pubdate">Date published: 2021-05-27</div> </div> </div> <div class="bvseo-question-answer" data-questionid="4669849"> <h2 class="bvseo-question"> Is the roll stored inside the machine? </h2> <div class="bvseo-question-detail"> </div> <div class="bvseo-author">Asked by: Dede3</div> <div class="bvseo-answer" data-answerid="5631717"> Thank you for your interest in our FoodSaver&amp;reg; V1100 Space Saving Food Vacuum Sealer. We are sorry for the delay in response. We understand that you want to know if the roll will be stored inside the vacuum sealer. In line with your concern, you will not stored the rolls inside the machine. For you to make a bag from a roll, using scissors, cut enough bag material from roll to hold item, plus 3 inches. Be sure to cut straight. Hope this information helps. Should you have any inquiries or further questions, please let us know by sending an email through our FoodSaver website or you may call us at our toll-free number 1-877-777-8042. For your convenience, we are available from 8:00 am to 5:00 pm Monday - Friday, EST. <div class="bvseo-author">Answered by: FoodSaver Brand</div> <div class="bvseo-pubdate">Date published: 2021-11-14</div> </div> </div> <div class="bvseo-question-answer" data-questionid="4714999"> <h2 class="bvseo-question"> Can you use gallon size bags for this? Is so what is the trick? I can get it to seal properly since the bag is wider than the sealer&amp;nbsp; </h2> <div class="bvseo-question-detail"> </div> <div class="bvseo-author">Asked by: Kera</div> <div class="bvseo-answer" data-answerid="5605557"> No you can&amp;rsquo;t use gallon sized bags on this unit. &amp;nbsp;Only large enough for quart size.&#13;&#10;But for the two of us, I like the smaller size. <div class="bvseo-author">Answered by: Trmyor</div> <div class="bvseo-pubdate">Date published: 2021-05-03</div> </div> </div> <div class="bvseo-question-answer" data-questionid="4605256"> <h2 class="bvseo-question"> I just received the wide mouth jar sealer. &amp;nbsp;I wanted to use it with this space saving model. &amp;nbsp;The jar sealer was pictured with the hose on your website. &amp;nbsp;However, it did not come with a hose. How do I get one???? </h2> <div class="bvseo-question-detail"> </div> <div class="bvseo-author">Asked by: KathyKi</div> <div class="bvseo-answer" data-answerid="5456959"> We deeply apologize for the delay. We appreciate your patience as we diligently work on replenishing our stock. We do not have a firm date when this item will be available. Keep an eye on our site for availability. <div class="bvseo-author">Answered by: FoodSaver Brand</div> <div class="bvseo-pubdate">Date published: 2021-06-02</div> </div> </div> <div class="bvseo-question-answer" data-questionid="4597744"> <h2 class="bvseo-question"> Does it have a bag cutter? </h2> <div class="bvseo-question-detail"> </div> <div class="bvseo-author">Asked by: Bucky 65</div> <div class="bvseo-answer" data-answerid="5454841"> To better assist you with your concern, please click on the live chat link here on our site. Agents are available M-Sat 9 am-6 pm EST. You may also give us a call at 877-777-8042. For your convenience, we are available 8 am-8 pm Mon- Fri, EST and 9 am-6 pm Saturday, EST. We look forward to hearing from you! <div class="bvseo-author">Answered by: FoodSaver Brand</div> <div class="bvseo-pubdate">Date published: 2021-03-24</div> </div> </div> <div class="bvseo-question-answer" data-questionid="4592559"> <h2 class="bvseo-question"> Does this work with the jar sealers? </h2> <div class="bvseo-question-detail"> </div> <div class="bvseo-author">Asked by: sheengland</div> <div class="bvseo-answer" data-answerid="5453322"> Yes, it does! Our FoodSaver&amp;reg; VS1150 Space Saving Food Vacuum Sealer, Silver is capable of vacuum sealing wide and regular mouth jars. <div class="bvseo-author">Answered by: FoodSaver Brand</div> <div class="bvseo-pubdate">Date published: 2021-05-27</div> </div> </div> <div class="bvseo-question-answer" data-questionid="4588400"> <h2 class="bvseo-question"> Does this work with wide mouth jar sealer </h2> <div class="bvseo-question-detail"> </div> <div class="bvseo-author">Asked by: MerrillsMtn</div> <div class="bvseo-answer" data-answerid="5453204"> Yes, it does! Our FoodSaver&amp;reg; VS1150 Space Saving Food Vacuum Sealer, Silver is capable of vacuum sealing wide and regular mouth jars. <div class="bvseo-author">Answered by: FoodSaver Brand</div> <div class="bvseo-pubdate">Date published: 2020-12-02</div> </div> </div> <div class="bvseo-question-answer" data-questionid="4500220"> <h2 class="bvseo-question"> My food sealer suddenly stopped working after only a month. Is there a reset button on the thing. Not a happy camper! </h2> <div class="bvseo-question-detail"> </div> <div class="bvseo-author">Asked by: Unhappy105459214</div> <div class="bvseo-answer" data-answerid="5444851"> Oh no! That is definitely not the kind of experience that we want you to have. We would love the opportunity to restore your faith in us. Please call our customer care team at 1-877-777-8042. For your convenience, we are available Mon-Fri 9 am-6 pm EST. We look forward to assisting you! <div class="bvseo-author">Answered by: FoodSaver Brand</div> <div class="bvseo-pubdate">Date published: 2020-11-26</div> </div> </div> <div class="bvseo-question-answer" data-questionid="4752735"> <h2 class="bvseo-question"> Just purchased and used the roll it came with, it worked great. Can I reseal potato chip bags? </h2> <div class="bvseo-question-detail"> </div> <div class="bvseo-author">Asked by: NWFLYFISHERMAN</div> <div class="bvseo-answer" data-answerid="5444076"> No, it can&#39;t! FoodSaver&amp;reg; V1100 Space Saving Food Vacuum Sealer Silver is not designed fragile food as this would result in the destroyed potato chips after vacuum sealing it using the machine. <div class="bvseo-author">Answered by: FoodSaver Brand</div> <div class="bvseo-pubdate">Date published: 2020-11-25</div> </div> </div> <div class="bvseo-question-answer" data-questionid="4773338"> <h2 class="bvseo-question"> Can I vaccine seal quart jars with this system </h2> <div class="bvseo-question-detail"> </div> <div class="bvseo-author">Asked by: Anonymous</div> <div class="bvseo-answer" data-answerid="5432737"> Yes, it does! Our FoodSaver&amp;reg; VS1150 Space Saving Food Vacuum Sealer, Silver is capable of vacuum sealing wide and regular mouth jars. <div class="bvseo-author">Answered by: FoodSaver Brand</div> <div class="bvseo-pubdate">Date published: 2020-11-19</div> </div> </div> <div class="bvseo-question-answer" data-questionid="4562866"> <h2 class="bvseo-question"> Can you buy a power cord </h2> <div class="bvseo-question-detail"> </div> <div class="bvseo-author">Asked by: Cordddd</div> <div class="bvseo-answer" data-answerid="5430731"> To better assist you with obtaining replacement parts for your FoodSaver, please click on the live chat link here on our site. Agents are available M-Sat 9 am-6 pm EST. You may also give us a call at 877-777-8042. For your convenience, we are available 8 am-8 pm Mon- Fri, EST and 9 am-6 pm Saturday, EST. We look forward to hearing from you! <div class="bvseo-author">Answered by: FoodSaver Brand</div> <div class="bvseo-pubdate">Date published: 2020-12-27</div> </div> </div> <div class="bvseo-question-answer" data-questionid="4556004"> <h2 class="bvseo-question"> VS1100 series Is there on switch? I followed all instructions but the power will not come on. What am I doing wrong? </h2> <div class="bvseo-question-detail"> </div> <div class="bvseo-author">Asked by: Tracycat</div> <div class="bvseo-answer" data-answerid="5430619"> Oh no! That is definitely not the kind of experience that we want you to have. We would love the opportunity to restore your faith in us. Please call our customer care team at 1-877-777-8042. For your convenience, we are available Mon-Fri 9 am-6 pm EST. We look forward to assisting you! <div class="bvseo-author">Answered by: FoodSaver Brand</div> <div class="bvseo-pubdate">Date published: 2020-12-16</div> </div> </div> <div class="bvseo-question-answer" data-questionid="4588591"> <h2 class="bvseo-question"> Do you have to hold the lid down to lock it? Is it auto vac &amp;amp; seal? </h2> <div class="bvseo-question-detail"> </div> <div class="bvseo-author">Asked by: Chance64</div> <div class="bvseo-answer" data-answerid="5428597"> Oh no! That is definitely not the kind of experience that we want you to have. We would love the opportunity to restore your faith in us. Please call our customer care team at 1-877-777-8042. For your convenience, we are available Mon-Fri 9 am-6 pm EST. We look forward to assisting you! <div class="bvseo-author">Answered by: FoodSaver Brand</div> <div class="bvseo-pubdate">Date published: 2020-11-17</div> </div> </div> <div class="bvseo-question-answer" data-questionid="4753159"> <h2 class="bvseo-question"> Is this the food savor that allows you to cut the size you need? Or do you have a size bag for sealing everything? </h2> <div class="bvseo-question-detail"> </div> <div class="bvseo-author">Asked by: Anonymous</div> <div class="bvseo-answer" data-answerid="5416522"> Great question, depending on which item put in the bags and how you cut them will determine how many bags you will get out of the roll. Happy shopping! <div class="bvseo-author">Answered by: FoodSaver Brand</div> <div class="bvseo-pubdate">Date published: 2020-11-09</div> </div> </div> <div class="bvseo-question-answer" data-questionid="4514023"> <h2 class="bvseo-question"> I have the vs1130 model an dit seals but does nolt vacuum the air out like the pictures. what am I doing wrong? Is there a video on how to use it? </h2> <div class="bvseo-question-detail"> </div> <div class="bvseo-author">Asked by: kjlv</div> <div class="bvseo-answer" data-answerid="5410352"> Oh no! That is definitely not the kind of experience that we want you to have. We would love the opportunity to restore your faith in us. Please call our customer care team at 1-877-777-8042. For your convenience, we are available Mon-Fri 9 am-6 pm EST. We look forward to assisting you! <div class="bvseo-author">Answered by: FoodSaver Brand</div> <div class="bvseo-pubdate">Date published: 2020-11-05</div> </div> </div> <div class="bvseo-question-answer" data-questionid="4595825"> <h2 class="bvseo-question"> Is there a video showing how to use this </h2> <div class="bvseo-question-detail"> </div> <div class="bvseo-author">Asked by: Vbarb</div> <div class="bvseo-answer" data-answerid="5405061"> Thank you for taking the time to share your review. Your feedback is important to us, and it helps us to continuously improve our products and services. If there&#39;s anything we can do to assist you, please don&#39;t hesitate to contact us at 1-877-777-8042. We&#39;re here for you Monday-Friday, 9 am-6 pm EST. Our product specialists will be more than happy to help you. <div class="bvseo-author">Answered by: FoodSaver Brand</div> <div class="bvseo-pubdate">Date published: 2020-12-16</div> </div> </div> <div class="bvseo-question-answer" data-questionid="4670324"> <h2 class="bvseo-question"> Country of origin&amp;nbsp; </h2> <div class="bvseo-question-detail"> </div> <div class="bvseo-author">Asked by: Eric1949</div> <div class="bvseo-answer" data-answerid="5397452"> Great Questions! Our FoodSaver&amp;reg; Vacuum Sealers are made with premium quality materials and are manufactured from China. <div class="bvseo-author">Answered by: FoodSaver Brand</div> <div class="bvseo-pubdate">Date published: 2020-10-28</div> </div> </div> <div class="bvseo-question-answer" data-questionid="4550756"> <h2 class="bvseo-question"> I&#39;ve bought 2 of these a day apart and they both will not deal after vacuuming?!?!?!?! I&#39;m out of 200.00 bucks now. </h2> <div class="bvseo-question-detail"> </div> <div class="bvseo-author">Asked by: Amber00000</div> <div class="bvseo-answer" data-answerid="5388063"> Thank you for taking the time to submit a review. We&#39;d like to learn more about your situation and what exactly happened. We want to make things right. So, please give us a call at 1-877-777-8042 or send us a message via live chat here on the site and we will get you all taken care of. For your convenience, we are available Mon-Sat, from 9 am-6 pm, EST. We look forward to hearing from you! <div class="bvseo-author">Answered by: FoodSaver Brand</div> <div class="bvseo-pubdate">Date published: 2020-12-16</div> </div> </div> <div class="bvseo-question-answer" data-questionid="4588995"> <h2 class="bvseo-question"> We just purchased a VS3000 FoodSaver. We can&#39;t find any power chord? </h2> <div class="bvseo-question-detail"> </div> <div class="bvseo-author">Asked by: Charles Hawkes</div> <div class="bvseo-answer" data-answerid="5387144"> Oh no! That is definitely not the kind of experience that we want you to have. We would love the opportunity to restore your faith in us. Please call our customer care team at 1-877-777-8042. For your convenience, we are available Mon-Fri 9 am-6 pm EST. We look forward to assisting you! <div class="bvseo-author">Answered by: FoodSaver Brand</div> <div class="bvseo-pubdate">Date published: 2020-10-20</div> </div> </div> <div class="bvseo-question-answer" data-questionid="4663838"> <h2 class="bvseo-question"> The space saver model I am looking at does it accept the large wide rolls? </h2> <div class="bvseo-question-detail"> </div> <div class="bvseo-author">Asked by: Sladowitz</div> <div class="bvseo-answer" data-answerid="5378294"> Good day! This machine only fits 8&#39;&#39; wide bags and below. <div class="bvseo-author">Answered by: FoodSaver Brand</div> <div class="bvseo-pubdate">Date published: 2020-12-16</div> </div> </div> <div class="bvseo-question-answer" data-questionid="4571182"> <h2 class="bvseo-question"> Dies this work with foodsaver mason jar sealers? </h2> <div class="bvseo-question-detail"> </div> <div class="bvseo-author">Asked by: Kimf</div> <div class="bvseo-answer" data-answerid="5256388"> Yes, it does! Our FoodSaver&amp;reg; VS1150 Space Saving Food Vacuum Sealer, Silver is capable of vacuum sealing wide and regular mouth jars. <div class="bvseo-author">Answered by: FoodSaver Brand</div> <div class="bvseo-pubdate">Date published: 2020-09-27</div> </div> </div> <div class="bvseo-question-answer" data-questionid="4525819"> <h2 class="bvseo-question"> Are any of the models double fused? Can I use them on a 220V electric outlet? </h2> <div class="bvseo-question-detail"> </div> <div class="bvseo-author">Asked by: Abdullah92</div> <div class="bvseo-answer" data-answerid="5244118"> Our FoodSaver&amp;reg; VS1150 Space Saving Food Vacuum Sealer, Silver is capable and can be used with the 220 Electric Outlet. <div class="bvseo-author">Answered by: FoodSaver Brand</div> <div class="bvseo-pubdate">Date published: 2020-12-16</div> </div> </div> <div class="bvseo-question-answer" data-questionid="4522567"> <h2 class="bvseo-question"> why can&#39;t I get I GET THE OPERATE TO PUSH DOWN ALL THE WAY </h2> <div class="bvseo-question-detail"> </div> <div class="bvseo-author">Asked by: Plotts</div> <div class="bvseo-answer" data-answerid="5224036"> We apologize for the inconvenience. We stand behind our products 100% and would like to rectify this issue the best we can for you. Your feedback is important to us, and it helps us to improve our products and services continuously. We want to learn more about your situation and what exactly happened. Please send us a direct message via live chat here on the website and allow us to turn this experience around for you. Or you can give us a call at 877-777-8042. For your convenience, we are available from 9 am-6 pm Mon- Fri, EST, and 9 am-6 pm Saturday, EST. We look forward to hearing from you! <div class="bvseo-author">Answered by: FoodSaver Brand</div> <div class="bvseo-pubdate">Date published: 2020-08-13</div> </div> </div> <div class="bvseo-question-answer" data-questionid="4512859"> <h2 class="bvseo-question"> Does this have a hose that comes with it </h2> <div class="bvseo-question-detail"> </div> <div class="bvseo-author">Asked by: Codeman</div> <div class="bvseo-answer" data-answerid="5218831"> No, it does not! It only includes the machine as well as 3 Quart vacuum seal bags and 1 8&amp;rdquo; x 10&amp;rsquo; vacuum seal roll. We hope this helps and always stay safe! <div class="bvseo-author">Answered by: FoodSaver Brand</div> <div class="bvseo-pubdate">Date published: 2021-05-18</div> </div> </div> <div class="bvseo-question-answer" data-questionid="4514116"> <h2 class="bvseo-question"> Can I use this vacuum sealer to seal wild duck or do I need the wild game model ? </h2> <div class="bvseo-question-detail"> </div> <div class="bvseo-author">Asked by: Krod</div> <div class="bvseo-answer" data-answerid="5218808"> Thank you for asking! The FoodSaver&amp;reg; VS1150 Space Saving Food Vacuum Sealer, Silver can&#39;t vacuum seal wild ducks as we strongly suggest using the GameSaver instead as they are made so that they can be used with wild games such as ducks. We hope this helps and always stay safe! <div class="bvseo-author">Answered by: FoodSaver Brand</div> <div class="bvseo-pubdate">Date published: 2020-09-29</div> </div> </div> <div class="bvseo-question-answer" data-questionid="4516151"> <h2 class="bvseo-question"> Can I use mason jar vacuum sealer attachment with this </h2> <div class="bvseo-question-detail"> </div> <div class="bvseo-author">Asked by: Momofpre</div> <div class="bvseo-answer" data-answerid="5218780"> Thank you for asking! Yes, they are compatible. Our FoodSaver&amp;reg; VS1150 Space Saving Food Vacuum Sealer, Silver is also designed to be used with the attachments for Wide and Regular mouth jars. We hope this helps and always stay safe! <div class="bvseo-author">Answered by: FoodSaver Brand</div> <div class="bvseo-pubdate">Date published: 2020-07-16</div> </div> </div> <div class="bvseo-question-answer" data-questionid="4515736"> <h2 class="bvseo-question"> accessory tubing won&#39;t click into the food saver, are we doing something wrong? </h2> <div class="bvseo-question-detail"> </div> <div class="bvseo-author">Asked by: emsi</div> <div class="bvseo-answer" data-answerid="5217098"> We apologize for the inconvenience. We stand behind our products 100% and would like to rectify this issue the best we can for you. Your feedback is important to us, and it helps us to improve our products and services continuously. We want to learn more about your situation and what exactly happened. Please send us a direct message via live chat here on the website and allow us to turn this experience around for you. Or you can give us a call at 877-777-8042. For your convenience, we are available from 9 am-6 pm Mon- Fri, EST, and 9 am-6 pm Saturday, EST. We look forward to hearing from you! <div class="bvseo-author">Answered by: FoodSaver Brand</div> <div class="bvseo-pubdate">Date published: 2020-09-27</div> </div> </div> <div class="bvseo-question-answer" data-questionid="4456189"> <h2 class="bvseo-question"> Is this product powerful enough to vacuum out half gallon, quart, and pint size Ball jars with the Ball Jar vacuum attachments? </h2> <div class="bvseo-question-detail"> </div> <div class="bvseo-author">Asked by: josh1138</div> <div class="bvseo-answer" data-answerid="5200487"> Our FoodSaver&amp;reg; V1100 Space Saving Food Vacuum Sealer, Silver can vacuum heat seal bags and can pull between 10 and 18 inches of mercury when vacuuming from the vacuum channel. For containers and zipper bags, our FoodSaver&amp;reg; V1100 Space Saving Food Vacuum Sealer can pull between 7 and 10 inches of mercury when vacuuming from the accessory hose. <div class="bvseo-author">Answered by: FoodSaver Brand</div> <div class="bvseo-pubdate">Date published: 2020-08-01</div> </div> </div> <div class="bvseo-question-answer" data-questionid="4443728"> <h2 class="bvseo-question"> Our current food saver is not working properly not sealing totally what could be the problem can it be fixed? </h2> <div class="bvseo-question-detail"> </div> <div class="bvseo-author">Asked by: Limon5</div> <div class="bvseo-answer" data-answerid="5172812"> We&#39;re sorry to hear that your FoodSaver is not meeting your expectations. We pride ourselves on being the best in the business and would like the opportunity to turn this experience around for you. We want to learn more about your situation and what exactly happened. For us to assist you with the issue you are experiencing, please give us a call at 877-777-8042 or send us a direct message via live chat here on the website and allow us to turn this experience around for you. For your convenience, we are available from 9 am-6 pm Mon- Fri, EST, and 9 am-6 pm Saturday, EST. We look forward to hearing from you! <div class="bvseo-author">Answered by: FoodSaver Brand</div> <div class="bvseo-pubdate">Date published: 2020-05-21</div> </div> </div> </div> <script type="text/javascript"> if (document.getElementById('bvseo-questionsSection')) { document.getElementById('bvseo-questionsSection').style.display = 'none'; } </script> <!--end-questions--> <!--begin-pagination--> <ul id="bvseo-paginationSection"> <li class="bvseo-paginationItem"><a class="bvseo-paginationLink" href="https://www.foodsaver.com/food-vacuum-sealers/countertop-vacuum-sealers/foodsaver-vs1150-space-saving-food-vacuum-sealer-silver/SAP_31161366.html?&bvrrp=Main_Site-en_US/questions/product/3/SP_446977.htm">FoodSaver&reg; VS1150 Space Saving Food Vacuum Sealer, Silver Questions - page 3</a></li> </ul> <!--end-pagination--> <ul id="BVSEO_meta" style="display:none!important"> <li data-bvseo="bvDateModified">y_2022, m_5, d_16, h_21CST</li> <li data-bvseo="ps">bvseo_bulk, prod_bvqa, vn_bulk_3.0.27</li> <li data-bvseo="cp">cp_2, bvpage2n</li> <li data-bvseo="co">co_hasquestionsanswers, tq_122</li> <li data-bvseo="cf">loc_en_US, sid_SP_446977, prod, sort_[SortEntry(order=LAST_APPROVED_ANSWER_SUBMISSION_TIME, direction=DESCENDING)]</li> <li data-bvseo="diagnostics">clientName_foodsaver</li> </ul> <!--end-bvseo-questions--> <ul id="BVSEOSDK_meta" style="display: none !important;"> <li data-bvseo="sdk">bvseo_sdk, dw_cartridge, 18.2.0, p_sdk_3.2.0</li> <li data-bvseo="sp_mt">CLOUD, getContent, 0ms</li> <li data-bvseo="ct_st">questions, product</li> </ul>
product-detail-view
oos-pdp