FoodSaver® FM5000 Series 2-in-1 Vacuum Sealing System and Starter Kit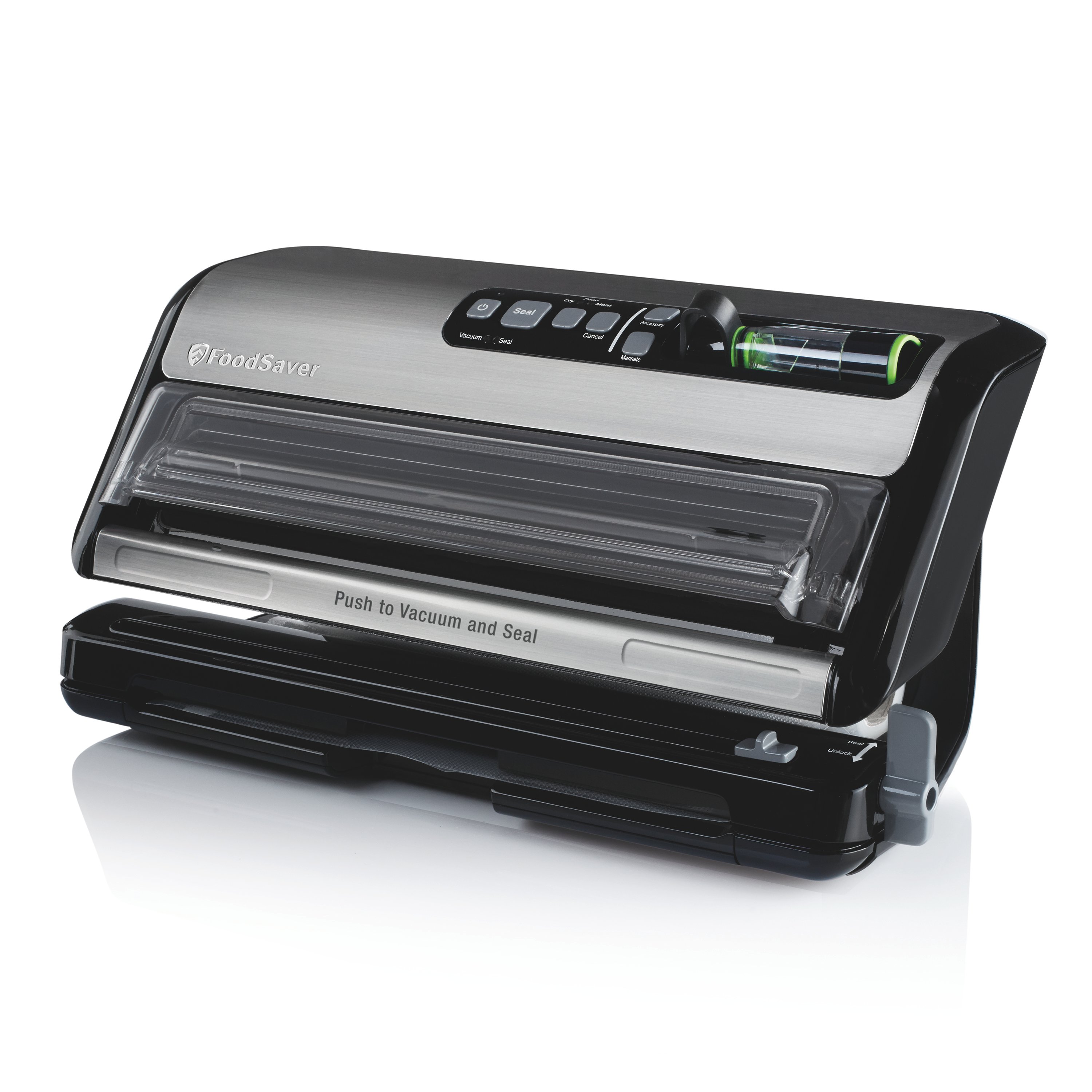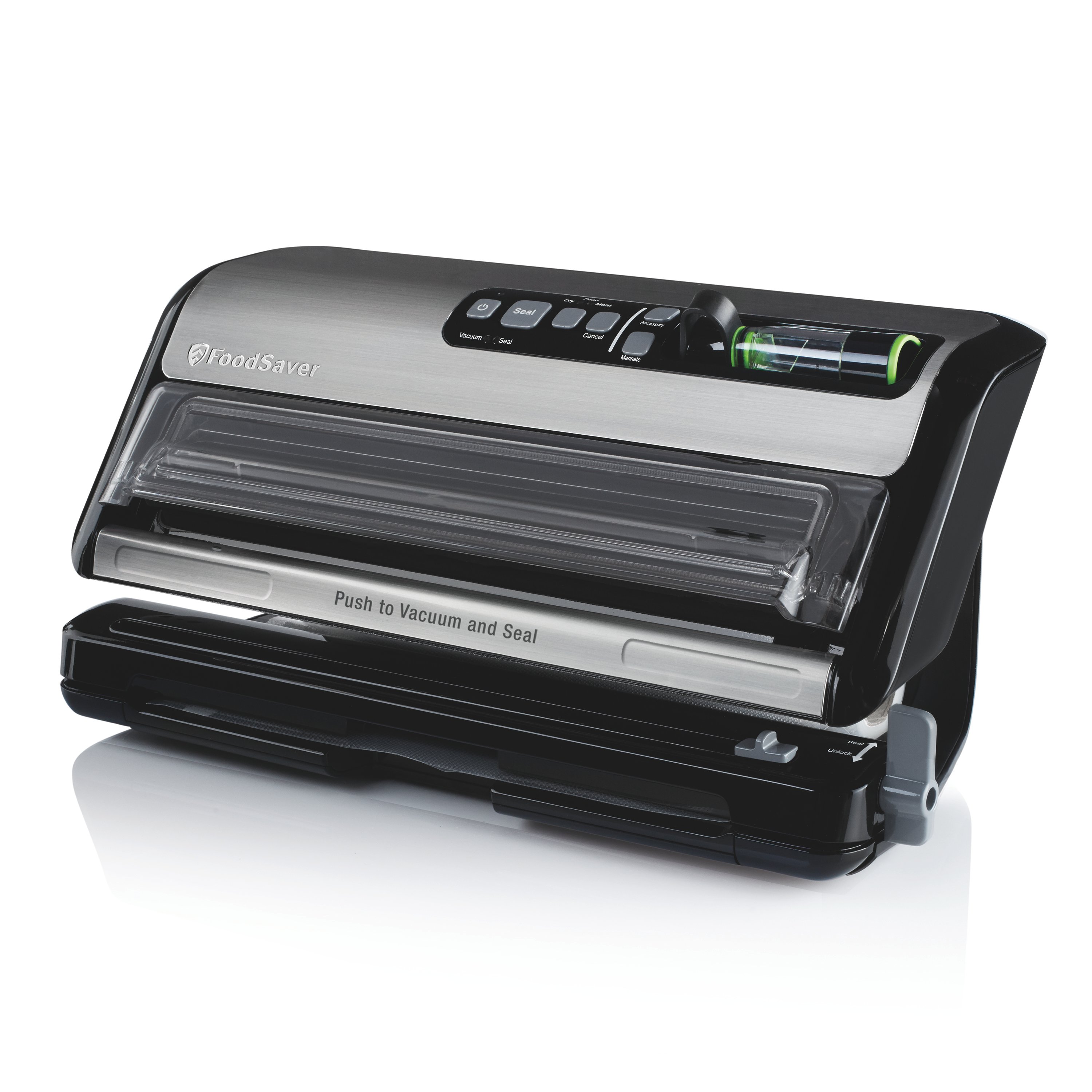 FoodSaver® FM5000 Series 2-in-1 Vacuum Sealing System and Starter Kit
Sale Price
$199.98
Strikethrough List Price

$229.98
Become a FreshBucks Rewards member to earn points and save on FoodSaver purchases, Join Now
Already a member? Log in now
Final Sale: may not be returned or exchanged
Sale Price
$199.98
Strikethrough List Price

$229.98
Become a FreshBucks Rewards member to earn points and save on FoodSaver purchases, Join Now
Already a member? Log in now
Final Sale: may not be returned or exchanged
Want us to let you know when the item you wanted is back in stock?
---

Free Standard Shipping on Orders $50+

Free Express Shipping on Orders $100+ Details
---
Product Details
Description
The FoodSaver FM5200 automatic vacuum sealer system makes it easier than ever to keep food fresh up to 5x longer compared to ordinary storage methods. It reduces bag-making steps by 50%, taking the time and guesswork out of bag making and sealing, along With reducing over 30% of roll waste when compared to previous FoodSaver food preservation systems. Plus, the system provides 2-in-1 versatility for freezer, fridge, and pantry storage. Handheld sealer seals FoodSaver zipper bags, canisters, and containers, and marinates food in minutes.
Features
Save more, waste less: Meat preserved with the foodsaver system in the freezer can last up to 3 years and still taste fresh, flavorful, and freezer-burn free. Prep-ahead meals, leftovers, and produce stored in the fridge will stay fresh up to weeks later instead of spoiling in days
Express bag maker: The express bag maker reduces bag making steps by 50% compared to FoodSaver V4000 models, thanks to a unique second heat-sealing bar to automatically prep the next bag
More convenient to use: Easy view vacuum window lets you easily control where you seal while the open roll storage design lets you see when you need to replace the roll. Plus, led light indicators easily guide you through the vacuum sealing process. Just press the vacuum and seal bar to remove the air that causes freezer burn and spoilage
Very consistent sealing: Equipped with dual heat sealing strips, it's to reach an optimal vacuum level and airtight seal. The FM5200 is durable, high quality, and backed by a 5-year limited warranty
Automatic moisture detection: Smart technology automatically detects moisture and switches to the correct mode to ensure an airtight seal is achieved. The patented removable drip tray will catch any overflow liquid and is dishwasher safe, making this kitchen appliance easy to clean and maintain
Includes (1) 11" X 10' vacuum seal roll (3) 1-quart precut vacuum seal bags (2) 1-gallon precut vacuum seal bags (3) 1-quart vacuum zipper bags (2) 1-gallon vacuum zipper bags
Included Parts
1 - 11" x 10' vacuum seal roll 3 - 1-quart vacuum seal bags 2 - 1-gallon vacuum seal bags 3 - 1-quart vacuum zipper bags 2 - 1-gallon vacuum zipper bags
Specifications
Dimensions:

7.24" H x 16.31" W x 7.64" D
Rated

5

out of

5
by
Chuck J
from
Excellent product!
I purchased this a few weeks ago to replace a worn out Kenmore that no longer sealed. The FoodSaver FM5000 is by far the best food sealer I've used! It is simple to operate and does a fantastic job vacuum sealing meats and liquids. The retractable is engineering genius! No more trying to find the adaptor! This model also has a PulseVac mode that allows you to select exactly how much air to remove from the bag (used for delicates like pastries etc.) Although this unit is taller than my old sealer, the footprint is 1/2 the size freeing up more counter space. All in all, this is the perfect sealer for my needs!
Date published: 2019-10-24
Rated

3

out of

5
by
Danel
from
I Like it but has design flaw FoodSaver should fix
Bought this to replace an old 4440 series FoodSaver that served me well for years. I do like the idea of cutting a step out of the process by heat sealing the edge of the next bag while the current bag is vacuum sealing. Having the bag dispense flat at the bottom of the machine is also nice in that it is easier to measure the size of the bag. Plus, all of the features I have tested, work well. So far, so good. There is one glaring design flaw. The issue is the bag has to be held up in the air in order to start the sealing process. That would have been okay under the older models that start the sealing process automatically when the edge of the package is inserted into the machine. However, this model requires the user to push both sides of a lever while holding the item at the same time. Not sure how many hands other folks have, but I only have two. The two hands I do have are pretty decent size so I can sort of hold the edges of the packet and poke the lever on each side at the same time. Not overly difficult with an eleven-inch-wide bag, but a real pain with the smaller eight-inch width. I also found I had to put some decent pressure on the lever which made the unit scoot back, so I had to make certain it had something behind it to keep it from moving. It is also necessary to hold the bag level in order to stop the contents from sliding to the bottom. Not a problem with say, a steak, but not so cool with anything you want to keep sort of flat and separated in the bag. (I freeze peppers, for example.) I considered sending this back and switching it out for the 4800 series, but it dawned on me it is not that hard of a fix. I just built a platform that nestles against the front of the machine so I can lay the bag on it and push the lever with my now free hands. [11 inches by 11 inches by 3 1/2 inches tall with a one-inch overhang at one end so it fits against the machine. The ugly paint left over from hobby project is optional.] That also solved the problems of holding the bag up (no need to hold it at all) and keeping it level. I included a couple of photos showing what I am talking about. Don't be alarmed by that. There is no need to go through all that trouble. Any platform that is around 3 1/2 inches tall will do the trick. (Turned over pan or box top maybe?) I am surprised FoodSaver did not address this issue, since it had to jump out during testing. Bottom line is FoodSaver should have caught this during the design phase. It can be fixed by simply adding a platform to the product, either as a stand-alone accessory or something that attaches to the machine that can be lowered into place when needed. Fix that flaw and I would give this unit Five Stars.
Date published: 2021-09-03
Rated

5

out of

5
by
Didi37664
from
FM5400 Great food sealing system
This was an upgrade from a basic food sealer for us. This one is really handy for measuring and making bags, as well as using the accessories. It's super convenient to have the bag roll inside the machine and to be able to cut and seal them so easily and quickly. It helps reduce waste from cutting bags too big or small. I also like that you can manually adjust the vacuum to store softer items like breads, soft fruits, etc. I have used the jar sealer with this machine and I am loving it for storing jerky or other dehydrated foods in jars. I hope to use the bottle stopper/sealer soon. Overall, I am very pleased with this machine.
Date published: 2022-05-10
Rated

1

out of

5
by
Cornyship
from
I've had Foodsaver products since the beginning, but, I decided to upgrade this model and I will soon donate it to a thrift store because I hate it. I find it difficult to use, waste more roll than I ever have before, and the air suction built in attachment takes for forever to seal a canister. Bring back my old machine.
Date published: 2020-04-23
Rated

3

out of

5
by
Buzzard
from
Two Lemons in a row, But!
bought the 5200 series on 6 May 2020 and love how it worked, as I did my first smaller model two-three years ago. Like my first one the on/off button switch failed and simply would not turn it on after two or three years of use. Here we go again with the same on off issue but this time after only six months on the 5200.. .......... lousy on/off switches. Come on product design fix it! They, Foodsaver, are great though for a new one is on its way sometime as soon as they confirm I've sent it back at no cost to me. I'm getting tired of lemeons!
Date published: 2020-12-21
Rated

2

out of

5
by
Rockhead111
from
Is this model fautly?
I used my new fv-5000 series for the first time.. After being extremely satisfied with my very old basic foodsaver.. As a gift I received the fv-5000.. I bought a full loin of porterhouse..17 individual steaks. Also a fuyy loin of rib chops.. Total over 300 dollars of meat.. I followed instructions exact.. All were sealed tightly... After a couple days in the freezer... I had 6 steaks withthe seal failed putting the whole steak with frost/freezer in the bag on the meat and air in the bag.. I alao had 8 chops do the same exact same thing.. I think the new unit is not sealing properely and is Not getting all the air out... Not happy at all.. Please Advise..
Date published: 2021-11-05
Rated

1

out of

5
by
stephaniek
from
Worst
I purchased this from ULINE early December , I have used it a few times and am returning it: I consider it the worst at user friendly I have ever seen along with it is so sensitive on how the bags are placed to even vacuum it and to seal it half the time the air is not even all the way out & it seals;
Date published: 2020-12-28
Rated

1

out of

5
by
KKSB
from
Don't buy a 5200
I had a 5000 series for years and loved it - recently bought a FoodSaver FM5200 Series 2-in-1 Vacuum Sealing System and it sucks. Or basically it doesn't suck worth a flip. You have to squeeze the air out of the bag manually while it's vacuum sealing to ever get it to actually get all of the air out. And half the time you have to cancel and start over 2 or 3 times before you ever get a seal. But then there is always that 1 out of 10 times that you start it and it works like it's supposed to. I hate the 5200 - but I can't afford to buy another one right now so I'm stuck with it.
Date published: 2022-04-19
Rated

2

out of

5
by
Flash G
from
Vaccuum doesn't work for me correctly.
I've owned this machine for a while. When I hit the lever I'm never sure if the vaccuum is going to work properly on the bags. Maybe I got a lemon? The containers work just fine but the bags I can never figure out what the problem is. I see all these good reviews so maybe it's the machine or me but there is a problem. I'm not a happy camper.
Date published: 2020-01-02
Rated

5

out of

5
by
Thania
from
Covers all my vacuum sealing needs
I love how easy to use this machine is. It's quick and easy to make your own bags using the rolls so they are just the right size. No more freezer burn! I have also used the marinade container and it was again easy to use and the results were great.
Date published: 2018-01-08
Rated

2

out of

5
by
Smoking dude
from
poor design, bad quality control
OK, I decided to upgrade to this model from all the reviews. first of all the design of this is terrible for wet foods. some of the juices go into the gray juice tray but many drip down the edge and down into all of the crevices and cutter parts that are positioned BELOW the sealer. this is gross enough for cooked meats, but completely sceevey during raw meats. your idea for a separate bag cutter / sealer should have been positioned above to deal with the basic physics of liquids and gravity. this design is unsanitary as no option for disassembly or submersion of the entire unit would be acceptable. next the door, again many crevices and parts for liquids and bacteria to grow inside of with no option of removing or disassembling to sanitize. My machine is seriously disgusting me to use now. over time it has gotten nasty looking. on to the main sealer. after less than a month there seams to be a 1/4 inch section that stopped sealing just right of center. I need to vac/seal it twice with a shift to the left each time to get it to work. this is using the official food saver bags. on a hunch I used some off brand bags with same textured back side and the problem is less but still present. the bag cutter sealer seals across the entire surface just fine and clean, Id suggest a better or even a double strip main sealer to ensure proper operation before wasting resources on a convenience feature. finally the cutter, after about 15-20 uses the cutter no longer works from right to left. it will only cut from left to right. so I must be conscience to always reset it before I pull more plastic out or I am forced to search for some scissors.
Date published: 2020-01-12
Rated

3

out of

5
by
DDMPI
from
Piece of Junk! Don't Customer Service is replacing
Bought the FM 5480 in July 2018 and used it less than once a month. The heating element quit working and it won't seal the bags anymore after less than 18 uses. My last unit lasted almost 7 years so the quality of the units has gone downhill. I contacted customer service via email twice and never received an answer about warranty on the product so I called the 877 number and waited on hold for 25 minutes. Once I reached a live person they were very helpful and sent me a return label and said they would replace the unit
Date published: 2020-01-02
Rated

1

out of

5
by
Karztonsmom
from
Doesn't work right
Bought new fm 5000 series foodsaver and used it a handful of times and does not function properly after sealing a couple bags it has lights at the top that flash where the dry and moist selections are at not at all happy that I paid like 200 for this and it doesn't function properly
Date published: 2021-01-18
Rated

5

out of

5
by
Vidiots Too
from
I love (loved) my machine
I have had this machine foe quite a few years and I do love it. It took me a while to learn how to really use it but I finally did. I have put deer and wild hog in the freezer every year for many years. The machine worked perfectly. Changed the seals out (twice)- I think. No other flaws till now. I have lost too much vacuum power. The first vacuum is usually great but it lessens from there. Do we have anyone that services these units or where can I get parts? If I must I will purchase another just like this one but I would rather repair... Thank you for a wonderful machine & keep the good stuff coming...
Date published: 2022-03-12
Rated

4

out of

5
by
KrisTru
from
Food Saver
Ill get right to the point. It is a very good sealer. But i feel like the reusable vacuum sealer bags seal better than the precut or other bags/rolls. So I'd recommend also buying the resealable vacuum bags that you see with the detachable sealer.
Date published: 2021-01-10
Rated

4

out of

5
by
CaptainEman
from
Love the machine, except the accessory burns out
This is the 2nd machine now that the accessory has burnt up. I like the zip lock bags. However, I started to notice that when I would use the accessory to vacuum it would still have air in it, and within a day would look like a normal zip lock storage bag. I just bought a new set of bags 2 days ago. Went to the grocery store last night bought some items and started to portion things, went to seal a bag and nothing. I can still do normal bags with no problems, but to use that handy little accessory is a no go for this guy!
Date published: 2020-04-22
Rated

1

out of

5
by
Frustrated10
from
Tired of buying these
Is it just me or the these stop working after sealing about 25 times? I am on my fourth machine and have been able to seal about 20 packages. I thought it was just a fluke, but these machines consistently have stopped working. I have never bother to sign up for the warranty, and only seal in batches about every three months. I haven't even run out of the packages that came with the machine.
Date published: 2020-03-30
Rated

1

out of

5
by
TwistOneUp
from
Too difficult to use
I bought one and got it to work once. Just once. I do not have the instructions and your site does not have a User Manual download. Not very supportive... Controls are not intuitive. I tried sealing a ribeye and got nowhere in 15min of effort. Keeps popping the GFI breaker. I wound up.using a Hefty zip-lock bag, from which I removed almost all the air using a straw. So much for vacuum sealing. Sealers are supposed to make our lives easier. This made me frustrated and failed to seal a small steak.
Date published: 2020-03-13
Rated

2

out of

5
by
Noney
from
One major flaw
I replaced the Food Saver that I had had for nearly 10 years with the FM5000, and it was a mistake. For some reason the manufacturer decided to put the sucking operation above table height which makes it seriously difficult to create the vacuum bag. I recommend you buy the lesser model that is flat with the table. This one is a real pain.
Date published: 2020-11-21
Rated

5

out of

5
by
Liz202
from
Absolutely Love this product!!!!!!
We are a family of 6 at home including 4 kids, we do a lot of bulk shopping to save money. But even with the bulk buying some of it goes to waste sooner then I would like; leaving us no choice but to through away money pretty much. I bought this about a week ago and I have found my new best friend. I absolutely love this product I don't know why I didn't buy it any sooner. It is super easy to use, very clean and it doesn't take up a lot of counter space in my kitchen. I've done some product research since I purchased it and have watched all the useful videos available. I have to say I love it so much I about seal mostly everything I can. I definitely recommend this investment it is a must have in a kitchen.
Date published: 2020-04-19
Rated

5

out of

5
by
Kayt
from
Great saver
I've had this model for several years and it works great. Also have a small hand held one. Couldn't be without either.
Date published: 2020-12-07
Rated

5

out of

5
by
njrmi59
from
Love the Features
I had bought this a couple months ago and just love the machine. I have used it for freezing apples, applesauce, meats. It helps me with saving money on family or bulk items that I purchase. Love how the pulse works. I had a small food saver and used it all the time and wanted to upgrade. So I found this machine and was very happy I upgraded.
Date published: 2019-11-08
Rated

1

out of

5
by
DWhitt
from
VERY DIFFICULT TO USE
I bought this about a hear ago and it is so hard to use. The bags have to be propped up because they slide out of the track and you have to use both hands to press each side to get the vacuum seal to start. Such a very poor design!
Date published: 2020-03-11
Rated

4

out of

5
by
Pat R
from
No pulse button
I would of given it 5 stars but after i received this I realized that this did not have the pulse button on it which is something I used all the time on my old machine. and it seems to be on your other model which is like this one.
Date published: 2020-12-15
Rated

3

out of

5
by
ShirleyNSB
from
Challenging and disappointed
I find this sealer hard to use because there is a need to use two hands to press the seal lever, plus you need to hold the bag! This makes some of the seals not ideal and/or your hand slips and you end up wasting bag materials. I am disappointed that this sealer is so challenging in this regard. I wish there was something that would grab and hold the bag secure while I press on both sides as instructed in the directions.
Date published: 2021-02-21
Rated

1

out of

5
by
Sunny29
from
I am scarred for life!
I bought this item but wished I hadn't. It is clumsy, needs two people or a platform of some kind to attempt to get a bag sealed and even then it doesn't seal the bag completely and air is still in the bag, I destroyed half the roll trying to hold the bag, tap both side of the sealer and ensure the open end is properly in the sealer and it never was. I got one sealed bag after we made it a family affair and had one person handle each of the duties and we had to stop it from sealing 3 times to make this happen. This process has to be simplified especially at the expense of this item, I could have bought a cheaper system with supplies and less headache. The worse part was finding out the price and it not living up to what we expected.
Date published: 2022-01-10
Rated

5

out of

5
by
Redskins65
from
You did it again
We purchased this to replace one we used to death..lol. I love all the different options on this one and the clear viewing window shows you where to place bag
Date published: 2020-02-15
Rated

5

out of

5
by
Just another prepper
from
Good product
Reliable and easy to operate. It does not come with a lock that will hold the plastic bag, so you have to use both hands and four fingers to operate it. There is a small learning curve for doing it. Two index fingers to press on the cover and two thumbs to press on the start bar. But once you understand how to do it, it is really easy. And it actually allows you to have more control cause you don't need to use one hand to hold your bag and the other hand to lock the bag in place. Instead you are using both hands to hold the plastic bag in place.
Date published: 2021-03-27
Rated

5

out of

5
by
Anonymous
from
Easier and quieter than my old model.
Very easy to use and more quiet. I love that I can have the next bag sealed.
Date published: 2021-03-05
Rated

4

out of

5
by
Anonymous
from
Over 20 year foodsaver user!!!
Absolutely love foodsaver products. Save big $$$$$
Date published: 2021-03-08
bvseo_sdk, dw_cartridge, 18.2.0, p_sdk_3.2.0
CLOUD, getReviews, 0ms
reviews, product
---
<!--begin-bvseo-questions--> <!--begin-questions--> <div id="bvseo-questionsSection"> <div class="bvseo-question-answer" data-questionid="4906151"> <h2 class="bvseo-question"> Can you vacuum canning jars with this sealer </h2> <div class="bvseo-question-detail"> </div> <div class="bvseo-author">Asked by: TDKB</div> <div class="bvseo-answer" data-answerid="5883529"> Yes. All the FoodSaver machines will vacuum seal jars if you have the jar sealing attachment either regular or wide mouth. <div class="bvseo-author">Answered by: Rhonda55</div> <div class="bvseo-pubdate">Date published: 2021-07-27</div> </div> </div> <div class="bvseo-question-answer" data-questionid="5280367"> <h2 class="bvseo-question"> My food saver isn&amp;rsquo;t shutting off&amp;nbsp; </h2> <div class="bvseo-question-detail"> </div> <div class="bvseo-author">Asked by: Rcpsue</div> <div class="bvseo-answer" data-answerid="5847137"> Hello, this is Mateusz from FoodSaver Consumer Care.&#13;&#10;Thanks for reaching out to us. We are sorry to hear about this. We will be more than happy to fix this for you. For further assistance, please reach out to us at 1-877-777-8042 or email us at foodsaverconsumercare@newellco.com. We&#39;re here for you Monday to Friday from 9:00 am till 5:00 pm EST. <div class="bvseo-author">Answered by: FoodSaver Brand</div> <div class="bvseo-pubdate">Date published: 2021-06-28</div> </div> </div> <div class="bvseo-question-answer" data-questionid="4947669"> <h2 class="bvseo-question"> Does this work with the quick marinade accessory? </h2> <div class="bvseo-question-detail"> </div> <div class="bvseo-author">Asked by: WMurray</div> <div class="bvseo-answer" data-answerid="5636849"> Thank you for your interest in our FoodSaver&amp;reg; FM5000 Series 2-in-1 Vacuum Sealing System. We are sorry for the delay in response. We understand you want to know if this is compatible with quick marinator. The retractable accessory hose can be use to vacuum seal zipper bags, containers, canisters, bottle stopper and can also attach to marinator. Hope this information helps. Should you have any inquiries or further questions, please let us know by sending an email through our FoodSaver website or you may call us at our toll-free number 1-877-777-8042. For your convenience, we are available from 8:00 am to 5:00 pm Monday - Friday, EST. <div class="bvseo-author">Answered by: FoodSaver Brand</div> <div class="bvseo-pubdate">Date published: 2021-07-23</div> </div> </div> <div class="bvseo-question-answer" data-questionid="5022188"> <h2 class="bvseo-question"> vacuuming and sealing FM5300. Starts to vacuum and stop after few seconds. Tried different bag positions. Nothing seems to work. Intermittent problem </h2> <div class="bvseo-question-detail"> </div> <div class="bvseo-author">Asked by: icecreamman</div> <div class="bvseo-answer" data-answerid="5630857"> Thank you for your interest in our FoodSaver&amp;reg; FM5000 Series 2-in-1 Vacuum Sealing System and Starter Kit. We are sorry for the delay in response. We understand that your vacuum sealer is intermittently working. We understand your disappointment and we apologize for any inconvenience that this may have caused you. If our product has failed due to poor quality, we will be happy to replace it. For us to further assists you with your concern, please let us know by sending an email through our FoodSaver website or you may call us at our toll-free number 1-877-777-8042. For your convenience, we are available from 8:00 am to 5:00 pm Monday - Friday, EST. <div class="bvseo-author">Answered by: FoodSaver Brand</div> <div class="bvseo-pubdate">Date published: 2021-05-23</div> </div> </div> <div class="bvseo-question-answer" data-questionid="4979564"> <h2 class="bvseo-question"> Why does the vacuum start when I&amp;rsquo;ve clicked the &amp;ldquo;Seal&amp;rdquo; button? Just trying to seal bags of chips etc. Is it supposed to do that?&amp;nbsp;&#13;&#10;We used our old unit daily to simply seal ( not vacuum&amp;nbsp;seal), the fact that the vacuum kicks on is annoying. </h2> <div class="bvseo-question-detail"> </div> <div class="bvseo-author">Asked by: DDahl249</div> <div class="bvseo-answer" data-answerid="5558215"> Sounds like it is working as designed. There are two stages of VACUUM, first stage closes the lid and clamps the bag. If you pressed SEAL that VACUUM should stop and the heat seal should engage. There will be a little bit of vacuum sucking the air out of the bag while the clamping takes place, but not much. If you did not press SEAL, then the vacuum will continue until all air is removed from the bag. <div class="bvseo-author">Answered by: MAB007</div> <div class="bvseo-pubdate">Date published: 2021-07-23</div> </div> </div> <div class="bvseo-question-answer" data-questionid="4802004"> <h2 class="bvseo-question"> Does the FM5000 work if there is liquid in the bag? </h2> <div class="bvseo-question-detail"> </div> <div class="bvseo-author">Asked by: pamckin</div> <div class="bvseo-answer" data-answerid="5524787"> They recommend pre-freezing liquids before vacuum sealing. <div class="bvseo-author">Answered by: zysmith</div> <div class="bvseo-pubdate">Date published: 2021-05-10</div> </div> </div> <div class="bvseo-question-answer" data-questionid="4907339"> <h2 class="bvseo-question"> How do you freeze bread, rolls, English muffins?&#13;&#10;When I vacuum seal It squishes them to nothing what am I doing wrong please help me </h2> <div class="bvseo-question-detail"> </div> <div class="bvseo-author">Asked by: Bread lover</div> <div class="bvseo-answer" data-answerid="5516447"> Freeze bread before vacuum sealing. Then they will be hard and the vacuum sealer won&amp;rsquo;t smash them. <div class="bvseo-author">Answered by: Carol6</div> <div class="bvseo-pubdate">Date published: 2021-03-18</div> </div> </div> <div class="bvseo-question-answer" data-questionid="4847636"> <h2 class="bvseo-question"> What is the vacuum strength in inches of mercury (in. Hg) of the 5200 series?&#13;&#10;&#13;&#10;Why is this specification not clearly mentioned in your product descriptions for all models? </h2> <div class="bvseo-question-detail"> </div> <div class="bvseo-author">Asked by: kjkevin</div> <div class="bvseo-answer" data-answerid="5457990"> 10 -18 inches of mercury is not a very strong vacuum. It sounds like that would leave air in the packages. <div class="bvseo-author">Answered by: Looking2Buy</div> <div class="bvseo-pubdate">Date published: 2021-08-06</div> </div> </div> <div class="bvseo-question-answer" data-questionid="4842557"> <h2 class="bvseo-question"> Does this model include a bag cutter in the unit? </h2> <div class="bvseo-question-detail"> </div> <div class="bvseo-author">Asked by: Rosarita</div> <div class="bvseo-answer" data-answerid="5452861"> To better assist you with your concern, please click on the live chat link here on our site. Agents are available M-Sat 9 am-6 pm EST. You may also give us a call at 877-777-8042. For your convenience, we are available 8 am-8 pm Mon- Fri, EST and 9 am-6 pm Saturday, EST. We look forward to hearing from you! <div class="bvseo-author">Answered by: FoodSaver Brand</div> <div class="bvseo-pubdate">Date published: 2021-07-11</div> </div> </div> <div class="bvseo-question-answer" data-questionid="4801349"> <h2 class="bvseo-question"> I have a FM5000 series machine. I got it in March 2020. The accessory attachment is not working. When I press it to use to seal a container, the regular machine start vacumming. There is no apparent problem with the hose or attachment that is visible. </h2> <div class="bvseo-question-detail"> </div> <div class="bvseo-author">Asked by: Beuttel4</div> <div class="bvseo-answer" data-answerid="5430597"> Oh no! That is definitely not the kind of experience that we want you to have. We would love the opportunity to restore your faith in us. Please call our customer care team at 1-877-777-8042. For your convenience, we are available Mon-Fri 9 am-6 pm EST. We look forward to assisting you! <div class="bvseo-author">Answered by: FoodSaver Brand</div> <div class="bvseo-pubdate">Date published: 2020-12-31</div> </div> </div> <div class="bvseo-question-answer" data-questionid="4785042"> <h2 class="bvseo-question"> I have a GB710 vacuum food saver that broke. Which one of your vacuum sealer is one step higher than the one I have.&amp;nbsp; </h2> <div class="bvseo-question-detail"> </div> <div class="bvseo-author">Asked by: Anonymous</div> <div class="bvseo-answer" data-answerid="5427834"> Oh no! That is definitely not the kind of experience that we want you to have. We would love the opportunity to restore your faith in us. Please call our customer care team at 1-877-777-8042. For your convenience, we are available Mon-Fri 9 am-6 pm EST. We look forward to assisting you! <div class="bvseo-author">Answered by: FoodSaver Brand</div> <div class="bvseo-pubdate">Date published: 2021-03-27</div> </div> </div> <div class="bvseo-question-answer" data-questionid="4785839"> <h2 class="bvseo-question"> I have anFM 5000 series food saver. The green gasket at the end of the retractable hose is worn out. Is there a replacement for that or for the end piece of the retractable hose? I couldn&#39;t find one on the website. </h2> <div class="bvseo-question-detail"> </div> <div class="bvseo-author">Asked by: msumms</div> <div class="bvseo-answer" data-answerid="5419098"> Oh no! That is definitely not the kind of experience that we want you to have. We would love the opportunity to restore your faith in us. Please call our customer care team at 1-877-777-8042. For your convenience, we are available Mon-Fri 9 am-6 pm EST. We look forward to assisting you! <div class="bvseo-author">Answered by: FoodSaver Brand</div> <div class="bvseo-pubdate">Date published: 2021-07-11</div> </div> </div> <div class="bvseo-question-answer" data-questionid="4782711"> <h2 class="bvseo-question"> Does this have a jar sealer option? </h2> <div class="bvseo-question-detail"> </div> <div class="bvseo-author">Asked by: Nurselife</div> </div> <div class="bvseo-question-answer" data-questionid="4888817"> <h2 class="bvseo-question"> I have your VAC1200 which I purchased from food saver. &amp;nbsp;It&#39;s worn out. &amp;nbsp;I would like the same type of machine. &amp;nbsp;Which one should I purchase. </h2> <div class="bvseo-question-detail"> </div> <div class="bvseo-author">Asked by: peridot</div> </div> <div class="bvseo-question-answer" data-questionid="4843032"> <h2 class="bvseo-question"> can this unit be used to seal mason jar lids as well? </h2> <div class="bvseo-question-detail"> </div> <div class="bvseo-author">Asked by: moma</div> </div> </div> <script type="text/javascript"> if (document.getElementById('bvseo-questionsSection')) { document.getElementById('bvseo-questionsSection').style.display = 'none'; } </script> <!--end-questions--> <ul id="BVSEO_meta" style="display:none!important"> <li data-bvseo="bvDateModified">y_2022, m_5, d_16, h_21CST</li> <li data-bvseo="ps">bvseo_bulk, prod_bvqa, vn_bulk_3.0.27</li> <li data-bvseo="cp">cp_2, bvpage2n</li> <li data-bvseo="co">co_hasquestionsanswers, tq_23</li> <li data-bvseo="cf">loc_en_US, sid_SP_584744, prod, sort_[SortEntry(order=LAST_APPROVED_ANSWER_SUBMISSION_TIME, direction=DESCENDING)]</li> <li data-bvseo="diagnostics">clientName_foodsaver</li> </ul> <!--end-bvseo-questions--> <ul id="BVSEOSDK_meta" style="display: none !important;"> <li data-bvseo="sdk">bvseo_sdk, dw_cartridge, 18.2.0, p_sdk_3.2.0</li> <li data-bvseo="sp_mt">CLOUD, getContent, 0ms</li> <li data-bvseo="ct_st">questions, product</li> </ul>
product-detail-view
oos-pdp