FoodSaver® FM2000 Vacuum Sealing System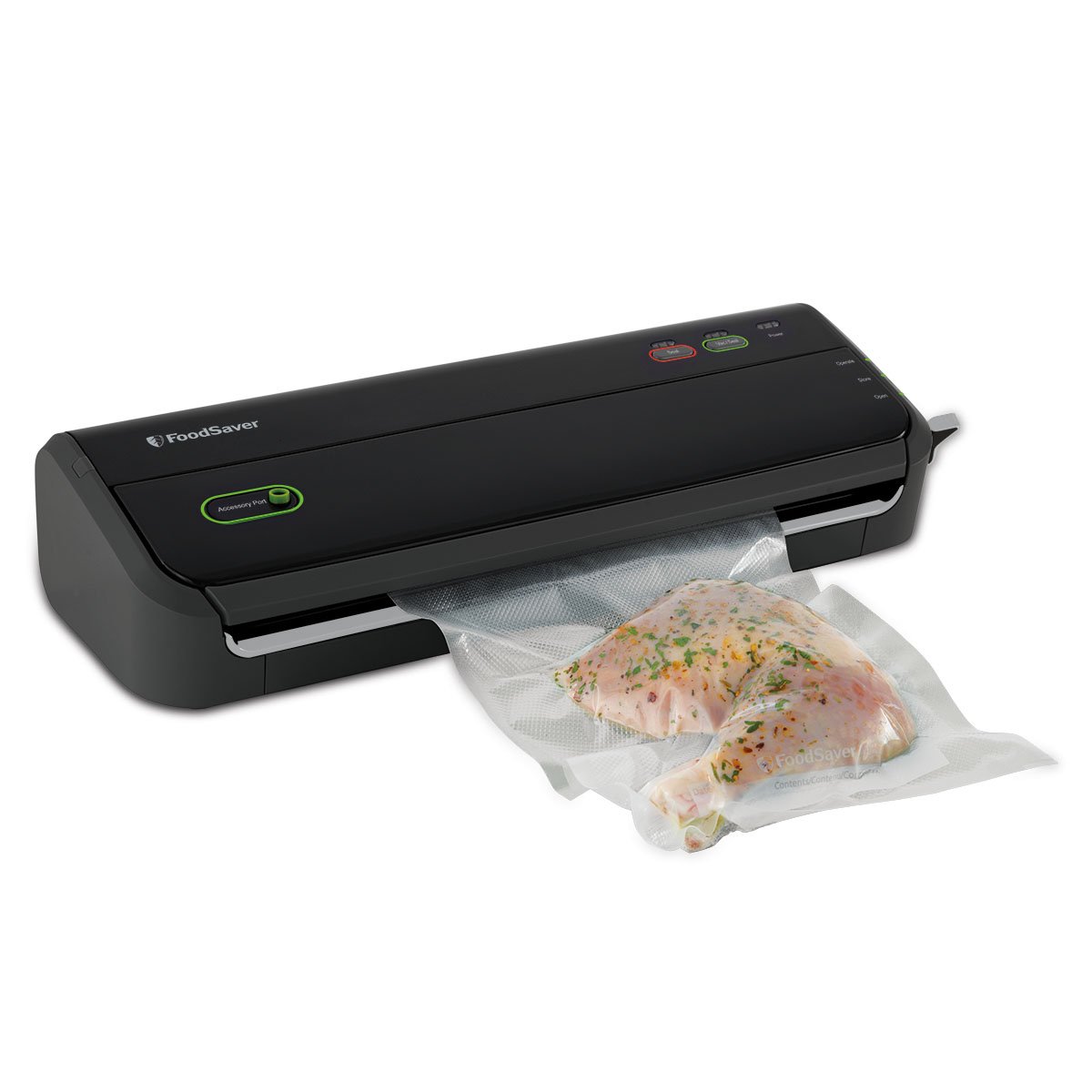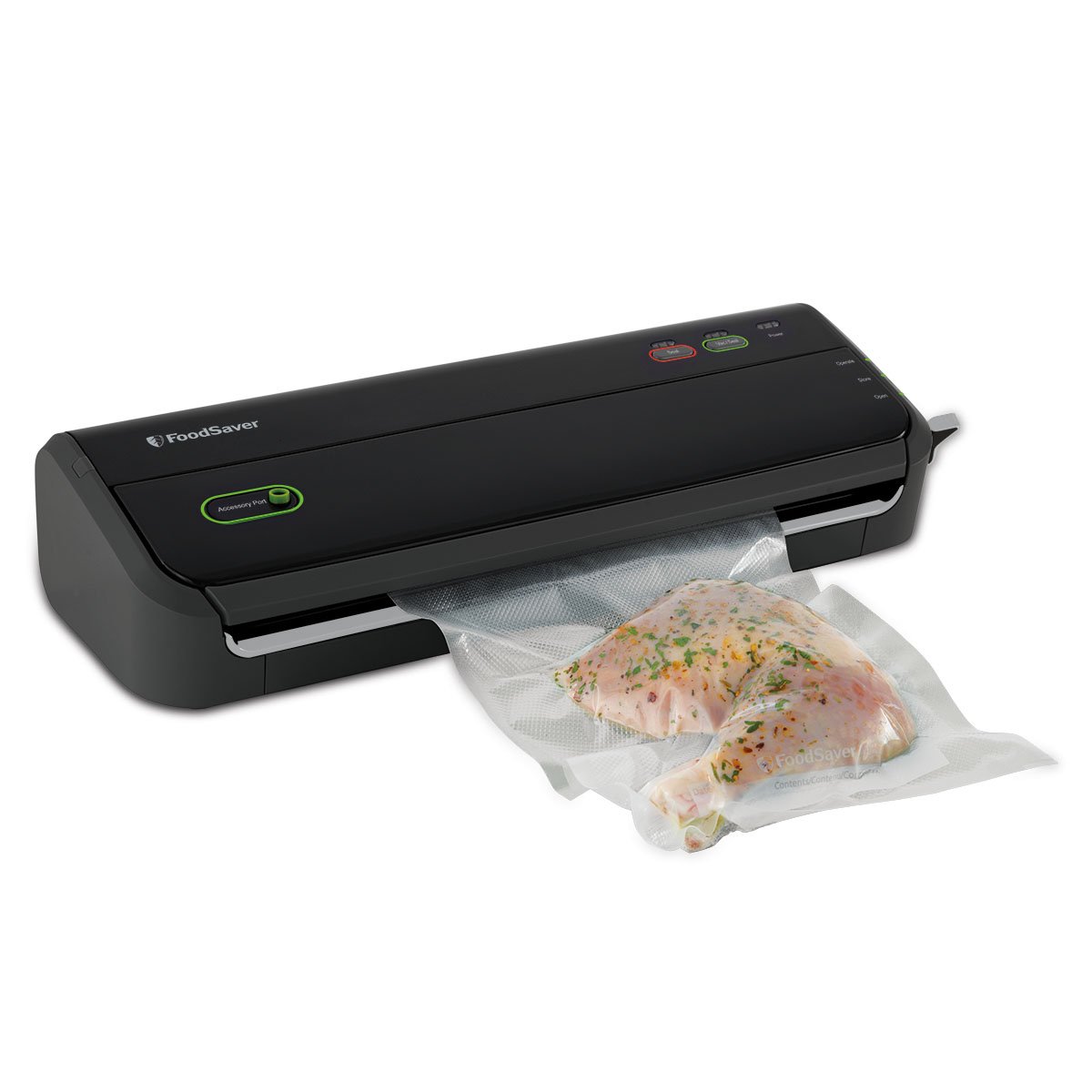 FoodSaver® FM2000 Vacuum Sealing System
Sale Price
$89.98
Strikethrough List Price

$115.49
Become a FreshBucks Rewards member to earn points and save on FoodSaver purchases, Join Now
Already a member? Log in now
Final Sale: may not be returned or exchanged
Sale Price
$89.98
Strikethrough List Price

$115.49
Become a FreshBucks Rewards member to earn points and save on FoodSaver purchases, Join Now
Already a member? Log in now
Final Sale: may not be returned or exchanged
Want us to let you know when the item you wanted is back in stock?
---

Free Standard Shipping on Orders $50+

Free Express Shipping on Orders $100+ Details
---
Product Details
Description
The FoodSaver® FM2000-000 Vacuum Sealing System keeps food fresh up to 5x longer and saves up to $2700 per year based on buying in bulk, on sale and preventing waste. Form and function combine with a sleek, compact design and easy-to-use manual operation to preserve a variety of foods.
Features
Keeps food fresh up to 5X longer and helps prevent freezer burn*
New Technology - Minimizes Bag Material Used, 40% less than traditional FoodSaver units
Auto Vacuum and Seal Button - dual-purpose button vacuums out air and creates a strong heat seal, automatically stopping once food is airtight and ready for storage
Seal Button - easily seals rolls for custom sized bags
Easy-Lock Latch - secures bag for the strongest vacuum seal
Includes: (3) 1-quart bags, (2) 1-gallon bags, (1) 11" x 10' vacuum seal roll & Accessory Hose
Included Parts
3 – Quart vacuum seal bags
2 – Gallon vacuum seal bags
1 – 11" x 10' vacuum seal roll
1 – Accessory Hose
Specifications
Dimensions:

4" H x 16.3" W x 3.9" D
Rated

1

out of

5
by
Paul_D
from
Horrible Design on Hose Connector
Recently, the green hose adapter failed (plastic prong broke). We tried to purchase just the replacement hose. After searching the internet, we discovered this is a common failure and the hose is not available. No way to purchase a hose. Now we have a seni-worthless Foodsaver (cant use for mason jars or reusable bags).
Date published: 2021-08-22
Rated

1

out of

5
by
Leeuh
from
Will not vacuum. Bags are thin and don't seal.
After using this only once, it will not pull a vacuum! I had just bought some meat and needed to seal and freeze it so it wouldn't go bad, and my FoodSaver would not pull a vacuum at all! Even worse, it sealed the bag before any of the air was out, so it left my meat in worse shape than if I had just used a ziplock freezer bag, and wasted the FiodSaver bags inhad since I had to cut them open before even using them. Also, the bags are so much thinner than they used to be and the seal is not very good at all. The roll I recieved was wrinkled and will not hold a proper vacuum seal. Complete waste of money! This brand and products used to be top notch whereas now the quality has plummeted but the cost is the same! I woukd give 0 Stars if i could.
Date published: 2021-11-04
Rated

3

out of

5
by
Boymom2019
from
Loved the product
My husband and I bought this in the summer of 2018 and it was working great until July of last year when the machine wouldn't latch at all and I have tried more than once to contact someone about it with no reply. We are very disappointed because we really wanted to get it replace but now its to late because we no longer have it.
Date published: 2021-01-18
Rated

5

out of

5
by
Anonymous
from
Great machine
This is a great product for the price. I had the larger model before that would make bags with the rolls. This one you have to cut a bag, seal it & then out in the food to vacuum seal but uses both large & small bags. Also has the attachment to seal ziplocks & containers. I love this one.
Date published: 2020-10-19
Rated

1

out of

5
by
SheRod
from
Disappointing
After a few times using this it started making this clicking noise as it vacuums. I stopped using it for 2 days and when I used it again it's still has that clicking noise. This product is a piece of junk and it's impossible to get hold of customer service. Returned and until now ( over a month) still no refund.
Date published: 2020-06-30
Rated

2

out of

5
by
Good then Bad
from
Stopped the vacuum for removing the air
I received this as a wedding gift and maybe used it 1/2 dozen times and then we bought a side of beef....sealed up about 5 packages and no it won't vacuum out the air...it Seals just fine...we followed the troubleshooting points and are now back to using Ziplock baggies....I will definitely be calling the company on this.
Date published: 2020-07-04
Rated

2

out of

5
by
Tee01
from
Not happy at all
Will not seal on first or second try. Very unsatisfied
Date published: 2021-02-03
Rated

1

out of

5
by
Planned obsolescence sux
from
Do not buy. Accessory hose is no longer available
The accessory hose specific to this model has a green fitting on one end that has an extra long and fragile nipple that activates the valve on the accessory port. the standard accessory hose WILL NOT WORK on this model
Date published: 2021-01-17
Rated

5

out of

5
by
Airenurse
from
Nothing negative....
This item is a great way for portion control, saving with bulk purchases, keeping food fresher longer.
Date published: 2020-07-06
Rated

2

out of

5
by
tswe
from
Seal
The first several times of sealing it would work perfectly. I make sure to place the bag in proper position. It seems like it's lost some of it's suction. It won't suction out all the air and seal. I have to manually seal it with air still in the container.
Date published: 2020-09-11
Rated

5

out of

5
by
R Bray
from
Great machine
FoodSaver is a great machine & it will save me a lot of money. I really like the accessory port built into the machine.
Date published: 2020-07-03
Rated

5

out of

5
by
Ria2
from
I bought and at times it didn't seal. However I found that if the bag is not sitting right it won't seal. Problem solved, make sure your bag is placed right over the overflow not passed it. Love my device
Date published: 2020-08-25
Rated

2

out of

5
by
FingersToes
from
Do not like the change!
It no longer comes with a compartment to put your roll into. You have to seal the end and cut with scissors, put your food in and the vacuum seal the open end. I bought mine from Walmart and did not even imagine they did not have the roll compartment or the blade to cut your bags. I would not buy this again and would not have spent $89 had I know about these changes
Date published: 2021-11-11
Rated

5

out of

5
by
jtb26
from
Best so far
I have owned various Food Saver systems for years. This one is one of the easiest to use and handles the widest variety of types of vacuum containers.
Date published: 2020-07-22
Rated

1

out of

5
by
RandysTired
from
Does not seal all bags as advertised.
I have had an old vacuum sealer for a while now that met its endlife. I have and always have used FoodSaver vacuum seal bags, on my Abox vac sealer and no problems. But now that I have had to get a new machine I decided, hey their bags are good let me try out their machine. To my avail, it effortlessly removes the air from the bag, hit seal. And wouldn't you know it, it cannot seal the bag well enough to prevent air from IMMEDIATELY re-entering the bag. I am absolutely annoyed, as it clearly states on the manual and box that it will supposedly work with all FOODSAVER bags.
Date published: 2022-02-04
Rated

1

out of

5
by
capgirl
from
Poor quality
Bought this as 2nd Foodsaver when 1st one quit working after 8 years. Use for bags and sealing wide mouth Mason Jars with Accessory daily! Accessory hose port broke after 13 months and they are no longer available probably because there are so many complaints. Called Support, after on hold for 35 minutes, was answered by rep and told to order FA2000 handheld sealer and ASSURED by rep it would work to seal Mason Jars with Accessory. IT DOES NOT! It is for sealing only Foodsaver's canisters (which also don't hold the seal long). Wasted my money ordering wrong part and now this Foodsaver unit only seals bags and will be thrown out. Looking for another manufacturer as the quality and support from Foodsaver is poor.
Date published: 2022-02-08
Rated

2

out of

5
by
michelle67
from
machine stopped vacuum sealing
I have this product and only have used it maybe 6-8 times. It will seal just fine but will not do the vacuum sealing. I did all the troubleshooting and still nothing. I did contact company and since sending it back I have received no communication from them. I have emailed several times and still no response this has been an issue since July. Very disappointed in the company response to my issue.
Date published: 2020-08-24
Rated

1

out of

5
by
BN in VA
from
very disappointed
I had a big 4800 unit that lasted 12 years. I loved that machine. Then it died. My son bought me this model. I should have sent it back after the first use. It's not powerful enough to suck the air out of the bags. Bags that do seem to seal don't hold the seal and I have had to throw away food because of freezer burn. The hose attached to the back for the reusable bags, has no housing. It just falls out of the "cupholder". I got the unit back in March and today (October) it failed. Less than a year. I am very disappointed in this unit/design.
Date published: 2021-10-23
Rated

2

out of

5
by
debbie69
from
Not working like it should
I bought this in August of last year (while on sale). I have used it several times for our meat and it worked great. Now you can not vacuum and seal together. Once vacuum is complete you have to manually press the seal
Date published: 2020-07-24
Rated

5

out of

5
by
Anonymous
from
Foodsaver
It's the best for storing food, especially in the freezer
Date published: 2020-09-19
Rated

1

out of

5
by
Anonymous
from
Junk
And does not seal up after one month use not happy at all Never again
Date published: 2020-10-21
Rated

5

out of

5
by
Sue Z
from
Sealed 11 bags and not 1 issue.
I just love this unit compared to my old cheaper one that wouldn't seal 1/2 the time. It's worth the extra money. I just sealed 11 bags of beets with no issues.
Date published: 2021-08-27
Rated

4

out of

5
by
Anonymous
from
Not happy.
Not happy that you cant cut the size bag you want. You were supposed to send me a bag cutter but I haven't sent one. This is my 3rd. Vacuum packer.
Date published: 2020-11-22
Rated

2

out of

5
by
pb83
from
Cheap Model
This is my second sealer from food saver and it does not come close to my 1st one. The vacuum does not always remove all the air and the only way to ensure a halfway decent seal you have to seal it twice. Also cutting the bags to size with a straight line is next to impossible without a guide. I've taken to using a straight edge and razor knife for a straight cut. When this one dies which the way it seals and vacuums will probably be soon I'll invest in the higher end model.
Date published: 2021-11-07
Rated

5

out of

5
by
dblo7net2
from
Basic needs.
Does just what I needed. Basic manual system to use mainly with containers.
Date published: 2020-12-05
Rated

5

out of

5
by
AJ Price
from
A+
Very good product. No problems as yet. Would buy again if needed.
Date published: 2021-03-15
Rated

1

out of

5
by
Nick826
from
Horrible experience
Do not waste your money on this product. I have one and it is the worse ever. I thought it is suppose to help save food. Even using this I still have to throw out food in the same amount of time when I didn't use this I feel like it was just another product that I wasted money on. I thought it would have saved me money but it didn't save me money at all it just made me spend more money in wishful thinking of saving money.
Date published: 2021-05-26
Rated

1

out of

5
by
helen45
from
Waste of time
I bought this unit this morning, read the instruction manual and tried to seal a pint bag with a hamburger patty in it. It will not vacuum and will not seal the bag. I tried this in another bag, after re-reading the manual, to be sure I had done the operation correctly. 5 bags and attempts later and I was right the first time this model isn't worth anything. I am going to try and return it to the store.
Date published: 2021-05-21
Rated

2

out of

5
by
Doug99
from
adapter unavailable, not using unit
I purchased this unit for canning. I also ordered a wide mouth jar adapter (shown in stock) My jar adapter order was eventually cancelled, not available. The vacuum unit is currently worthless to me.
Date published: 2020-09-18
Rated

5

out of

5
by
Anonymous
from
Why did I wait so long?
I should have done this years ago! I have been using vacuum bags for a long time but always resisted purchasing a vacuum sealer machine. This sealer is easy to use and very versatile. With the optional (extra purchase) bag sealer attachment it can seal vacuum bags. Or you can use either rolls of material or pre-sized bags. It comes with an assortment of material for sealing your food.
Date published: 2021-12-12
bvseo_sdk, dw_cartridge, 18.2.0, p_sdk_3.2.0
CLOUD, getReviews, 0ms
reviews, product
---
<!--begin-bvseo-questions--> <!--begin-questions--> <div id="bvseo-questionsSection"> <div class="bvseo-question-answer" data-questionid="4706418"> <h2 class="bvseo-question"> The tray full light is on. I have emptied it and wrinkled it out. Unplugged and plugged in again and light will not go out when I press cancel button.&amp;nbsp; </h2> <div class="bvseo-question-detail"> </div> <div class="bvseo-author">Asked by: Goldie49</div> <div class="bvseo-answer" data-answerid="5633183"> Thank you for your interest in our FoodSaver&amp;reg; FM2000 Vacuum Sealing System. We are sorry for the delay in response. We understand that your vacuum sealer light indicator not turning off. We understand your disappointment and we apologize for any inconvenience that this may have caused you. If our product has failed due to poor quality, we will be happy to replace it. For us to further assists you with your concern, please let us know by sending an email through our FoodSaver website or you may call us at our toll-free number 1-877-777-8042. For your convenience, we are available from 8:00 am to 5:00 pm Monday - Friday, EST. <div class="bvseo-author">Answered by: FoodSaver Brand</div> <div class="bvseo-pubdate">Date published: 2021-03-31</div> </div> </div> <div class="bvseo-question-answer" data-questionid="4692188"> <h2 class="bvseo-question"> WHAT IS THE DIFFENCE BETWEEN THE FM2000 AND THE FM21LL </h2> <div class="bvseo-question-detail"> </div> <div class="bvseo-author">Asked by: PARSONS</div> <div class="bvseo-answer" data-answerid="5632949"> Thank you for your interest in our FoodSaver&amp;reg; FM2000 Vacuum Sealing System. We are sorry for the delay in response. We understand that you want to know the difference between this vacuum sealer and the FM2100 series. There is no difference with the machine, the model number is only the representation of our retailer, for them to know which retailer carries that model number. Hope this information helps. Should you have any inquiries or further questions, please let us know by sending an email through our FoodSaver website or you may call us at our toll-free number 1-877-777-8042. For your convenience, we are available from 8:00 am to 5:00 pm Monday - Friday, EST. <div class="bvseo-author">Answered by: FoodSaver Brand</div> <div class="bvseo-pubdate">Date published: 2021-07-29</div> </div> </div> <div class="bvseo-question-answer" data-questionid="4688739"> <h2 class="bvseo-question"> Can you use the bell jar lid kit with this sealer </h2> <div class="bvseo-question-detail"> </div> <div class="bvseo-author">Asked by: Nerak 68</div> <div class="bvseo-answer" data-answerid="5632915"> Thank you for your interest in our FoodSaver&amp;reg; FM2000 Vacuum Sealing System. We are sorry for the delay in response. We understand that you want to know if this vacuum sealer can be use to vacuum seal the jars. Yes, you can use this to vacuum seal the jar by using the New Handheld Sealer with part number FA20000. Hope this information helps. Should you have any inquiries or further questions, please let us know by sending an email through our FoodSaver website or you may call us at our toll-free number 1-877-777-8042. For your convenience, we are available from 8:00 am to 5:00 pm Monday - Friday, EST. <div class="bvseo-author">Answered by: FoodSaver Brand</div> <div class="bvseo-pubdate">Date published: 2021-03-31</div> </div> </div> <div class="bvseo-question-answer" data-questionid="4678055"> <h2 class="bvseo-question"> Will this attachment work on mason jars? </h2> <div class="bvseo-question-detail"> </div> <div class="bvseo-author">Asked by: DebbieAnn</div> <div class="bvseo-answer" data-answerid="5631866"> Thank you for bringing this up to our attention. We are sorry for the delay in response. We understand that you want to know if your FoodSaver&amp;reg; Jar Sealer Kit is compatible with our FoodSaver&amp;reg; FM2000015 Vacuum Sealing System. Yes, you can use it with the New Handheld Sealer with part number FA2000 to your vacuum sealer. Simply remove the liquid chamber of your built-in retractable hose and attached it your jar sealer. Hope this information helps. Should you have any inquiries or further questions, please let us know by sending an email through our FoodSaver website or you may call us at our toll-free number 1-877-777-8042. For your convenience, we are available from 8:00 am to 5:00 pm Monday - Friday, EST. <div class="bvseo-author">Answered by: FoodSaver Brand</div> <div class="bvseo-pubdate">Date published: 2021-07-29</div> </div> </div> <div class="bvseo-question-answer" data-questionid="4677599"> <h2 class="bvseo-question"> Can you seal mason jars with your machine? </h2> <div class="bvseo-question-detail"> </div> <div class="bvseo-author">Asked by: Imlenice</div> <div class="bvseo-answer" data-answerid="5631849"> Thank you for bringing this up to our attention. We are sorry for the delay in response. We understand that you want to know if your FoodSaver&amp;reg; Jar Sealer Kit is compatible with our FoodSaver&amp;reg; FM2000015 Vacuum Sealing System. Yes, you can use it with the New Handheld Sealer with part number FA2000 to your vacuum sealer. Simply remove the liquid chamber of your built-in retractable hose and attached it your jar sealer. Hope this information helps. Should you have any inquiries or further questions, please let us know by sending an email through our FoodSaver website or you may call us at our toll-free number 1-877-777-8042. For your convenience, we are available from 8:00 am to 5:00 pm Monday - Friday, EST. <div class="bvseo-author">Answered by: FoodSaver Brand</div> <div class="bvseo-pubdate">Date published: 2021-07-29</div> </div> </div> <div class="bvseo-question-answer" data-questionid="4672433"> <h2 class="bvseo-question"> Will the FM 2000 work with my Foodsaver vacuum seal lids for dry canning jars? </h2> <div class="bvseo-question-detail"> </div> <div class="bvseo-author">Asked by: RhoZ</div> <div class="bvseo-answer" data-answerid="5631766"> Thank you for bringing this up to our attention. We are sorry for the delay in response. We understand that you want to know if your FoodSaver&amp;reg; Regular Jar Sealer is compatible with our FoodSaver&amp;reg; FM2000 Vacuum Sealing System. Yes, you can use it with your vacuum sealer. Just be sure that your using the New Handheld Sealer hose with part number FA20000. Simply remove the liquid chamber of your built-in retractable hose and attached it your jar sealer. Hope this information helps. Should you have any inquiries or further questions, please let us know by sending an email through our FoodSaver website or you may call us at our toll-free number 1-877-777-8042. For your convenience, we are available from 8:00 am to 5:00 pm Monday - Friday, EST. <div class="bvseo-author">Answered by: FoodSaver Brand</div> <div class="bvseo-pubdate">Date published: 2021-07-29</div> </div> </div> <div class="bvseo-question-answer" data-questionid="4670037"> <h2 class="bvseo-question"> Does this sealer system use a hose? &amp;nbsp;I have had the V2240BS model and trying to find another one that works like it does.&amp;nbsp; </h2> <div class="bvseo-question-detail"> </div> <div class="bvseo-author">Asked by: Janierae</div> <div class="bvseo-answer" data-answerid="5631732"> Thank you for your interest in our FoodSaver&amp;reg; FM2000 Vacuum Sealing System. We understand that want to know if there is there is an accessory hose that you can use for this vacuum sealer. We are sorry for the delay in response. In line with your concern, yes, we do have the accessory hose for this vacuum sealer. The New Handheld Sealer with part number FA20000 amounting to $14.99. You can visit our website. Hope this information helps. Should you have any inquiries or further questions, please let us know by sending an email through our FoodSaver website or you may call us at our toll-free number 1-877-777-8042. For your convenience, we are available from 8:00 am to 5:00 pm Monday - Friday, EST. <div class="bvseo-author">Answered by: FoodSaver Brand</div> <div class="bvseo-pubdate">Date published: 2021-03-30</div> </div> </div> <div class="bvseo-question-answer" data-questionid="4615899"> <h2 class="bvseo-question"> Do y&#39;all make the v2222 anymore a friend has it and my husband loved it I was wanting to get one for him for are anniversary. </h2> <div class="bvseo-question-detail"> </div> <div class="bvseo-author">Asked by: Pat m</div> <div class="bvseo-answer" data-answerid="5459771"> We deeply apologize for the delay. We appreciate your patience as we diligently work on replenishing our stock. We do not have a firm date when this item will be available. Keep an eye on our site for availability. <div class="bvseo-author">Answered by: FoodSaver Brand</div> <div class="bvseo-pubdate">Date published: 2020-12-07</div> </div> </div> <div class="bvseo-question-answer" data-questionid="4597109"> <h2 class="bvseo-question"> Does it seal regular &amp;amp; wide mouth madon jars </h2> <div class="bvseo-question-detail"> </div> <div class="bvseo-author">Asked by: rosa g</div> <div class="bvseo-answer" data-answerid="5453658"> Yes the FM2000 works with the regular and wide mouth jar sealer. <div class="bvseo-author">Answered by: FoodSaver Brand</div> <div class="bvseo-pubdate">Date published: 2021-08-31</div> </div> </div> <div class="bvseo-question-answer" data-questionid="4534029"> <h2 class="bvseo-question"> I need to know if this model the 2000 have a cutter and has a place place the roll of plastic bags so you can make your own. Thank you </h2> <div class="bvseo-question-detail"> </div> <div class="bvseo-author">Asked by: Assie</div> <div class="bvseo-answer" data-answerid="5453177"> To better assist you with your concern, please click on the live chat link here on our site. Agents are available M-Sat 9 am-6 pm EST. You may also give us a call at 877-777-8042. For your convenience, we are available 8 am-8 pm Mon- Fri, EST and 9 am-6 pm Saturday, EST. We look forward to hearing from you! <div class="bvseo-author">Answered by: FoodSaver Brand</div> <div class="bvseo-pubdate">Date published: 2021-03-24</div> </div> </div> <div class="bvseo-question-answer" data-questionid="4513387"> <h2 class="bvseo-question"> Need instructions, &amp;quot; How do I operate the food vacuum saver?&amp;quot; </h2> <div class="bvseo-question-detail"> </div> <div class="bvseo-author">Asked by: Brewbecky</div> <div class="bvseo-answer" data-answerid="5450168"> To better assist you with your concern, please click on the live chat link here on our site. Agents are available M-Sat 9 am-6 pm EST. You may also give us a call at 877-777-8042. For your convenience, we are available 8 am-8 pm Mon- Fri, EST and 9 am-6 pm Saturday, EST. We look forward to hearing from you! <div class="bvseo-author">Answered by: FoodSaver Brand</div> <div class="bvseo-pubdate">Date published: 2021-03-24</div> </div> </div> <div class="bvseo-question-answer" data-questionid="4560747"> <h2 class="bvseo-question"> Does it have a drip tray </h2> <div class="bvseo-question-detail"> </div> <div class="bvseo-author">Asked by: Debbie j</div> <div class="bvseo-answer" data-answerid="5443634"> The drip tray for your FM2000 is 176866-000-000. <div class="bvseo-author">Answered by: FoodSaver Brand</div> <div class="bvseo-pubdate">Date published: 2021-03-24</div> </div> </div> <div class="bvseo-question-answer" data-questionid="4475838"> <h2 class="bvseo-question"> Yes do this machine seal bags 11&amp;rdquo;&amp;rdquo;by 2&amp;rdquo; ?&amp;nbsp; </h2> <div class="bvseo-question-detail"> </div> <div class="bvseo-author">Asked by: Bear7</div> <div class="bvseo-answer" data-answerid="5442969"> To better assist you with your concern, please click on the live chat link here on our site. Agents are available M-Sat 9 am-6 pm EST. You may also give us a call at 877-777-8042. For your convenience, we are available 8 am-8 pm Mon- Fri, EST and 9 am-6 pm Saturday, EST. We look forward to hearing from you! <div class="bvseo-author">Answered by: FoodSaver Brand</div> <div class="bvseo-pubdate">Date published: 2021-01-25</div> </div> </div> <div class="bvseo-question-answer" data-questionid="4767515"> <h2 class="bvseo-question"> Does this sealer have a bag cutter? </h2> <div class="bvseo-question-detail"> </div> <div class="bvseo-author">Asked by: Lippy1960</div> <div class="bvseo-answer" data-answerid="5432780"> The bag cutter for your FM2000 is 176868-000-000. <div class="bvseo-author">Answered by: FoodSaver Brand</div> <div class="bvseo-pubdate">Date published: 2021-03-24</div> </div> </div> <div class="bvseo-question-answer" data-questionid="4596760"> <h2 class="bvseo-question"> What is the suction power? </h2> <div class="bvseo-question-detail"> </div> <div class="bvseo-author">Asked by: Yulieth</div> <div class="bvseo-answer" data-answerid="5428886"> For vacuuming heat seal bags, our appliances pull between 10 and 18 inches of mercury when vacuuming from the vacuum channel. For containers and zipper bags, our appliances pull between 7 and 10 inches of mercury when vacuuming from the accessory hose. <div class="bvseo-author">Answered by: FoodSaver Brand</div> <div class="bvseo-pubdate">Date published: 2021-03-24</div> </div> </div> <div class="bvseo-question-answer" data-questionid="4713462"> <h2 class="bvseo-question"> whats the difference between game saver bags vs fs bags </h2> <div class="bvseo-question-detail"> </div> <div class="bvseo-author">Asked by: Waacks</div> <div class="bvseo-answer" data-answerid="5417663"> Thank you for showing interest in our product. Sorry for the delayed response. GameSaver&amp;reg; Bags are made of heavy-duty, multi-ply material, to package and preserve meat from hunting games or fishing out in the ocean while the Regular Bags are designed to seal vegetables and small meats. <div class="bvseo-author">Answered by: FoodSaver Brand</div> <div class="bvseo-pubdate">Date published: 2020-11-10</div> </div> </div> <div class="bvseo-question-answer" data-questionid="4714134"> <h2 class="bvseo-question"> I have the FM2000 model, and I recently purchased the FS vacuum jar covers. They came with &amp;quot;tan&amp;quot; connector ends, but is loose when inserted into my vacuum &amp;quot;green&amp;quot; port). I cannot draw a vacuum with this hose. My sealer vacuums + seals &amp;quot;bags&amp;quot; perfectly. </h2> <div class="bvseo-question-detail"> </div> <div class="bvseo-author">Asked by: Gramma Colorado</div> <div class="bvseo-answer" data-answerid="5417329"> Oh no! That is definitely not the kind of experience that we want you to have. We would love the opportunity to restore your faith in us. Please call our customer care team at 1-877-777-8042. For your convenience, we are available Mon-Fri 9 am-6 pm EST. We look forward to assisting you! <div class="bvseo-author">Answered by: FoodSaver Brand</div> <div class="bvseo-pubdate">Date published: 2020-11-10</div> </div> </div> <div class="bvseo-question-answer" data-questionid="4524783"> <h2 class="bvseo-question"> We have had a Food Saver vacuum system since 2013 and it is functioning correctly; I&#39;d like to buy another like it but I can not seem to find one that pulls out moisture without using some funny looking bags with holes for sucking the moisture out. </h2> <div class="bvseo-question-detail"> </div> <div class="bvseo-author">Asked by: Granny 2020</div> <div class="bvseo-answer" data-answerid="5410510"> Oh no! That is definitely not the kind of experience that we want you to have. We would love the opportunity to restore your faith in us. Please call our customer care team at 1-877-777-8042. For your convenience, we are available Mon-Fri 9 am-6 pm EST. We look forward to assisting you! <div class="bvseo-author">Answered by: FoodSaver Brand</div> <div class="bvseo-pubdate">Date published: 2020-11-05</div> </div> </div> <div class="bvseo-question-answer" data-questionid="4772483"> <h2 class="bvseo-question"> What is the max width bag that can be used in the fm2000 </h2> <div class="bvseo-question-detail"> </div> <div class="bvseo-author">Asked by: Anonymous</div> <div class="bvseo-answer" data-answerid="5409289"> The max width bag for FM2000 is 11X16. <div class="bvseo-author">Answered by: FoodSaver Brand</div> <div class="bvseo-pubdate">Date published: 2020-11-04</div> </div> </div> <div class="bvseo-question-answer" data-questionid="4591488"> <h2 class="bvseo-question"> How can I purchase this if not online? What stores supply this item at the same price? </h2> <div class="bvseo-question-detail"> </div> <div class="bvseo-author">Asked by: Tromano</div> <div class="bvseo-answer" data-answerid="5387151"> We deeply apologize for the delay. We appreciate your patience as we are diligently working on replenishing our stock. We do not have a firm date as to when this item will be available. Keep an eye on our site for availability. You can also check our retailers by using the link below:&#13;&#10;&#13;&#10;https://www.foodsaver.com/service-and-support/find-a-retailer/find-a-retailer.html <div class="bvseo-author">Answered by: FoodSaver Brand</div> <div class="bvseo-pubdate">Date published: 2020-10-20</div> </div> </div> <div class="bvseo-question-answer" data-questionid="4732721"> <h2 class="bvseo-question"> what is the operating voltage and can I order a 240v machine? </h2> <div class="bvseo-question-detail"> </div> <div class="bvseo-author">Asked by: proff</div> <div class="bvseo-answer" data-answerid="5380049"> Great question! Our FoodSaver 2-in-1 Automatic Vacuum Sealing System with Starter Kit, v4440, Black Finish&#39;s power voltage capability 110, and up to 120 volts. Hope this helps and always stay safe! <div class="bvseo-author">Answered by: FoodSaver Brand</div> <div class="bvseo-pubdate">Date published: 2020-11-20</div> </div> </div> <div class="bvseo-question-answer" data-questionid="4733064"> <h2 class="bvseo-question"> Yes the replacement for the mini food saver is acceptable. Case number 28583006 </h2> <div class="bvseo-question-detail"> </div> <div class="bvseo-author">Asked by: Anonymous</div> <div class="bvseo-answer" data-answerid="5380027"> We want to apologize for your bad experience with our product and service. However, we&#39;d like to learn more about your situation and what exactly happened. We want to make things right. Please give us a call at 1-877-777-8042 to speak with one of our customer care specialists. We&#39;re here for you 9 AM - 6 PM, EST, Monday through Friday. Thank you. <div class="bvseo-author">Answered by: FoodSaver Brand</div> <div class="bvseo-pubdate">Date published: 2020-10-15</div> </div> </div> <div class="bvseo-question-answer" data-questionid="4658805"> <h2 class="bvseo-question"> Does this have a moist/dry setting? </h2> <div class="bvseo-question-detail"> </div> <div class="bvseo-author">Asked by: JOCOLA</div> <div class="bvseo-answer" data-answerid="5335077"> No, FM2100 does <div class="bvseo-author">Answered by: andruin</div> <div class="bvseo-pubdate">Date published: 2020-09-18</div> </div> </div> <div class="bvseo-question-answer" data-questionid="4504008"> <h2 class="bvseo-question"> will the vacuum hose work with the V2440 canisters </h2> <div class="bvseo-question-detail"> </div> <div class="bvseo-author">Asked by: pammywally</div> <div class="bvseo-answer" data-answerid="5335071"> This unit has only green connectors on hose which DONT work with either the V2440 port or the container ports. They require a grey fitting, not green. A hybrid might work (there are pictures of these but nowhere to be found anywhere online so far) but the model FM2000 I bought and returned had pitiful vacuum compared to my V2440. <div class="bvseo-author">Answered by: andruin</div> <div class="bvseo-pubdate">Date published: 2020-09-04</div> </div> </div> <div class="bvseo-question-answer" data-questionid="4542586"> <h2 class="bvseo-question"> Does this have a place for roll storage and a cutter? </h2> <div class="bvseo-question-detail"> </div> <div class="bvseo-author">Asked by: Wayfield</div> <div class="bvseo-answer" data-answerid="5236566"> Yes, it has! Our The FoodSaver&amp;reg; FM2000 Vacuum Sealing System is designed to have the bag and roll dispenser as well as the cutter for the full experience. We hope this helps and always stay safe! <div class="bvseo-author">Answered by: FoodSaver Brand</div> <div class="bvseo-pubdate">Date published: 2020-09-04</div> </div> </div> <div class="bvseo-question-answer" data-questionid="4510514"> <h2 class="bvseo-question"> How much of a vacuum does this model produce ? </h2> <div class="bvseo-question-detail"> </div> <div class="bvseo-author">Asked by: Capt Red</div> <div class="bvseo-answer" data-answerid="5215172"> For vacuuming heat seal bags, our appliances pull between 10 and 18 inches of mercury when vacuuming from the vacuum channel. For containers and zipper bags, our appliances pull between 7 and 10 inches of mercury when vacuuming from the accessory hose. <div class="bvseo-author">Answered by: FoodSaver Brand</div> <div class="bvseo-pubdate">Date published: 2020-07-14</div> </div> </div> <div class="bvseo-question-answer" data-questionid="4507266"> <h2 class="bvseo-question"> Does it have a cutter and hold bag. &amp;nbsp;If not which one does on smaller size </h2> <div class="bvseo-question-detail"> </div> <div class="bvseo-author">Asked by: Elvera1</div> <div class="bvseo-answer" data-answerid="5214330"> I was wrong. It does not have those two things. The 2100 does. <div class="bvseo-author">Answered by: Sqwirly</div> <div class="bvseo-pubdate">Date published: 2020-08-10</div> </div> </div> <div class="bvseo-question-answer" data-questionid="4484636"> <h2 class="bvseo-question"> How many of this model have you sold? </h2> <div class="bvseo-question-detail"> </div> <div class="bvseo-author">Asked by: althea414</div> <div class="bvseo-answer" data-answerid="5209016"> To better assist you with your inquiry for The FoodSaver&amp;reg; FM2000 Vacuum Sealing System, please click on the live chat link here on our site. Agents are available M-Sat 9 am-6 pm EST. You may also give us a call at 877-777-8042. For your convenience, we are available 8 am-8 pm Mon- Fri, EST and 9 am-6 pm Saturday, EST. We look forward to hearing from you! <div class="bvseo-author">Answered by: FoodSaver Brand</div> <div class="bvseo-pubdate">Date published: 2020-06-16</div> </div> </div> <div class="bvseo-question-answer" data-questionid="4495459"> <h2 class="bvseo-question"> I lost my manual for the Foodsaver 2000. Is it possible to get another one? </h2> <div class="bvseo-question-detail"> </div> <div class="bvseo-author">Asked by: sandyhart</div> <div class="bvseo-answer" data-answerid="5208994"> To better assist you with obtaining a replacement manual for your FoodSaver, please click on the live chat link here on our site. Agents are available M-Sat 9 am-6 pm EST. You may also give us a call at 877-777-8042. For your convenience, we are available 8 am-8 pm Mon- Fri, EST and 9 am-6 pm Saturday, EST. We look forward to hearing from you! <div class="bvseo-author">Answered by: FoodSaver Brand</div> <div class="bvseo-pubdate">Date published: 2020-06-16</div> </div> </div> <div class="bvseo-question-answer" data-questionid="4479459"> <h2 class="bvseo-question"> how to clean this machine </h2> <div class="bvseo-question-detail"> </div> <div class="bvseo-author">Asked by: maggie q</div> <div class="bvseo-answer" data-answerid="5204631"> To better assist you with your Inquiry about cleaning the machine, please click on the live chat link here on our site. Agents are available M-Sat 9 am-6 pm EST. You may also give us a call at 877-777-8042. For your convenience, we are available 8 am-8 pm Mon- Fri, EST and 9 am-6 pm Saturday, EST. We look forward to hearing from you! <div class="bvseo-author">Answered by: FoodSaver Brand</div> <div class="bvseo-pubdate">Date published: 2020-06-12</div> </div> </div> </div> <script type="text/javascript"> if (document.getElementById('bvseo-questionsSection')) { document.getElementById('bvseo-questionsSection').style.display = 'none'; } </script> <!--end-questions--> <!--begin-pagination--> <ul id="bvseo-paginationSection"> <li class="bvseo-paginationItem"><a class="bvseo-paginationLink" href="https://www.foodsaver.com/food-vacuum-sealers/countertop-vacuum-sealers/foodsaver-fm2000-vacuum-sealing-system/SP_446983.html?&bvrrp=Main_Site-en_US/questions/product/3/SP_446983.htm">FoodSaver&reg; FM2000 Vacuum Sealing System Questions - page 3</a></li> </ul> <!--end-pagination--> <ul id="BVSEO_meta" style="display:none!important"> <li data-bvseo="bvDateModified">y_2022, m_5, d_16, h_21CST</li> <li data-bvseo="ps">bvseo_bulk, prod_bvqa, vn_bulk_3.0.27</li> <li data-bvseo="cp">cp_2, bvpage2n</li> <li data-bvseo="co">co_hasquestionsanswers, tq_58</li> <li data-bvseo="cf">loc_en_US, sid_SP_446983, prod, sort_[SortEntry(order=LAST_APPROVED_ANSWER_SUBMISSION_TIME, direction=DESCENDING)]</li> <li data-bvseo="diagnostics">clientName_foodsaver</li> </ul> <!--end-bvseo-questions--> <ul id="BVSEOSDK_meta" style="display: none !important;"> <li data-bvseo="sdk">bvseo_sdk, dw_cartridge, 18.2.0, p_sdk_3.2.0</li> <li data-bvseo="sp_mt">CLOUD, getContent, 0ms</li> <li data-bvseo="ct_st">questions, product</li> </ul>
product-detail-view
oos-pdp