FoodSaver® 4800 Series 2-in-1 Automatic Vacuum Sealing System with Starter Kit, v4840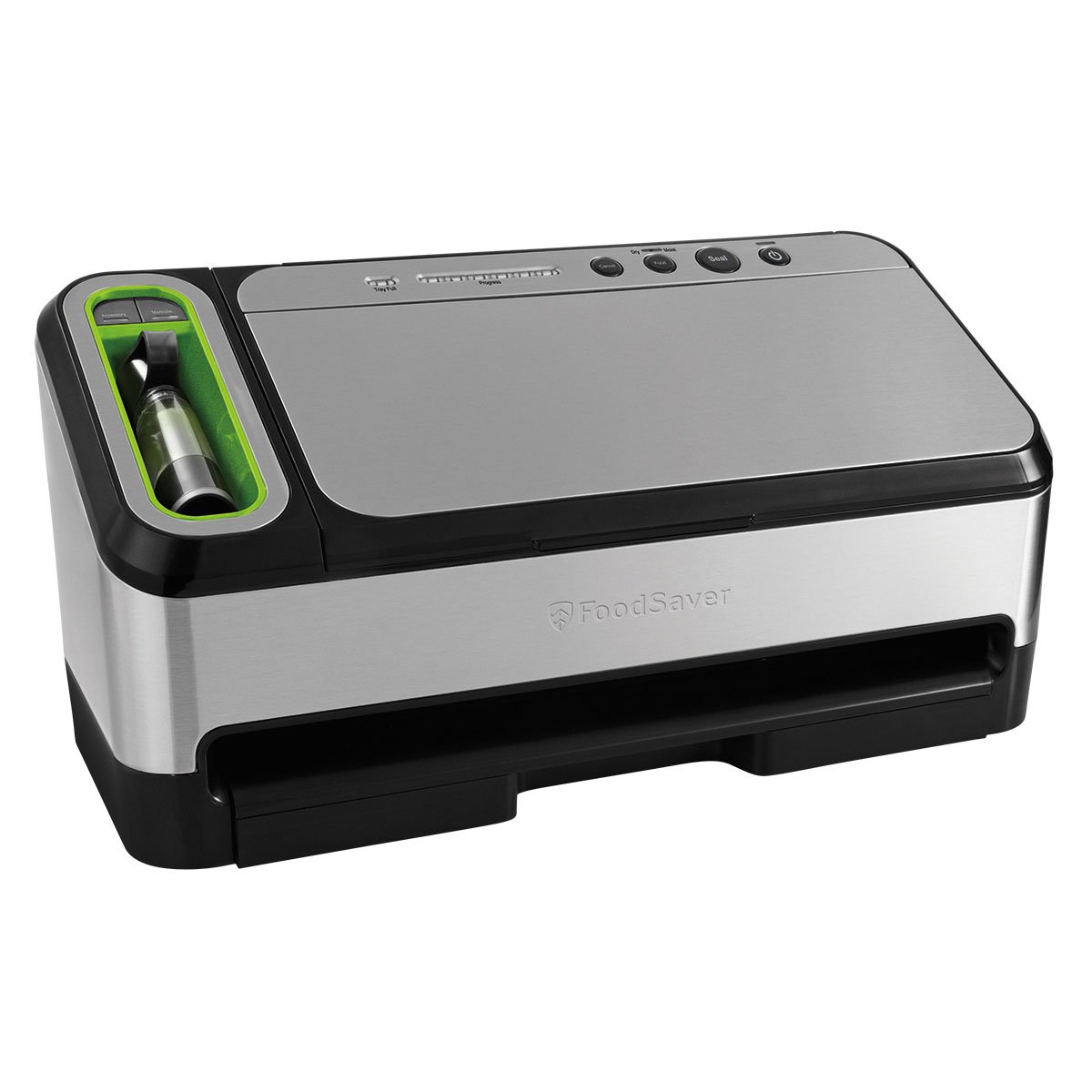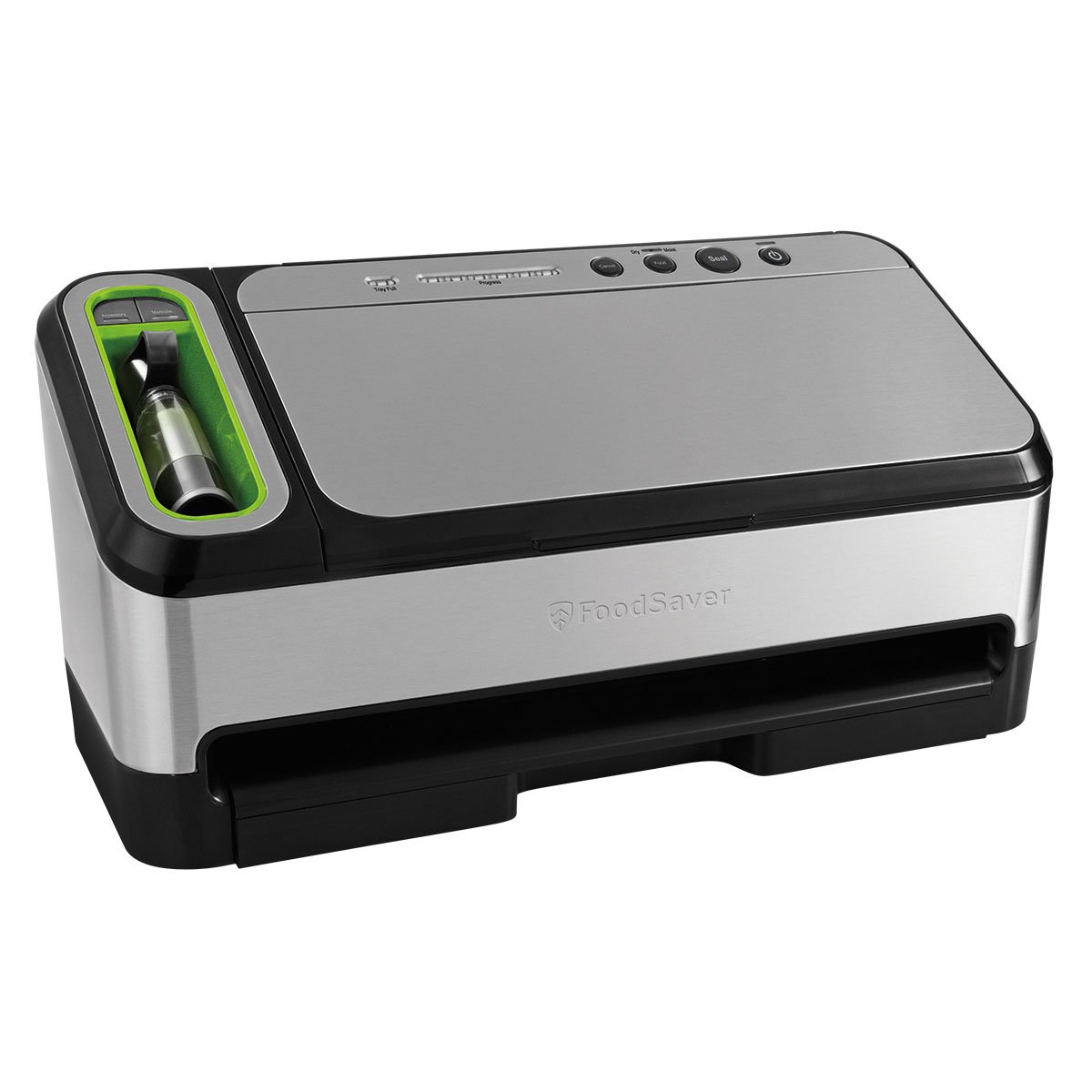 FoodSaver® 4800 Series 2-in-1 Automatic Vacuum Sealing System with Starter Kit, v4840
Become a FreshBucks Rewards member to earn points and save on FoodSaver purchases, Join Now
Already a member? Log in now
Final Sale: may not be returned or exchanged
Become a FreshBucks Rewards member to earn points and save on FoodSaver purchases, Join Now
Already a member? Log in now
Final Sale: may not be returned or exchanged
Want us to let you know when the item you wanted is back in stock?
---

Free Standard Shipping on Orders $50+

Free Express Shipping on Orders $100+ Details
---
Product Details
Description
Combining both a handheld and standard vacuum sealer, this FoodSaver 4800 Series 2-in-1 Vacuum Sealing System with Starter Kit is vacuum sealing versatility at its best. Automatic bag detection and vacuum sealing means two quick and easy steps to seal and save. When sealing zipper bags, containers, and canisters, the convenient handheld retractable sealer eliminates the need for additional attachments. One unit does it all.
Features
Keep food fresh in the freezer up to 5x longer and in the fridge or pantry up to 2x longer, compared to ordinary storage methods
Automatic bag detection and vacuum sealing means two quick and easy steps to seal and save
Handheld sealer seals FoodSaver zipper bags, canisters, and containers, and marinates food in minutes
Pull-out drip tray drawer with patented removable dishwasher-safe drip tray helps keep your counters clean
5 year limited warranty
Included Parts
1 - 11"x10' vacuum seal roll
3 - 1-quart vacuum seal bags
2 - 1-gallon vacuum seal bags
3 - 1-quart vacuum zipper bags
2 - 1-gallon zipper bags
Product Instructions
Specifications
Dimensions:

11" H x 20" L x 12" W
Rated

1

out of

5
by
Alaska mom
from
I orderedthis4800 Food Saver but it does not work
I have had Food Saver Sealers when I lived in Alaska and loved it. When I sold m home I had to leave it there. I wanted this Food Savor and was vr disappointed that when I read all the instructions and carefully tried it over and over again, it does not work. The red light goes on , it does not move, the machine does not seal it is grossly defective. I need to know the procedure you required in sending it . I called your company several times with no help.... no interest in assistance .
Date published: 2018-11-29
Rated

1

out of

5
by
Kelly CO
from
A waste of money
Love this concept to preserve food longer, and when the product does the job, it's great. This is the second Food Saver machine (1st one was a different model that died) that is a total disappointment. Like other comments on this unit, the retractable cord stopped retracting; it DOES waste a lot of bag material; after a years use it seems to be losing vacuum power; the cheap plastic levers with cheap spring mechanism in the unit (which controls the 'automatic' vacuuming operation) is hit & miss. Looking for a different brand now-for this kind of money the consumer should be able to get more usage with far less frustration. I think Food Saver is not only cheapening their product more & more (even the plastic bag material seems much thinner now) but also developing lots of additional components for additional market share and unfortunately they mostly perform equally inferior. Too bad. I'll come back to Food Saver when they put quality first, again.
Date published: 2019-09-03
Rated

1

out of

5
by
DanaB
from
A huge frustration. But it is quiet!
The FoodSaver 4840 Series 2-in-1 vacuum sealing system has been and continues to be a huge frustration. Because we process and preserve a large amount of garden fruits and vegetables, as well as venison, we purchased a second FoodSaver. The first, a FoodSaver 3820 has worked almost without fail (though it is a louder, larger model). Most often, the 4840 simply fails to seal, so we cancel 2, 3, up to 4 times before the machine will finally decide to seal. It also takes multiple tries just to get the 4840 to recognize that a bag is inserted and ready to seal. The 4840 is a frustration, no matter what we try, and we're not newbie vacuum sealers. The good news? It's quiet and occupies a smaller space on the shelf. We depend on and need a reliable vacuum sealer. The 4840 is not
Date published: 2018-11-29
Rated

5

out of

5
by
Rsummers11
from
Lifetime Foodsaver!!
My husband bought this food saver for me after I wore out my manual food saver after 12 years. I tell everyone I know how I "food saver EVERYTHING" and I do!! Soup, stew, game, store discounts, cake mix, fondant......EVERYTHING!! I've even been teaching my mom's home aide how to freeze and save her soups. I wouldn't be without my food saver. My initial purchase 15 years ago was out of curiosity if I would even like it. Today....I'm FoodSaver Lifer!!! I will never be without one.
Date published: 2018-11-06
Rated

1

out of

5
by
frank k
from
dont buy this machine it is a throw away the sealing gasket is not available to replace
Date published: 2019-11-27
Rated

5

out of

5
by
Harkey2020
from
One Sealer to rule them all
I have been considering a vacuum system for some time. With the current global crisis and difficulty getting fresh food i took the leap. After using it for the first time i had to scratch my head and wonder why had I waited? This product (FoodSaver 4800) is amazing and its not an overstatement to say that every kitchen needs one of these. After telling my sisters about it and sending them video they were interested, so i sent them each one as a gift. I researched several devices before deciding on the 4800. I also ordered a few containers so i could take advantage of all features. It is so easy to use i wish i had purchased one sooner but very happy i have one now.
Date published: 2020-04-03
Rated

4

out of

5
by
JeannieRP
from
I like the design!!!
I have owned a Food Saver from the very beginning of the line and my first one lasted FOREVER! The original containers usually still seal tightly, though some are worn....they have been used alot! This system has been great also! I have but one complaint......the sealing accessory came apart pretty quickly. The very top of it has come apart from the slim rubber gasket and try as we may, we cannot get it back together. It makes it very difficult to seal containers. I prefer the portable sealer from the previous machine. It was much better made. I wish I could get mine replaced but it is part of the machine.......I would purchase a separate sealer for containers. Overall though, I love my FoodSaver!
Date published: 2019-11-02
Rated

1

out of

5
by
DonDon
from
It no longer seals.
I bought maybe a year or so ago.Its started working out just fine.But it no longer seals the bags .
Date published: 2020-02-06
Rated

1

out of

5
by
Egdirreb
from
4800v is a Great machine, but.
This is the second 4800 series I have bought over the years. It is a good machine. I believe though, that this machine should have a replaceable accessory hose as this is why I bought another one. Ridiculous that you can't replace the attachment if broken on this machine. The other reason giving this purchase a ONE star is because of customer support. I bought this 4800 on a Friday for 199.00 and the very next week it went on sale for 169.00. Customer support more or less said so sorry we don't do price match. Don't do price match! Give me a break, I should have returned it but I didn't as they said it would be considered and of course they did nothing to make this right. Terrible customer support that wouldn't give a loyal customer a sale price just a few days after purchasing. I probably won't buy another product from Food Saver for this decision not to honor a sale price after a couple of days. Ridiculous!
Date published: 2020-02-17
Rated

1

out of

5
by
Disappointerd
from
Disapointed
The vacuum extension hose stopped working. It doesn't retract.
Date published: 2019-01-03
Rated

1

out of

5
by
Disgusted
from
Trying to seal moist food is impossible
I have a large garden this year and lots of vegetables to put up. Unfortunately I can't get it to seal anything with moisture in it. It sucks any moisture up and then it will not seal. I have tried freezing squash on a cookie sheet, on towels, but once it starts sucking the moisture up it is done, I finally froze my squash raw just to get past that problem. But that is not what is supposed to be done, Now I'm at Kale. All the recommendations are that it needs to be blanched. It will never work. Have had problems in the past so rarely used it. Now it really needs to just be ditched...... However if I have dry foods it works great.
Date published: 2021-08-07
Rated

4

out of

5
by
Tiffkoz91
from
so far works well
I have only had this for 1 month, what I have experienced so far is...it doesn't work well with liquids, you will need to either freeze liquids 1st or find a different container to store it in. I did use it to seal steak, burger, chicken and turkey. It seemed to work great, a tip, when storing steak or chicken, put a piece of paper towel in the bag ,this will help soak up any blood.It works well, not sure how many you can seal at one time..I heard that it could over heat, meaning you will have to let it rest for a bit.
Date published: 2020-10-19
Rated

1

out of

5
by
SweetWilliam
from
Waste tons of the bag material.
Every time you make a bag nearly 2 inched is wasted. Most times you have to keep putting the bag in to get it to start sealing. The hose will not re-track into the machine any longer . I hate this machine with all my heart.
Date published: 2018-11-23
Rated

2

out of

5
by
Richard M
from
Broken
I have had it 4880 model purchased from Costco for about a year ago. One of the tabs that detects the back in place has broken and so now it cannot detect the placement of the back and does not work. I always found it a little problematic to get the bags in place exactly anyway. I can't seem to find the replacement part and calls are not accepted during Covid. I purchased the less expensive and smaller version as a replacement and so this will simply go in the trash.
Date published: 2021-01-25
Rated

5

out of

5
by
Gwen62
from
Love it
I bought mine 2 years ago and just purchased one for my daughter in law. She loves it. Couldn't ask for a better money saver.
Date published: 2018-02-14
Rated

2

out of

5
by
Nana4punky
from
No replacement drip tray
The drip tray is sensitive to having fluid in it. I washed it and my dogsitter unknowingly threw it away. There are no replacement drip trays being made so now, it sits inoperable.
Date published: 2019-01-27
Rated

5

out of

5
by
JulianaF
from
FoodSaver 4840
I just got this and had used it once. So far it's so easy to use and does the job it promises to do without any problem at all. It's the simplicity and ease of operating this machine that I like a lot!
Date published: 2020-08-05
Rated

3

out of

5
by
artchic
from
Disappointed
I got this model 2 years ago for Christmas. I loved it. It just broke. I know I've had it for 2 years, but for $250.00 I didn't expect to have to replace it so soon. It never really worked right with the canisters and that is what I used it most with - the little button would pop up and it would unseal after about 24 hours. They replaced my canisters, but they did the same thing. I guess my machine never really did work right.
Date published: 2021-01-11
Rated

1

out of

5
by
Smuggins
from
No suck power
My sealer is not even a year old and has quit vacuuming the air out of the bag. I love this sealer, and I am heart sick this has broke. When it works this is a great product
Date published: 2019-10-25
Rated

1

out of

5
by
lucybrat
from
Will not vaccum air
It does not vaccum out the air. The only way I can get it to do so is by using the tube and the bags you buy to use with that. I have spent tons of money on different style bags and non of them work. very unsatisfied.
Date published: 2019-05-13
Rated

1

out of

5
by
Alfman
from
Not Happy from the start
It wastes almost 2" of bag on each end and the canister vacuum hose does not retract, had another "entry level" food saver for years, wanted to upgrade and the old one is better than this one, I guess I am going to try Cabelas Commercial units
Date published: 2020-01-15
Rated

5

out of

5
by
rsbeckwell
from
Great looking on the counter
I bought this to replace my 2440 model that I have had for a LONG time. It still works, but I couldn't pass up on this special. The unit works very well and looks great on my counter. Works great with my marinade canisters as well.
Date published: 2019-06-11
Rated

4

out of

5
by
FlowerLady420
from
Expected it to last more than 5 years.
I have had this machine since approx 2015. My son paid a lot of money for this. I used it mostly for resealing snack bags, and for meat 3 or 4 times a year. It got used daily. One day I pulled the tray out and tipped it upside down to wipe the inside off and a tiny cheap plastic tab broke off in 2 places and it no longer works. I cannot afford a new one and I miss it so much. It allows single people to buy in bulk and save. Most meat will easily last 2 years.
Date published: 2020-02-12
Rated

5

out of

5
by
7mick
from
Long time user.......
We've had two units in the nineteen years. The first was a gift, the second, and upgrade. The latest, is a model v4880, it's now in it's eighth year. Both still work, and have been trouble free. We use only FoodSaver brand bags, and have never had to order replacement parts. The reason we believe our units have been so good is because we do the routine cleaning and maintenance that is required of any machine. While as Americans, we like to buy from American corporations and stores. Sadly, we can no longer do that, and I wish it could be changed. It's really the only negative I can say about our FoodSaver unit. Our experience with this company has been excellent. I read some of the reviews from recent months today, and I have to say that I am really alarmed by some of the posts I've read. While my experiences with FoodSaver have been excellent, it's dismaying to see so many making hateful statements. Every machine ever built has the capacity to breakdown, or otherwise become inoperable. We are fortunate to live in the greatest county in the world, and considering that we are in the middle of a pandemic, one would think that we could be more understanding of our neighbors, who are fellow citizens. I wish I could order a few boxes of 11x16 bag stock, too. It's just not available at this time. I assume it would have something to do with logistics and Covid-19 viruses. I have found this company to be both happy to help, from a customer service standpoint, as well as building a fine product. Lighten up a little bit. While it's never good to be disappointed when we have a product that fails, we have to remember that it could happen to anyone, and the world hasn't ended. Treat people the way you'd like to be treated, and realize that this is a minor bump in the road, on that great highway of life. If either of our FoodSaver products ever fail, we're returning to buy another product that is likely newer, and offers even more improvements and options. Again, great products in my estimations.
Date published: 2021-01-08
Rated

3

out of

5
by
Kathleen deMaCartty
from
Great Idea, Sometimes Does No Work
I really love the idea of the vacuum sealing. I owned one of the original. I have tried 3 machines and gave 2 away. They always lose the vacuum. I'm very disappointed but I will keep trying.
Date published: 2019-12-30
Rated

3

out of

5
by
SoChic
from
No replacement gasket!
Excellent product, but that goes to horrible if you cannot use it because you cannot get a replacement gasket. Does not work without the gasket.
Date published: 2019-03-26
Rated

4

out of

5
by
Ncsherry
from
No pause button
It's not exactly what I wanted but it will work. I thought it had the pause button on it. I used the pause button on my old unit a lot. And it really came in handy.
Date published: 2019-01-30
Rated

5

out of

5
by
ziza
from
Hats off to the FS warranty
I had an issue with my food saver and they quickly replaced it with a new one.
Date published: 2018-11-09
Rated

5

out of

5
by
CorkyKing
from
Bought for a Wedding Gift
I've owned various FoodSaver products for decades. When my step-daughter got married recently, we bought her one of her own. She 'grew up' seeing mine in a prominent place on my countertop, and saw how useful it could be. She and her new husband are delighted with the v4840, and have already made plans for a shopping trip to stock up on meat!
Date published: 2018-05-22
Rated

5

out of

5
by
Rojan
from
Money Saver
This food saver is so easy to use. I like the fact that the sealer roll is contained right in the unit. I also find it convenient that after sealing and filling the bag, all I have to do is place the bag in the slot and it automatically starts sealing. This is my second unit. The first lasted many many years. Had to order new unit because my daughter took my first one and it is still working perfectly!! Great product.
Date published: 2020-11-03
bvseo_sdk, dw_cartridge, 18.2.0, p_sdk_3.2.0
CLOUD, getReviews, 0ms
reviews, product
---
<!--begin-bvseo-questions--> <!--begin-questions--> <div id="bvseo-questionsSection"> <div class="bvseo-question-answer" data-questionid="4593893"> <h2 class="bvseo-question"> This machine is compatible with the wide &amp;amp; regular mouth jar sealer kit??? </h2> <div class="bvseo-question-detail"> </div> <div class="bvseo-author">Asked by: MommaK</div> <div class="bvseo-answer" data-answerid="5453399"> Thank you for showing interest in our product. Sorry for the delayed response. Yes, definitely it will work with the Mason Jar Sealers, along with the fresh containers, and quick marinator. <div class="bvseo-author">Answered by: FoodSaver Brand</div> <div class="bvseo-pubdate">Date published: 2020-12-02</div> </div> </div> <div class="bvseo-question-answer" data-questionid="4588387"> <h2 class="bvseo-question"> Does this device vacuum seal regular and wide mouth mason jars? </h2> <div class="bvseo-question-detail"> </div> <div class="bvseo-author">Asked by: Jack in the Bean Stock</div> <div class="bvseo-answer" data-answerid="5453198"> Thank you for reaching out! Your retractable handheld sealer has two parts, the top part (which connects to the hose) and the liquid chamber (connects to your clear containers and zipper bags). You may detach the top part of your retractable handheld sealer from the liquid chamber and it will reveal a nozzle that fits with your jar sealer attachment. If you have further questions, please reach us at 877-777-8042 or send us a direct message via live chat here on the website. Our specialists are available from 9 am to 6 pm Monday to Friday, EST. <div class="bvseo-author">Answered by: FoodSaver Brand</div> <div class="bvseo-pubdate">Date published: 2021-10-17</div> </div> </div> <div class="bvseo-question-answer" data-questionid="4566662"> <h2 class="bvseo-question"> do u offer a senior or milatary discount </h2> <div class="bvseo-question-detail"> </div> <div class="bvseo-author">Asked by: clyde j</div> <div class="bvseo-answer" data-answerid="5451423"> To better assist you with your concern, please click on the live chat link here on our site. Agents are available M-Sat 9 am-6 pm EST. You may also give us a call at 877-777-8042. For your convenience, we are available 8 am-8 pm Mon- Fri, EST and 9 am-6 pm Saturday, EST. We look forward to hearing from you! <div class="bvseo-author">Answered by: FoodSaver Brand</div> <div class="bvseo-pubdate">Date published: 2022-01-19</div> </div> </div> <div class="bvseo-question-answer" data-questionid="4592727"> <h2 class="bvseo-question"> Is this the best electrical vacuum large sealer and how long would your food last with this sealer and does it come with bags or do you have to order the back separate? </h2> <div class="bvseo-question-detail"> </div> <div class="bvseo-author">Asked by: Yahshuachild</div> <div class="bvseo-answer" data-answerid="5445640"> To better assist you with your concern, please click on the live chat link here on our site. Agents are available M-Sat 9 am-6 pm EST. You may also give us a call at 877-777-8042. For your convenience, we are available 8 am-8 pm Mon- Fri, EST and 9 am-6 pm Saturday, EST. We look forward to hearing from you! <div class="bvseo-author">Answered by: FoodSaver Brand</div> <div class="bvseo-pubdate">Date published: 2022-02-17</div> </div> </div> <div class="bvseo-question-answer" data-questionid="4554416"> <h2 class="bvseo-question"> What about my foos savor - what am I out of one now </h2> <div class="bvseo-question-detail"> </div> <div class="bvseo-author">Asked by: Bunnybread hi</div> <div class="bvseo-answer" data-answerid="5443479"> We deeply apologize for the delay. We appreciate your patience as we diligently work on replenishing our stock. We do not have a firm date when this item will be available. Keep an eye on our site for availability. <div class="bvseo-author">Answered by: FoodSaver Brand</div> <div class="bvseo-pubdate">Date published: 2021-04-28</div> </div> </div> <div class="bvseo-question-answer" data-questionid="4817863"> <h2 class="bvseo-question"> I have had the 4840 since 2017. Two days ago the &amp;ldquo;tray full&amp;rdquo; light came on - the tray is empty of liquids. I wiped it out with a dry towel and kept the try&amp;rsquo;s open for 24 hours and left the unit unplugged. Problem persists. HELP!!! </h2> <div class="bvseo-question-detail"> </div> <div class="bvseo-author">Asked by: Aaron28</div> <div class="bvseo-answer" data-answerid="5438874"> It sounds like you&amp;rsquo;re having a tough time with your FoodSaver. We would love to assist you and work towards a solution to your problem! If you are still experiencing difficulty, please contact FoodSaver direct at 1-877-777-8042 and one of FoodSaver specialists will have you sealed in no time. Thanks! <div class="bvseo-author">Answered by: FoodSaver Brand</div> <div class="bvseo-pubdate">Date published: 2021-01-05</div> </div> </div> <div class="bvseo-question-answer" data-questionid="4769290"> <h2 class="bvseo-question"> It is a vacuum sealer for liquids and souces too? </h2> <div class="bvseo-question-detail"> </div> <div class="bvseo-author">Asked by: Anonymous</div> <div class="bvseo-answer" data-answerid="5432760"> Thank you for showing interest in our product. Sorry for the delayed response. Yes, definitely you can seal those foods because this machine has dry and moist settings. <div class="bvseo-author">Answered by: FoodSaver Brand</div> <div class="bvseo-pubdate">Date published: 2020-11-19</div> </div> </div> <div class="bvseo-question-answer" data-questionid="4797756"> <h2 class="bvseo-question"> What is the vacuum pressure for this. Model </h2> <div class="bvseo-question-detail"> </div> <div class="bvseo-author">Asked by: Smith111</div> <div class="bvseo-answer" data-answerid="5426184"> For vacuuming heat seal bags, our appliances pull between 10 and 18 inches of mercury when vacuuming from the vacuum channel. For containers and zipper bags, our appliances pull between 7 and 10 inches of mercury when vacuuming from the accessory hose. <div class="bvseo-author">Answered by: FoodSaver Brand</div> <div class="bvseo-pubdate">Date published: 2020-12-18</div> </div> </div> <div class="bvseo-question-answer" data-questionid="4584592"> <h2 class="bvseo-question"> what is the difference in the 4800 vs the 4840? </h2> <div class="bvseo-question-detail"> </div> <div class="bvseo-author">Asked by: lizzanne</div> <div class="bvseo-answer" data-answerid="5416078"> Great question, 4800 is the series and the 4840 is the model number of the machine. <div class="bvseo-author">Answered by: FoodSaver Brand</div> <div class="bvseo-pubdate">Date published: 2020-12-01</div> </div> </div> <div class="bvseo-question-answer" data-questionid="4685618"> <h2 class="bvseo-question"> i purchased this vacuum sealer but it didn&#39;t have the mouth piece to vacuum seal mason jars. Do I need to purchase it separate and if what kind?&#13;&#10;&#13;&#10;Thank you&#13;&#10;Maria </h2> <div class="bvseo-question-detail"> </div> <div class="bvseo-author">Asked by: mama1</div> <div class="bvseo-answer" data-answerid="5411480"> To better assist you with obtaining replacement parts for your FoodSaver, please click on the live chat link here on our site. Agents are available M-Sat 9 am-6 pm EST. You may also give us a call at 877-777-8042. For your convenience, we are available 8 am-8 pm Mon- Fri, EST and 9 am-6 pm Saturday, EST. We look forward to hearing from you! <div class="bvseo-author">Answered by: FoodSaver Brand</div> <div class="bvseo-pubdate">Date published: 2020-11-05</div> </div> </div> <div class="bvseo-question-answer" data-questionid="4538048"> <h2 class="bvseo-question"> Do the FoodSaver V4440 and the FoodSaver 4840 have built-in roll bag storage and cutters and also fan cooled motors? </h2> <div class="bvseo-question-detail"> </div> <div class="bvseo-author">Asked by: Anonymous</div> <div class="bvseo-answer" data-answerid="5407251"> Thanks for submitting your review. We&#39;ll be happy to provide options for you. We put customer experience and satisfaction is our priority, and your review is important to us. Please feel free to give us a call at 1-877-777-8042. We are available from Mondays - Fridays 9 AM-6 PM, EST. Our customer care specialist will be happy to assist you! <div class="bvseo-author">Answered by: FoodSaver Brand</div> <div class="bvseo-pubdate">Date published: 2020-12-01</div> </div> </div> <div class="bvseo-question-answer" data-questionid="4683749"> <h2 class="bvseo-question"> How long does it take to receive your order </h2> <div class="bvseo-question-detail"> </div> <div class="bvseo-author">Asked by: Fat man</div> <div class="bvseo-answer" data-answerid="5400845"> We are unable to identify the product base on your question. Please feel free to give us a call at 1-877-777-8042. We are available from Mondays - Fridays 9 AM-6 PM, EST. Our customer care specialist will be happy to assist you! <div class="bvseo-author">Answered by: FoodSaver Brand</div> <div class="bvseo-pubdate">Date published: 2020-10-30</div> </div> </div> <div class="bvseo-question-answer" data-questionid="4687682"> <h2 class="bvseo-question"> When will the canning jar attachments be available? </h2> <div class="bvseo-question-detail"> </div> <div class="bvseo-author">Asked by: Carol70</div> <div class="bvseo-answer" data-answerid="5399798"> We deeply apologize for the delay. We appreciate your patience as we diligently work on replenishing our stock. We do not have a firm date when this item will be available. Keep an eye on our site for availability. <div class="bvseo-author">Answered by: FoodSaver Brand</div> <div class="bvseo-pubdate">Date published: 2020-11-19</div> </div> </div> <div class="bvseo-question-answer" data-questionid="4678813"> <h2 class="bvseo-question"> Why should the warranty on the 4440 5 years and the 4840 only 1 year </h2> <div class="bvseo-question-detail"> </div> <div class="bvseo-author">Asked by: Coolit</div> <div class="bvseo-answer" data-answerid="5399763"> Great question! The warranty of the V4440 and V48402 is 5 years. We hope this helps and always stay safe! <div class="bvseo-author">Answered by: FoodSaver Brand</div> <div class="bvseo-pubdate">Date published: 2020-11-13</div> </div> </div> <div class="bvseo-question-answer" data-questionid="4572870"> <h2 class="bvseo-question"> Will the 4865 or the 4880 be made available again. We want pulse vac and moist auto detection that 4840 doesnt have.&amp;nbsp; </h2> <div class="bvseo-question-detail"> </div> <div class="bvseo-author">Asked by: Rugbnurse</div> <div class="bvseo-answer" data-answerid="5388158"> We deeply apologize for the delay. We appreciate your patience as we diligently work on replenishing our stock. We do not have a firm date when this item will be available. Keep an eye on our site for availability. <div class="bvseo-author">Answered by: FoodSaver Brand</div> <div class="bvseo-pubdate">Date published: 2020-11-13</div> </div> </div> <div class="bvseo-question-answer" data-questionid="4589190"> <h2 class="bvseo-question"> why won&#39;t my bags seal with cut off the cob sweet corn? </h2> <div class="bvseo-question-detail"> </div> <div class="bvseo-author">Asked by: llcoers</div> <div class="bvseo-answer" data-answerid="5387140"> Oh no! That is definitely not the kind of experience that we want you to have. We would love the opportunity to restore your faith in us. Please call our customer care team at 1-877-777-8042. For your convenience, we are available Mon-Fri 9 am-6 pm EST. We look forward to assisting you! <div class="bvseo-author">Answered by: FoodSaver Brand</div> <div class="bvseo-pubdate">Date published: 2020-11-09</div> </div> </div> <div class="bvseo-question-answer" data-questionid="4743788"> <h2 class="bvseo-question"> Having problems with the product </h2> <div class="bvseo-question-detail"> </div> <div class="bvseo-author">Asked by: Paul 65</div> <div class="bvseo-answer" data-answerid="5386893"> Oh no! That is definitely not the kind of experience that we want you to have. We would love the opportunity to restore your faith in us. Please call our customer care team at 1-877-777-8042. For your convenience, we are available Mon-Fri 9 am-6 pm EST. We look forward to assisting you! <div class="bvseo-author">Answered by: FoodSaver Brand</div> <div class="bvseo-pubdate">Date published: 2020-11-19</div> </div> </div> <div class="bvseo-question-answer" data-questionid="3406370"> <h2 class="bvseo-question"> Can the 4840 run on 220v? </h2> <div class="bvseo-question-detail"> </div> <div class="bvseo-author">Asked by: roy_1</div> <div class="bvseo-answer" data-answerid="5380077"> Great question! Our FoodSaver 2-in-1 Automatic Vacuum Sealing System with Starter Kit, V4840, power voltage capability 110, and up to 120 volts. Hope this helps and always stay safe! <div class="bvseo-author">Answered by: FoodSaver Brand</div> <div class="bvseo-pubdate">Date published: 2020-11-09</div> </div> </div> <div class="bvseo-question-answer" data-questionid="4704314"> <h2 class="bvseo-question"> We have an FM5480. The door with the seals in it came out with a broken hinge, if that&#39;s what they&#39;re called. I was wondering if y&#39;all would have that part I could that I could purchase. Please let me know before we toss it in the trash. Thanks. </h2> <div class="bvseo-question-detail"> </div> <div class="bvseo-author">Asked by: Rayfield</div> <div class="bvseo-answer" data-answerid="5378822"> Thank you for sharing your thoughts. We are sorry to hear that you didn&amp;rsquo;t have the best experience. We want you to be completely satisfied with your purchase. Please reach out to us at your leisure so we assist you! We&#39;d love to give you options so we can make the product work for you instead of against you. Please call us at 1-877-777-8042. We&#39;re here for you Monday-Friday, 9 am-6 pm EST. We are looking forward to hearing from you! <div class="bvseo-author">Answered by: FoodSaver Brand</div> <div class="bvseo-pubdate">Date published: 2020-10-14</div> </div> </div> <div class="bvseo-question-answer" data-questionid="4726391"> <h2 class="bvseo-question"> What is the difference between the 4840 and the 4400 </h2> <div class="bvseo-question-detail"> </div> <div class="bvseo-author">Asked by: nindy52</div> <div class="bvseo-answer" data-answerid="5375679"> To better assist you with the difference between our v4840 and v4440, please click on the live chat link here on our site. Agents are available M-Sat 9 am-6 pm EST. You may also give us a call at 877-777-8042. For your convenience, we are available 8 am-8 pm Mon- Fri, EST and 9 am-6 pm Saturday, EST. We look forward to hearing from you! <div class="bvseo-author">Answered by: FoodSaver Brand</div> <div class="bvseo-pubdate">Date published: 2020-11-24</div> </div> </div> <div class="bvseo-question-answer" data-questionid="4567172"> <h2 class="bvseo-question"> I&#39;m interested in the PulseVac Function. Reading through the questions and looking at the manual, there are responses saying the 4840 has the function however the pictures of the unit do not show the button depicted in the manual. Please confirm. </h2> <div class="bvseo-question-detail"> </div> <div class="bvseo-author">Asked by: JEBS</div> <div class="bvseo-answer" data-answerid="5259746"> The FoodSaver 4800 Series 2-in-1 Automatic Vacuum Sealing System with Starter Kit, v4840 has no pulsevac feature but our v4400 Series has it. <div class="bvseo-author">Answered by: FoodSaver Brand</div> <div class="bvseo-pubdate">Date published: 2020-07-29</div> </div> </div> <div class="bvseo-question-answer" data-questionid="4573161"> <h2 class="bvseo-question"> When I compare the V4840 and the V4440 there doesn&#39;t seem to be a difference except in appearance and price. What are the differences ? </h2> <div class="bvseo-question-detail"> </div> <div class="bvseo-author">Asked by: davefleu</div> <div class="bvseo-answer" data-answerid="5259175"> To better assist you with the difference between our v4840 and v4440, please click on the live chat link here on our site. Agents are available M-Sat 9 am-6 pm EST. You may also give us a call at 877-777-8042. For your convenience, we are available 8 am-8 pm Mon- Fri, EST and 9 am-6 pm Saturday, EST. We look forward to hearing from you! <div class="bvseo-author">Answered by: FoodSaver Brand</div> <div class="bvseo-pubdate">Date published: 2020-11-13</div> </div> </div> <div class="bvseo-question-answer" data-questionid="4555507"> <h2 class="bvseo-question"> can i use this machine to vacuum seal fruit jars </h2> <div class="bvseo-question-detail"> </div> <div class="bvseo-author">Asked by: mimmer</div> <div class="bvseo-answer" data-answerid="5251701"> Yes, you can! But you will have the jar sealers that are compatible with your fruit jars as we have 2 attachments. They are the wide and regular mouth jar sealer. <div class="bvseo-author">Answered by: FoodSaver Brand</div> <div class="bvseo-pubdate">Date published: 2020-09-16</div> </div> </div> <div class="bvseo-question-answer" data-questionid="4546726"> <h2 class="bvseo-question"> When will food saver 4800 be available again </h2> <div class="bvseo-question-detail"> </div> <div class="bvseo-author">Asked by: TZoe</div> <div class="bvseo-answer" data-answerid="5242714"> As of right now, our FoodSaver 4800 Series 2-in-1 Automatic Vacuum Sealing System with Starter Kit, v4840 is already in stock and you can directly get our machine by using the link below:&#13;&#10;&#13;&#10;https://www.foodsaver.com/vacuum-sealers/counter-top-vacuum-sealers/v4000-series/foodsaver-4800-series-2-in-1-automatic-vacuum-sealing-system-with-starter-kit-v4840/FSFSSL4840-000.html <div class="bvseo-author">Answered by: FoodSaver Brand</div> <div class="bvseo-pubdate">Date published: 2020-07-15</div> </div> </div> <div class="bvseo-question-answer" data-questionid="4551345"> <h2 class="bvseo-question"> It is indicated that model V4840 is not available. What model (available online) is comparable to the V4840 series? </h2> <div class="bvseo-question-detail"> </div> <div class="bvseo-author">Asked by: MAnnD</div> <div class="bvseo-answer" data-answerid="5242184"> Good question! As of right now, the closest machine you are looking for is our FoodSaver 4800 Series 2-in-1 Automatic Vacuum Sealing System with Starter Kit, v4840. <div class="bvseo-author">Answered by: FoodSaver Brand</div> <div class="bvseo-pubdate">Date published: 2020-09-27</div> </div> </div> <div class="bvseo-question-answer" data-questionid="4442996"> <h2 class="bvseo-question"> Hi I have the food saver v4840 and it leaks down while it&amp;rsquo;s trying to seal. &amp;nbsp;What&amp;rsquo;s the part number(s) for new seals for that model?&amp;nbsp; </h2> <div class="bvseo-question-detail"> </div> <div class="bvseo-author">Asked by: Mikegeorge</div> <div class="bvseo-answer" data-answerid="5236849"> To better assist you with obtaining replacement parts for your FoodSaver, please click on the live chat link here on our site. Agents are available M-Sat 9 am-6 pm EST. You may also give us a call at 877-777-8042. For your convenience, we are available 8 am-8 pm Mon- Fri, EST and 9 am-6 pm Saturday, EST. We look forward to hearing from you! <div class="bvseo-author">Answered by: FoodSaver Brand</div> <div class="bvseo-pubdate">Date published: 2020-09-27</div> </div> </div> <div class="bvseo-question-answer" data-questionid="4542430"> <h2 class="bvseo-question"> When will this item be available for purchase? </h2> <div class="bvseo-question-detail"> </div> <div class="bvseo-author">Asked by: Pinkneyrw</div> <div class="bvseo-answer" data-answerid="5234952"> We deeply apologize for the delay. We appreciate your patience as we are diligently working on replenishing our stock. We do not have a firm date as to when this item will be available. Keep an eye on our site for availability. You can also check our retailers that will surely have the FoodSaver 4800 Series 2-in-1 Automatic Vacuum Sealing System with Starter Kit, v4840, by using the link below:&#13;&#10;&#13;&#10;https://www.foodsaver.com/service-and-support/find-a-retailer/find-a-retailer.html <div class="bvseo-author">Answered by: FoodSaver Brand</div> <div class="bvseo-pubdate">Date published: 2020-07-09</div> </div> </div> <div class="bvseo-question-answer" data-questionid="4543106"> <h2 class="bvseo-question"> Is V4840 still being made? Will you get it back in stock? </h2> <div class="bvseo-question-detail"> </div> <div class="bvseo-author">Asked by: Sue Short</div> <div class="bvseo-answer" data-answerid="5234899"> We deeply apologize for the delay. We appreciate your patience as we are diligently working on replenishing our stock. We do not have a firm date as to when this item will be available. Keep an eye on our site for availability. You can also check our retailers that will surely have the FoodSaver 4800 Series 2-in-1 Automatic Vacuum Sealing System with Starter Kit, v4840, by using the link below:&#13;&#10;&#13;&#10;https://www.foodsaver.com/service-and-support/find-a-retailer/find-a-retailer.html <div class="bvseo-author">Answered by: FoodSaver Brand</div> <div class="bvseo-pubdate">Date published: 2020-07-09</div> </div> </div> <div class="bvseo-question-answer" data-questionid="4540161"> <h2 class="bvseo-question"> Now that you have the 4840 back in stock on your website, will it also be available at your authorized retailers like Amazon soon? </h2> <div class="bvseo-question-detail"> </div> <div class="bvseo-author">Asked by: RileysCarrot</div> <div class="bvseo-answer" data-answerid="5233878"> Yes, they will! We deeply apologize for the delay. We appreciate your patience as we are diligently working on replenishing our stock. We do not have a firm date as to when this item will be available. Keep an eye on our site for availability. <div class="bvseo-author">Answered by: FoodSaver Brand</div> <div class="bvseo-pubdate">Date published: 2020-07-08</div> </div> </div> <div class="bvseo-question-answer" data-questionid="4540717"> <h2 class="bvseo-question"> if the 4480 is not available on line .Can it still be sent as a replacement? </h2> <div class="bvseo-question-detail"> </div> <div class="bvseo-author">Asked by: kat79</div> <div class="bvseo-answer" data-answerid="5233808"> Thank you for reaching out to us! We appreciate your patience as we are diligently working on replenishing our stock. We do not have a firm date as to when this item will be available. Keep an eye on our site for availability. Alternatively, you can search the part number of the product using the link below for our retailers:&#13;&#10;&#13;&#10;https://www.foodsaver.com/service-and-support/find-a-retailer/find-a-retailer.html <div class="bvseo-author">Answered by: FoodSaver Brand</div> <div class="bvseo-pubdate">Date published: 2020-07-12</div> </div> </div> </div> <script type="text/javascript"> if (document.getElementById('bvseo-questionsSection')) { document.getElementById('bvseo-questionsSection').style.display = 'none'; } </script> <!--end-questions--> <!--begin-pagination--> <ul id="bvseo-paginationSection"> <li class="bvseo-paginationItem"><a class="bvseo-paginationLink" href="https://www.foodsaver.com/food-vacuum-sealers/countertop-vacuum-sealers/foodsaver-4800-series-2-in-1-automatic-vacuum-sealing-system-with-starter-kit-v4840/SP_446964.html?&bvrrp=Main_Site-en_US/questions/product/3/SP_446964.htm">FoodSaver 4800 Series 2-in-1 Automatic Vacuum Sealing System with Starter Kit, v4840 Questions - page 3</a></li> </ul> <!--end-pagination--> <ul id="BVSEO_meta" style="display:none!important"> <li data-bvseo="bvDateModified">y_2022, m_5, d_19, h_21CST</li> <li data-bvseo="ps">bvseo_bulk, prod_bvqa, vn_bulk_3.0.27</li> <li data-bvseo="cp">cp_2, bvpage2n</li> <li data-bvseo="co">co_hasquestionsanswers, tq_215</li> <li data-bvseo="cf">loc_en_US, sid_SP_446964, prod, sort_[SortEntry(order=LAST_APPROVED_ANSWER_SUBMISSION_TIME, direction=DESCENDING)]</li> <li data-bvseo="diagnostics">clientName_foodsaver</li> </ul> <!--end-bvseo-questions--> <ul id="BVSEOSDK_meta" style="display: none !important;"> <li data-bvseo="sdk">bvseo_sdk, dw_cartridge, 18.2.0, p_sdk_3.2.0</li> <li data-bvseo="sp_mt">CLOUD, getContent, 0ms</li> <li data-bvseo="ct_st">questions, product</li> </ul>
product-detail-view
oos-pdp