FoodSaver® 2-in-1 Automatic Vacuum Sealing System with Starter Kit, v4440, Black Finish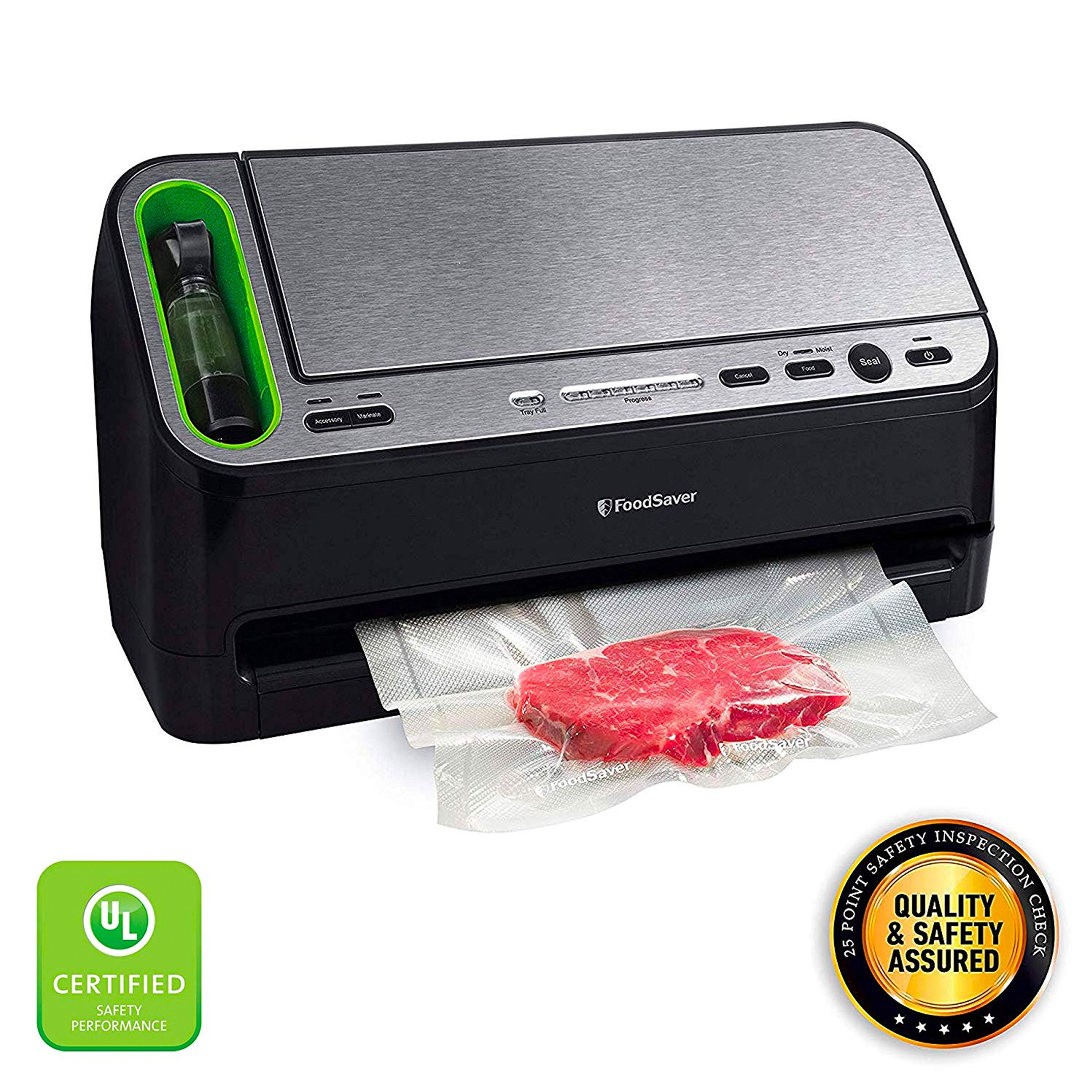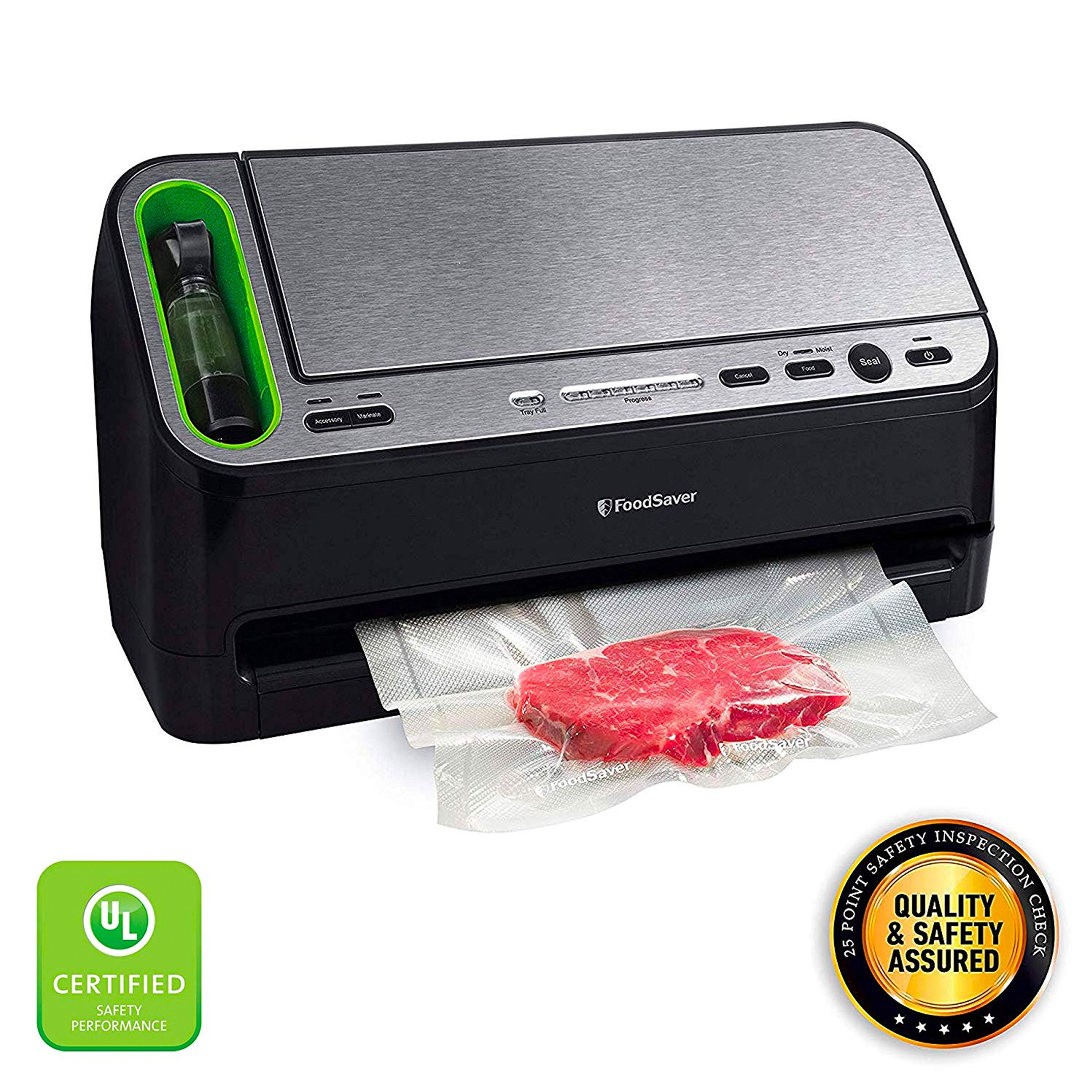 FoodSaver® 2-in-1 Automatic Vacuum Sealing System with Starter Kit, v4440, Black Finish
Become a FreshBucks Rewards member to earn points and save on FoodSaver purchases, Join Now
Already a member? Log in now
Final Sale: may not be returned or exchanged
Become a FreshBucks Rewards member to earn points and save on FoodSaver purchases, Join Now
Already a member? Log in now
Final Sale: may not be returned or exchanged
Want us to let you know when the item you wanted is back in stock?
---

Free Standard Shipping on Orders $50+

Free Express Shipping on Orders $100+ Details
---
Product Details
Description
Combining both a handheld and standard vacuum sealer, this FoodSaver 2-in-1 Automatic Vacuum Sealing System with Starter Kit is vacuum sealing versatility at its best. Automatic bag detection and vacuum sealing means two quick and easy steps to seal and save. When sealing zipper bags, containers, and canisters, the convenient handheld retractable sealer eliminates the need for additional attachments. One unit does it all.
Features
Keep food fresh in the freezer up to 5x longer and in the fridge or pantry up to 2x longer, compared to ordinary storage methods
Automatic bag detection and vacuum sealing means two quick and easy steps to seal and save
Handheld sealer seals FoodSaver zipper bags, canisters, and containers, and marinates food in minutes
Pull-out drip tray drawer with patented removable dishwasher-safe drip tray helps keep your counters clean
Includes: (1) 11""x10' vacuum seal roll (3) 1-quart vacuum seal bags (2) 1-gallon vacuum seal bags (3) 1-quart vacuum zipper bags (2) 1-gallon zipper bags
5 year limited warranty
Included Parts
1 - 11"x10' vacuum seal roll
3 - Quart vacuum seal bags
2 - Gallon vacuum seal bags
3 - Quart vacuum zipper bags
2 - Gallon zipper bags
Specifications
Dimensions:

7.85" H x 16.14" W x 7.09" D
Rated

1

out of

5
by
Frustrated Ted
from
Stopped working DO NOT BUY!!
I bought this last year and have sealed a total of aboutg 50 bags, worked fine. This morning after sealing about 6 bags, the tray full light came on, as it has in the past, and I emptied the tray. Reinserted the tray, light still on. Removed tray, washed and wiped it clean, dried it, wiped area into which it goes on the machine, light stayed on. removed it cleaned it with a dry cloth, recleaned machine with a dry cloth, reisnerted the tray, light still on. Removed tray again, cleaned everything again and knowing it has an electgric senssor, dried the tray and insertion spot with a hair dryer. Magic it worked for one bag and light came back on. Have tried everything, no luck. I called the service number and they say they are overwhelmed, came to web site as directed. Tried live chat, no onerepsonds to live chat just tells me I am number 1 on hold.
Date published: 2020-08-27
Rated

3

out of

5
by
IanD
from
Good but not great.
I like it but I don't love it. It has to cool down between each seal so it's slow unless you manage your ergonomics. It won't make the seal under vacuum until it senses that the vacuum level in the bag is low enough- which is good, but It frequently won't trap the bag material well enough to get into seal mode. After practice you can listen to the vacuum pump and tell if it's going to make a good vacuum or whether you need to reposition the bag. The roll materials have a curl to them that can make it frustrating to get the material into the machine and trip the sensor to get the seal process going. Once again you need practice. I have successfully processed hundreds of pounds of fish and venison however. I'd say that around 2% of the bags leak air after sealing.
Date published: 2018-12-10
Rated

1

out of

5
by
Anonymous
from
I bought this unit 2yrs ago and did what was asked of me to keep clean and a plastic parts inside finally dried out and broke off, and the unit stopped working. If you only expect 2 years of service than this is the unit! I'm very upset about this!
Date published: 2020-11-03
Rated

5

out of

5
by
wayneb1492
from
Does everything I need and more
This was a gift a few years ago. We have used it to freeze game meat, chicken and other meats. We power cook and freeze meals. We have also used the containers to store and marinate. Marinating meat is so much faster!!! We have put many likes on this and it still works perfectly.
Date published: 2018-01-08
Rated

5

out of

5
by
Old Codger
from
GREAT MACHINE!
I have been using this bag sealer for quite a long time. It is the second one as the other one went bad. This one has worked great up to a short time ago. It hesitated to vacuum for several seconds. Cleaning the seal strip helped. Now, it hesitates some before starting to evacuate. Cleaning the strip did not help this time. The externa hose worked a few times lately but now will not start the vacuum process. The bag section appears to work most of the time. Being a retired engineering/technician, I am familiar with most all types of small appliances. Is there anything I can do to clean the inside? Need a service manual. Please advise. (An old bachelor 88 living alone and need help!) Thanks, please advise.
Date published: 2020-07-22
Rated

1

out of

5
by
MaddMaxx
from
Whatta piece of expensive junk!
We originally bought an opening price point model and were very happy with it! When it crapped out...we decide to pay $175 for the V4440 model-supposedly an upgrade! This piece of junk stopped vacuuming after 4-5 months! It was sitting on the kitchen counter, useless, until I started to look into fixing it! Bah-nonsense!
Date published: 2018-08-13
Rated

1

out of

5
by
Taylor b
from
At first I was happy with it but it kept getting frustrating to seal to the point I was so angry I destroyed it like the copy machine on office space Unfortunately this is a true story 150$ wasted. If your looking to buy one I recommend you buy a ton of the rolls becouse they designed it so you have to waste alot of plastic so it will seal and by the way the rolls are not cheap. Dont try cutting them short to save becouse it will not seal and you might end up in my scenario. Good luck!!
Date published: 2018-11-06
Rated

2

out of

5
by
Jenbee
from
Ehh!
Wanted this machine as an upgrade and thought it was great at first. After a few times sealing, it quit sealing and I had to go about 3 rounds to get a decent seal. I'm now having to look into another one in less than a year because it just doesnt want to seal great anymore, and I am not wanting our food to be bad because if a seal.
Date published: 2018-11-11
Rated

5

out of

5
by
Anonymous
from
2 in 1 sealer
We are on our 4th unit and absolutely love these sealers. We have relied on these sealers to seal everything to marinate, store in bags, cylinders and especially the various size bags. Our past unit had a pulse button which allowed for you to stop and start the vacuum which was wonderful for wet marinades for a full rack of ribs. This current unit does not have this function but that didn't hinder our decision to purchase this particular model. I love that the Foodsaver company continues to keep innovating models for many different uses including sizes that fit in tighter spaces and would travel well. I highly recommend these sealers.
Date published: 2020-12-28
Rated

4

out of

5
by
JewlzieB
from
Quick and Easy
I love my FoodSaver. I use it to divide up chicken breasts and ground beef, fresh vegetables, bread, etc. to freeze for individual meals later. I also use it for vacuum sealing wine bottles and marinating bags of steak for grilling. There are so many different bags for different food items at great prices and you can buy them anywhere. Sits well on the kitchen counter without taking up a lot of counter space. This was a fantastic gift from my mother and would recommend this as a gift to anyone else.
Date published: 2018-07-27
Rated

4

out of

5
by
Niecy
from
Best price with all the features
I like this machine and it does exactly the same things as the next model up (including pulse) without the price tag. This is a replacement, though. I believe some liquid got into my machine because the accessory port stopped suctioning. It took a while to notice because the regular function (with a bag) still worked fine. Neither I nor my very muscular boyfriend could open the drip tray (without breaking it) to investigate. So, a replacement was needed; I hope this machine fares better. Anyway, considering that I had the machine for at least 6 years before this happened, it was worth buying again. As a bonus, I now have the new bags that didn't exist when I bought this the first time.
Date published: 2020-03-09
Rated

3

out of

5
by
GPri
from
So so
Seals well. Takes more product/bag to reach the part for automatic seal. I'm able to use old Foodsaver to seal one end. When saving tomatoes, the tray fills up and can't use a second time until tray dries out completely. Again using old Food saver as backup. Wish I didn't need the old one. Bought the new one too replace old one, glad I still have it.
Date published: 2020-07-30
Rated

1

out of

5
by
Margaret P
from
I gave it away at a garage sale.
I purchased this food saver because of the multiple functions it is capable of and ended up frustrated at its most basic feature and still using regular ziplock bags. The vacuum would either continue running and never seal unless I manually pressed the seal button at which time it would allow some air back in and THEN seal. Or it would run properly and only partially seal allowing air in the bag again. On the rare occasion it does work, it wastes TONS of plastic and money because it requires the bags to be very oversized in order to seal properly and you can only use food saver brand bags which are very overpriced. I wanted this to be as amazing as they say but it definitely did disappoint.
Date published: 2021-07-20
Rated

1

out of

5
by
jason78113
from
Don't expect any refunds
Was billed for 2 day shipping but took product 4 days. Due to Covid you can't talk to anyone but can send as many emails as you want. Don't expect a response. Seems to me they are taking advantage of a bad situation. I don't plan on getting any of my money back for the shipping ($50.00) and I'm sure they could care less but if this gets one person to buy a different brand I'll feel a little better
Date published: 2020-09-09
Rated

1

out of

5
by
Francy
from
New V4440
It's barely 1 month old and it doesn't consistently seal
Date published: 2020-07-01
Rated

3

out of

5
by
mrmedoes
from
A few flaws keep it from being great
This is the 3rd foodsaver that we have owned over the past 7 years, so we obviously believe in the product. It also places us into a good place to talk about this version versus some of the prior: - Look: this has a smaller counter space needed than our prior two, which is appreciated. - Function: the "auto" function is a little tough to get used to versus our prior, and it seems like it wastes a few inches of bags with each use. That said, it has functioned as we've come to expect, just a little more wasteful. - Features: the attachment for canisters is a great idea and seems to work better than the prior generation tube, but the retractable aspect needs to be either fixed or removed from these machines. Ours stopped retracting about 2 weeks into use. It still functions, but the lack of a manual way to retract the cord seriously detracts from its use. Overall, it's nice, and I guess it has a role, but I was hoping for a true improvement, but feel like it has too many trade offs to truly place that.
Date published: 2019-02-13
Rated

1

out of

5
by
Brian68
from
Good Luck Cleaning It
Works okay. However, they didn't make it so you can clean the upper area of the inside. Now, seal some fish that pulls fish juice into it and try to get the smell to go away. Tray doesn't remove. You can pull it out as far as you can but there is no real access to clean the two paddles inside or the absorbent foam. Should be rated for outdoor use only.
Date published: 2020-04-30
Rated

5

out of

5
by
Bud C
from
Easy to operate, Does vacuum and sealing rapidly
This is my 4th or 5th Food Saver machine. This one is by far my favorite, so far. Have only been using it for three weeks, but we use it almost everyday. I am gathering our garden produce and freezing it. The filled bags are hard as rocks before freezing because the air is totally extracted. While the 4440 does not have the automatic bag sealing feature, doing the job manually is worth it because all of the other features are perform so well. I have to say that I was a bit perturbed when my last Food Saver went bad, but it turns out that it just opened the door for my new favorite.
Date published: 2018-07-27
Rated

5

out of

5
by
joesabol
from
Works as Expected
So far, so good. Limited use so far, but as a long time customer, I expect this unit to perform as well as prior units. This is my 3rd, but over 20 years or so. I like that this unit is much quiter than my prior units. I also like that it remains fully backward compatible with all prior products.
Date published: 2020-11-04
Rated

1

out of

5
by
apollo
from
Vacuum doesn't suck. Food saver does
I've used my machine for less than 12 months. Quit vacuum. Only feature I need doesn't work. My previous machine (gave to daughter was great). Food saver equipment is poor quality and will never buy another one. Too expensive Wasted food, time and moneys
Date published: 2018-12-27
Rated

1

out of

5
by
Marynot
from
Frustrated
I have had nothing but trouble with this exact one since I purchased it. It never seal correctly and now it won't seal at all. The accessory tool still works but I don't use that feature often enough!!! Not happy with this product at all. I paid too much money for it for it not to seal at all now!
Date published: 2019-02-04
Rated

5

out of

5
by
TAG007
from
Functional
I replaced my older Foodsaver with this one and it works great. My old one was OK, but this one pulls a better vacuum and seals better. Albeit, I did read the instructions and changed the way I vacuum seal foods. If it's wet, I'll freeze it first and than finish sealing.
Date published: 2020-12-29
Rated

5

out of

5
by
Pakuldj
from
I actually enjoy this...
One thing I learned in life is if it's too much trouble I won"t do it. No so with my food saver. When we buy bulk food, I actually look forward to repackaging for my wife and me. I can break it into dinner for two. Many items can be stored up to a year. I don't have to throw away food and I have the savings of bulk buying. Food saver makes it soo easy.
Date published: 2019-11-17
Rated

5

out of

5
by
Steelersgirl67
from
This is the easy way to save money
I use this for everything meat, lettuce, cheese, breads, cookies and nuts. I even vacuum seal my flour and sugar when we go camping. No spills & it never gets wet.
Date published: 2020-11-01
Rated

2

out of

5
by
Chrissy1212
from
Doesn't suck all the air
I bought this a month ago and first time using it and it's a nightmare won't get air all the way out and doesn't seal after it has vacuumed every time. I watched several videos as well and it's not worth it
Date published: 2018-07-20
Rated

5

out of

5
by
Simple and Easy
from
Easy and simple to use!
This thing is amazing!! Last one we purchased from a different company didn't last even a year. We got this and it's so much better! It's easier to use. You don't have to hold the bag in place. You insert it and it just works! We bought the vacuum seal containers to marinate in and the chicken that we used came out with umami flavor in just an hour! There was no waiting over a day for the taste to soak in! It's all simplified and easy! We did buy the ziplock bags for the system however, they haven't been tested out yet. I'm confident that they will work just as great!
Date published: 2021-05-04
Rated

5

out of

5
by
Kupskey76
from
Food saver is a LIFE saver!
I've been using food saver since the very first model. Having a family of five means buying groceries in bulk from Costco. Spending hundreds of dollars on food should be motivation for anyone to want to invest in this product to allow that food to last longer. I am able to pre season and seal my foods and meats and they last months. No freezer burn, no odors and no food wasted. I'm even able to utilize my immersion cooker and cook souvide which is an absolutely amazing way to cook. Any and all food saver products are truly life saving for my family and I. I will continued to use these products until the end of time.
Date published: 2019-10-31
Rated

5

out of

5
by
TomS17
from
Perfect Virgin Island Appliance
Living down here in St Croix one has to think ahead at grocery stores and buy in bulk when you have the opportunity. Unfortunately our warm year round temperatures don't do well with perishable foods. To the rescue comes the food saver. Wow we can now by 10 lbds grated cheese and seal and freeze in smaller bags. We now buy hamburger in 10 lbs and make one lb sealed bags freeze and good. The best is the ability to use the hard plastic containers and open chips of all kinds and seal. They now last weeks. Amazing. Fruits nuts etc. we cannot believe how many uses. We have already saved 5 times our price and always available. Best appliance ever for island living. Tom.
Date published: 2019-10-31
Rated

5

out of

5
by
ILovefoodsaver
from
Great for buying bulk and preserving
This sealer has everything you will need for your sealing needs. It's great to seal up divided meats into smaller bags for ease of use and to cut down on waste. It lets you choose what type of bags you want to use rolls, to make your own size, regular bags or zipper bags. It is great to preseason or use meat tenderizer on your meats and then freeze.
Date published: 2019-11-07
Rated

4

out of

5
by
Rhonda1
from
Love this product
Let start off by saying I would have given it five stars but I got this one to replace an older model hoping that it would be quieter but it's not. Does anyone know if they make it quieter version. Otherwise I am very very happy with it.
Date published: 2020-07-09
bvseo_sdk, dw_cartridge, 18.2.0, p_sdk_3.2.0
CLOUD, getReviews, 0ms
reviews, product
---
<!--begin-bvseo-questions--> <!--begin-questions--> <div id="bvseo-questionsSection"> <div class="bvseo-question-answer" data-questionid="5132893"> <h2 class="bvseo-question"> How do you emty &#13;&#10;out the water </h2> <div class="bvseo-question-detail"> </div> <div class="bvseo-author">Asked by: Smmokey0248</div> <div class="bvseo-answer" data-answerid="5749096"> This is Caroline from FoodSaver. Thank you for reaching out to us.&#13;&#10;Please pull-out drawer to access the Drip Tray. Simply slide it out, then pull up on side handles of Drip Tray to remove. &#13;&#10;Thank you and please stay safe!&#13;&#10;FoodSaver Care <div class="bvseo-author">Answered by: FoodSaver Brand</div> <div class="bvseo-pubdate">Date published: 2021-05-25</div> </div> </div> <div class="bvseo-question-answer" data-questionid="4943925"> <h2 class="bvseo-question"> I replaced my third Foodsaver v3825 which was very loud. Replaced it with 5480 which was quieter, but handheld sealer would not retract. Is the 4440 quieter than v3825? The retracting issue was mentioned in many reviews, has it been resolved? </h2> <div class="bvseo-question-detail"> </div> <div class="bvseo-author">Asked by: Nancy F</div> <div class="bvseo-answer" data-answerid="5743868"> Hello, this is Mateusz from FoodSaver!&#13;&#10;Thanks for reaching out to us. We will be more than happy to answer your question!&#13;&#10;To retract a hose that has been pulled beyond the recommended length, please consider the following: &#13;&#10;1. Place a FoodSaver&amp;reg; unit on the edge of your counter or similar surface. &#13;&#10;2. Then, with the hose hanging over the edge, pull with light but abrupt force downwards to dislodge the spring. &#13;&#10;3. While pulling, release tension fully without letting go of the tip of the accessory hose. &#13;&#10;4. Repeat step 2 as many times until the hose goes back in.&#13;&#10;Thank you and please stay safe!&#13;&#10;FoodSaver Care <div class="bvseo-author">Answered by: FoodSaver Brand</div> <div class="bvseo-pubdate">Date published: 2021-09-10</div> </div> </div> <div class="bvseo-question-answer" data-questionid="4932594"> <h2 class="bvseo-question"> I can&#39;t find a downloadable manual for the 4440 on your site. How can I get a manual to save as a file? </h2> <div class="bvseo-question-detail"> </div> <div class="bvseo-author">Asked by: JJ Pete</div> <div class="bvseo-answer" data-answerid="5743259"> This is Caroline from FoodSaver. Thank you for reaching out to us.&#13;&#10;&#13;&#10;Could you please send us a direct message via live chat here on the website or give us a call at 877-777-8042 and we would send you a PDF copy of the manual. For your convenience, we are available 9 am-6 pm Mon- Fri, EST and 9 am-6 pm Saturday, EST. We look forward to hearing from you!&#13;&#10;&#13;&#10;Thank you and please stay safe!&#13;&#10;FoodSaver Care <div class="bvseo-author">Answered by: FoodSaver Brand</div> <div class="bvseo-pubdate">Date published: 2021-07-11</div> </div> </div> <div class="bvseo-question-answer" data-questionid="5168828"> <h2 class="bvseo-question"> Does the v4440 accommodate the jar sealers? I&#39;m considering this as my third food saver as I&#39;ve already worn out 2. As a single household I mostly use canning jars for short term storage. </h2> <div class="bvseo-question-detail"> </div> <div class="bvseo-author">Asked by: NannieTinTexas</div> <div class="bvseo-answer" data-answerid="5741397"> Hello, this is Mateusz from FoodSaver!&#13;&#10;Thanks for reaching out to us. We will be more than happy to answer your question!&#13;&#10;Yes, the FoodSaver V4440 is compatible with jar sealers. To use it with Jar Sealers, please remove the transparent reservoir from the bottom of the Handheld Sealer Accessory and put the now exposed tip into the hole on top of the jar sealer. Afterwards, you can start the process of vacuum sealing a jar.&#13;&#10;Thank you and please stay safe!&#13;&#10;FoodSaver Care <div class="bvseo-author">Answered by: FoodSaver Brand</div> <div class="bvseo-pubdate">Date published: 2021-08-06</div> </div> </div> <div class="bvseo-question-answer" data-questionid="4915823"> <h2 class="bvseo-question"> I have been trying to get use to using this but I have to wiggle, flip and reflip the package to get the vacuum to come on and then seal it. I have never used a sealer before but this seems like a frustrating task. And yes, have 4 inch hang over. </h2> <div class="bvseo-question-detail"> </div> <div class="bvseo-author">Asked by: cat339</div> <div class="bvseo-answer" data-answerid="5637126"> Thank you for your interest in our FoodSaver&amp;reg; 2-in-1 Automatic Vacuum Sealing System with Starter Kit, v4440. We are sorry for the delay in response. We understand that your having issues on your vacuum sealer that is not sealing properly. We are sorry for that. We understand your disappointment and we apologize for any inconvenience that this may have caused you. If our product has failed due to poor quality, we will be happy to replace it. For us to further assists you with your concern, please let us know by sending an email through our FoodSaver website or you may call us at our toll-free number 1-877-777-8042. For your convenience, we are available from 8:00 am to 5:00 pm Monday - Friday, EST. <div class="bvseo-author">Answered by: FoodSaver Brand</div> <div class="bvseo-pubdate">Date published: 2021-11-22</div> </div> </div> <div class="bvseo-question-answer" data-questionid="5072800"> <h2 class="bvseo-question"> Which models have all the features of the 4440 and also the pulse vac? </h2> <div class="bvseo-question-detail"> </div> <div class="bvseo-author">Asked by: Helen V</div> <div class="bvseo-answer" data-answerid="5636465"> Thank you for your interest in our FoodSaver&amp;reg; 2-in-1 Automatic Vacuum Sealing System with Starter Kit. In regards to your concern which vacuum sealer have the same features like the V4440 that also have the pulse vac features. We can recommend the FM5460DTC and the VS3182 vacuum sealers. You can check it through our website. Hope the information provided helps. Should you have any inquiries or further questions, please let us know by sending an email through our FoodSaver website or you may call us at our toll-free number 1-877-777-8042. For your convenience, we are available from 8:00 am to 5:00 pm Monday - Friday, EST. <div class="bvseo-author">Answered by: FoodSaver Brand</div> <div class="bvseo-pubdate">Date published: 2021-11-16</div> </div> </div> <div class="bvseo-question-answer" data-questionid="4981135"> <h2 class="bvseo-question"> What&#39;s the difference between this machine V4440 and V4840? </h2> <div class="bvseo-question-detail"> </div> <div class="bvseo-author">Asked by: radnay</div> <div class="bvseo-answer" data-answerid="5635226"> Thank you for your interest in our FoodSaver vacuum sealers. In regards to your concern about the difference between the V4440 and V4840 of our FoodSaver vacuum sealing machines. We do apologize for the late response. In line with your concern, we want to inform you that there is no difference between the 2 vacuum sealers. basically the V4840 and V4440 vacuum sealers. There is no difference with the machine, the model number is only the representation of our retailer, for them to know which retailer carries that model number. Hope this information helps. Should you have any inquiries or further questions, please let us know by sending an email through our FoodSaver website or you may call us at our toll-free number 1-877-777-8042. For your convenience, we are available from 8:00 am to 5:00 pm Monday - Friday, EST. <div class="bvseo-author">Answered by: FoodSaver Brand</div> <div class="bvseo-pubdate">Date published: 2021-05-29</div> </div> </div> <div class="bvseo-question-answer" data-questionid="4753150"> <h2 class="bvseo-question"> How is this different from the v4400? </h2> <div class="bvseo-question-detail"> </div> <div class="bvseo-author">Asked by: Pamn</div> <div class="bvseo-answer" data-answerid="5633683"> Thank you for your interest in our FoodSaver&amp;reg; 2-in-1 Automatic Vacuum Sealing System with Starter Kit, v4440. In regards to your concern about the difference between the v4440 and V4400 of our FoodSaver vacuum sealing machines. We do apologize for the late response. In line with your concern, we want to inform you that there is no difference between the 2 vacuum sealers. the model number is only the difference for our retailer, for them to know which retailer carries that model number. Hope this information helps. Should you have any inquiries or further questions, please let us know by sending an email through our FoodSaver website or you may call us at our toll-free number 1-877-777-8042. For your convenience, we are available from 8:00 am to 5:00 pm Monday - Friday, EST. <div class="bvseo-author">Answered by: FoodSaver Brand</div> <div class="bvseo-pubdate">Date published: 2022-02-17</div> </div> </div> <div class="bvseo-question-answer" data-questionid="4707996"> <h2 class="bvseo-question"> Does the machine stop working when fluid is in the track or moisture is around the track as does the older models? </h2> <div class="bvseo-question-detail"> </div> <div class="bvseo-author">Asked by: lgraham</div> <div class="bvseo-answer" data-answerid="5633429"> Thank you for your interest in our FoodSaver&amp;reg; 2-in-1 Automatic Vacuum Sealing System with Starter Kit, v4440. We are sorry for the delay in response. We understand that you want to know if the vacuum sealer will stop working if there is a fluid or moisture inside the vacuum sealer. Yes, it will prevent you to seal or vacuum properly the bags. You may try to blow dry all the parts of your vacuum sealer, especially the gaskets and drip tray. However, if our product has failed due to poor quality, we will be happy to replace it. For us to further assists you with your concern, please let us know by sending an email through our FoodSaver website or you may call us at our toll-free number 1-877-777-8042. For your convenience, we are available from 8:00 am to 5:00 pm Monday - Friday, EST. <div class="bvseo-author">Answered by: FoodSaver Brand</div> <div class="bvseo-pubdate">Date published: 2021-03-31</div> </div> </div> <div class="bvseo-question-answer" data-questionid="4706476"> <h2 class="bvseo-question"> Ever since we had a power failure my food saver will not turn on what could be wrong!!!&amp;nbsp; </h2> <div class="bvseo-question-detail"> </div> <div class="bvseo-author">Asked by: Mike072679</div> <div class="bvseo-answer" data-answerid="5633197"> Thank you for your interest in our FoodSaver&amp;reg; 2-in-1 Automatic Vacuum Sealing System with Starter Kit, v4440. We are sorry for the delay in response. We understand that your having issues with your vacuum sealer that is not powering on. We are sorry to hear that. We understand your disappointment and we apologize for any inconvenience that this may have caused you. If our product has failed due to poor quality, we will be happy to replace it. For us to further assists you with your concern, please let us know by sending an email through our FoodSaver website or you may call us at our toll-free number 1-877-777-8042. For your convenience, we are available from 8:00 am to 5:00 pm Monday - Friday, EST. <div class="bvseo-author">Answered by: FoodSaver Brand</div> <div class="bvseo-pubdate">Date published: 2021-07-01</div> </div> </div> <div class="bvseo-question-answer" data-questionid="4695067"> <h2 class="bvseo-question"> Does this foodsaver have a manual override to keep sucking air past the auto setting if not what model does? </h2> <div class="bvseo-question-detail"> </div> <div class="bvseo-author">Asked by: Jimmi</div> <div class="bvseo-answer" data-answerid="5633098"> Thank you for your interest in our FoodSaver&amp;reg; 2-in-1 Automatic Vacuum Sealing System with Starter Kit, v4440. We are sorry for the delay in response. We understand that your having issues with your vacuum sealer that keeps on vacuuming. We do apologize for the inconvenience this may cost you. We understand your disappointment and we apologize for any inconvenience that this may have caused you. If our product has failed due to poor quality, we will be happy to replace it. For us to further assists you with your concern, please let us know by sending an email through our FoodSaver website or you may call us at our toll-free number 1-877-777-8042. For your convenience, we are available from 8:00 am to 5:00 pm Monday - Friday, EST. <div class="bvseo-author">Answered by: FoodSaver Brand</div> <div class="bvseo-pubdate">Date published: 2022-02-17</div> </div> </div> <div class="bvseo-question-answer" data-questionid="4693622"> <h2 class="bvseo-question"> What is the differance 0440 and 4840 </h2> <div class="bvseo-question-detail"> </div> <div class="bvseo-author">Asked by: Dozer2</div> <div class="bvseo-answer" data-answerid="5633035"> Thank you for your interest in our FoodSaver vacuum sealers. In regards to your concern about the difference between the V4440 and V4840 of our FoodSaver vacuum sealing machines. We do apologize for the late response. In line with your concern, we want to inform you that there is no difference between the 2 vacuum sealers. basically the V4440 and the V4840 is the series of V4800 vacuum sealers. The only difference is the design of the vacuum sealers. Hope the information provided helps. Should you have any inquiries or further questions, please let us know by sending an email through our FoodSaver website or you may call us at our toll-free number 1-877-777-8042. For your convenience, we are available from 8:00 am to 5:00 pm Monday - Friday, EST. <div class="bvseo-author">Answered by: FoodSaver Brand</div> <div class="bvseo-pubdate">Date published: 2022-02-17</div> </div> </div> <div class="bvseo-question-answer" data-questionid="4688933"> <h2 class="bvseo-question"> DOSE IT MAKE SMALL BAGS AND LARGE BAGS </h2> <div class="bvseo-question-detail"> </div> <div class="bvseo-author">Asked by: LAREDO4107</div> <div class="bvseo-answer" data-answerid="5632934"> Thank you for your interest in our FoodSaver&amp;reg; 2-in-1 Automatic Vacuum Sealing System with Starter Kit, v4440. We are sorry for the delay in response. We understand that you want to know if this vacuum sealer can customize bags in your desire size. Yes, you can customize your bags using this vacuum sealer. This vacuum sealer can accommodate the 8&amp;quot; and 11&amp;quot; vacuum seal rolls. Hope this information helps. Should you have any inquiries or further questions, please let us know by sending an email through our FoodSaver website or you may call us at our toll-free number 1-877-777-8042. For your convenience, we are available from 8:00 am to 5:00 pm Monday - Friday, EST. <div class="bvseo-author">Answered by: FoodSaver Brand</div> <div class="bvseo-pubdate">Date published: 2021-03-31</div> </div> </div> <div class="bvseo-question-answer" data-questionid="4685649"> <h2 class="bvseo-question"> what is the difference between the 4800 series w/the v4840 and this model? </h2> <div class="bvseo-question-detail"> </div> <div class="bvseo-author">Asked by: Jaysbabe92</div> <div class="bvseo-answer" data-answerid="5632854"> Thank you for your interest in our FoodSaver vacuum sealers. In regards to your concern about the difference between the V4800 and V4840 of our FoodSaver vacuum sealing machines. We do apologize for the late response. In line with your concern, we want to inform you that there is no difference between the 2 vacuum sealers. basically the V4840 is the series of V4800 vacuum sealers. Hope the information provided helps. Should you have any inquiries or further questions, please let us know by sending an email through our FoodSaver website or you may call us at our toll-free number 1-877-777-8042. For your convenience, we are available from 8:00 am to 5:00 pm Monday - Friday, EST. <div class="bvseo-author">Answered by: FoodSaver Brand</div> <div class="bvseo-pubdate">Date published: 2021-03-31</div> </div> </div> <div class="bvseo-question-answer" data-questionid="4682555"> <h2 class="bvseo-question"> The reason for the extra 35 dollars between the 4800 and the 4400? </h2> <div class="bvseo-question-detail"> </div> <div class="bvseo-author">Asked by: montjoy</div> <div class="bvseo-answer" data-answerid="5632726"> Thank you for your interest in our FoodSaver&amp;reg; 2-in-1 Automatic Vacuum Sealing System with Starter Kit, v4440. We are sorry for the delay in response. In line with your concern, we apologize that we can&#39;t provide any information about the difference about the prices of our product since it&#39;s been handled by other department. However, we value all customer&#39;s feedback and will pass your comments to our Brand Development Team. If there&#39;s anything we can do to assist you, please don&#39;t hesitate to contact us at 1-877-777-8042. We&#39;re here for you from 8:00 am to 5:00 pm EST, Monday through Friday. Our product specialists will be more than happy to help you. <div class="bvseo-author">Answered by: FoodSaver Brand</div> <div class="bvseo-pubdate">Date published: 2021-05-29</div> </div> </div> <div class="bvseo-question-answer" data-questionid="4675633"> <h2 class="bvseo-question"> Does this include adaptor to use the hose? </h2> <div class="bvseo-question-detail"> </div> <div class="bvseo-author">Asked by: chrisleal</div> <div class="bvseo-answer" data-answerid="5631830"> Thank you for your interest in our FoodSaver&amp;reg; 2-in-1 Automatic Vacuum Sealing System with Starter Kit, v4440. We are sorry for the delay in response. We understand that you want to know if you need adapter to use the retractable hose. No, you can use directly the hose to vacuum seal the jars, containers, bottle stopper and zipper bags. By vacuuming the jars, using the jar sealers, the bottle stopper and the containers, you simply remove the liquid chamber and attach it to the other accessories. Hope this information helps. Should you have any inquiries or further questions, please let us know by sending an email through our FoodSaver website or you may call us at our toll-free number 1-877-777-8042. For your convenience, we are available from 8:00 am to 5:00 pm Monday - Friday, EST. <div class="bvseo-author">Answered by: FoodSaver Brand</div> <div class="bvseo-pubdate">Date published: 2021-03-30</div> </div> </div> <div class="bvseo-question-answer" data-questionid="4668040"> <h2 class="bvseo-question"> How many bags can be consecutively sealed? What is the wait time before resuming? </h2> <div class="bvseo-question-detail"> </div> <div class="bvseo-author">Asked by: Aw72020</div> <div class="bvseo-answer" data-answerid="5614554"> Thank you for your interest in our FoodSaver&amp;reg; 2-in-1 Automatic Vacuum Sealing System with Starter Kit, v4440. We are sorry for the delay in response. We understand that you want to know how many bags can be sealed with your vacuum sealer. It can be seal 6-8 bags and we do recommend to wait at least 20 seconds for each seals. Hope this information helps. Should you have any inquiries or further questions, please let us know by sending an email through our FoodSaver website or you may call us at our toll-free number 1-877-777-8042. For your convenience, we are available from 8:00 am to 5:00 pm Monday - Friday, EST. <div class="bvseo-author">Answered by: FoodSaver Brand</div> <div class="bvseo-pubdate">Date published: 2021-03-26</div> </div> </div> <div class="bvseo-question-answer" data-questionid="4671035"> <h2 class="bvseo-question"> Does this unit have the express bag maker? </h2> <div class="bvseo-question-detail"> </div> <div class="bvseo-author">Asked by: Rubenacker</div> <div class="bvseo-answer" data-answerid="5599803"> Thank you for your interest in the FoodSaver 2-in-1 Automatic Vacuum Sealing System with Starter Kit, v4440, Black Finish. This model does not have the express bag maker feature, but has the automatic bag detection and vacuum sealing feature. We hope this information is helpful. <div class="bvseo-author">Answered by: FoodSaver Brand</div> <div class="bvseo-pubdate">Date published: 2021-03-17</div> </div> </div> <div class="bvseo-question-answer" data-questionid="4899152"> <h2 class="bvseo-question"> I lost the drip try to ours. What is the replacement try for this saver?&amp;nbsp; </h2> <div class="bvseo-question-detail"> </div> <div class="bvseo-author">Asked by: Lana2024</div> <div class="bvseo-answer" data-answerid="5488830"> The drip tray for your V4440 is 174120-000-000. <div class="bvseo-author">Answered by: FoodSaver Brand</div> <div class="bvseo-pubdate">Date published: 2020-12-30</div> </div> </div> <div class="bvseo-question-answer" data-questionid="4470323"> <h2 class="bvseo-question"> when will the V4440 be available. </h2> <div class="bvseo-question-detail"> </div> <div class="bvseo-author">Asked by: inubby342</div> <div class="bvseo-answer" data-answerid="5474752"> We deeply apologize for the delay. We appreciate your patience as we are diligently working on replenishing our stock. We do not have a firm date as to when this item will be available. But rest assured that our retailers will surely have the FoodSaver 2-in-1 Automatic Vacuum Sealing System with Starter Kit, v4440, Black Finish for you. You can check our list of retailers using the link below:&#13;&#10;&#13;&#10;https://www.foodsaver.com/service-and-support/find-a-retailer/find-a-retailer.html <div class="bvseo-author">Answered by: FoodSaver Brand</div> <div class="bvseo-pubdate">Date published: 2021-03-12</div> </div> </div> <div class="bvseo-question-answer" data-questionid="4606788"> <h2 class="bvseo-question"> Does this machine have a double seal? </h2> <div class="bvseo-question-detail"> </div> <div class="bvseo-author">Asked by: Bevy38</div> <div class="bvseo-answer" data-answerid="5457009"> To better assist you with your concern, please click on the live chat link here on our site. Agents are available M-Sat 9 am-6 pm EST. You may also give us a call at 877-777-8042. For your convenience, we are available 8 am-8 pm Mon- Fri, EST and 9 am-6 pm Saturday, EST. We look forward to hearing from you! <div class="bvseo-author">Answered by: FoodSaver Brand</div> <div class="bvseo-pubdate">Date published: 2021-03-23</div> </div> </div> <div class="bvseo-question-answer" data-questionid="4844678"> <h2 class="bvseo-question"> I bought this model when it first came out and have had trouble with the auto seal detection from the start. Would have to mess with the bag, moving it around to finally get it to start sealing. Has this been improve? </h2> <div class="bvseo-question-detail"> </div> <div class="bvseo-author">Asked by: donna29</div> <div class="bvseo-answer" data-answerid="5456669"> Oh no! That is definitely not the kind of experience that we want you to have. We would love the opportunity to restore your faith in us. Please call our customer care team at 1-877-777-8042. For your convenience, we are available Mon-Fri 9 am-6 pm EST. We look forward to assisting you! <div class="bvseo-author">Answered by: FoodSaver Brand</div> <div class="bvseo-pubdate">Date published: 2021-03-27</div> </div> </div> <div class="bvseo-question-answer" data-questionid="4599613"> <h2 class="bvseo-question"> Do the mason jars require a small hole or does the vacuum seal with a lid on? Please give details. Some vacuum sealers require a hole to be either in the bag or on the lid. This product does not specify if a hole is required. </h2> <div class="bvseo-question-detail"> </div> <div class="bvseo-author">Asked by: Debo1</div> <div class="bvseo-answer" data-answerid="5454843"> To better assist you with your concern, please click on the live chat link here on our site. Agents are available M-Sat 9 am-6 pm EST. You may also give us a call at 877-777-8042. For your convenience, we are available 8 am-8 pm Mon- Fri, EST and 9 am-6 pm Saturday, EST. We look forward to hearing from you! <div class="bvseo-author">Answered by: FoodSaver Brand</div> <div class="bvseo-pubdate">Date published: 2021-03-28</div> </div> </div> <div class="bvseo-question-answer" data-questionid="4566315"> <h2 class="bvseo-question"> I saw other models that looked like this at different prices. What is the difference? </h2> <div class="bvseo-question-detail"> </div> <div class="bvseo-author">Asked by: Barry T</div> <div class="bvseo-answer" data-answerid="5451383"> To better assist you with your concern, please click on the live chat link here on our site. Agents are available M-Sat 9 am-6 pm EST. You may also give us a call at 877-777-8042. For your convenience, we are available 8 am-8 pm Mon- Fri, EST and 9 am-6 pm Saturday, EST. We look forward to hearing from you! <div class="bvseo-author">Answered by: FoodSaver Brand</div> <div class="bvseo-pubdate">Date published: 2021-03-27</div> </div> </div> <div class="bvseo-question-answer" data-questionid="4541759"> <h2 class="bvseo-question"> Why don&amp;rsquo;t you produce your products in the US? </h2> <div class="bvseo-question-detail"> </div> <div class="bvseo-author">Asked by: missaviva</div> <div class="bvseo-answer" data-answerid="5450520"> To better assist you with your concern, please click on the live chat link here on our site. Agents are available M-Sat 9 am-6 pm EST. You may also give us a call at 877-777-8042. For your convenience, we are available 8 am-8 pm Mon- Fri, EST and 9 am-6 pm Saturday, EST. We look forward to hearing from you! <div class="bvseo-author">Answered by: FoodSaver Brand</div> <div class="bvseo-pubdate">Date published: 2021-03-27</div> </div> </div> <div class="bvseo-question-answer" data-questionid="4539800"> <h2 class="bvseo-question"> When doing a comparison on your site, 4440 model shows having the pulse option for baked goods, but in another posed question your answer was it did not. Need to know before purchasing. Thanks </h2> <div class="bvseo-question-detail"> </div> <div class="bvseo-author">Asked by: Kenton</div> <div class="bvseo-answer" data-answerid="5448512"> Great question. the FoodSaver 2-in-1 Automatic Vacuum Sealing System with Starter Kit, v4440, Black Finish has the pulse vac feature. <div class="bvseo-author">Answered by: FoodSaver Brand</div> <div class="bvseo-pubdate">Date published: 2021-03-14</div> </div> </div> <div class="bvseo-question-answer" data-questionid="4765784"> <h2 class="bvseo-question"> I am replacing an older model that has quit working. &amp;nbsp;Does this model work with my wine stopper I have from my old unit? </h2> <div class="bvseo-question-detail"> </div> <div class="bvseo-author">Asked by: bikerjim22</div> <div class="bvseo-answer" data-answerid="5448485"> Oh no! That is definitely not the kind of experience that we want you to have. We would love the opportunity to restore your faith in us. Please call our customer care team at 1-877-777-8042. For your convenience, we are available Mon-Fri 9 am-6 pm EST. We look forward to assisting you! <div class="bvseo-author">Answered by: FoodSaver Brand</div> <div class="bvseo-pubdate">Date published: 2021-04-18</div> </div> </div> <div class="bvseo-question-answer" data-questionid="4812050"> <h2 class="bvseo-question"> Does this model work with the wide mouth jar sealer? </h2> <div class="bvseo-question-detail"> </div> <div class="bvseo-author">Asked by: Mannik</div> <div class="bvseo-answer" data-answerid="5448478"> Yes the FoodSaver 2-in-1 Automatic Vacuum Sealing System with Starter Kit, v4440, Black Finish works with wide mouth jar sealer. <div class="bvseo-author">Answered by: FoodSaver Brand</div> <div class="bvseo-pubdate">Date published: 2020-12-13</div> </div> </div> <div class="bvseo-question-answer" data-questionid="4448445"> <h2 class="bvseo-question"> I have the v3230 and it just stopped sealing bags. I want a replacement and have many storage containers that the 3230s accessory port would vacuum seal. Will this unit seal my storage containers that were designed for the v3230? </h2> <div class="bvseo-question-detail"> </div> <div class="bvseo-author">Asked by: Trump2020</div> <div class="bvseo-answer" data-answerid="5444600"> Oh no! That is definitely not the kind of experience that we want you to have. We would love the opportunity to restore your faith in us. Please call our customer care team at 1-877-777-8042. For your convenience, we are available Mon-Fri 9 am-6 pm EST. We look forward to assisting you! <div class="bvseo-author">Answered by: FoodSaver Brand</div> <div class="bvseo-pubdate">Date published: 2020-12-30</div> </div> </div> <div class="bvseo-question-answer" data-questionid="4547479"> <h2 class="bvseo-question"> Does the v4440 have a pulse feature? &amp;nbsp;When comparing units, it says it does. When reading reviews on another website some people said it didn&amp;rsquo;t.&amp;nbsp; </h2> <div class="bvseo-question-detail"> </div> <div class="bvseo-author">Asked by: Terri89</div> <div class="bvseo-answer" data-answerid="5443416"> Great question, yes the V4440 has the pulse vac feature. <div class="bvseo-author">Answered by: FoodSaver Brand</div> <div class="bvseo-pubdate">Date published: 2020-12-13</div> </div> </div> </div> <script type="text/javascript"> if (document.getElementById('bvseo-questionsSection')) { document.getElementById('bvseo-questionsSection').style.display = 'none'; } </script> <!--end-questions--> <!--begin-pagination--> <ul id="bvseo-paginationSection"> <li class="bvseo-paginationItem"><a class="bvseo-paginationLink" href="https://www.foodsaver.com/food-vacuum-sealers/countertop-vacuum-sealers/foodsaver-2-in-1-automatic-vacuum-sealing-system-with-starter-kit-v4440-black-finish/SAP_FSFSSL4440000.html?&bvrrp=Main_Site-en_US/questions/product/3/SP_446963.htm">FoodSaver 2-in-1 Automatic Vacuum Sealing System with Starter Kit, v4440, Black Finish Questions - page 3</a></li> </ul> <!--end-pagination--> <ul id="BVSEO_meta" style="display:none!important"> <li data-bvseo="bvDateModified">y_2022, m_5, d_15, h_22CST</li> <li data-bvseo="ps">bvseo_bulk, prod_bvqa, vn_bulk_3.0.27</li> <li data-bvseo="cp">cp_2, bvpage2n</li> <li data-bvseo="co">co_hasquestionsanswers, tq_279</li> <li data-bvseo="cf">loc_en_US, sid_SP_446963, prod, sort_[SortEntry(order=LAST_APPROVED_ANSWER_SUBMISSION_TIME, direction=DESCENDING)]</li> <li data-bvseo="diagnostics">clientName_foodsaver</li> </ul> <!--end-bvseo-questions--> <ul id="BVSEOSDK_meta" style="display: none !important;"> <li data-bvseo="sdk">bvseo_sdk, dw_cartridge, 18.2.0, p_sdk_3.2.0</li> <li data-bvseo="sp_mt">CLOUD, getContent, 0ms</li> <li data-bvseo="ct_st">questions, product</li> </ul>
product-detail-view
oos-pdp