FoodSaver® GameSaver® Big Game™ GM710 Food Preservation System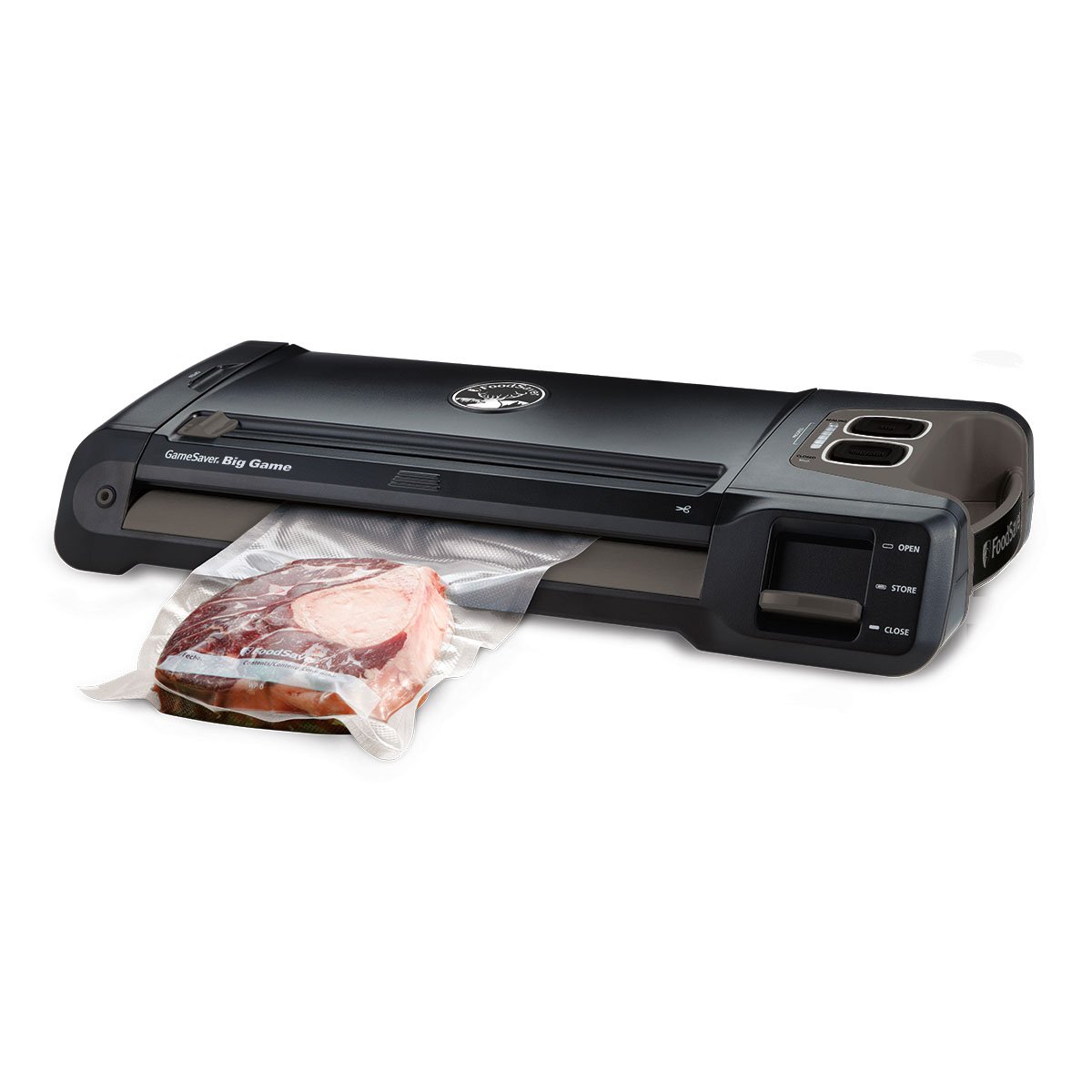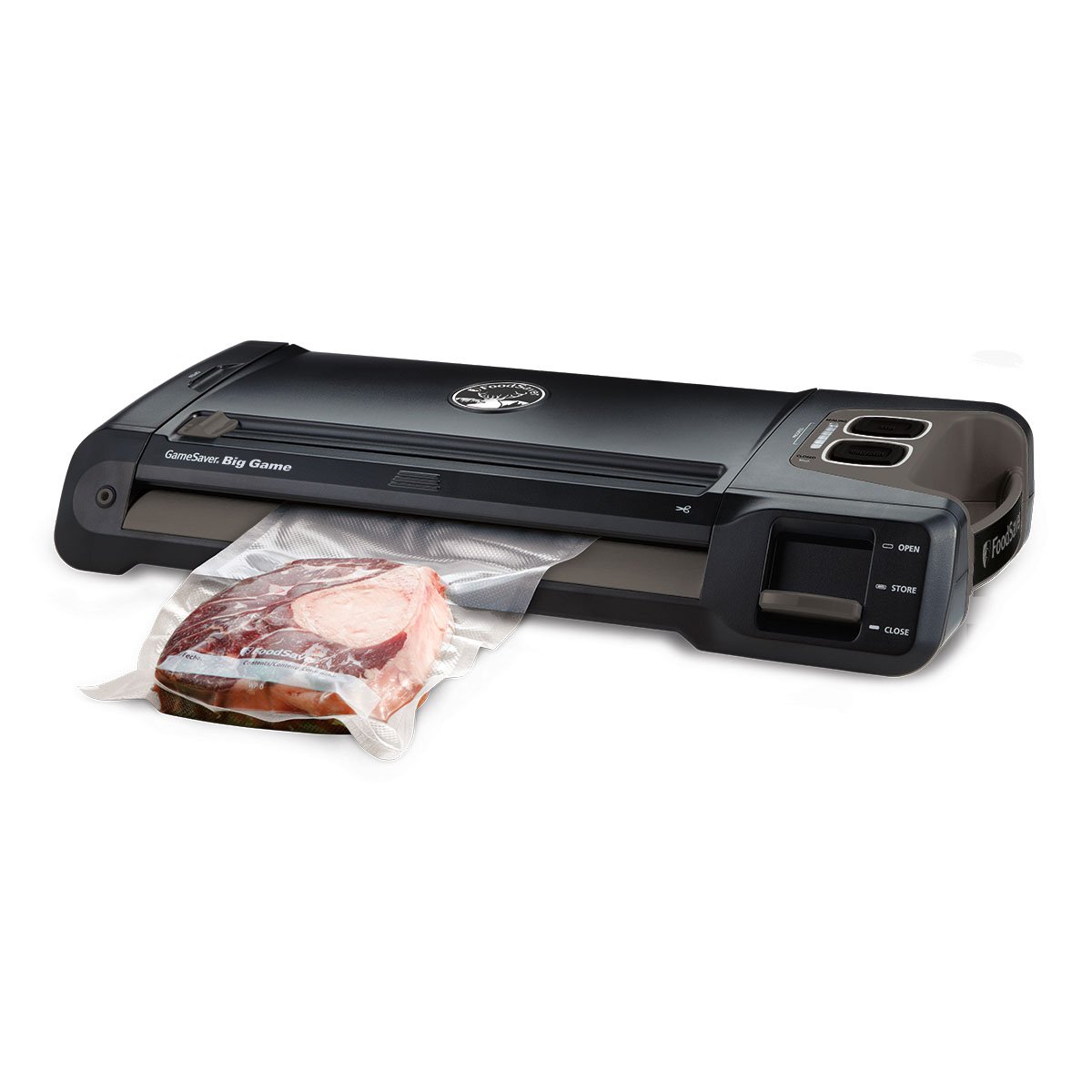 FoodSaver® GameSaver® Big Game™ GM710 Food Preservation System
Sale Price
$189.99
Strikethrough List Price

$262.49
Become a FreshBucks Rewards member to earn points and save on FoodSaver purchases, Join Now
Already a member? Log in now
Final Sale: may not be returned or exchanged
Sale Price
$189.99
Strikethrough List Price

$262.49
Become a FreshBucks Rewards member to earn points and save on FoodSaver purchases, Join Now
Already a member? Log in now
Final Sale: may not be returned or exchanged
Want us to let you know when the item you wanted is back in stock?
---

Free Standard Shipping on Orders $50+

Free Express Shipping on Orders $100+ Details
---
Product Details
Description
Created with hunters, fishermen, and outdoor enthusiasts in mind, the FoodSaver GameSaver Big Game Vacuum Sealing System features an updated, rugged design with integrated carrying handle and large, rubberized buttons. This new design has intelligent sealing control that lets you do up to 80 consecutive seals or up to 240 pounds of food, and includes a bonus 15-foot 12V power cord, extra-large drip tray and built-in storage compartment. Preserve your prize game and prevent freezer burn.
Features
Vacuum-seal capability of up to 80 consecutive seals or up to 240 pounds of game
12 Volt DC adapter for use out in the field
Convenient carrying handle for field use – just grab and go
XL rubberized buttons
XL Patented removable drip tray – ONLY FoodSaver® Brand has it!
New technology to reduce bag waste (compared to previous GameSaver® models)
Extra wide sealing strip creates a secure, air-tight seal
Convenient roll storage and bag cutter on lid allow for custom sized bags replaceable foam gasket ensures a strong vacuum seal
Accessory port for use with all FoodSaver® Brand Containers and Accessories
Easy lock latch closure secures bag for vacuum sealing
Included Parts
1 - 11 in. x 10 ft. GameSaver® Vacuum-Seal Roll
3 - Quart Pre-cut GameSaver® Vacuum-Seal Bags
2 - Gallon Pre-cut GameSaver® Vacuum-Seal Bags
1 - 12 Volt DC Adapter Cord
1 - Accessory Hose
Product Instructions
Specifications
Dimensions:

3.80" H x 21.40" W x 8.50" D
Rated

1

out of

5
by
Kain
from
Failed on the first night, and again on the second
Very poor QC Im hoping. The Good: easy to use when its working. The BAD: Sealed up 2 bags and completely quit working. By "quit" I mean its like it is not getting power at all. The "closed" light doesnt come on and none of the buttons work at all. This is literally after sealing 2 bags up. Let it sit overnight and its worked again for another 1 item then its completely dead again. Returning to Amazon for new one. Crossing my fingers I just got a bad one, but after reading the reviews on other sites Im guessing Ill be looking to another brand and not a FoodSaver.
Date published: 2021-03-14
Rated

5

out of

5
by
ChrisS
from
Convenient Results!
This product is very convenient. It vacuums and seals very quickly and it is easy to do multiple jobs consecutively. It is very straight forward to use with useful indicator lights and easy to understand buttons. It can be a little loud but falls in line with comparable products I've used. It is more portable than any product I've used and has a convenient handle which allows the entire unit to be transported as one. I think the durability is average but some of the plastic seems a little thin, but I have not had any issues with it. Overall I think it is an easy to use product that is convenient and gets the results I want quickly. Disclaimer - I received this product as a sample to review.
Date published: 2016-02-05
Rated

5

out of

5
by
RobKC
from
The FoodSaver GameSaver is a serious game changer!
The quality of this machine far surpassed what I expected. The sharp design and solid feel was impressive right out of the box. The built-in handle makes this machine feel solid while portable and comfortable. So portable that it includes a 12V DC adapter with an extra long cord so you can plug it into the auto, boat, camper, quad or other all terrain vehicle. This is truly the best vacuum sealer I have ever used with no problem doing a lot of consecutive seals. It also has the FoodSaver vacuum hose port that can be used with the standard containers, large buttons and the easy 1-2-3 seal process, you will not be disappointed! I received this product as a sample to review.
Date published: 2016-02-08
Rated

1

out of

5
by
WaterJacket
from
Lasted for 16 sealing cycles then quit
I chose this machine because it has the 12 volt option for remote use. My unit was unpacked, used for making and then vacuum sealing 16 eight inch bags of dry food. Worked beautifully. The following day the unit hung up at 3/5 vacuum as shown on the light panel and would not finish the cycle. After going over the machine diagnostics with customer service, it failed the test, and being told I had to return it with a 2-3 week delay for replacement, I opted to return the machine for a refund. This might just be bad luck but given my experience I cannot recommend this vacuum sealer.
Date published: 2020-05-01
Rated

2

out of

5
by
JessOhler
from
Great while it lasted
I purchased the food saver GM700 for my husband its worked great for the year and half that we had it but not it has stopped suctioning and only seals. This is the exact thing that happened to the first foodsaver that we had as well, lasted about a year.
Date published: 2018-02-07
Rated

5

out of

5
by
Jade1956
from
Finally, the right Foodsaver for me!
I have had several Food Savers over the years and I've managed to burn out every one of them. Finally, a gifted customer support person suggested this one. I've had it about 3 months and I don't have a single complaint. If you get the bag down into the channel, it seals every time as long as you leave room in the bag for that dip into the channel. It takes an extra bag or two for each project, but it's well worth two bags to eliminate the frustration factor of bags not sealing. This is the best food saver for bulk sealers. I shop and my assistants make hordes of food. I seal up to 100 bags of food in a session. This one wants to rest once or twice in there, and I don't mind; I just fill more bags while it takes a break. This one is a peach!
Date published: 2016-07-24
Rated

1

out of

5
by
Bochi
from
Not their best!
We purchased several units over the years and always have had very good performance. This year or two have proved differently. We purchased the more exoensive models such as the V4440 and FM5460 and they failed us. So we figured maybe we'll try the simplest unit and bought the FM2100. Down went the first one. After several calls to FoodSaver, which calls are handled by overseas personal, we waited almost a month and called them again to remind them of their tardiness. After much fuss which I won't expound on, we finally received a replacement unit. Well, we tried to seal pint jars again and the new unit did the same thing; it only lasted 4 jars and quit dead! FoodSaver products have always been top of the line, however, I have no idea why we have encountered so many failures. It appears that quality control is dropping the ball.
Date published: 2020-04-27
Rated

5

out of

5
by
Boomer7910
from
Solid sealer that does everything perfect
I've used other sealers before so I thought I knew what I was getting and what to expect. This sealer is head and shoulders above anything I've ever used. Seals quick and recovers quick which is great if you are doing big jobs. I tested this out on some flour and, after it finished, I had to run around showing my family the brick it had made. I really put it to it during hunting season and if it can withstand everything that I throw at it like it have so far then I guarantee you'll love it to. I don't foresee me having to purchase another sealer for quite awhile . For the price, I don't think you could find a better sealer. - I received this product for a sample to review
Date published: 2016-02-08
Rated

5

out of

5
by
B4L1
from
Great sealer, works perfectly
This model foodsaver works really really well. It is heavy duty and no-fuss. The stainless exterior and rubberized controls make it easy to clean up and no worry of damaging it with blood or water. It really does do many consecutive seals. I double sealed 10 bags in a row with no failed seals or loss in seal quality. Thats 40 seals! One thing I didnt like was positioning the bags and having to manually close the lid. You have to make longer bags to prevent wrinkles in the seal, and this means wasting more expensive bag material. Other than that, I highly recommend this sealer and would give it 5 stars all day. Disclaimer- I did receive this product free to review. It is well worth the asking price and I would not hesitate to buy it.
Date published: 2016-02-04
Rated

4

out of

5
by
ijayrob
from
Great for the Sportsman
I'm an avid fisherman of the Chesapeake bay and have found this product to be by far the best way to preserve the rock fish that I catch on a regular basis. The machine takes under 5 minutes to setup. It's visually appealing on my kitchen counter and takes up an average amount of space. The sealing process is quick and I found the included bags to be the perfect size for a 1-2lbs piece of rock fish. This unit also includes a 12v adapter for use on the go and I can see me using this right on the boat. The drip tray is a great feature and easy to clean. Overall, I'm very pleased with this product and foresee lots of use in the future. I was provided this product from the manufacture to test and review.
Date published: 2016-02-05
Rated

2

out of

5
by
MN Hunter
from
Stopped Working After Less Than 30 Seals
The unit quit working during my first time using it. It would not turn on at all when connected to 110v power and would only work when connected to 12v. I did not plan on having to sit in my driveway with my truck running so that I could finish packaging the hog I was processing. I sent the unit in 2 months ago and have yet to receive a replacement. They have only offered to replace it with much cheaper units...
Date published: 2020-09-17
Rated

4

out of

5
by
FaddaWolf
from
Reliable. Does it's job well.
So i love this thing. Had it for a few years now. No Problems what so ever. I've been sealing my catch up at the boat yard after fishing. I've loaned it to my hunting buddies and they're happy with it. Literally 2 minor caveats though. 1, it's a bit slow for when we have a large haul. I mean, it's not a commercial item, it's pretty fast for a rec item. But if you're gonna do a lot of vacuum sealing at 1 time, it's gonna take a while. Even though it can do 60-80 consecutive seals. Caveat 2 is that replacement parts are hard to come by. The cutting blade on my sealer need to be changed like a year or 2 now. They're never in stock! I really need a new cutting blade!!!!!
Date published: 2021-11-26
Rated

5

out of

5
by
Hatch
from
Rugged
We Purchased the GM710 in early 2019, but I saved comments until after harvest. The GM710 is the BEST of four Food Savers that I have owned over the years. It is ruggedly built, strong, compact, easy to store, and powerful. Shortcoming: needs an electrical plugin that snaps onto the cord for storage. TIP: I use a small baking pan to elevate the produce being sealed for the bag being sealed to be level with the closed door. I give it more than five stars.
Date published: 2019-11-16
Rated

5

out of

5
by
Jan 3
from
awesome!
This is my 3rd foodsaver, by far this one is the best. My 1st one I gave away because i wanted a bigger one, that one lasted me years , looking forward to this one lasting me many more!
Date published: 2016-10-20
Rated

1

out of

5
by
IBJSB
from
Foodsaver is no longer making quality products
We bought a Foodsaver GameSaver Silver a couple years back. It died which the company warrantied. Since they no longer have the Silver they sent us the BigGame which is supposed to be better yet. Last night we finally received it after waiting for two full months to receive it. Unfortunately, the machine is slow and still leaves air in the bags. I won't be surprised if they bags end up being unsealed in the next week. Very disappointing for sure! We may just have to go back to butcher paper.
Date published: 2019-10-04
Rated

1

out of

5
by
Two Dogs
from
No Vacume
this is the second G800 Titanium game saver, the first one stooped vacuuming after 8 sealing, I wrote customer service and called the sent me Brand new one, I should have tried the new one out as soon as I received it, I went to Wyoming on an Elk hunt , after harvesting a Cow Elk , I open the new sealer , this one stooped after 12 sealing. When I got home I sent two letter to customer service and both have not been answered, so I call the Chat line and half way through the conversation the line went dead. Still waiting to hera from the customer service .
Date published: 2020-02-21
Rated

3

out of

5
by
Unknown
from
I bought my Game Food Saver two months ago.. It works well to suck the air out but don't seem to seal well at the end of taking the air out.. I am a little dissappointed with that.. Smaller items it works well with.. But the real game that needed to seal is a problem.. Over all it's a good machine.
Date published: 2016-09-16
Rated

5

out of

5
by
jdadobson
from
Perfect System for Households that Seal in Bulk
I've been on the vacuum sealers band wagon since the beginning. The features and easy to use design of all the FoodSaver systems have always made them my favorite. The only issue that I've had with prior systems is that they overheated after several back-back seals and would have to cool down before I resumed sealing. This made breaking down my deer/elk meat an absolute chore. However, this year everything changed with the BigGame saver. After 37 consecutive seals, the system was still running while I was running out of meat to seal. The time that I have saved significantly outweighs the increased cost of this machine. I have been very happy with the system and would definitely recommend it to any person that seals at a bulk level.
Date published: 2016-01-27
Rated

5

out of

5
by
Riklet
from
Sturdy machine
This is my fifth Foodsaver. I gave away two so I couldI upgrade, one committed suicide by hurling itself on the floor, and one just quit pulling a vacuum. I decided to try a bigger upgrade, and bought this one. It's solid, easy to use, and really powerful. Hopefully, the long warranty will keep it from having problems. (I firmly believe that having a solution prevents problems in the first place!)
Date published: 2016-08-19
Rated

1

out of

5
by
Frustrated Customer
from
Accessory hose broken and out-of stock.
Purchased a GM710 Food Saver 2-3 months ago. The machine works well but the accessory hose tip broke. Normally this is not a major issue but the accessory hose has been out-of-stock for quite sometime. It's a major problem when you cannot use the machine for its intended purpose. I have an older FoodSaver but it does not have an accessory vacuum port so I purchased the GM710 because I wanted to use it for jars and zip bags. The unavailability of the accessory hose is a problem because I am not able to use the GM710 for what I purchased it for. I cannot believe FoodSaver let the stock of such a simple but important accessory (a plastic hose) go to zero. Very Unfortunate!!
Date published: 2021-03-08
Rated

3

out of

5
by
Mikemac
from
I nave run this machine a couple times now and it seems to sputter during the suction period. It does the job for now, but I am just waiting for it to quit. I am not happy with Foodsaver right now. I could not get the model I wanted because the website said it was not available, even though it was on sale. So I bought this one.
Date published: 2018-04-22
Rated

2

out of

5
by
mike51
from
This thing worked great for a couple days..but!
After a couple uses it now will not work at all on 110v. Will work on 12v but truck won't fit into the kitchen.
Date published: 2020-08-07
Rated

4

out of

5
by
DoxxyMom
from
Warranty Worked
After leaving a negative review about the company not honoring warranty or responding to several emails Foodsaver reached out to me concerning the problems. They sent me a return prepaid label and upon receipt they sent me a new unit. I appreciate them doing so and am glad to have a working unit again.
Date published: 2020-11-07
Rated

5

out of

5
by
Hoffy
from
Works as advertised
I haven't had it that long, but this is my third food saver sealer. The first one I bought about ten years ago and it lasted a long time. The second one was Ok, bug it was one of those that automatically closes when you put the bag in far enough and it seals. It only lasted about three years. This one however, while I've only had it a few months is much simpler, and more durable. I suspect this one will last me a long time.
Date published: 2017-03-18
Rated

5

out of

5
by
msyoungblood
from
Outstanding
Quality - 5 Star Value - 4 Star Overall - 5 Star I have owned a food saver for years but This model food saver is above and beyond any expectations I had. Fit and finish is near perfect, functions beautifully. The built in roll storage and cutter works great. Pull out amount you need then cut and seal without having to release bag. That's a real time saver. The 12v adapter is a nice feature. I can see using it at camp not only sealing game but marinating meat to cook. It's a lot bigger than my old model and the carry handle is a nice feature, one that proves way more useful than it looks. The led display for amount of vacuum is nice because it allows me to see how much is applied sometimes you don't need a full vacuum just some air removed a now you have an indicator to let you know. Best Food Saver I have ever owned." I received this food saver as a test sample
Date published: 2016-02-04
Rated

1

out of

5
by
Bobby T
from
Junk
This is the 2nd. unit I have bought. The first one lasted about 3 times. I don't process a lot of meat or other items. Just a few items from Costco. I thought it may have been just a defective unit. Being stupid I bought another one..... same thing. Used twice and now it sucks and sucks but does not seal. Red light flashes and no seal. Same as the last one. Read inststruction, watched YouTube and called customer support.
Date published: 2020-01-19
Rated

5

out of

5
by
Ribbit
from
Excdllent vacuum sealer.
I bought the GM710 a month or so ago. The unit is a huge improvement on an old Foodsaver household sealer that I used to own. The suction is much stronger and the heat sealer element much thicker than the household unit. I am very happy with the new sealer.
Date published: 2019-06-14
Rated

4

out of

5
by
vbgh
from
overall good for the price
I like it...works like a typical vac sealer. Watch your liquid levels of food because the system does not seal well with foods with too much liquid. Fyi...if you want to seal with liquids, prepare to spend 4-500 bucks. GO PATS!
Date published: 2016-05-16
Rated

4

out of

5
by
Hunternels
from
Doesn't live up to the advertising
We had this for a couple of weeks. First meat order we were bagging...it did not seal anywhere near 80 seals. Stopped at about 30 seals and needed a break. It does seal nicely, but not as fast as I expected.
Date published: 2017-03-08
Rated

5

out of

5
by
DenisePoisonIvie
from
GameSaver Big Game won me over!
My last FoodSaver product was 12+ years old when I replaced with the GameSaver Big Game GM710. Love the new product. I like the fact that it holds a roll of bags inside the machine. Performed perfectly.
Date published: 2019-12-02
bvseo_sdk, dw_cartridge, 18.2.0, p_sdk_3.2.0
CLOUD, getReviews, 0ms
reviews, product
---
<!--begin-bvseo-questions--> <!--begin-questions--> <div id="bvseo-questionsSection"> <div class="bvseo-question-answer" data-questionid="4687603"> <h2 class="bvseo-question"> When will this unit be back in stock? </h2> <div class="bvseo-question-detail"> </div> <div class="bvseo-author">Asked by: Rowdy8000</div> <div class="bvseo-answer" data-answerid="5399789"> We deeply apologize for the delay. We appreciate your patience as we diligently work on replenishing our stock. We do not have a firm date when this item will be available. Keep an eye on our site for availability. <div class="bvseo-author">Answered by: FoodSaver Brand</div> <div class="bvseo-pubdate">Date published: 2020-10-30</div> </div> </div> <div class="bvseo-question-answer" data-questionid="4676689"> <h2 class="bvseo-question"> Where can I buy this? Says not available online </h2> <div class="bvseo-question-detail"> </div> <div class="bvseo-author">Asked by: Timbo901</div> <div class="bvseo-answer" data-answerid="5382151"> We deeply apologize for the delay. We appreciate your patience as we are diligently working on replenishing our stock. We do not have a firm date as to when this item will be available. Keep an eye on our site for availability. You can also check our retailers by using the link below:&#13;&#10;&#13;&#10;https://www.foodsaver.com/service-and-support/find-a-retailer/find-a-retailer.html <div class="bvseo-author">Answered by: FoodSaver Brand</div> <div class="bvseo-pubdate">Date published: 2020-10-16</div> </div> </div> <div class="bvseo-question-answer" data-questionid="4706373"> <h2 class="bvseo-question"> are you not restocking this product? Mine quit working, I sent it in, you are now offering a DIFFERENT product, when THIS is the one I want. Please help! NO ONE IS ANSWERING YOUR PHONE LINES! </h2> <div class="bvseo-question-detail"> </div> <div class="bvseo-author">Asked by: Sheryl14</div> <div class="bvseo-answer" data-answerid="5380693"> We deeply apologize for the delay. We appreciate your patience as we diligently work on replenishing our stock. We do not have a firm date when this item will be available. Keep an eye on our site for availability. <div class="bvseo-author">Answered by: FoodSaver Brand</div> <div class="bvseo-pubdate">Date published: 2021-12-20</div> </div> </div> <div class="bvseo-question-answer" data-questionid="4711554"> <h2 class="bvseo-question"> Any idea on when this will be available online? Could I pre order it? Hopefully this question gets to foodsaver instead of current owners. lol </h2> <div class="bvseo-question-detail"> </div> <div class="bvseo-author">Asked by: Fletch90</div> <div class="bvseo-answer" data-answerid="5380334"> We deeply apologize for the delay. We appreciate your patience as we diligently work on replenishing our stock. We do not have a firm date when this item will be available. Keep an eye on our site for availability. <div class="bvseo-author">Answered by: FoodSaver Brand</div> <div class="bvseo-pubdate">Date published: 2020-10-15</div> </div> </div> <div class="bvseo-question-answer" data-questionid="4725339"> <h2 class="bvseo-question"> i know in the past you had a machine that double seal everytime you pushed seal. does tahe unit still available </h2> <div class="bvseo-question-detail"> </div> <div class="bvseo-author">Asked by: blue eyes</div> <div class="bvseo-answer" data-answerid="5379414"> We are unable to identify the product base on your question. Please feel free to give us a call at 1-877-777-8042. We are available from Mondays - Fridays 9 AM-6 PM, EST. Our customer care specialist will be happy to assist you! <div class="bvseo-author">Answered by: FoodSaver Brand</div> <div class="bvseo-pubdate">Date published: 2020-10-15</div> </div> </div> <div class="bvseo-question-answer" data-questionid="4713834"> <h2 class="bvseo-question"> How long is the warranty for full replacement of unit? </h2> <div class="bvseo-question-detail"> </div> <div class="bvseo-author">Asked by: eye1007</div> <div class="bvseo-answer" data-answerid="5378723"> Great question! The warranty of the The FoodSaver GameSaver Big Game GM710 Food Preservation System is 5 years. We hope this helps and always stay safe! <div class="bvseo-author">Answered by: FoodSaver Brand</div> <div class="bvseo-pubdate">Date published: 2021-04-23</div> </div> </div> <div class="bvseo-question-answer" data-questionid="4496039"> <h2 class="bvseo-question"> Why do I have to hit seal 4 or 5 times? Sealer is new. </h2> <div class="bvseo-question-detail"> </div> <div class="bvseo-author">Asked by: Book</div> <div class="bvseo-answer" data-answerid="5219106"> We apologize for the inconvenience. We stand behind our products 100% and would like to rectify this issue the best we can for you. Your feedback is important to us, and it helps us to improve our products and services continuously. We want to learn more about your situation and what exactly happened. Please send us a direct message via live chat here on the website and allow us to turn this experience around for you. Or you can give us a call at 877-777-8042. For your convenience, we are available from 9 am-6 pm Mon- Fri, EST, and 9 am-6 pm Saturday, EST. We look forward to hearing from you! <div class="bvseo-author">Answered by: FoodSaver Brand</div> <div class="bvseo-pubdate">Date published: 2020-06-24</div> </div> </div> <div class="bvseo-question-answer" data-questionid="4428903"> <h2 class="bvseo-question"> Does this also come with an AC adapter or is it only the DC adapter? </h2> <div class="bvseo-question-detail"> </div> <div class="bvseo-author">Asked by: LDinPV</div> <div class="bvseo-answer" data-answerid="5168440"> Thank you for contacting FoodSaver&amp;reg;. We truly appreciate your interest in our products. The 110v AC it has a 12v DC adapter and comes with 110v ac and 12v DC cord. <div class="bvseo-author">Answered by: FoodSaver Brand</div> <div class="bvseo-pubdate">Date published: 2020-08-01</div> </div> </div> <div class="bvseo-question-answer" data-questionid="4427767"> <h2 class="bvseo-question"> How big of bags does this deal?&amp;nbsp; </h2> <div class="bvseo-question-detail"> </div> <div class="bvseo-author">Asked by: Yupyup</div> <div class="bvseo-answer" data-answerid="5163455"> Our FoodSaver&amp;reg; GameSaver&amp;reg; Big Game&amp;trade; GM710 Food Preservation System can accommodate 8 to 11 inches of bag and rolls. Hope this helps and always stay safe! <div class="bvseo-author">Answered by: FoodSaver Brand</div> <div class="bvseo-pubdate">Date published: 2020-10-03</div> </div> </div> <div class="bvseo-question-answer" data-questionid="4424268"> <h2 class="bvseo-question"> Accessory port won&#39;t seal canning jars. Please help </h2> <div class="bvseo-question-detail"> </div> <div class="bvseo-author">Asked by: rvg65</div> <div class="bvseo-answer" data-answerid="5161664"> Thank you for bringing this to our attention. That is not typical for our FoodSaver and we&#39;d like to make this right for you. Please give our customer care team a call at 1-877-777-8042 and we will have this addressed. For your convenience, we are available Monday-Friday, 9 am-6 pm EST. Our product specialist will be happy to assist you. We look forward to hearing from you! <div class="bvseo-author">Answered by: FoodSaver Brand</div> <div class="bvseo-pubdate">Date published: 2020-05-13</div> </div> </div> <div class="bvseo-question-answer" data-questionid="4398982"> <h2 class="bvseo-question"> Whats the difference between the 700 and the 710 </h2> <div class="bvseo-question-detail"> </div> <div class="bvseo-author">Asked by: Jim89</div> <div class="bvseo-answer" data-answerid="5142442"> Excellent question! Our GameSaver&amp;reg; GM700 and GameSaverSaver&amp;reg; GM710 is identical in features and has no significant difference aside from their design and dimensions. We hope that our response helps you in making informed decisions for you and your family. <div class="bvseo-author">Answered by: FoodSaver Brand</div> <div class="bvseo-pubdate">Date published: 2020-05-01</div> </div> </div> <div class="bvseo-question-answer" data-questionid="4369184"> <h2 class="bvseo-question"> What is the difference between this FoodSaver GameSaver Big Game GM710-000 and the FoodSaver GameSaver Big Game Plus GM700-000? Thank you. </h2> <div class="bvseo-question-detail"> </div> <div class="bvseo-author">Asked by: JPapa</div> <div class="bvseo-answer" data-answerid="5134572"> Great question! There are no differences in operating features between the two vacuum sealers, just the design, and color. Happy shopping! <div class="bvseo-author">Answered by: FoodSaver Brand</div> <div class="bvseo-pubdate">Date published: 2020-08-15</div> </div> </div> <div class="bvseo-question-answer" data-questionid="4364248"> <h2 class="bvseo-question"> I bought this food saver and it stopped working. Do you have any tips on making it work again? </h2> <div class="bvseo-question-detail"> </div> <div class="bvseo-author">Asked by: James12345</div> <div class="bvseo-answer" data-answerid="5131181"> We&#39;re sorry to hear that your GameSaver&amp;reg; Big Game&amp;trade; GM710 is not meeting your expectations. We pride ourselves on being the best in the business and would like the opportunity to turn this experience around for you. We want to learn more about your situation and what exactly happened. Kindly reach us at 877-777-8042 or send us a direct message via live chat here on the website. Our specialists are available from 9 am to 6 pm Monday to Friday, EST. <div class="bvseo-author">Answered by: FoodSaver Brand</div> <div class="bvseo-pubdate">Date published: 2020-07-05</div> </div> </div> <div class="bvseo-question-answer" data-questionid="4315833"> <h2 class="bvseo-question"> Does this also have an option for canning jar accessory? I want to can salt and other dried goods while camping/ hunting </h2> <div class="bvseo-question-detail"> </div> <div class="bvseo-author">Asked by: LisaC</div> <div class="bvseo-answer" data-answerid="5095692"> Thank you for that interesting question. Sorry for the delayed response. Yes, definitely we can use this particular machine with food saver accessories such as FoodSaver&amp;reg; Canisters, Jar Sealers, or Bottle Stoppers. <div class="bvseo-author">Answered by: FoodSaver Brand</div> <div class="bvseo-pubdate">Date published: 2020-08-01</div> </div> </div> <div class="bvseo-question-answer" data-questionid="4282559"> <h2 class="bvseo-question"> I see this sealer with red,grey,and black buttons. Which one is the newest modle? </h2> <div class="bvseo-question-detail"> </div> <div class="bvseo-author">Asked by: Nascarjimbob</div> <div class="bvseo-answer" data-answerid="5095447"> We deeply apologize for the delayed response. The FoodSaver&amp;reg; GameSaver&amp;reg; Big Game Plus is the newest it has Pulse Vac, while the other Game Saver machines don&#39;t have this feature. <div class="bvseo-author">Answered by: FoodSaver Brand</div> <div class="bvseo-pubdate">Date published: 2020-08-19</div> </div> </div> <div class="bvseo-question-answer" data-questionid="4180544"> <h2 class="bvseo-question"> why is this item cheaper than the other outdoor models? Any feature missing? </h2> <div class="bvseo-question-detail"> </div> <div class="bvseo-author">Asked by: Honeybee1</div> <div class="bvseo-answer" data-answerid="5095253"> Thank you for that interesting question. Sorry for the delayed response. The GM710 has no Moist and Dry Food Settings and PulseVac features, while the other Game Saver machines have these features. <div class="bvseo-author">Answered by: FoodSaver Brand</div> <div class="bvseo-pubdate">Date published: 2020-06-13</div> </div> </div> <div class="bvseo-question-answer" data-questionid="4168366"> <h2 class="bvseo-question"> is shipping free to kodiak, alaska 99615 </h2> <div class="bvseo-question-detail"> </div> <div class="bvseo-author">Asked by: salmon</div> <div class="bvseo-answer" data-answerid="5093699"> Great question, for shipping information just click the link below:&#13;&#10;&#13;&#10;https://www.foodsaver.com/service-and-support/order-support/order-faqs/shipping-information/shipping-information.html <div class="bvseo-author">Answered by: FoodSaver Brand</div> <div class="bvseo-pubdate">Date published: 2020-05-28</div> </div> </div> <div class="bvseo-question-answer" data-questionid="3998028"> <h2 class="bvseo-question"> can I do marinated meats with this one as well? </h2> <div class="bvseo-question-detail"> </div> <div class="bvseo-author">Asked by: NikM</div> <div class="bvseo-answer" data-answerid="5093287"> Thank you for showing interest in our product. Sorry for the delayed response. Yes definitely, we can marinate in this particular machine by using the quick marinator.&#13;&#10;Even fresh containers, old canisters, and Mason jar sealers are all compatible with this machine. <div class="bvseo-author">Answered by: FoodSaver Brand</div> <div class="bvseo-pubdate">Date published: 2020-04-02</div> </div> </div> <div class="bvseo-question-answer" data-questionid="4070299"> <h2 class="bvseo-question"> Is the vac/seal cycle supposed to take longer for a narrow bag in the sealer mouth? Like 3-4 inches x 8&amp;quot; long? I sealed a bag like this and it took 30-40 seconds which seamed long compared to the review videos I&#39;ve watched of 8&amp;quot; and 11&amp;quot; wide bags. </h2> <div class="bvseo-question-detail"> </div> <div class="bvseo-author">Asked by: Howland</div> <div class="bvseo-answer" data-answerid="5093146"> We apologize for the delay in reply. Good question! That calls for troubleshooting. For better assistance, you may need to call at 1-877-777-8042. For your convenience, we are available from 9 am to 6 pm Mon. to Fri. EST. We look forward to hearing from you. You may want to refer to page 20 of the User&#39;s Manual of GM710 in which the link I provided below:&#13;&#10;&#13;&#10;https://www.foodsaver.com/on/demandware.static/-/Sites-food-saver-Library/default/dw2a4f1bc2/documents/instruction-manuals/045P-fs-GameSaver-Refresh-IB-15UPDATE-FINAL5-5-15-1.pdf <div class="bvseo-author">Answered by: FoodSaver Brand</div> <div class="bvseo-pubdate">Date published: 2020-04-02</div> </div> </div> <div class="bvseo-question-answer" data-questionid="3972427"> <h2 class="bvseo-question"> Does this have the double seal?? </h2> <div class="bvseo-question-detail"> </div> <div class="bvseo-author">Asked by: Jhound</div> <div class="bvseo-answer" data-answerid="5091744"> Thank you for showing interest in our product. Sorry for the delayed response. Yes, definitely it has a double seal function, the first Seal Button is to create a seal when making bags, Press to immediately stop the vacuum process and begin sealing the bag for delicate items, and (such as a potato chip bag) to keep food sealed airtight.&#13;&#10;Vacuum and Seal Button is to vacuum package and seal your food air-tight with a single touch. Shuts off automatically, Also can be used to pause the vacuuming cycle. <div class="bvseo-author">Answered by: FoodSaver Brand</div> <div class="bvseo-pubdate">Date published: 2020-04-01</div> </div> </div> <div class="bvseo-question-answer" data-questionid="4049456"> <h2 class="bvseo-question"> I have owned 2 Food Savers. I have 3 pressure cookers of food waiting to put unto the bags. Stew and green chili. &amp;nbsp;I am using it the same way I&#39;ve used it since I&#39;ve had it.Now it sucks the liquid out of the the bag and son&#39;t won&#39;t seal. HELP </h2> <div class="bvseo-question-detail"> </div> <div class="bvseo-author">Asked by: Linda Mapes</div> <div class="bvseo-answer" data-answerid="5091384"> We&#39;re sorry to hear that your FoodSaver is not meeting your expectations. We pride ourselves on being the best in the business and would like the opportunity to turn this experience around for you. We want to learn more about your situation and what exactly happened. For us to assist you with the issue you are experiencing, please give us a call at 877-777-8042 or send us a direct message via live chat here on the website and allow us to turn this experience around for you. Our specialists are available from 9 am to 6 pm Mon to Fri, EST and 9 am to 6 pm Saturday, EST. <div class="bvseo-author">Answered by: FoodSaver Brand</div> <div class="bvseo-pubdate">Date published: 2020-04-01</div> </div> </div> <div class="bvseo-question-answer" data-questionid="4110987"> <h2 class="bvseo-question"> Purchased a GM710 last year, it worked fine until today. While sealing a bag had a pop under the switches, now nothing! In the middle of processing deer now have a $130 peace of equipment that has let me down. how do I remedy this problem? </h2> <div class="bvseo-question-detail"> </div> <div class="bvseo-author">Asked by: Spearsville</div> <div class="bvseo-answer" data-answerid="5090885"> Oh no! That shouldn&#39;t have happened. Here at FoodSaver, we make our products with the highest quality materials and we expect them to last. We would like to make this right for you. Please contact our Consumer Care Department at 1-877-777-8042. We are here for you Monday-Friday, 9 am-6 pm EST. Our product specialist will be happy to assist you. We look forward to assisting you. <div class="bvseo-author">Answered by: FoodSaver Brand</div> <div class="bvseo-pubdate">Date published: 2020-03-31</div> </div> </div> <div class="bvseo-question-answer" data-questionid="4180479"> <h2 class="bvseo-question"> What does it mean &amp;ldquo; 80 consecutive seals&amp;rdquo;? What happens after that? My previous system has completed hundreds of seals. Not sure what this is telling me. </h2> <div class="bvseo-question-detail"> </div> <div class="bvseo-author">Asked by: Dog named Lucky</div> <div class="bvseo-answer" data-answerid="5090603"> Thank you for showing interest in our product. Sorry for the delayed response. For FoodSaver&amp;reg; GameSaver&amp;reg; Big Game&amp;trade; GM710 Food Preservation System you can seal as much as 80 consecutive seals. However, allow 20 seconds interval each seal and if overheated, allow the appliance to cool for 20 minutes. This is just to maintain great performance on the machine. <div class="bvseo-author">Answered by: FoodSaver Brand</div> <div class="bvseo-pubdate">Date published: 2021-06-11</div> </div> </div> <div class="bvseo-question-answer" data-questionid="4127699"> <h2 class="bvseo-question"> Does this unit work well with other items such as vegetables &amp;amp; fruits? </h2> <div class="bvseo-question-detail"> </div> <div class="bvseo-author">Asked by: wissa powey</div> <div class="bvseo-answer" data-answerid="5089889"> We deeply apologize for the delayed response. Yes definitely! This unit works well with other items such as vegetables &amp;amp; fruits. <div class="bvseo-author">Answered by: FoodSaver Brand</div> <div class="bvseo-pubdate">Date published: 2020-03-31</div> </div> </div> <div class="bvseo-question-answer" data-questionid="4077817"> <h2 class="bvseo-question"> What do you mean when it says 80 consecutive seals? </h2> <div class="bvseo-question-detail"> </div> <div class="bvseo-author">Asked by: Denise80</div> <div class="bvseo-answer" data-answerid="5088617"> Our FoodSaver FM5330 2-in-1 Vacuum Sealing System can Vacuum Seal Bags and Rolls 80 times continuously with 20 seconds of interval. We hope this helps and if there&#39;s anything we can do to assist you or for updates, please send us a direct message via live chat here on the website or give us a call at 877-777-8042. For your convenience, we are available from 9 am to 6 pm Mondays to Fridays and 9 am to 6 pm on Saturdays, EST. <div class="bvseo-author">Answered by: FoodSaver Brand</div> <div class="bvseo-pubdate">Date published: 2021-06-11</div> </div> </div> <div class="bvseo-question-answer" data-questionid="4157028"> <h2 class="bvseo-question"> I had my elk processed and the meet was wrapped in plastic rap and butcher paper. I would like to seal everything. Is it better to vacuum seal the meat in the above listed wrap or take the meat out of the wrap? </h2> <div class="bvseo-question-detail"> </div> <div class="bvseo-author">Asked by: Joel 58</div> <div class="bvseo-answer" data-answerid="5088226"> Thank you for asking! We strongly suggest that you take the meat out of the plastic wrap and butcher paper. For best results, we highly recommend using FoodSaver GameSaver bags for optimum vacuum sealing performance. <div class="bvseo-author">Answered by: FoodSaver Brand</div> <div class="bvseo-pubdate">Date published: 2020-03-30</div> </div> </div> <div class="bvseo-question-answer" data-questionid="3706268"> <h2 class="bvseo-question"> Why don&#39;t the questions get answered? </h2> <div class="bvseo-question-detail"> </div> <div class="bvseo-author">Asked by: David Paul</div> <div class="bvseo-answer" data-answerid="5087742"> We&#39;re sorry to hear that FoodSaver is not meeting your expectations. We pride ourselves on being the best in the business and would like the opportunity to turn this experience around for you. We want to learn more about your situation and what exactly happened. For us to assist you with the issue you are experiencing, please give us a call at 877-777-8042 or send us a direct message via live chat here on the website and allow us to turn this experience around for you. Our representatives are available from 9 am to 6 pm Mon to Fri, EST and 9 am to 6 pm Saturday, EST. <div class="bvseo-author">Answered by: FoodSaver Brand</div> <div class="bvseo-pubdate">Date published: 2020-03-30</div> </div> </div> <div class="bvseo-question-answer" data-questionid="3901991"> <h2 class="bvseo-question"> Will this seal ground meat or is that considered moist. </h2> <div class="bvseo-question-detail"> </div> <div class="bvseo-author">Asked by: Josh3245</div> <div class="bvseo-answer" data-answerid="5087700"> Thank you for that interesting question. Sorry for the delayed response. Yes, it will seal and ground meat is considered a moist food due to its juices. <div class="bvseo-author">Answered by: FoodSaver Brand</div> <div class="bvseo-pubdate">Date published: 2020-03-30</div> </div> </div> <div class="bvseo-question-answer" data-questionid="4149673"> <h2 class="bvseo-question"> What rolls do I buy ? </h2> <div class="bvseo-question-detail"> </div> <div class="bvseo-author">Asked by: Zapata</div> <div class="bvseo-answer" data-answerid="5087404"> We apologize for the delay in reply. Good question! I would suggest FoodSaver&amp;reg; GameSaver&amp;reg; 11&amp;quot; x 16&#39; Vacuum-Seal Rolls, 2 Pack. You can check our website to order. Please click the link below:&#13;&#10;&#13;&#10;https://www.foodsaver.com/food-storage-bags-and-containers/wild-game-vacuum-seal-bags-and-rolls/11-vacuum-sealer-rolls/foodsaver-gamesaver-11-x-16-vacuum-seal-rolls--2-pack/FSGSBF0626-P00.html&#13;&#10;&#13;&#10;Happy shopping! <div class="bvseo-author">Answered by: FoodSaver Brand</div> <div class="bvseo-pubdate">Date published: 2020-03-30</div> </div> </div> <div class="bvseo-question-answer" data-questionid="4292964"> <h2 class="bvseo-question"> Does it work with 220v power ?&amp;nbsp; </h2> <div class="bvseo-question-detail"> </div> <div class="bvseo-author">Asked by: Abat</div> <div class="bvseo-answer" data-answerid="5084794"> Thank you for asking! All of our products that are sold in the United States and Canada are manufactured and UL approved for 110-120 voltage. We do not recommend using them in different voltage unless converter is used. Happy sealing! <div class="bvseo-author">Answered by: FoodSaver Brand</div> <div class="bvseo-pubdate">Date published: 2020-03-27</div> </div> </div> </div> <script type="text/javascript"> if (document.getElementById('bvseo-questionsSection')) { document.getElementById('bvseo-questionsSection').style.display = 'none'; } </script> <!--end-questions--> <!--begin-pagination--> <ul id="bvseo-paginationSection"> <li class="bvseo-paginationItem"><a class="bvseo-paginationLink" href="https://www.foodsaver.com/deals/vacuum-sealers/foodsaver-gamesaver-big-game-gm710-food-preservation-system/SAP_GM710000.html?&bvrrp=Main_Site-en_US/questions/product/3/SP_446967.htm">FoodSaver&reg; GameSaver&reg; Big Game&trade; GM710 Food Preservation System Questions - page 3</a></li> </ul> <!--end-pagination--> <ul id="BVSEO_meta" style="display:none!important"> <li data-bvseo="bvDateModified">y_2022, m_5, d_19, h_21CST</li> <li data-bvseo="ps">bvseo_bulk, prod_bvqa, vn_bulk_3.0.27</li> <li data-bvseo="cp">cp_2, bvpage2n</li> <li data-bvseo="co">co_hasquestionsanswers, tq_146</li> <li data-bvseo="cf">loc_en_US, sid_SP_446967, prod, sort_[SortEntry(order=LAST_APPROVED_ANSWER_SUBMISSION_TIME, direction=DESCENDING)]</li> <li data-bvseo="diagnostics">clientName_foodsaver</li> </ul> <!--end-bvseo-questions--> <ul id="BVSEOSDK_meta" style="display: none !important;"> <li data-bvseo="sdk">bvseo_sdk, dw_cartridge, 18.2.0, p_sdk_3.2.0</li> <li data-bvseo="sp_mt">CLOUD, getContent, 0ms</li> <li data-bvseo="ct_st">questions, product</li> </ul>
product-detail-view
oos-pdp