FoodSaver® Liquid Block Vacuum-Seal Quart Bags, 12 Count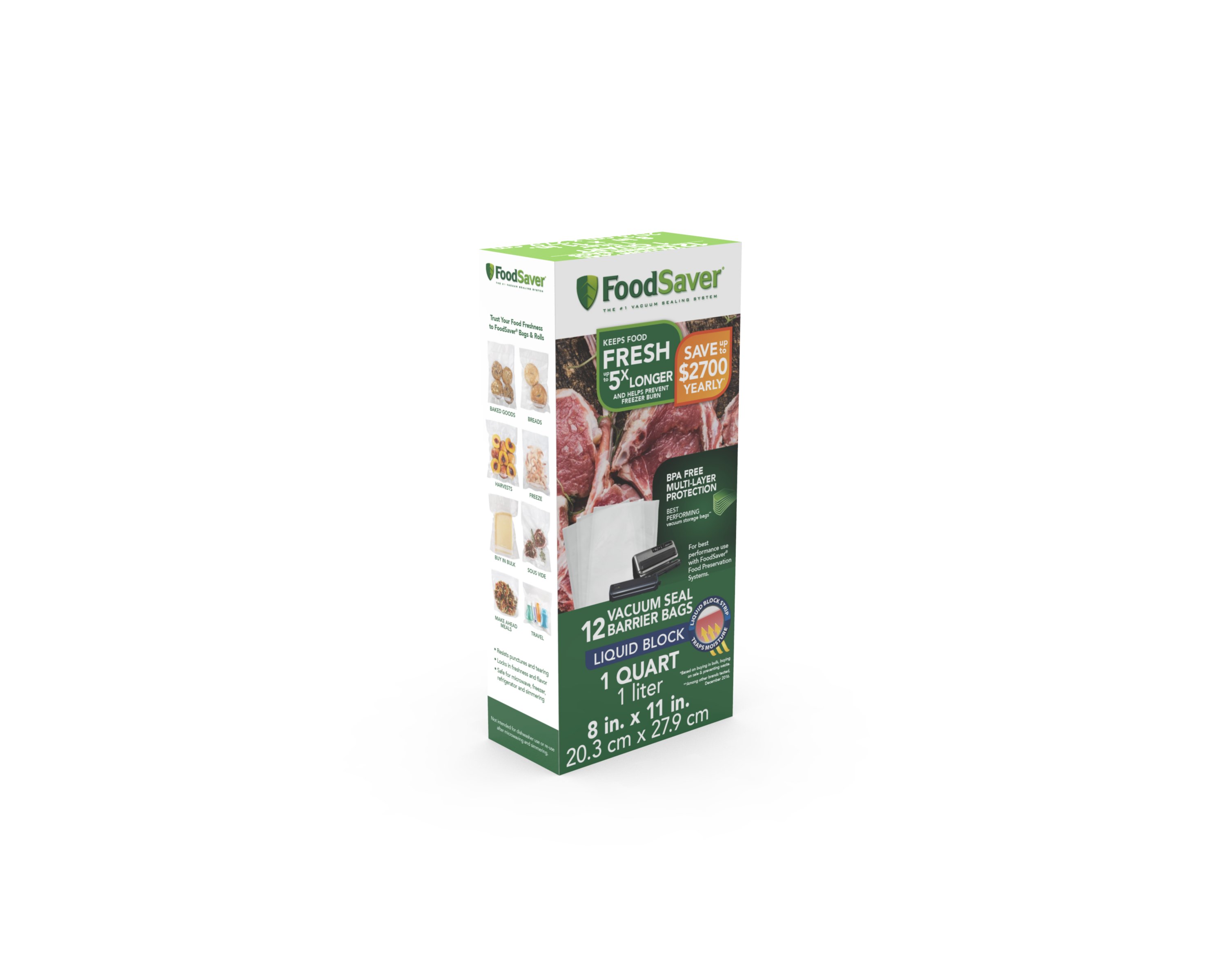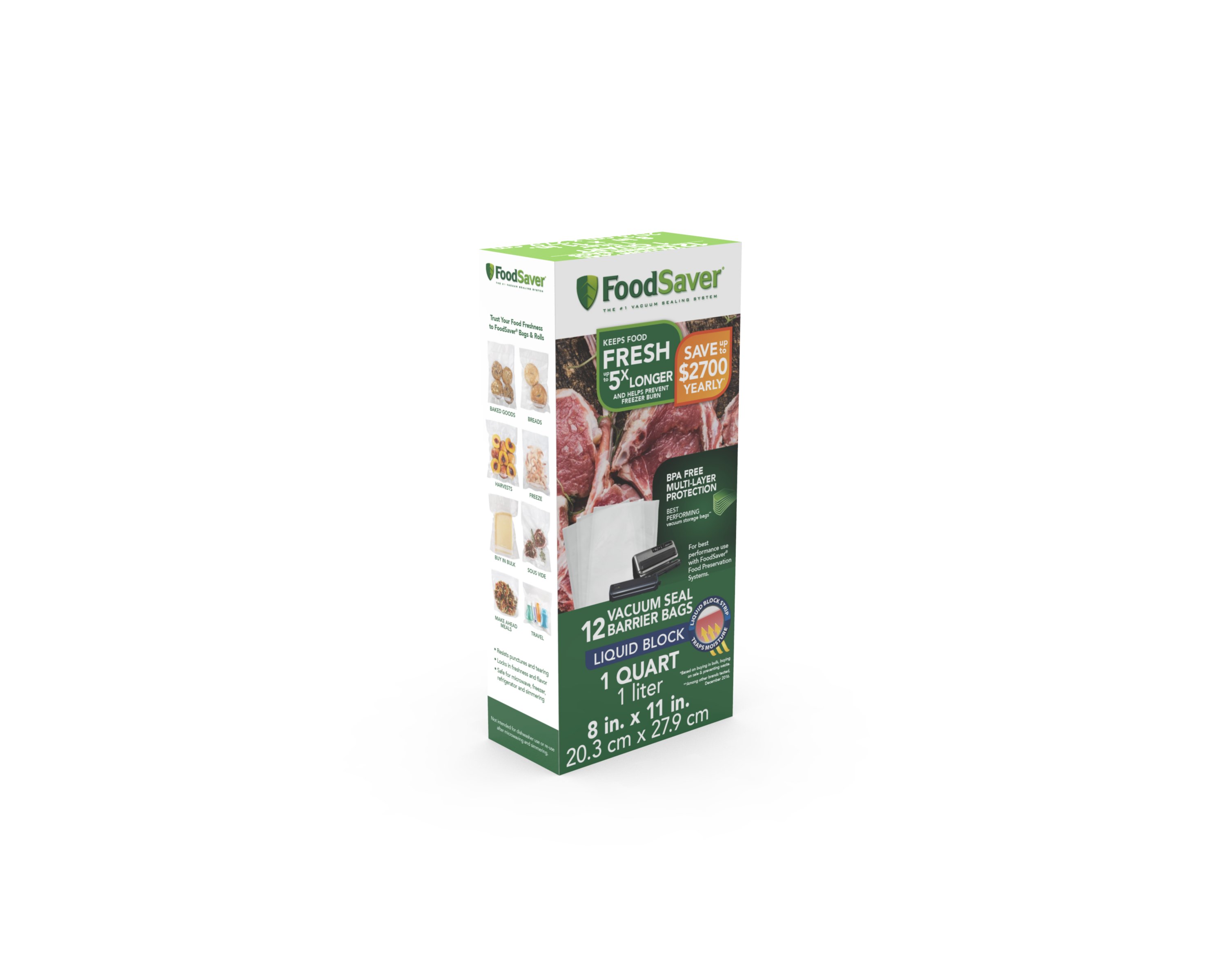 FoodSaver® Liquid Block Vacuum-Seal Quart Bags, 12 Count
Become a FreshBucks Rewards member to earn points and save on FoodSaver purchases, Join Now
Already a member? Log in now
Final Sale: may not be returned or exchanged
Become a FreshBucks Rewards member to earn points and save on FoodSaver purchases, Join Now
Already a member? Log in now
Final Sale: may not be returned or exchanged
Want us to let you know when the item you wanted is back in stock?
---

Free Standard Shipping on Orders $50+

Free Express Shipping on Orders $100+ Details
---
Product Details
Description
The FoodSaver® Liquid Block Vacuum-Seal Bags are ideal for vacuum sealing juicy and moist foods. The liquid-blocking strip prevents moisture from escaping the bag, creating a strong, clean seal. Liquid Block bags come in a convenient quart-size that makes them perfect for sealing marinated foods, raw meats and juicy leftovers with no mess and no leak! BPA-Free.
Features
12 quart-size, pre-cut bags
Liquid-blocking strip prevents moisture from escaping bag and facilitates a strong, clean seal
Multi-ply material prevents freezer burn
Specially designed channels block oxygen and moisture to maximize air removal
BPA-free
Best performing vacuum bags (based on FoodSaver's 2020 competitive testing)
Included Parts
12- Liquid Block Vacuum Seal pre cut bags
Rated

2

out of

5
by
pkny
from
Too small and expensive
I bought these bags hoping I can use instead of 11 inch roll for sealing any item that has high moisture like steaks, fish and chicken. The bags do have the strip on top to trap moisture but are very small; they are 8 inch instead of 11 and are not able to hold more than 1 steak or chicken breast. At around $1 a bag, they are way to expensive to hold a single steak. I use the vacuum sealer to store bulk food items that i purchase in freezer for a family of 5 and cannot afford to spend $5 to store 5 steaks for 1 meal. This would be a great bag if it was larger (11 inches wide instead of 8) and I can hold more food.
Date published: 2013-02-06
Rated

5

out of

5
by
Margieb
from
Freezing WATER for Cooler
I have always been irritated by the ice cube bags you buy for your cooler. They leak in the bottom of the cooler and everything gets wet. I had an idea that maybe I could freeze water in the food saver bags. I cut a bag the size of the bottom of the cooler (a little bigger for sealing) and filled it with water about 6 inches or so from the top. This is tricky, you need to be able to hold the heavy bag with water (help from someone or place on a box to keep off counter) and just seal the bag. Try to keep as much air out as possible. You cannot use the vacuum and seal option, JUST THE SEAL. I have two in the freezer now and have given them away to friends. They are awesome!! Don't leak!
Date published: 2013-04-08
Rated

3

out of

5
by
Texasowl
from
Lose of some flavor
If you are going to use these bags, I would suggest that you pre-freeze your meat first. When using the bags before the pre-freeze you will lose all or most of all the juices that are in your meat. I have given this product only 3 stars since it requires an extra step to bag my meat. I have several other products from Food Saver and love them. My family thinks I am crazy when I buy the meat on sale and pack my freezer. At least I don't have to go shopping for meat every week or two. Again, since I have an extra step with these bags I have given it a 3 star. If you pre-freeze the meat, the bags will do what they are suppose to, capture the fluids before going into the vacuum cup.
Date published: 2014-04-28
Rated

5

out of

5
by
nurse05
from
no more frustration!!!
prior to the holidays i bought a spiral ham on sale for the freezer with plans to use the food saver. i spent what ended up being 2 hours on one ham!! It kept filling up the tray with liquid and not completely sealing. How annoying. i was really frustrated. i bought the moisture block bags and was so very happy. i guess someone else had my same problem. i bought some juicy porkchops on sale and used the moisture block bags and was done in 15 minutes, these bags are very large for quart size and whoever invented this moisture seal was a genius!! No more problems with moisure overflow or incomplete seals. love it!!
Date published: 2013-01-09
Rated

5

out of

5
by
rlee
from
Performed better than expected
Got a box of these bags not expecting much. I had several packages of chicken breast, wings and legs that I wanted to pack in marinade for the freezer. Now I use a good bit of marinade in each bag and I was expecting some to leak through but as long as it sealed I was okay with that. What I found was that NONE of the liquid leaked through before sealing. Went though the entire box using a variety of marinades both thick and thin...from lemon pepper vinegarette to a thick teriaki and a sesame ginger that was in between. Not ONE leak through! I'm gonna get brave and try some chili next...
Date published: 2015-02-12
Rated

5

out of

5
by
Gypsy2
from
The Best Products I've Found
Since I discovered Food Saver, I can't say enough about them. The Bags are easy to use to store anything, not just frozen foods, but they are why I bought the Food Saver. I was having to throw away frozen foods from two freezers because of freezer burns and it was costing my family money we couldn't afford to waste. I had used another product on the market and enjoyed it but then it was discontinued and I started seeing advertisements on TV about Food Saver and went online and was glad I did. After reading everything I could find, I bought one and my husband and I have a great time using it. We actually save money with the item and I'd recommend it to anybody.
Date published: 2013-05-30
Rated

1

out of

5
by
GlennB
from
Closest thing to a gimmick that FoodSaver sells
I was very disappointed, these bags defeat all the good features offered by vacuum sealing. Additionally, I can't tell that they work any better than using the moist setting on my 5480. First, several of the bags leaked. The paper strip makes them pretty much single use. FoodSaver recommends not Sous Viding in them, and you still have to freeze any real liquid foods you want to seal. Lastly, they are expensive. Everything these bags do can be accomplished with normal bags or rolls, the moist setting and an occasional paper towel inserted into the bag. I strongly advise against these bags.
Date published: 2019-01-18
Rated

1

out of

5
by
Gary Higgins
from
Use a Paper Towel!
I bought these bags to tryout the liquid block not knowing how they were made. When I opened the package I was shocked to see that they just attached an absorber strip (aka a paper towel) near the top of the bag. I have been using folded paper towels in my Foodsaver bags for 20 years to absorb liquid. I thought everyone new this trick. Why pay extra to have a paper towel attached to the bag? After you use the bag once it is useless. I always wash and reuse my Foodsaver bags or I could not afford to use them. After 20 years I have never had any problem with contamination or food poison. Foodsaver wants you to believe that you can't reuse the bags so they can make a pile of money selling bags. Don't be fooled!
Date published: 2017-06-06
bvseo_sdk, dw_cartridge, 18.2.0, p_sdk_3.2.0
CLOUD, getReviews, 0ms
reviews, product
---
<!--begin-bvseo-questions--> <!--begin-questions--> <div id="bvseo-questionsSection"> <div class="bvseo-question-answer" data-questionid="4793028"> <h2 class="bvseo-question"> I wanna Vacuum seal chicken tenders what type of bag do I need? &amp;nbsp;So am I able to use the role of your plastic that you sell where you cut the plastic bags to the size you need </h2> <div class="bvseo-question-detail"> </div> <div class="bvseo-author">Asked by: Brittie</div> <div class="bvseo-answer" data-answerid="5427892"> Great question, depending on which item put in the bags and how you cut them will determine how many bags you will get out of the roll. Happy shopping! <div class="bvseo-author">Answered by: FoodSaver Brand</div> <div class="bvseo-pubdate">Date published: 2020-11-16</div> </div> </div> <div class="bvseo-question-answer" data-questionid="4477548"> <h2 class="bvseo-question"> I have been trying to place an order for weeks for the following items:&#13;&#10;20 Vacuum Zipper Bag - 1 Gal&#13;&#10;12 Vacuum seal Barrier Bags Liquid Block - 1 Qtr&#13;&#10;Can anyone assist me, please, please....thank you! </h2> <div class="bvseo-question-detail"> </div> <div class="bvseo-author">Asked by: Spanky48</div> <div class="bvseo-answer" data-answerid="5414158"> We deeply apologize for the delay. We appreciate your patience as we diligently work on replenishing our stock. We do not have a firm date when this item will be available. Keep an eye on our site for availability. <div class="bvseo-author">Answered by: FoodSaver Brand</div> <div class="bvseo-pubdate">Date published: 2022-02-28</div> </div> </div> <div class="bvseo-question-answer" data-questionid="4676398"> <h2 class="bvseo-question"> I want qt. liquid block bags if they are not available online where may I get them? </h2> <div class="bvseo-question-detail"> </div> <div class="bvseo-author">Asked by: steve 326</div> <div class="bvseo-answer" data-answerid="5382145"> We deeply apologize for the delay. We appreciate your patience as we diligently work on replenishing our stock. We do not have a firm date when this item will be available. Keep an eye on our site for availability. <div class="bvseo-author">Answered by: FoodSaver Brand</div> <div class="bvseo-pubdate">Date published: 2021-11-24</div> </div> </div> <div class="bvseo-question-answer" data-questionid="4733575"> <h2 class="bvseo-question"> Where can i purchase these bags?? &amp;nbsp;Or will they eventually become available on your website?? </h2> <div class="bvseo-question-detail"> </div> <div class="bvseo-author">Asked by: Ruth P</div> <div class="bvseo-answer" data-answerid="5380011"> We deeply apologize for the delay. We appreciate your patience as we diligently work on replenishing our stock. We do not have a firm date when this item will be available. Keep an eye on our site for availability. <div class="bvseo-author">Answered by: FoodSaver Brand</div> <div class="bvseo-pubdate">Date published: 2021-11-24</div> </div> </div> <div class="bvseo-question-answer" data-questionid="4707924"> <h2 class="bvseo-question"> when available? </h2> <div class="bvseo-question-detail"> </div> <div class="bvseo-author">Asked by: Kriki</div> <div class="bvseo-answer" data-answerid="5378776"> Thank you for reaching out to us! As of right now, we are currently out of stock but we are diligently working on replenishing our stock. We do not have a firm date as to when this item will be available. Rest assured that our retailers will surely have this in stock for you. You can check the list of our retailers using the link below:&#13;&#10;&#13;&#10;https://www.foodsaver.com/service-and-support/find-a-retailer/find-a-retailer.html <div class="bvseo-author">Answered by: FoodSaver Brand</div> <div class="bvseo-pubdate">Date published: 2020-10-25</div> </div> </div> <div class="bvseo-question-answer" data-questionid="4663500"> <h2 class="bvseo-question"> When will this be available? </h2> <div class="bvseo-question-detail"> </div> <div class="bvseo-author">Asked by: Anonymous</div> <div class="bvseo-answer" data-answerid="5378161"> We deeply apologize for the delay. We appreciate your patience as we diligently work on replenishing our stock. We do not have a firm date when this item will be available. Keep an eye on our site for availability. <div class="bvseo-author">Answered by: FoodSaver Brand</div> <div class="bvseo-pubdate">Date published: 2020-10-14</div> </div> </div> <div class="bvseo-question-answer" data-questionid="4582743"> <h2 class="bvseo-question"> I can&#39;t find this product anywhere...is there a new product for moist foods that has replaced them?? </h2> <div class="bvseo-question-detail"> </div> <div class="bvseo-author">Asked by: Pamela333</div> <div class="bvseo-answer" data-answerid="5376994"> We deeply apologize for the delay. We appreciate your patience as we are diligently working on replenishing our stock. We do not have a firm date as to when this item will be available. Keep an eye on our site for availability. You can also check our retailers that will surely have the FoodSaver&amp;reg; Regular Jar Sealer, by using the link below:&#13;&#10;&#13;&#10;https://www.foodsaver.com/service-and-support/find-a-retailer/find-a-retailer.html <div class="bvseo-author">Answered by: FoodSaver Brand</div> <div class="bvseo-pubdate">Date published: 2020-10-13</div> </div> </div> <div class="bvseo-question-answer" data-questionid="4716377"> <h2 class="bvseo-question"> Will these be available again. &amp;nbsp; 10/4/2020 </h2> <div class="bvseo-question-detail"> </div> <div class="bvseo-author">Asked by: Ksjl</div> <div class="bvseo-answer" data-answerid="5372885"> We deeply apologize for the delay. We appreciate your patience as we diligently work on replenishing our stock. We do not have a firm date when this item will be available. Keep an eye on our site for availability. <div class="bvseo-author">Answered by: FoodSaver Brand</div> <div class="bvseo-pubdate">Date published: 2020-10-09</div> </div> </div> </div> <script type="text/javascript"> if (document.getElementById('bvseo-questionsSection')) { document.getElementById('bvseo-questionsSection').style.display = 'none'; } </script> <!--end-questions--> <!--begin-pagination--> <ul id="bvseo-paginationSection"> <li class="bvseo-paginationItem"><a class="bvseo-paginationLink" href="https://www.foodsaver.com/deals/bags-rolls/foodsaver-liquid-block-vacuum-seal-quart-bags-12-count/SAP_FSFSBFLB216NP.html?bvrrp=Main_Site-en_US/questions/product/2/SP_446998.htm">FoodSaver&reg; Liquid Block Vacuum-Seal Quart Bags, 12 Count Questions - page 2</a></li> </ul> <!--end-pagination--> <ul id="BVSEO_meta" style="display:none!important"> <li data-bvseo="bvDateModified">y_2022, m_5, d_19, h_21CST</li> <li data-bvseo="ps">bvseo_bulk, prod_bvqa, vn_bulk_3.0.27</li> <li data-bvseo="cp">cp_1, bvpage1</li> <li data-bvseo="co">co_hasquestionsanswers, tq_62</li> <li data-bvseo="cf">loc_en_US, sid_SP_446998, prod, sort_[SortEntry(order=LAST_APPROVED_ANSWER_SUBMISSION_TIME, direction=DESCENDING)]</li> <li data-bvseo="diagnostics">clientName_foodsaver</li> </ul> <!--end-bvseo-questions--> <ul id="BVSEOSDK_meta" style="display: none !important;"> <li data-bvseo="sdk">bvseo_sdk, dw_cartridge, 18.2.0, p_sdk_3.2.0</li> <li data-bvseo="sp_mt">CLOUD, getContent, 0ms</li> <li data-bvseo="ct_st">questions, product</li> </ul>
product-detail-view
oos-pdp