FoodSaver® 8" x 20' Vacuum-Seal Roll, 2 Pack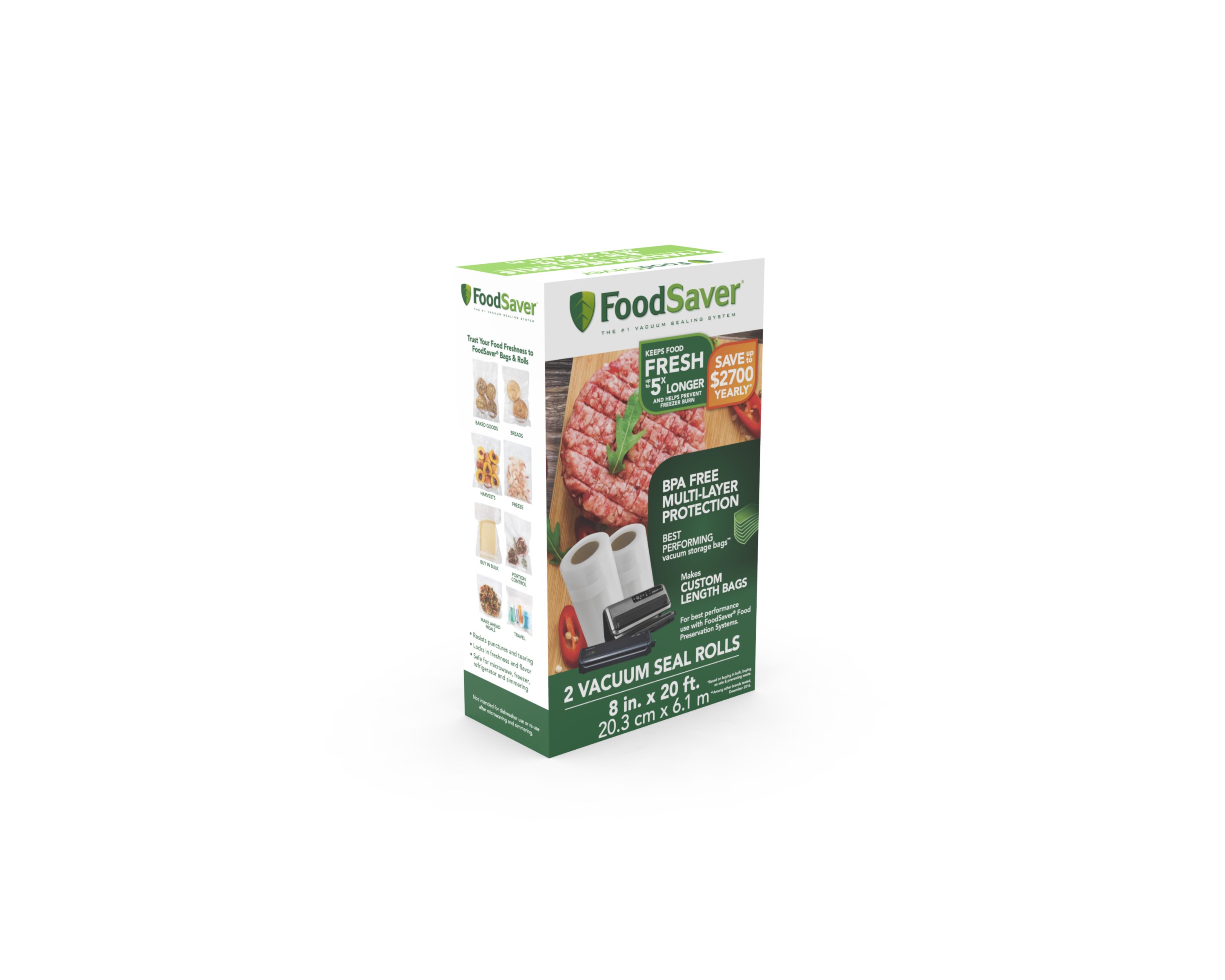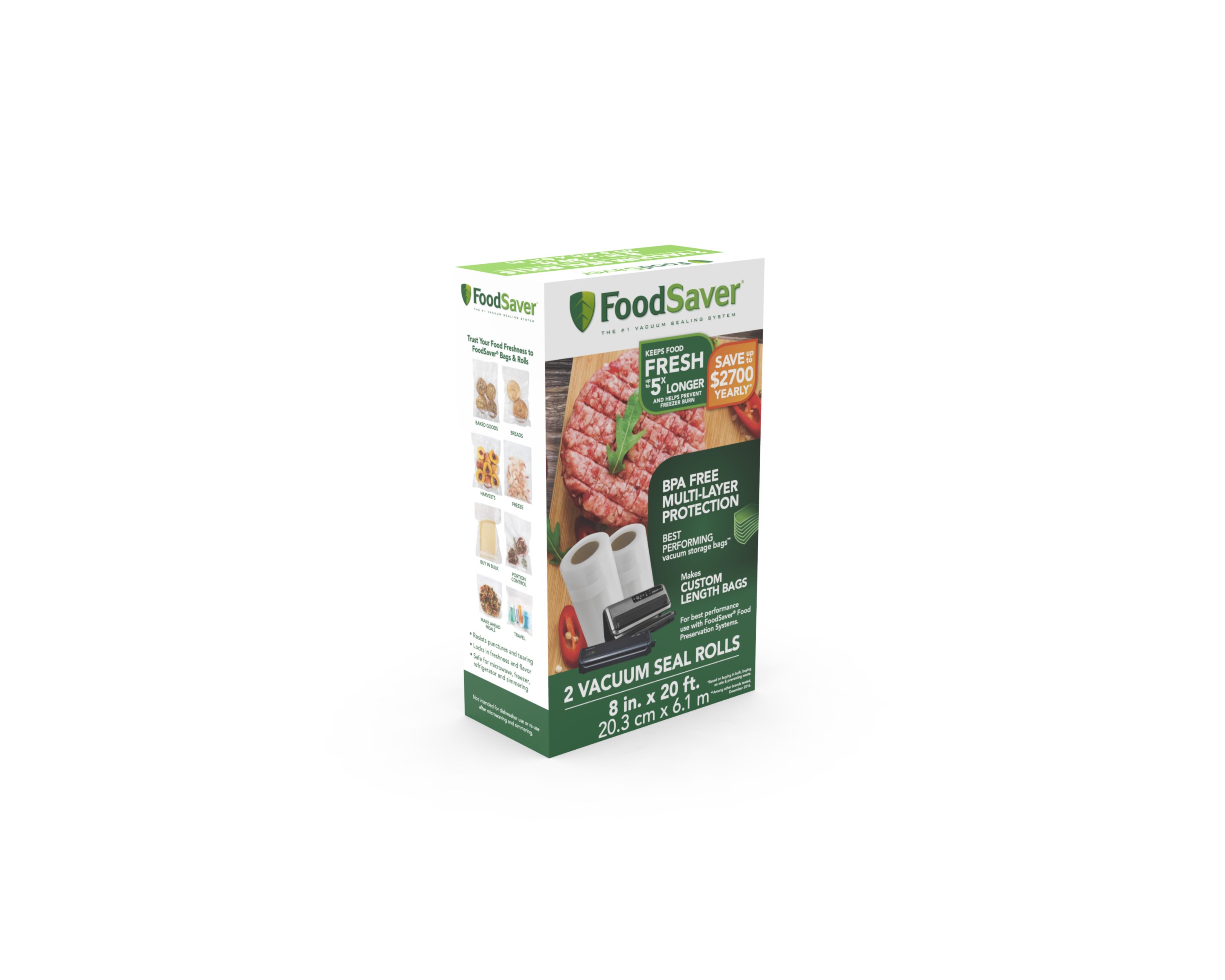 FoodSaver® 8" x 20' Vacuum-Seal Roll, 2 Pack
Become a FreshBucks Rewards member to earn points and save on FoodSaver purchases, Join Now
Already a member? Log in now
Final Sale: may not be returned or exchanged
Become a FreshBucks Rewards member to earn points and save on FoodSaver purchases, Join Now
Already a member? Log in now
Final Sale: may not be returned or exchanged
Want us to let you know when the item you wanted is back in stock?
---

Free Standard Shipping on Orders $50+

Free Express Shipping on Orders $100+ Details
---
Product Details
Description
FoodSaver® 8" Vacuum-Seal Rolls let you create custom-sized bags to package and protect food and non-food items using your FoodSaver® Vacuum Sealing System. Made from the exact same material as our bags, FoodSaver® Rolls give you great flexibility. Simply cut a piece to your desired length, seal one end, fill and then vacuum seal. Channels allow complete air removal and multi-layer construction blocks moisture and oxygen and makes the bags strong enough to simmer and microwave. BPA-free.
Features
2- 8" x 20' Vacuum Seal roll
Multi-ply material prevents freezer burn
Specially designed channels block oxygen and moisture to maximize air removal
BPA-free
Best performing vacuum bags (based on FoodSaver's 2020 competitive testing)
Included Parts
2- 8" x 20' Vacuum Seal rolls
Rated

5

out of

5
by
AuntieMeMe
from
This is the best invention since the wheel!!
I put EVERYTHING in your bags or seal in jars. I catch things on sale & know I can freeze them or seal them up & they will last a very, very long time. I already recommend this system to everyone I know & highly recommend it to everyone everywhere!! Additionally, I had an issue with one of the units & called to see if someone could help me with the problem. The person I spoke with was extremely helpful & actually sent me a whole new unit & I returned the old one....NO CHARGE!!!! No more problem. If someone is not sure about this product, contact me & I'll reassure them that this is the very best product ever (except the wheel, of course!!)
Date published: 2015-10-06
Rated

5

out of

5
by
Sealingfool
from
Love the bags; the sealer overheats
We use FoodSaver ALOT. We catch salmon all summer on Lake Michigan, Food Save it, and enjoy eating it all winter. The bags work great, although they are a bit expensive. Buying in bulk helps make them more affordable. I wish they would design the sealer to not use so much of the bag when making the seal. Also, the models we have (we have 2- one at home and one on the boat) overheat very quickly. It slows down the process, when you have to wait for it to cool down between packages. I know they came out with a new version that addresses this, but the units we have aren't ready to be replaced. Despite these concerns, we love it and use it all the time.
Date published: 2014-06-18
Rated

5

out of

5
by
hobbygranny
from
Go-To Item
The 8" bag is my go-to item. Was my most used item when there was 2 of us. Now there is just me. Hard to cook for 1, so I don't!. I cook for 2 or more as I always have. Left-overs go in a Food Saver cut to the size I need and I have a meal ready to drop in boiling water when I am on the go or just plain do not feel like cooking. Also, my kids and grandkids know that there is always a meal in waiting when they show up unexpected, which is often. They love to 'shop' in Grandma's freezer. Even the vegetarian can find her special meals.
Date published: 2015-03-15
Rated

5

out of

5
by
Neenie
from
Way better than zippered bags...
Buying meat in bulk, this is the best way to package & store in the freezer...easy to operate the machine, bags are well made & keep everything perfect. Wish I'd have bought this years ago...but glad I have it now!!!
Date published: 2014-02-06
Rated

5

out of

5
by
Phoenecian
from
I Love My Foodsaver!
My Foodsaver is terrific, and these bags work great! I love having the narrower bags because they're the perfect size for many things I freeze. I made dozens of batches of pesto from the fresh basil in my garden, froze it in containers, and popped it out and sealed it in my Foodsaver bags. It stays fresh and delicious all winter, to use when I need a taste of summer.
Date published: 2013-11-25
Rated

5

out of

5
by
gadabout
from
I buy these quite often
I use them to seal sausages and chicken and garden bean seeds and dried bean seeds and rice and such to store. When the refrigerator had a problem and some items began to defrost, I had to throw out lots of stuff that wasn't good, but the stuff I'd sealed in these bags was still quickly usable. No freezer burn, no odd tastes, still edible. Made chicken and vegetables soup. I lost a lot of stuff in regular packaging. I buy in bulk and seal meal portions of beans, rice and such; even saved garden seeds. Use this size the most, though I do have other sizes and options.
Date published: 2018-12-11
Rated

1

out of

5
by
Anonymous
from
Bags not sealing properly
Ordered 5 2-pack boxes in March and started using them when they arrived. Understand, we have been using food saver products for years with no issue, until now, also, we haven't had the chance to contact food saver because of our job. We opened first box to use, could seal one end, after food placed inside, sealed other end and upon checking seal as we always do, seal separated, and yes we know the reasons why that would happen, so we tried a few more on that roll with no success. We then tried the other roll in box, same issue. We then thought it may be that box, so we opened 3 more boxes, all the same. We will be contacting food saver about this as soon as possible to find a remedy for this, we really do enjoy food saver.
Date published: 2021-04-12
Rated

5

out of

5
by
OBRONE
from
FoodSaver® 8" x 20' Heat-Seal Roll, 2 Pack;
THE 8" ROLLS ALLOW ME TO USE LESS PRODUCT FOR PACKAGING SMALLED ITEMS. I APPREICATE THEM BERY MUCH AND WILL CONTINUE TO KEEP A SUPPLY OF THIS SIZE ROLLS. FoodSaver® Pint-Size Heat-Seal Bags, 28 Count AS WITH THE ABOVE. THESE BAGS ARE VERY EASY TO USE AND DO MAKE IT POSSIBLE TO QUICKLY PACKAGE SMALLER SIZES OF MEATS. WITH THEM I WAS ABLE TO PACKAGE MY PRODUCTS AT LEAST TWICE AS FAST. I INTEND TO ALWAYS KEEP A SUPPLY OF THESE BAGS ON \HAND.
Date published: 2015-09-29
bvseo_sdk, dw_cartridge, 18.2.0, p_sdk_3.2.0
CLOUD, getReviews, 0ms
reviews, product
---
<!--begin-bvseo-questions--> <!--begin-questions--> <div id="bvseo-questionsSection"> <div class="bvseo-question-answer" data-questionid="4828483"> <h2 class="bvseo-question"> Where are these made? </h2> <div class="bvseo-question-detail"> </div> <div class="bvseo-author">Asked by: Rtee</div> <div class="bvseo-answer" data-answerid="5445654"> Our FoodSaver&amp;reg; 8&amp;quot; x 20&#39; Vacuum-Seal Roll, 2 Pack is made in china. Rest assured that our products are subject for quality check and control before it hits the market. Existing items right now had been the stocks made prior to coronavirus concern so they are safe. Hope this helps and always stay safe! <div class="bvseo-author">Answered by: FoodSaver Brand</div> <div class="bvseo-pubdate">Date published: 2022-05-07</div> </div> </div> <div class="bvseo-question-answer" data-questionid="4610194"> <h2 class="bvseo-question"> I JUST WANT A ONE TIME ORDER </h2> <div class="bvseo-question-detail"> </div> <div class="bvseo-author">Asked by: JUDY CURRY</div> <div class="bvseo-answer" data-answerid="5405801"> Thank you for taking the time to submit a review. We&#39;d like to learn more about your situation and what exactly happened. We want to make things right. So, please give us a call at 1-877-777-8042 or send us a message via live chat here on the site and we will get you all taken care of. For your convenience, we are available Mon-Sat, from 9 am-6 pm, EST. We look forward to hearing from you! <div class="bvseo-author">Answered by: FoodSaver Brand</div> <div class="bvseo-pubdate">Date published: 2020-11-03</div> </div> </div> <div class="bvseo-question-answer" data-questionid="4569825"> <h2 class="bvseo-question"> why would I buy a product when I can&#39;t get the rolls that go with it? I want the space saver vacuum sealer, but the 8&amp;rdquo; x 10&amp;rsquo; vacuum seal rolls are not available </h2> <div class="bvseo-question-detail"> </div> <div class="bvseo-author">Asked by: Kathy Ohio</div> <div class="bvseo-answer" data-answerid="5256665"> Good question! We appreciate your patience as we are diligently working on replenishing our stock. We do not have a firm date as to when this item will be available. Keep an eye on our site for availability. <div class="bvseo-author">Answered by: FoodSaver Brand</div> <div class="bvseo-pubdate">Date published: 2021-07-04</div> </div> </div> <div class="bvseo-question-answer" data-questionid="4546892"> <h2 class="bvseo-question"> Where can I purchase this item&amp;nbsp; </h2> <div class="bvseo-question-detail"> </div> <div class="bvseo-author">Asked by: Camile77</div> <div class="bvseo-answer" data-answerid="5242576"> Thank you for asking us out! We appreciate your patience as we are diligently working on replenishing our stock. We do not have a firm date as to when this item will be available. Keep an eye on our site for availability. Rest assured that our retailers will surely have this in stock for you. You can check the list of our retailers using the link below:&#13;&#10;&#13;&#10;https://www.foodsaver.com/service-and-support/find-a-retailer/find-a-retailer.html <div class="bvseo-author">Answered by: FoodSaver Brand</div> <div class="bvseo-pubdate">Date published: 2020-12-24</div> </div> </div> <div class="bvseo-question-answer" data-questionid="4455400"> <h2 class="bvseo-question"> I also want a pack of 3 11 by 16. </h2> <div class="bvseo-question-detail"> </div> <div class="bvseo-author">Asked by: Gaetan</div> <div class="bvseo-answer" data-answerid="5219138"> Yes, you can have it! We have what you need. You can add it to your cart by following the link below:&#13;&#10;&#13;&#10;https://www.foodsaver.com/food-storage-bags-and-containers/vacuum-seal-bags-and-rolls/8-inch-vacuum-sealer-rolls/foodsaver--8-x-20-vacuum-seal-roll-2-pack/FSFSBF0526-NP.html <div class="bvseo-author">Answered by: FoodSaver Brand</div> <div class="bvseo-pubdate">Date published: 2020-06-24</div> </div> </div> <div class="bvseo-question-answer" data-questionid="4502976"> <h2 class="bvseo-question"> Is this plastic recyclable? </h2> <div class="bvseo-question-detail"> </div> <div class="bvseo-author">Asked by: Debra42</div> <div class="bvseo-answer" data-answerid="5208933"> No, FoodSaver&amp;reg; Bags &amp;amp; Rolls are not recyclable. Please follow the disposal guidelines and requirements of your local municipality. <div class="bvseo-author">Answered by: FoodSaver Brand</div> <div class="bvseo-pubdate">Date published: 2020-06-16</div> </div> </div> <div class="bvseo-question-answer" data-questionid="4311734"> <h2 class="bvseo-question"> The site will not allow me to add product to my cart. Is there a problem? </h2> <div class="bvseo-question-detail"> </div> <div class="bvseo-author">Asked by: azraven</div> <div class="bvseo-answer" data-answerid="5093583"> We understand that you had a problem placing an order online and we apologize for the inconvenience. Please try to place an order again after 24 to 48 hours and if the order will not go through, you may send us a direct message via live chat here on the website. You may also give us a call at 877-777-8042. For your convenience, we are available from 9 am to 6 pm Mon-Sat, EST. Thank You! <div class="bvseo-author">Answered by: FoodSaver Brand</div> <div class="bvseo-pubdate">Date published: 2020-04-02</div> </div> </div> <div class="bvseo-question-answer" data-questionid="4037128"> <h2 class="bvseo-question"> Can I put the bag into boiling water to thaw and heat up </h2> <div class="bvseo-question-detail"> </div> <div class="bvseo-author">Asked by: john473</div> <div class="bvseo-answer" data-answerid="5036975"> We don&#39;t suggest our consumers to put the bag into boiling water as this would melt the bag or roll and might contaminate the food. We strongly suggest our consumers to use our bags that is specifically made for Sous Vide. You can add them to your cart for a speedy checkout at the link below:&#13;&#10;&#13;&#10;https://www.foodsaver.com/blog/archive/2019/noname/2019-how-to-sous-vide-with-a-vacuum-sealer-new.html <div class="bvseo-author">Answered by: FoodSaver Brand</div> <div class="bvseo-pubdate">Date published: 2020-02-20</div> </div> </div> </div> <script type="text/javascript"> if (document.getElementById('bvseo-questionsSection')) { document.getElementById('bvseo-questionsSection').style.display = 'none'; } </script> <!--end-questions--> <!--begin-pagination--> <ul id="bvseo-paginationSection"> <li class="bvseo-paginationItem"><a class="bvseo-paginationLink" href="https://www.foodsaver.com/deals/bags-rolls/foodsaver--8-x-20-vacuum-seal-roll-2-pack/SAP_FSFSBF0526NP.html?bvrrp=Main_Site-en_US/questions/product/2/SP_447018.htm">FoodSaver&reg; 8&quot; x 20' Vacuum-Seal Roll, 2 Pack Questions - page 2</a></li> </ul> <!--end-pagination--> <ul id="BVSEO_meta" style="display:none!important"> <li data-bvseo="bvDateModified">y_2022, m_5, d_19, h_21CST</li> <li data-bvseo="ps">bvseo_bulk, prod_bvqa, vn_bulk_3.0.27</li> <li data-bvseo="cp">cp_1, bvpage1</li> <li data-bvseo="co">co_hasquestionsanswers, tq_42</li> <li data-bvseo="cf">loc_en_US, sid_SP_447018, prod, sort_[SortEntry(order=LAST_APPROVED_ANSWER_SUBMISSION_TIME, direction=DESCENDING)]</li> <li data-bvseo="diagnostics">clientName_foodsaver</li> </ul> <!--end-bvseo-questions--> <ul id="BVSEOSDK_meta" style="display: none !important;"> <li data-bvseo="sdk">bvseo_sdk, dw_cartridge, 18.2.0, p_sdk_3.2.0</li> <li data-bvseo="sp_mt">CLOUD, getContent, 0ms</li> <li data-bvseo="ct_st">questions, product</li> </ul>
product-detail-view
oos-pdp