How to Use Your Marinator
Marinating a juicy steak usually takes hours, and means you'll have to plan in advance and prep way ahead of time. However, preparing dinner in a pinch can be less challenging when you're serving fish, meats or veggies that require marinating. By using the FoodSaver® Food Preservation System, you cut the marinating process down to just minutes.
The FoodSaver® Quick Marinator works with the FoodSaver® System to perfectly marinate your favorite meals in 30 minutes or less. Meal prep has never been simpler or more convenient!
How does it work?
The concept is simple. FoodSaver® Food Preservation System uses vacuum power to help infuse marinades into the foods you're marinating, quickly absorbing flavorful marinades and seasonings.
Without the Quick Marinator, it takes time for marinades to naturally soak into your food. Because of this, most recipes will tell you to marinate for quite a long time. For the best results, most cooks leave chicken, steak or chops marinating overnight or for at least four hours.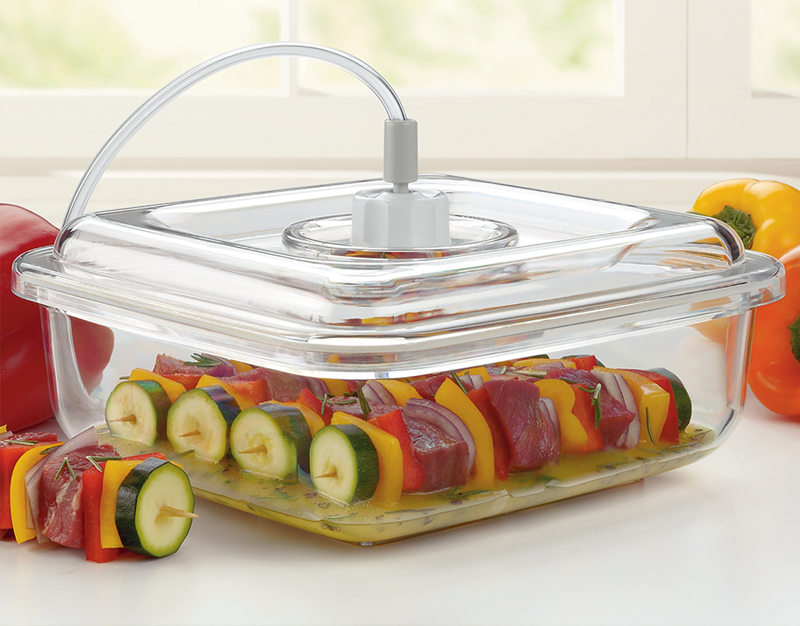 1, 2, 3 Marinate!
The Quick Marinator is a 2.25-quart glass container that can be vacuum sealed using the FoodSaver® Accessory Hose and Adapter on the FoodSaver® System. The Quick Marinator is durable, BPA-free and dishwasher safe for easy cleanup. Here's how to use it.
Put your meats into the Quick Marinator with a marinade of your choice and seal the lid firmly.
Apply the adapter to the top of the lid.
Press the MARINATE button and it will automatically marinate your meat.
After the container is vacuum sealed, take the adapter out and let the meat sit for the desired length of time - just a few minutes will do.
In no time, your meat, fish or veggies will be marinated to perfection. Go straight from the Quick Marinator to the grill, stovetop or oven, and a delicious dinner is right around the corner.