How to Pre-Season and Vacuum Seal Fish for the Best, Long-Lasting Flavor
Whether you're preserving your fresh fish for a special occasion meal or you're going straight from the stream to the cookout, seasoning and sealing is always a good idea. It will preserve your fish so it's as fresh as the moment you caught, or for the landlubbers it stays as fresh as the day it's purchased from the market! Not only does fish keep fresh up to 5X longer when preserved with the FoodSaver® Food Preservation System, the vacuuming process can also enhance the taste of fish if you pre-season it when sealing.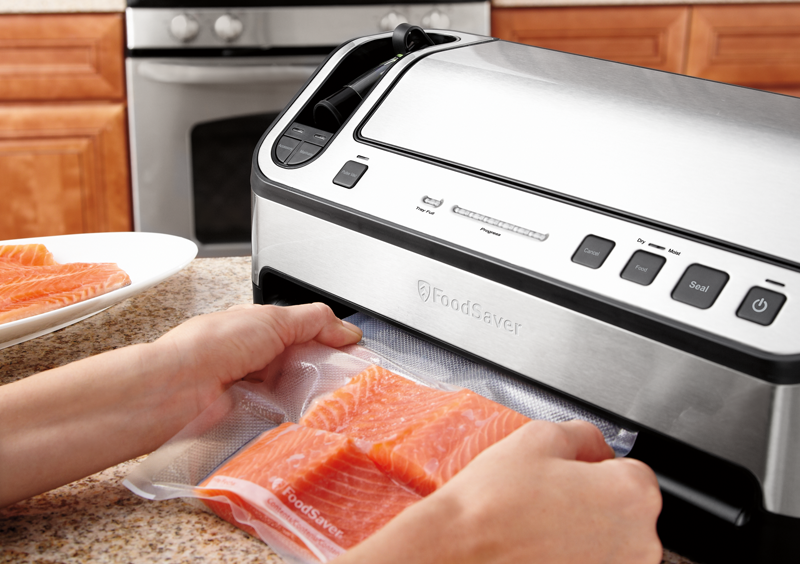 Seasoning and the FoodSaver® Food Preservation System go hand-in-hand. If you want to serve a zesty and flavorful catch, follow these tips.
1. Add a Pinch of Seasoning
As you place the fish fillets into a pre-cut or custom-made FoodSaver® Vacuum Seal Bag, add your favorite seasoning to the fish. If you're having trouble deciding what to go with, get a little creative. Check out these ideas for some delicious flavor combinations:
Cayenne and thyme give white fish like cod and flounder a spicy kick
Savory salmon goes well with a hint of brown sugar, crushed red pepper and dried mustard, or just a little lemon zest and garlic
Tuna steak is more flavorful, so go light with a little onion salt, pepper and mesquite seasoning.
Old bay, garlic powder, onion powder, cayenne, thyme, cilantro, rosemary - they can all be used individually or together to create some surprisingly delicious recipes. Choose what suits your palate best and create some truly unique dishes.
2. Vacuum Seal and Save
That's all there is to it! Use your FoodSaver® Food Preservation System to remove the air and lock in the freshness and flavor. Those flavors will soak into the fish in about 30 minutes, or you can throw your catch into the freezer for a meal in the future.