FoodSaver® 8" x 20' Vacuum-Seal Roll, 3 Pack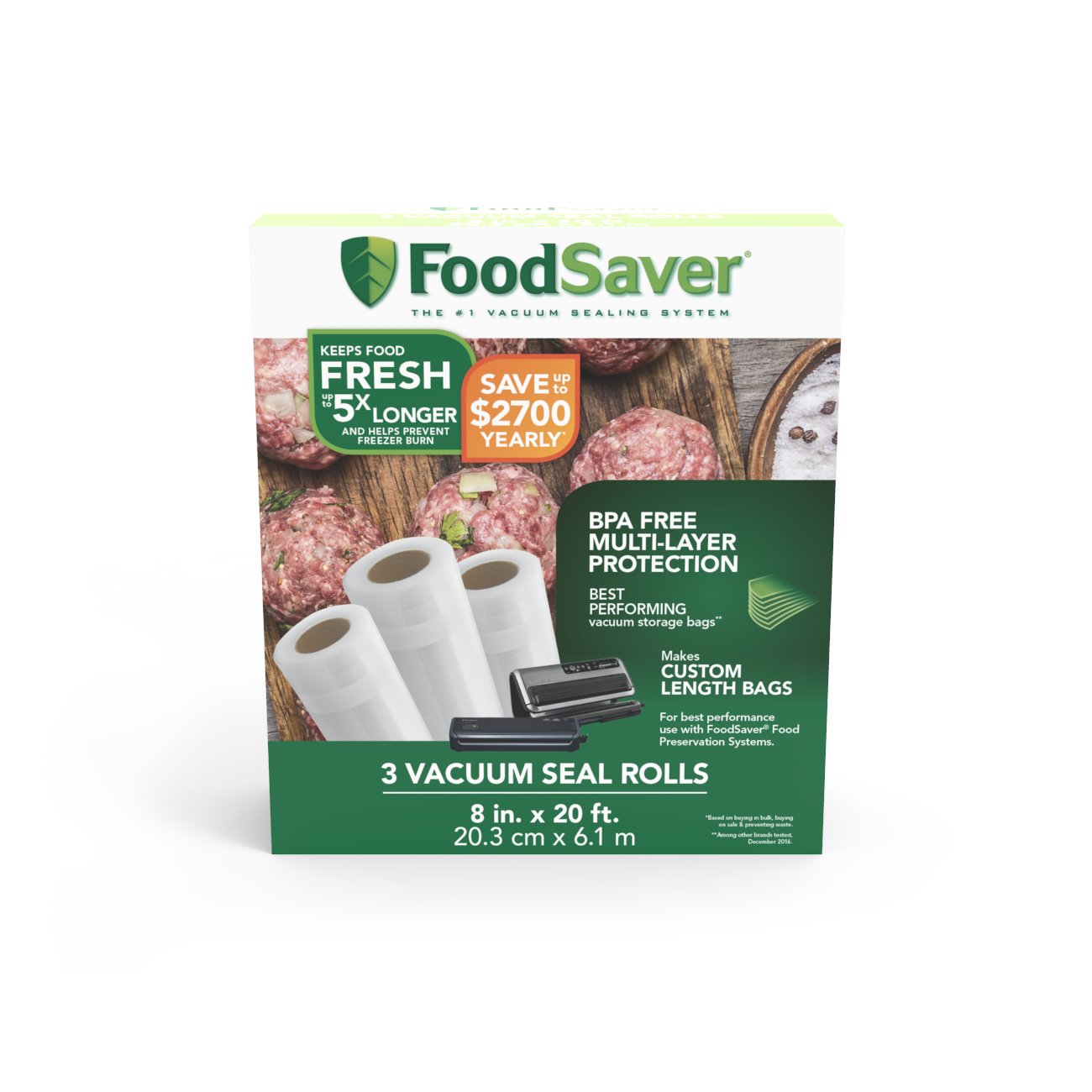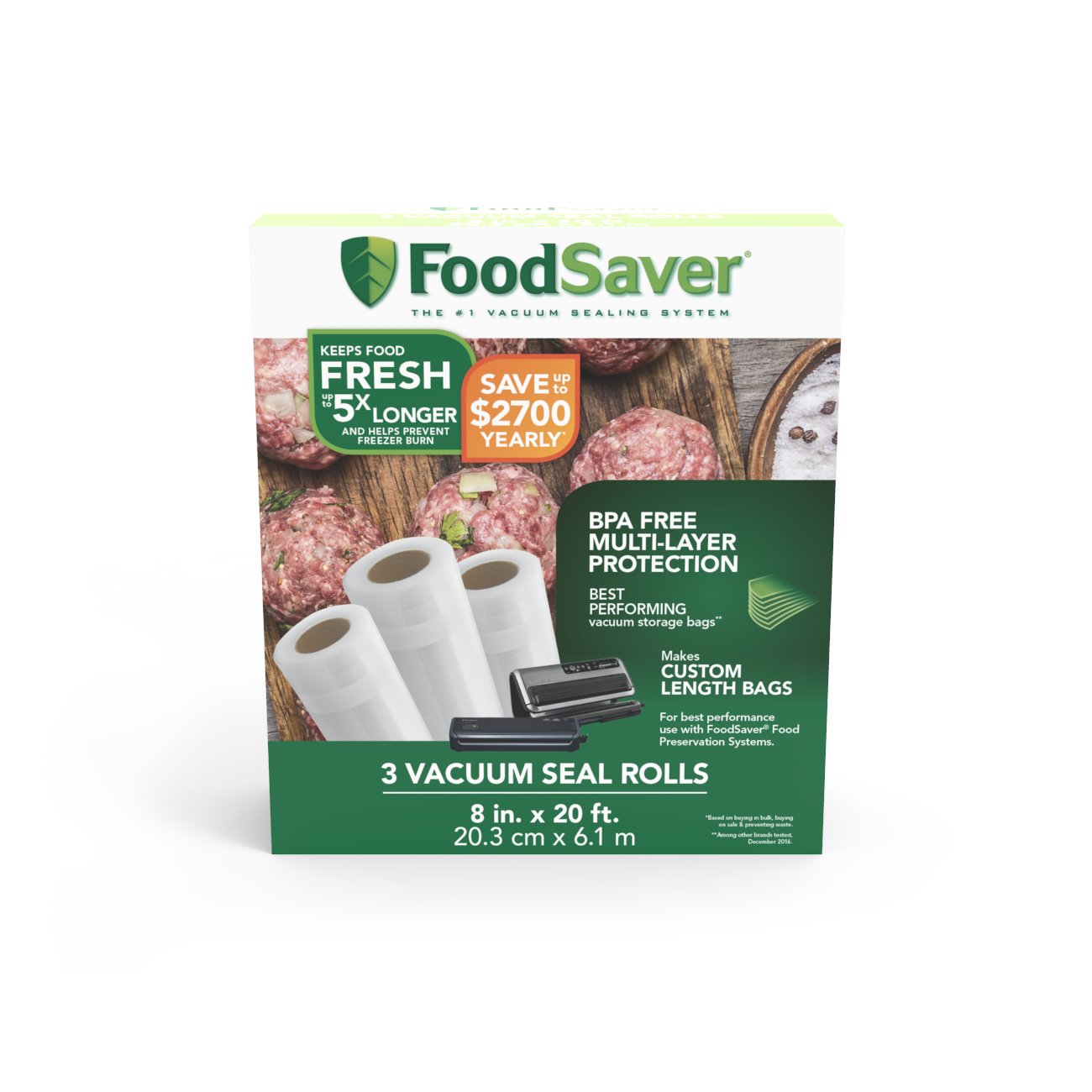 FoodSaver® 8" x 20' Vacuum-Seal Roll, 3 Pack
Sale Price
$27.99
Strikethrough List Price

$32.99
Become a FreshBucks Rewards member to earn points and save on FoodSaver purchases, Join Now
Already a member? Log in now
Final Sale: may not be returned or exchanged
Sale Price
$27.99
Strikethrough List Price

$32.99
Become a FreshBucks Rewards member to earn points and save on FoodSaver purchases, Join Now
Already a member? Log in now
Final Sale: may not be returned or exchanged
Want us to let you know when the item you wanted is back in stock?
---

Free Standard Shipping on Orders $50+

Free Express Shipping on Orders $100+ Details
---
Product Details
Description
FoodSaver® 8" Vacuum-Seal Roll let you create custom-sized bags to package and protect food and non-food items using your FoodSaver® Vacuum Sealing System. Made from the exact same material as our bags, FoodSaver® Rolls give you great flexibility. Simply cut a piece to your desired length, seal one end, fill and then vacuum seal. Specially designed channels allow complete air removal and multi-layer construction blocks moisture and oxygen and makes the bags strong enough to simmer and microwave. BPA-free.
Features
Multi-ply material prevents freezer burn
Specially designed channels block oxygen and moisture to maximize air removal
BPA-free
Simmer and microwave-safe
Best performing vacuum bags (based on FoodSaver's 2020 competitive testing)
Included Parts
3 - 8" x 20' Vacuum-Seal Rolls
Rated

5

out of

5
by
Dub000
from
Nice bags!
I bought these recently, very nice bags! I would definitely buy them again..
Date published: 2020-02-10
Rated

4

out of

5
by
Noncerte
from
Not as good as the old ones.
These bags are just okay. They are made in China and are not as good as the ones from years ago that were manufactured in Korea. The material is not as "soft" and the seals will sometimes give-out.
Date published: 2017-07-02
Rated

5

out of

5
by
Garden time
from
Best thing if you are freezing and a great deal
I bought several three packs of the bags. Anyone who freezes food needs to buy a sealer and bags. They have some great sales and I have bought these for several wedding gifts and birthday gifts.
Date published: 2019-02-07
Rated

5

out of

5
by
jstanley
from
Great size
This is the perfect size for the salmon fillets and steaks I've been freezing. I love the rolls because you can cut to size for 1/2 a fish fillet or smaller ones. Almost ready to order more!
Date published: 2014-09-23
Rated

5

out of

5
by
StrawberryGrandma
from
Save your Meat
I purchased this just a few weeks ago as I have over the years. Food Saver and their products have save us a lot of money over the years. I would recommend their products to everyone.
Date published: 2017-04-08
Rated

5

out of

5
by
kasey
from
Life Saver!
As a single Senior Citizen, everything at the grocery store is in BULK! With food saver, I can bring packages of meats or frozen products home and divide them into individual servings and freeze them. I have also experimented with freezing fresh produce, fruits, veggies, and home cooked meals, for the freezer. I control the amounts, the sugars, the salt and spices, and have fresh home cooked meals for the days that I just don't want to cook from scratch. Food Saver saves me money and almost all of my experiments have produced yummy, healthy meals.
Date published: 2016-10-08
Rated

5

out of

5
by
Ginger87
from
perfect in almost every way
The only way these bags would be perfect would be if they sealed themselves. I always order from FoodSaver because I know that I will always receive a quality product.
Date published: 2014-10-31
Rated

5

out of

5
by
PenelopeRose
from
Good quality
It always seals well and the food stays fresh. I buy meat at the market and repackage it in smaller amounts. We also use it for venison during hunting season.
Date published: 2014-12-20
Rated

5

out of

5
by
Paul81
from
The product works well
I am using the 8" roll product to package cheese cut from a wheel of cheese. It does a much better job of preserving the smaller blocks than plastic wrap.
Date published: 2015-01-11
Rated

4

out of

5
by
Sue3
from
Missing one important feature
I really wish FoodSaver would go back to putting the measurement markings on the roll edges in BLACK to contrast better and make them easier to see.
Date published: 2017-07-23
Rated

5

out of

5
by
kiko5456
from
thus product is easy to use and keeps my meals fre
I use these bags each week to pack my lunches and fingers for my woke family. Very easy and economical because they keep my meals fresh, longer.
Date published: 2015-01-18
Rated

5

out of

5
by
Erfo
from
Good Quality Products
we have had our foodsaver for about 4 years now and it is still working flawlessly. The bags and rolls we ordered from Foodsaver shipped quickly and order was accurate. quality products at a reasonable price especially during the holiday sale. i can't compare Foodsaver sealers with other brands as i have never owned one, but our Foodsaver vacuum sealer does a great job and we are very happy with its performance
Date published: 2015-12-30
Rated

5

out of

5
by
Pete069
from
does what its supposed to do
perfect for keeping things fresh, works exactly as it says, nice appearance of the machine and a great value. Does wet or dry!
Date published: 2014-04-16
Rated

5

out of

5
by
jad1745
from
ease of use
I use this product year round. They keep everything fresh as the day I put it in. You can trust it do just what they claim.
Date published: 2014-12-04
Rated

5

out of

5
by
Wreckage
from
Always a quality bag
Genuine Food Saver bags always serve best results. Costs with special offers make pricing acceptable.
Date published: 2018-03-02
Rated

5

out of

5
by
Twill
from
Generally good product
This product came promptly, was easy to use and very affordable. Great all around product.
Date published: 2014-11-15
Rated

5

out of

5
by
meatman
from
Rolls/bags are perfect for multable jobs
The bags/rolls odered came in excellent shape & in a timly manner. Great job...Thank you
Date published: 2015-03-15
Rated

5

out of

5
by
Margeo
from
8" 3 pks
I was pleased to find these 3 pks of 8" rolls as this is the size I use most often
Date published: 2014-09-27
Rated

2

out of

5
by
Anonymous
from
Bags not sealing properly
Bags are food however for some reason we have had a very hard time sealing them. I cut 12 bags recently all from the same roll all about the same size. I filled them all with the same item and same size, only 7 would seal. I cut 5 more bags from the same roll and 3 of them would seal so I cut 2 more and both of them would seal. It is not my machine there is certainly an issue with the bags
Date published: 2021-01-11
Rated

5

out of

5
by
sotamare
from
This product has great features now!!!!!!
I always prefer using the 8" rolls but when I bought the boxes at the stores with the 11" and 8" bags in it, it always had 2-11" and 1-8" so I would run out of the smaller bags first. I then saw online You could buy big lots of them and have a Bunch in stock! No 11" bags. So now I don't have to worry about running out of smaller and having a lot of 11" bags. THANK YOU!
Date published: 2015-12-11
Rated

5

out of

5
by
Bocca
from
Versatile and stores anything.
I don't order often, but when I do, I am always very pleased with your service and value of the products. The 8 inch Heat Seal Rolls are so convenient to use, very economical and high quality. They provide an strong, airless, tight storage "container" which preserves food longer with NEVER freezer burn. You can store anything from food to Silverware and jewelry.
Date published: 2015-09-07
Rated

5

out of

5
by
Brunellboy
from
need one for today's food shopping world
Most stores, Costco and supermarkets are trending to larger size put ups. It makes no sense when buying a large size if it dries out, gets freezer burned or becomes stale. With food saver sealers you can enjoy the large put up savings and still have the original package goodness. The rolls give you the flexibility to make a bag to fit your food. Easy to use!
Date published: 2015-12-11
Rated

5

out of

5
by
Witnow
from
Easy To Use
I love using these products...they allow me to purchase meat. veggies, etc., in bulk quantities and package them in sizes just perfect for my family. They are economical. I receive them just a few days after I order them. All in all, I am blessed to have found Foodsafe bags. I also store dry products like jewelry in them. Keeps silver from tarnishing.
Date published: 2017-04-06
Rated

5

out of

5
by
Philip
from
Easy to use and many functions.
We buy products in bulk:( i.e.: Steaks on sale.) I finish trim the steaks and season them before vacuuming them in serving size for two. GREAT convenience and money saver. I vacuum historical documents and items to preserve them. The bags are great for grouping parts and keeping them sealed together for future use. AWESOME tool ! ! !
Date published: 2015-12-22
Rated

5

out of

5
by
Bob n Ket
from
Save thousands
No doubt in our minds that every family has leftovers and we cook so much we will save cooked pork ,beef, chicken meats and the bones with meat on them for future stocks for soups, chilli , and sauces and after using the food saver machine with the vacuum bags we write on them the date we vacuum sealed them and their contense and have used them up to 18 months later and their great so thank you for your product ,were over due for a new one ours is 8 years old and still works great but we would love to vacuum seal liquids
Date published: 2017-08-20
Rated

5

out of

5
by
Cheyenne1
from
We have had our machine over a year now and would recomend it to everyone. Especially now that food prices are going up more and more every day. We buy in bulk and can save money by using the bags to seal out all the air and keep in the freezer 6 months or longer. Great for our house of 2 people now that children are grown.
Date published: 2018-04-05
Rated

3

out of

5
by
bdmac
from
All Foodsaver Rolls
Have owned three Foodsaver Units. Have bought their rolls for years. For years their rolls have been greatly overpriced. Check the price per foot, Outrageous for each foot cost Foodsaver only pennies. Foodsaver should give their customers a better deal, they might get more business. I continue to shop for a different supplier and have found one for the 11" rolls. This company tells me they will soon produce an 8" roll as well. Pricing is far less than half that of Foodsaver but quality is as good if not better.
Date published: 2016-10-08
Rated

5

out of

5
by
xrgt
from
food saver the best!
having tried a few other brands, it quickly became most obvious the others were less desirable. Most had sealing problems not common to Food Savers. The other brands were only rarely re-usable with smaller quantities compensating for the sealing loss in size. Food savers were, making them incredibly more economical.
Date published: 2018-08-04
Rated

5

out of

5
by
Idaho Homestead
from
Great for when you do not know what size you need
I enjoy the options of the Rolls, gives us the option to use a little or to do some major sealing. Lots of farm fresh fruit that needs to be dried and sealed, and for us this is one of the best options we have found. I would highly recommend this if you are not sure of size of bags you will need for a project.
Date published: 2020-12-08
Rated

5

out of

5
by
why use a nickname
from
Best size for me
For me, this is the size Food Saver roll that I order as I can fit almost everything in this size roll. I do purchase the larger size roll once or twice a year because ribs are the one thing I have trouble squeezing in to the smaller roll. All other meats, fruits and veggies I freeze, fit in the 8x20 roll.
Date published: 2018-10-01
bvseo_sdk, dw_cartridge, 18.2.0, p_sdk_3.2.0
CLOUD, getReviews, 0ms
reviews, product
---
<!--begin-bvseo-questions--> <!--begin-questions--> <div id="bvseo-questionsSection"> <div class="bvseo-question-answer" data-questionid="3285477"> <h2 class="bvseo-question"> How thick are these 2 mil 4mil? </h2> <div class="bvseo-question-detail"> </div> <div class="bvseo-author">Asked by: Ning74</div> <div class="bvseo-answer" data-answerid="3514399"> All FoodSaver bags are multi-layered films of polyethylene and nylon. Total thickness is 4 Mil&#13;&#10;A mil is equal to one thousandth of an inch (0.0254 millimeter), so FoodSaver bags are 0.1016 inches thick. See breakdown below.&#13;&#10;&#13;&#10;Smooth side: 3mils thick&#13;&#10;Textured side: 11.5mils thick <div class="bvseo-author">Answered by: FoodSaver Support</div> <div class="bvseo-pubdate">Date published: 2018-11-05</div> </div> </div> <div class="bvseo-question-answer" data-questionid="3260616"> <h2 class="bvseo-question"> How many bags are in a box </h2> <div class="bvseo-question-detail"> </div> <div class="bvseo-author">Asked by: Suzet</div> <div class="bvseo-answer" data-answerid="3498271"> Great question! Since these rolls are customizable, the number of bags you get will vary. <div class="bvseo-author">Answered by: FoodSaver Support</div> <div class="bvseo-pubdate">Date published: 2018-10-18</div> </div> </div> <div class="bvseo-question-answer" data-questionid="3255616"> <h2 class="bvseo-question"> It will not add my order to my cart </h2> <div class="bvseo-question-detail"> </div> <div class="bvseo-author">Asked by: Ruthalaska</div> <div class="bvseo-answer" data-answerid="3495041"> We&#39;re sorry to hear that you are experiencing issues placing an order on our site. Please give us a call at 877-777-8042 and we can place the order for you. For your convenience, we are available 8a-8p Monday - Friday, EST and 9a-6p Saturday, EST. <div class="bvseo-author">Answered by: FoodSaver Support</div> <div class="bvseo-pubdate">Date published: 2018-10-15</div> </div> </div> <div class="bvseo-question-answer" data-questionid="3250726"> <h2 class="bvseo-question"> this item is a box that contains 3 rolls for 28.96... then they offer 4 for 39.96...im confused does this mean 4 rolls total or 4 boxes that contain 3 rolls &#61; 12 rolls total </h2> <div class="bvseo-question-detail"> </div> <div class="bvseo-author">Asked by: tannab</div> <div class="bvseo-answer" data-answerid="3491613"> Excellent question! The offer is for (4) boxes that contain 3 rolls each for a total of 12 rolls for $39.96. You will need to add a quantity of 4 to your cart in order to receive the offer. <div class="bvseo-author">Answered by: FoodSaver Support</div> <div class="bvseo-pubdate">Date published: 2018-10-10</div> </div> </div> <div class="bvseo-question-answer" data-questionid="3210219"> <h2 class="bvseo-question"> will the 8inch roll be a good size for one slab of spare ribs ? </h2> <div class="bvseo-question-detail"> </div> <div class="bvseo-author">Asked by: jack13</div> <div class="bvseo-answer" data-answerid="3465068"> Great question! The 8&amp;quot; roll will allow you to customize the bag to meet the size you need. <div class="bvseo-author">Answered by: FoodSaver Support</div> <div class="bvseo-pubdate">Date published: 2018-09-13</div> </div> </div> <div class="bvseo-question-answer" data-questionid="3205257"> <h2 class="bvseo-question"> Do you get 4 boxes of 3 for $39.95? </h2> <div class="bvseo-question-detail"> </div> <div class="bvseo-author">Asked by: Whip</div> <div class="bvseo-answer" data-answerid="3461610"> Good answer! At the moment that sale is not going on, but below is a link to our current sale on the 8x20 &#13;&#10;Long Vacuum-Seal Rolls. Below is a link where you can check out this sale. https://www.foodsaver.com/food-storage-bags-and-containers/wild-game-vacuum-seal-bags-and-rolls/foodsaver-gamesaver--8-x-20-long-vacuum-seal-rolls-6-pack/FSGSBF0544-P00.html /?src&#61;17ZS <div class="bvseo-author">Answered by: FoodSaver Support</div> <div class="bvseo-pubdate">Date published: 2018-09-10</div> </div> </div> <div class="bvseo-question-answer" data-questionid="3204727"> <h2 class="bvseo-question"> Is this product on sale at 4 boxes of 3ea for 39.96 total? </h2> <div class="bvseo-question-detail"> </div> <div class="bvseo-author">Asked by: arleneJ</div> <div class="bvseo-answer" data-answerid="3461529"> Great question! This item is no longer on sale, but you can check out other deals on the link below.&#13;&#10;Happy shopping. https://www.foodsaver.com/food-storage-bags-and-containers/wild-game-vacuum-seal-bags-and-rolls/foodsaver-gamesaver--8-x-20-long-vacuum-seal-rolls-6-pack/FSGSBF0544-P00.html/?src&#61;17ZS <div class="bvseo-author">Answered by: FoodSaver Support</div> <div class="bvseo-pubdate">Date published: 2018-09-10</div> </div> </div> <div class="bvseo-question-answer" data-questionid="3202000"> <h2 class="bvseo-question"> I see it says 4for $39.96 but the price did not adjust to that in the cart what happen? </h2> <div class="bvseo-question-detail"> </div> <div class="bvseo-author">Asked by: Tsweet</div> <div class="bvseo-answer" data-answerid="3454784"> Thank you for reaching out! Try this: &#13;&#10;&#13;&#10;-Exit the site&#13;&#10;-Clear your cookies&#13;&#10;-Re-enter the site using this link: https://www.foodsaver.com/food-storage-bags-and-containers/vacuum-seal-bags-and-rolls/8-inch-vacuum-sealer-rolls/foodsaver-8-x-20-vacuum-seal-roll-3-pack/FSFSBF0534-NP.html?src&#61;17ZS&#13;&#10;&#13;&#10;-Add a quantity of &amp;quot;4&amp;quot; to your cart&#13;&#10;&#13;&#10;If you continue to experience issues, please give us a call at 877-777-8042. For your convenience, we are available 8a-8p Monday - Friday, EST and 9a-6p Saturday, EST. <div class="bvseo-author">Answered by: FoodSaver Support</div> <div class="bvseo-pubdate">Date published: 2018-09-04</div> </div> </div> <div class="bvseo-question-answer" data-questionid="3198002"> <h2 class="bvseo-question"> What is the difference between the regular food saver bags and the game changer bags? Is one for fritt and veggies and one for meat? If so you pass are misleading as you show meat being sealed on the regular bags. </h2> <div class="bvseo-question-detail"> </div> <div class="bvseo-author">Asked by: Firenlce</div> <div class="bvseo-answer" data-answerid="3451757"> Thank you for asking! The only difference between regular FoodSaver bags and GameSaver bags is that GameSaver bags are sold in larger quantities. <div class="bvseo-author">Answered by: FoodSaver Support</div> <div class="bvseo-pubdate">Date published: 2018-08-30</div> </div> </div> <div class="bvseo-question-answer" data-questionid="3189118"> <h2 class="bvseo-question"> how does this buy one and get one free work. i am about to order 1 3 rool of both 8&amp;quot; and 11&amp;quot; bags does this mean that i will get 1 free one of each as well? </h2> <div class="bvseo-question-detail"> </div> <div class="bvseo-author">Asked by: wb8fgi</div> <div class="bvseo-answer" data-answerid="3444669"> To get the BOGO, you must put two of the item in the cart and the price will adjust. Think of it like being at the grocery store. Soup is BOGO. You must take 2 cans to register in order to take both cans home, but the cashier will only charge you for the first one. For further assistance with your order, please give us a call at (877) 777-8042. Specialists are available Monday-Friday 8am-8pm EST, Saturday 9am-6pm EST. We would be happy to help! <div class="bvseo-author">Answered by: FoodSaver Support</div> <div class="bvseo-pubdate">Date published: 2018-08-23</div> </div> </div> <div class="bvseo-question-answer" data-questionid="3187803"> <h2 class="bvseo-question"> I have already ordered this product on Auto-delivery, but didn&#39;t need them when the auto-delivery came due, I even changed delivery date. Will I receive the discount of reordering these rolls on this order? </h2> <div class="bvseo-question-detail"> </div> <div class="bvseo-author">Asked by: Linibob</div> <div class="bvseo-answer" data-answerid="3444038"> For assistance with your auto ship, please contact us at (877) 777-8042. Specialists are available Monday-Friday 8am-8pm EST, Saturday 9am-6pm EST. We will be happy to help! <div class="bvseo-author">Answered by: FoodSaver Support</div> <div class="bvseo-pubdate">Date published: 2018-08-23</div> </div> </div> <div class="bvseo-question-answer" data-questionid="3146268"> <h2 class="bvseo-question"> How much would a case cost? </h2> <div class="bvseo-question-detail"> </div> <div class="bvseo-author">Asked by: JohnnyAngel</div> <div class="bvseo-answer" data-answerid="3409398"> For pricing and availability, please give us a call at (877) 777-8042. Specialists are available Monday-Friday 8am-8pm, Saturday 9am-6pm EST. <div class="bvseo-author">Answered by: FoodSaver Support</div> <div class="bvseo-pubdate">Date published: 2018-07-23</div> </div> </div> <div class="bvseo-question-answer" data-questionid="3143324"> <h2 class="bvseo-question"> Can the 8&amp;quot; rolls be used in Model V3460 sealer? </h2> <div class="bvseo-question-detail"> </div> <div class="bvseo-author">Asked by: GalChef</div> <div class="bvseo-answer" data-answerid="3405583"> They sure can! The V3460 vacuum sealer can accommodate all of our rolls (except 15&amp;quot; wide), pre-made bags, containers and accessories. <div class="bvseo-author">Answered by: FoodSaver Support</div> <div class="bvseo-pubdate">Date published: 2018-07-18</div> </div> </div> <div class="bvseo-question-answer" data-questionid="3104663"> <h2 class="bvseo-question"> Can I microwave steam my vegetables in these bags? </h2> <div class="bvseo-question-detail"> </div> <div class="bvseo-author">Asked by: rsolder78</div> <div class="bvseo-answer" data-answerid="3374316"> You sure can! Be sure to cut small slits in the bag to vent it before microwaving. &#13;&#10;&#13;&#10;Additionally, you may want to try out our FoodSaver&amp;reg; Freeze &#39;N Steam&amp;trade; Microwave Cooking Bags as well. Check them out at the link below: &#13;&#10;&#13;&#10;https://www.foodsaver.com/food-storage-bags-and-containers/specialty-vacuum-seal-bags-and-rolls/freeze-n-steam-vacuum-sealer-bags/foodsaver-freeze-n-steam-microwave-quart-vacuum-seal-cooking-bags16-count/FSFSBC0316-P00.html?src&#61;17ZS <div class="bvseo-author">Answered by: FoodSaver Support</div> <div class="bvseo-pubdate">Date published: 2018-06-18</div> </div> </div> <div class="bvseo-question-answer" data-questionid="3099873"> <h2 class="bvseo-question"> Does these work in all the sealer </h2> <div class="bvseo-question-detail"> </div> <div class="bvseo-author">Asked by: Moe13</div> <div class="bvseo-answer" data-answerid="3370640"> Great question! These rolls will work in all FoodSavers that heat seal. <div class="bvseo-author">Answered by: FoodSaver Support</div> <div class="bvseo-pubdate">Date published: 2018-09-11</div> </div> </div> <div class="bvseo-question-answer" data-questionid="3095424"> <h2 class="bvseo-question"> Wanting to order the 3 pack with 3 free. Do I put in a quantity of 1 or 2? </h2> <div class="bvseo-question-detail"> </div> <div class="bvseo-author">Asked by: lindak1950</div> <div class="bvseo-answer" data-answerid="3367883"> You would put 6 of the item in your cart and the price will adjust. Think of it like being at the grocery store. Soup is BOGO....you must take 2 cans to register in order to take both cans home...but the cashier will only charge you for the first one. <div class="bvseo-author">Answered by: FoodSaver Support</div> <div class="bvseo-pubdate">Date published: 2018-06-18</div> </div> </div> <div class="bvseo-question-answer" data-questionid="3058699"> <h2 class="bvseo-question"> how do i get the buy one get one free </h2> <div class="bvseo-question-detail"> </div> <div class="bvseo-author">Asked by: richardfulbright</div> <div class="bvseo-answer" data-answerid="3328358"> To get the BOGO you will need to create a FreshBucks account or sign into your existing account. Then you will put the items (2) in the cart and the price will adjust. For further assistance with your order, please call us at (800) 334-0759. Specialists are available Monday-Friday 8am-8pm EST, Saturday 9am-6pm EST. We will be happy to help! <div class="bvseo-author">Answered by: FoodSaver Support</div> <div class="bvseo-pubdate">Date published: 2018-05-23</div> </div> </div> <div class="bvseo-question-answer" data-questionid="3055407"> <h2 class="bvseo-question"> How do I get the buy one get one free special? Does it automatically add double of what I put in cart? </h2> <div class="bvseo-question-detail"> </div> <div class="bvseo-author">Asked by: Sierra</div> <div class="bvseo-answer" data-answerid="3325910"> For buy one get one free you would add two in the cart and the price will adjust in the cart. For further assistance, please contact us at (877) 777-8042. Specialists are available Monday-Friday 8am-8pm EST, Saturday 9am-6pm EST. <div class="bvseo-author">Answered by: FoodSaver Support</div> <div class="bvseo-pubdate">Date published: 2018-05-21</div> </div> </div> <div class="bvseo-question-answer" data-questionid="3027844"> <h2 class="bvseo-question"> Is this bag can use for the fruit? </h2> <div class="bvseo-question-detail"> </div> <div class="bvseo-author">Asked by: Xiao</div> <div class="bvseo-answer" data-answerid="3303580"> If you vacuum seal fruit into the heat seal bags, we recommend freezing the fruit for an hour before putting them into the bag. That will prevent the fruit from becoming squished as it vacuum seals. We&#39;ve included a link to one of our blog articles on keeping your fruits and veggies fresh.&#13;&#10;&#13;&#10;http://www.foodsaver.com/blog/archive/2016/october/how-to-keep-your-fruits-and-veggies-fresh-this-summer.html?src&#61;17ZS <div class="bvseo-author">Answered by: FoodSaver Support</div> <div class="bvseo-pubdate">Date published: 2018-04-25</div> </div> </div> <div class="bvseo-question-answer" data-questionid="2937299"> <h2 class="bvseo-question"> Is the material safe for 130 F degree of water cook? I plan to seal the beef with food saver and then do the low temperature water cook beef. Thanks!&amp;nbsp; </h2> <div class="bvseo-question-detail"> </div> <div class="bvseo-author">Asked by: Lila28</div> <div class="bvseo-answer" data-answerid="3199639"> Yes! FoodSaver&amp;reg; bags and rolls are recommended for normal cooking with a temperature range of up to 185&amp;deg;F when heat sealed using a FoodSaver&amp;reg; brand vacuum sealing appliance. <div class="bvseo-author">Answered by: FoodSaver Support</div> <div class="bvseo-pubdate">Date published: 2018-04-19</div> </div> </div> <div class="bvseo-question-answer" data-questionid="2909012"> <h2 class="bvseo-question"> Can you help me I am trying to order &amp;amp; for some reason it isn&#39;t going to my cart </h2> <div class="bvseo-question-detail"> </div> <div class="bvseo-author">Asked by: Eli18</div> <div class="bvseo-answer" data-answerid="3173970"> Try using a different web browser to place an order. You can als give us a call at (877) 777-8042. FoodSaver specialists are available Monday-Friday 8am-8pm EST, Saturday 9am-6pm EST. We will be happy to assist you! <div class="bvseo-author">Answered by: FoodSaver Support</div> <div class="bvseo-pubdate">Date published: 2018-04-18</div> </div> </div> <div class="bvseo-question-answer" data-questionid="2895238"> <h2 class="bvseo-question"> Don&#39;t know how to &amp;quot;add the 6x to get 3 free packages </h2> <div class="bvseo-question-detail"> </div> <div class="bvseo-author">Asked by: Susueq</div> <div class="bvseo-answer" data-answerid="3144087"> We would love to help! You would put 6 in the Qty box next to add to cart button. The price will adjust in the cart. For assistance with your order, please give us a call at (877) 777-8042. Specialists are available Monday-Friday 8am-8pm EST, Saturday 9am-6pm EST. <div class="bvseo-author">Answered by: FoodSaver Support</div> <div class="bvseo-pubdate">Date published: 2018-04-05</div> </div> </div> <div class="bvseo-question-answer" data-questionid="2887271"> <h2 class="bvseo-question"> I am trying to use the deal buy 3 get 3 free but because I am a new customer it is taking off 10% how do I get rid of the 10% off so I can use the buy 3 get 3 free??? </h2> <div class="bvseo-question-detail"> </div> <div class="bvseo-author">Asked by: bluff_life</div> <div class="bvseo-answer" data-answerid="3137145"> Glad to help! For any questions on our specials please contact us directly at 1-877-777-8042 from 8:00 AM to 8:00 PM Mon-Fri and 9:00 AM to 6:00 PM on Sat EST. Hope we get in contact with you! <div class="bvseo-author">Answered by: FoodSaver Support</div> <div class="bvseo-pubdate">Date published: 2018-03-29</div> </div> </div> <div class="bvseo-question-answer" data-questionid="2883057"> <h2 class="bvseo-question"> Is it a 3 pack for the $27.99. &amp;nbsp;So it would be 6 pack for a total of 27.99. &amp;nbsp;I don&amp;rsquo;t get it. Sorry. I&amp;rsquo;m new.&amp;nbsp; </h2> <div class="bvseo-question-detail"> </div> <div class="bvseo-author">Asked by: Duane80907</div> <div class="bvseo-answer" data-answerid="3134821"> The current promotion is buy 3 get 3 free. You would need to add 6 boxes to your cart and the price will adjust. For further assistance with ordering, please give us a call at (877) 777-8042. Specialists are available Monday-Friday 8am-8pm EST, Saturday 9am-6pm EST. We would love to help you! <div class="bvseo-author">Answered by: FoodSaver Support</div> <div class="bvseo-pubdate">Date published: 2018-03-27</div> </div> </div> <div class="bvseo-question-answer" data-questionid="2877989"> <h2 class="bvseo-question"> How much does one box of these rolls weigh? </h2> <div class="bvseo-question-detail"> </div> <div class="bvseo-author">Asked by: Betty123</div> <div class="bvseo-answer" data-answerid="3129718"> That is a good question! Each roll ways approximately 1.7 lbs. <div class="bvseo-author">Answered by: FoodSaver Support</div> <div class="bvseo-pubdate">Date published: 2018-03-23</div> </div> </div> <div class="bvseo-question-answer" data-questionid="2863967"> <h2 class="bvseo-question"> How do I buy 3 get 3 free. Don&#39;t understand where to add 6x to actibate </h2> <div class="bvseo-question-detail"> </div> <div class="bvseo-author">Asked by: Donna S</div> <div class="bvseo-answer" data-answerid="3128065"> I&#39;m glad you asked! To Buy 3 and Get 3 Free, you just double your order. You will put a quantity of &amp;quot;6&amp;quot; in the quantity box instead of &amp;quot;3&amp;quot;. <div class="bvseo-author">Answered by: FoodSaver Support</div> <div class="bvseo-pubdate">Date published: 2018-03-21</div> </div> </div> <div class="bvseo-question-answer" data-questionid="2843127"> <h2 class="bvseo-question"> How many quart sized bags would a roll make? </h2> <div class="bvseo-question-detail"> </div> <div class="bvseo-author">Asked by: KyleS</div> <div class="bvseo-answer" data-answerid="3098565"> Great question! A standard quart size bag is 8&amp;quot; X 11&amp;quot;. The actual number of bags you get per roll varies depending on the user. Below are links to all of our pre-cut quart size heat seal bags: &#13;&#10;&#13;&#10;http://www.foodsaver.com/food-storage-bags-and-containers/vacuum-seal-bags-and-rolls/quart/heat-seal-bags/?src&#61;17ZS&#13;&#10;&#13;&#10;http://www.foodsaver.com/food-storage-bags-and-containers/wild-game-vacuum-seal-bags-and-rolls/quart-size-vacuum-sealer-bags/quart/vacuum-seal-bags/?src&#61;17ZS <div class="bvseo-author">Answered by: FoodSaver Support</div> <div class="bvseo-pubdate">Date published: 2018-03-05</div> </div> </div> <div class="bvseo-question-answer" data-questionid="2832557"> <h2 class="bvseo-question"> is each roll of 3 8&amp;quot; by 20&#39; </h2> <div class="bvseo-question-detail"> </div> <div class="bvseo-author">Asked by: Anonymous</div> <div class="bvseo-answer" data-answerid="3088944"> Yes, each roll is 8 inches by 20 feet. Happy sealing! <div class="bvseo-author">Answered by: FoodSaver Support</div> <div class="bvseo-pubdate">Date published: 2018-02-23</div> </div> </div> <div class="bvseo-question-answer" data-questionid="2782150"> <h2 class="bvseo-question"> Can I change the autoship if necessary? </h2> <div class="bvseo-question-detail"> </div> <div class="bvseo-author">Asked by: Bayoutt64</div> <div class="bvseo-answer" data-answerid="3066167"> Absolutely! You would sign into your account, Click on my auto-ship, and then cancel the auto-ship. For further assistance, please give us a call at (877) 777-8042. Specialists are available Monday-Friday 8am-8pm EST, Saturday 9am-6pm EST. <div class="bvseo-author">Answered by: FoodSaver Support</div> <div class="bvseo-pubdate">Date published: 2018-02-02</div> </div> </div> <div class="bvseo-question-answer" data-questionid="2606423"> <h2 class="bvseo-question"> What is the difference between game saver n regular bags? </h2> <div class="bvseo-question-detail"> </div> <div class="bvseo-author">Asked by: JoJo Bou</div> <div class="bvseo-answer" data-answerid="2874583"> Typically our GameSaver bags and rolls are sold in larger quantity packages than our FoodSaver ones. Aside from that, there is no difference between them. Bags and rolls labeled &amp;quot;heavy duty&amp;quot; are slightly thicker than the rest. Thanks for being a FoodSaver fan! <div class="bvseo-author">Answered by: FoodSaver Support</div> <div class="bvseo-pubdate">Date published: 2018-01-04</div> </div> </div> </div> <script type="text/javascript"> if (document.getElementById('bvseo-questionsSection')) { document.getElementById('bvseo-questionsSection').style.display = 'none'; } </script> <!--end-questions--> <!--begin-pagination--> <ul id="bvseo-paginationSection"> <li class="bvseo-paginationItem"><a class="bvseo-paginationLink" href="https://www.foodsaver.com/bags-containers/standard-bags-rolls/foodsaver-8-x-20-vacuum-seal-roll-3-pack/SAP_FSFSBF0534NP.html?&bvrrp=Main_Site-en_US/questions/product/4/SP_447020.htm">FoodSaver&reg; 8&quot; x 20' Vacuum-Seal Roll, 3 Pack Questions - page 4</a></li> </ul> <!--end-pagination--> <ul id="BVSEO_meta" style="display:none!important"> <li data-bvseo="bvDateModified">y_2022, m_5, d_16, h_21CST</li> <li data-bvseo="ps">bvseo_bulk, prod_bvqa, vn_bulk_3.0.27</li> <li data-bvseo="cp">cp_3, bvpage2n</li> <li data-bvseo="co">co_hasquestionsanswers, tq_75</li> <li data-bvseo="cf">loc_en_US, sid_SP_447020, prod, sort_[SortEntry(order=LAST_APPROVED_ANSWER_SUBMISSION_TIME, direction=DESCENDING)]</li> <li data-bvseo="diagnostics">clientName_foodsaver</li> </ul> <!--end-bvseo-questions--> <ul id="BVSEOSDK_meta" style="display: none !important;"> <li data-bvseo="sdk">bvseo_sdk, dw_cartridge, 18.2.0, p_sdk_3.2.0</li> <li data-bvseo="sp_mt">CLOUD, getContent, 0ms</li> <li data-bvseo="ct_st">questions, product</li> </ul>
product-detail-view
oos-pdp