FoodSaver® 11" x 16' Vacuum Seal Roll, 3 Pack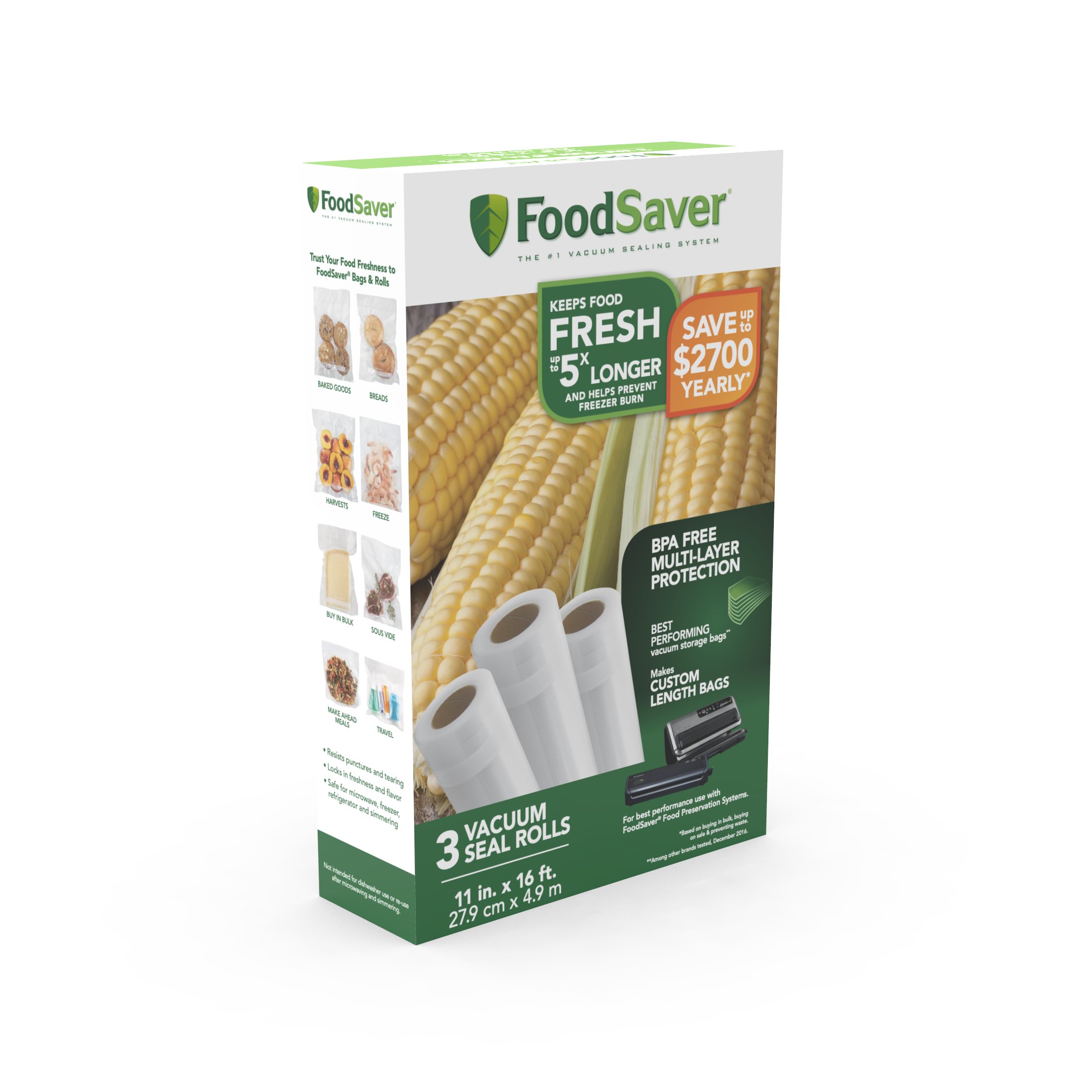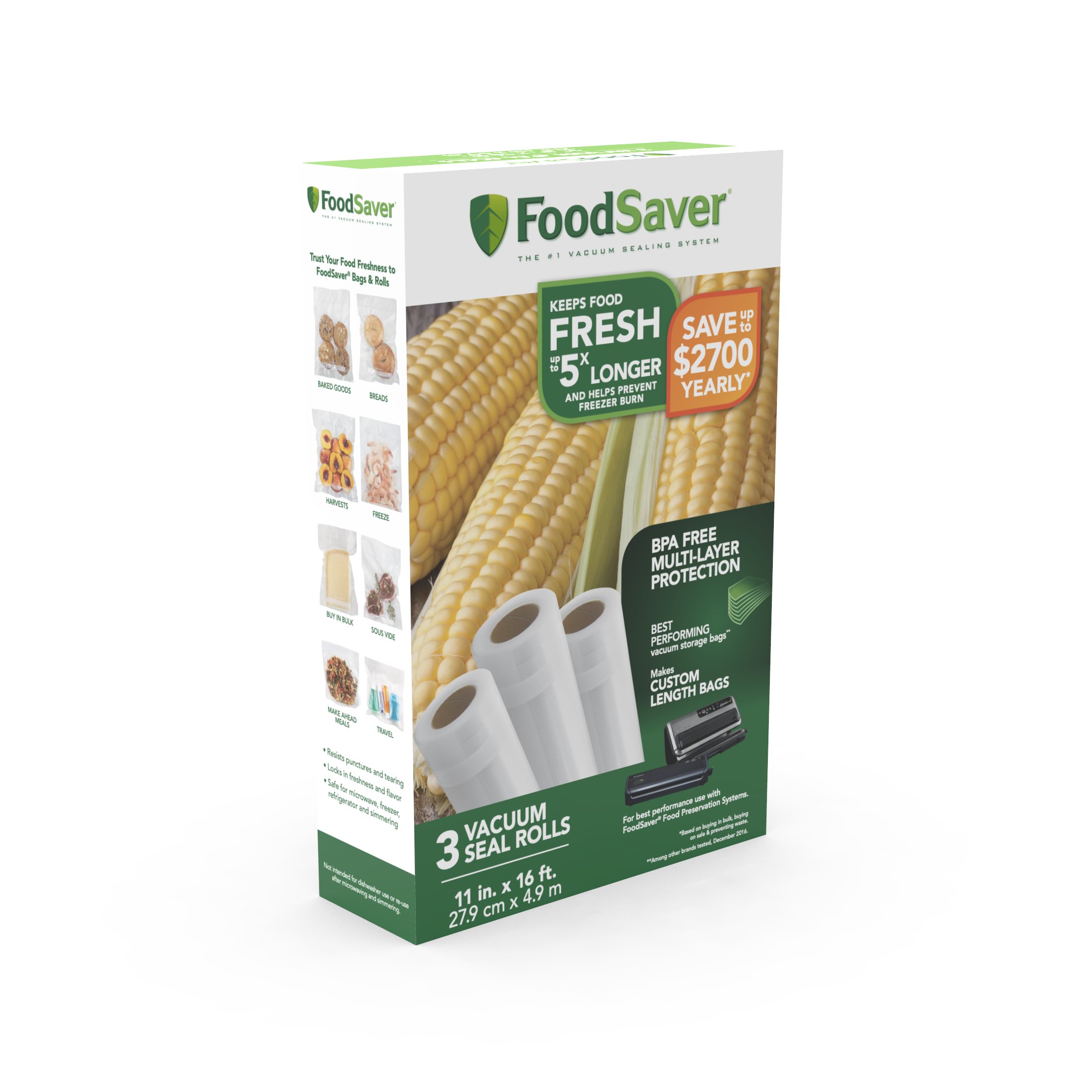 FoodSaver® 11" x 16' Vacuum Seal Roll, 3 Pack
Sale Price
$27.99
Strikethrough List Price

$32.99
Become a FreshBucks Rewards member to earn points and save on FoodSaver purchases, Join Now
Already a member? Log in now
Final Sale: may not be returned or exchanged
Sale Price
$27.99
Strikethrough List Price

$32.99
Become a FreshBucks Rewards member to earn points and save on FoodSaver purchases, Join Now
Already a member? Log in now
Final Sale: may not be returned or exchanged
Want us to let you know when the item you wanted is back in stock?
---

Free Standard Shipping on Orders $50+

Free Express Shipping on Orders $100+ Details
---
Product Details
Description
FoodSaver® 11" Rolls let you create custom-sized bags to package and protect food and non-food items using your FoodSaver® Vacuum Sealing System. Made from the exact same material as our bags, FoodSaver® Rolls give you great flexibility. Simply cut a piece to your desired length, seal one end, fill and then vacuum seal. Channels and multi-layer construction blocks moisture and oxygen and makes the bags strong enough to simmer and microwave. BPA-free.
Features
3 - 11" x 16' Vacuum-Seal rolls
Multi-ply material prevents freezer burn
Specially designed channels block oxygen and moisture to maximize air removal
Simmer and microwave safe
BPA-free
Best performing vacuum bags (based on FoodSaver's 2020 competitive testing)
Included Parts
3 - 11" x 16' Vacuum-Seal rolls
Rated

5

out of

5
by
toto77x2
from
Great value!
I love these bags. I can't turn down a sale on meat at the grocery store because I know when I use my food saver and these big bags that it's gonna last. These bags protect my meat from freezer burn and save me money. I come back to the website to buy because of the great deals they have on them. Try them!!
Date published: 2019-11-09
Rated

5

out of

5
by
Merryc2
from
Waste not, want not
Since using the foodsaver roll, I have cut out wasted food almost entirely as well as serving a nutritious variety of entrees every week. What I have found is that my beef, seafood or chicken are stored in these vacuum seal bags. I "defrost" our 1 lb dinner selection while still in the bag in a water bath for about an hour, depending on the cut, while preparing the veggies and starch. Previously, defrosting overnight in the fridge meant the entree could remain unused for days when life was esspecially hectic. Now, my beef is bright red any day i choose to cook.
Date published: 2017-10-30
Rated

2

out of

5
by
Reagan208
from
Bags were all wrinkled
Have always used your system for years..these bags were all wrinkled on the the rolls..this causes them to be difficult to seal..this makes a normally quick operation a lot of work to try to get them to seal..there is a lot of waste when they are wrinkled like this..VERY DISAPPOINTED..
Date published: 2018-05-18
Rated

5

out of

5
by
GGVegas
from
Most valuable tool in my kitchen
I've had my FoodSaver system for about 2 years and it has saved me a ton of money. I'm single and live alone so buying food in bulk quantities had always been a problem. Now that I have a FoodSaver I'm able to buy and freeze meat for months without fear of freezer burn. The 11" roll works great for larger items like steaks and chicken breasts. I use the quart and gallon zipper bags for cheese, cold cuts and leftovers. Put a head if lettuce in the gallon zipper bag and it will stay fresh for more than a week. One of the best kitchen appliances I've ever purchased!
Date published: 2017-03-08
Rated

4

out of

5
by
mick54
from
good product
I really like my FoodSaver and these bags are wonderful. I just wish the delivery didn't take as long as it did. It was almost 2 weeks, which seemed longer than most items that I buy online. Also, it was difficult to follow the tracking information on the site.
Date published: 2019-05-01
Rated

2

out of

5
by
farmers2
from
Disappointed
Prior to purchase, I thought the idea had some merit. However, I store my wine bottles on their SIDES in a temperature controlled wine cooler and according to the (after purchase) info, that should not be done. That information should be provided in your ad.
Date published: 2017-04-22
Rated

5

out of

5
by
Betty H
from
Love the Multi-packs
I consistently use my vacuum sealer, and use the 11" width rolls the most. Buying the multi-roll packs helps me save money on the rolls, just like I'm saving money by purchasing foods in bulk, so it ends up being a double-whammy of bonuses.
Date published: 2019-05-29
Rated

5

out of

5
by
rbk0302
from
AWESOME split bags
i have been buying bags for years and i love the new portional bags that can be split in half. The people that buy my jerky like the fact they only have to open one little section at a time so the whole bag does not get ate right away LOL.
Date published: 2018-07-12
Rated

5

out of

5
by
Jeffn
from
Strength & Flexibility
I have used these rolls for years. The ability to make the bag fit the food is a real money saver and the bags can be reused. Definitely the best way to preserve food in the freezer. They are also good many other non-food uses.
Date published: 2018-10-06
Rated

5

out of

5
by
Bablissa
from
Excellent for custom sizing!
I love the rolls because I can custom cut for any size! Roasts never seem to fit in the pre-made bags without wasted space or worse yet, trying one size, finding out that it's just a tad bit too small then having to try another and potentially washing one or two instead of one and done! I have even used the roll to make bags for my clothes on rafting trips - the seal ensures that I have dry clothes to put on no matter what the conditions!
Date published: 2015-12-14
Rated

1

out of

5
by
LeeAnn
from
Any size for any item
I love the rolls. You can make them any size you need. They can be used for food, storing small items, camp equipment and keeping Christmas decorations in for yearly storage. No need to worry about moisture, dirt or anything else ruining your stuff. Food items will last 4 times longer if sealed in these bags. It's great to go camping and not have to worry about water from the ice chest getting at the food. You can make after school snacks early and not worry about them drying out before the kids get home from school to eat them. We use the 11" and the 8" rolls for something new all the time! I love them and gave a food saver machine and the rolls to each of my daughters for Christmas one year so they could enjoy them too.
Date published: 2017-10-21
Rated

2

out of

5
by
jake7543
from
12 Wrinkled Vacuum Rolls
Shopping was easy but the problem was the 12 wrinkled vacuum rolls that I received. It seems to be happening all the time, now. Wrinkled vacuum rolls are not what I paid for. I expect better quality from FoodSaver.
Date published: 2018-07-10
Rated

5

out of

5
by
Patrick1212
from
Durable
This is a very quality bag, in my freezer it's a little chaotic and my other bags often get pierced allowing air to fill back up. Food Saver bags are thick so they don't tear and allow air to enter back in.
Date published: 2016-04-02
Rated

1

out of

5
by
LongTime Customer
from
Poor Customer Support, Bad Selling Practice
While I will freely admit that I have had my FoodSaver vacuum sealer for more than 10 years, until this past order I have been very happy. I additionally ordered the jar sealer and was never advised that the suction tube is not a part of the deal... really! Who would knowingly buy, and more importantly who would KNOWINGLY sell, a vacuum sealing device without a vacuum tube! No reply from FoodSaver regarding this so I am returning the entire order, including the wonderful vacuum roll, simply due to this idiotic selling practice and no customer support.
Date published: 2016-10-19
Rated

5

out of

5
by
Kat L
from
Vacuum seal rolls
Excellent for keeping food fresh and tasty. Absolutely love my vacuum sealer and how much I money I save from freezer burn and staleness. I these vacuum roll as I can customize the size!
Date published: 2019-08-04
Rated

2

out of

5
by
Hotdog
from
Quality
The material has too many wrinkles. It is very hard to use as the wrinkles allow air into the bag. I had to streach the material and after several attempts to get the bags sealed.
Date published: 2016-12-30
Rated

1

out of

5
by
Meadowsweet
from
Quality Stinks
These bags are total junk , very lightweight. I do not like them. I want the heavier bags but your website is very difficult to use. I tried the live chat but got ignored I ended up throwing bags in trash, I will never buy these online again. I understand why they were such a good deal
Date published: 2017-12-26
Rated

5

out of

5
by
VKewpiedoll2020
from
Greatest Bags
I have been using these bags for years never disappointed, and continue to keep buying food saver products and now my family and friends are buying too.
Date published: 2020-04-13
Rated

1

out of

5
by
MOGG
from
wrinkled bags
sadly I just bought large quantity of these and so far the first 2 rolls have massive wrinkles in them which I believe keep them from sealing properly.
Date published: 2018-07-23
Rated

2

out of

5
by
abcdef
from
No Customer Support
Two stars because the product is actually very good. Alas, double order was recorded. One contact advising of the issue via their website and one email to company--both described situation, date and order #s. I also waited on hold for well over an hour to talk to a live person but never made it through the queue. Sure enough--received both orders. Never a contact back from website or email contacts. Tsk, tsk.
Date published: 2019-06-11
Rated

2

out of

5
by
coop067
from
Not so good
Didn't meet expectations, air seeps in through sides, so you need to seal all sides before using. Not worth buying, can get better ones on eBay.
Date published: 2016-12-24
Rated

5

out of

5
by
Workdog1
from
Unbelievable Value !!!
I always buy these bags, I do a lot of fishing and hunting, i cannot stress enough how valuable this product is to me. I also BBQ and smoke a lot of meat, I will cook more than we can eat at one time, and we will vacuum seal the rest. What we cannot believe is how fresh and flavorful the meat taste after being frozen for months, these bags REALLY DO lock in the flavor. We will not store food any other way.
Date published: 2018-09-05
Rated

4

out of

5
by
Kurb
from
Gaskets
It was surprising how 2 little rubber gaskets changed the operation of the unit. It works like a new one.
Date published: 2017-12-04
Rated

2

out of

5
by
Noni4times
from
Wrinkled:(
The middle to end of the rolls are wrinkled and waste more resealing. I haven't had this problem before.
Date published: 2018-09-03
Rated

5

out of

5
by
Fmitchell24
from
My go to roll
I use these for freezing garden vegetables, soup, portioning bulk meat. Just a great versatile bag
Date published: 2020-05-17
Rated

5

out of

5
by
CBruster
from
Great Investment
My first investment was the foodsaver vacuum sealer. I enrolled in auto-ship for these 11x16 Vacuum Seal Rolls and it is the best investment I have made. I stay supplied with bags. I'm one who unpacks everything once I get it from the grocery store, so these handy babies are always there for me. My foods stay preserved in the freezer without freezer burn like the regular store wrapped packages end up. When I take food out of my freezer to cook, no ice chips, no freezer burn, just as fresh as it was the day I purchased. These are super great.
Date published: 2020-06-23
Rated

5

out of

5
by
Jo D
from
Great Value
I've been using my Food Saver machine every week. The variety and value of the bags when they are on sale is phenominal. Helps preserve foods like nothing else. I cooked two lobsters, put them in the 11" X 16" roll while still hot then vacuumed, sealed and froze them. Put them in a pot of boiling water weeks later and they tasted like they were just cooked! Hot and very moist! Unbelievable!
Date published: 2016-12-30
Rated

5

out of

5
by
kenji
from
Works better than adveritsed
Purchased about a month ago and love it already. Seals food well and quickly.
Date published: 2017-02-06
Rated

5

out of

5
by
ModemMom
from
Bag of goodies
I have had a FoodSaver somewhere in my kitchen for as long as I can remember!! Probably around 25years! There is nothing better to store cheese in!! Fresh veggies right outta the garden and Into a seal-a-meal bag for the freezer they go! Nothing more impressive to company than when I serve fresh corn-on-the-cob when there's 6" of snow on the ground! The ONLY problem that I ever had wasn't really a problem with the product I guess. The burn ban(?) that the bag sets on to seal, just gave way and was useless after that. BUT...I JUST PLAIN WORE IT OUT! I highly recommend this product!! Just PLEASE MAKE SURE that it is the Original Food Saver brand because there are so many copycats/wannabes out! Same goes with the bags! HAPPY SEALING!!!!!!!
Date published: 2019-02-10
Rated

5

out of

5
by
colpig
from
Love my Foodsaver and couldn't live without it !! Bags work great.
Date published: 2017-11-20
bvseo_sdk, dw_cartridge, 18.2.0, p_sdk_3.2.0
CLOUD, getReviews, 0ms
reviews, product
---
<!--begin-bvseo-questions--> <!--begin-questions--> <div id="bvseo-questionsSection"> <div class="bvseo-question-answer" data-questionid="3869264"> <h2 class="bvseo-question"> If I buy 3 of these where does it show that I get 3 rolls free? </h2> <div class="bvseo-question-detail"> </div> <div class="bvseo-author">Asked by: LongPlay</div> <div class="bvseo-answer" data-answerid="5093678"> Excellent question! We recommend you put 6 pieces instead of 3 as once you go to the cart of your account you will be able to see that you only have to pay for the 3 bags and the other 3 is free of charge. We hope this helps and always stay safe! <div class="bvseo-author">Answered by: FoodSaver Brand</div> <div class="bvseo-pubdate">Date published: 2020-04-02</div> </div> </div> <div class="bvseo-question-answer" data-questionid="4170740"> <h2 class="bvseo-question"> How thick are they </h2> <div class="bvseo-question-detail"> </div> <div class="bvseo-author">Asked by: Nana Amos</div> <div class="bvseo-answer" data-answerid="5093239"> All FoodSaver bags are multi-layered films of polyethylene and nylon. Total thickness is 4 Mil A mil is equal to one-thousandth of an inch (0.0254 millimeters), so FoodSaver bags are 0.1016 inches thick. See the breakdown below.&#13;&#10;&#13;&#10;Smooth side: 3mils thick Textured side: 11.5mils thick <div class="bvseo-author">Answered by: FoodSaver Brand</div> <div class="bvseo-pubdate">Date published: 2020-04-07</div> </div> </div> <div class="bvseo-question-answer" data-questionid="4015469"> <h2 class="bvseo-question"> the last time I got bags most of the were wringle and what is brake for large orders </h2> <div class="bvseo-question-detail"> </div> <div class="bvseo-author">Asked by: to tall</div> <div class="bvseo-answer" data-answerid="5092576"> Oh no, this is not what we like to hear from our beloved customers. We would love nothing more than to correct this issue and restore your faith in FoodSaver as we have been manufacturing high-quality products. We want to learn more about your situation and what exactly happened. We encourage you to contact our customer care department at 1-877-777-8042. We are here for you Monday-Friday 9 am-6 pm EST, and looking forward to hearing from you. <div class="bvseo-author">Answered by: FoodSaver Brand</div> <div class="bvseo-pubdate">Date published: 2020-04-01</div> </div> </div> <div class="bvseo-question-answer" data-questionid="4134492"> <h2 class="bvseo-question"> do you have to order 3 boxes to get 3 roles or 1 box of 3 to get 1 box of 3 rolls </h2> <div class="bvseo-question-detail"> </div> <div class="bvseo-author">Asked by: Frank Coen</div> <div class="bvseo-answer" data-answerid="5092462"> Thank you for reaching out! Our Buy 3 Get 3 promotion is designed for the consumer to order 6 pieces and once you go to the cart you will then be able to see that you will only have to pay for the 3 bags or rolls that you ordered. We hope this helps and always stay safe! <div class="bvseo-author">Answered by: FoodSaver Brand</div> <div class="bvseo-pubdate">Date published: 2020-04-01</div> </div> </div> <div class="bvseo-question-answer" data-questionid="3962531"> <h2 class="bvseo-question"> How long are the rolls </h2> <div class="bvseo-question-detail"> </div> <div class="bvseo-author">Asked by: Carolyn v</div> <div class="bvseo-answer" data-answerid="5090354"> Thank you for that interesting question. Sorry for the delayed response. This particular bag is 16 feet long. <div class="bvseo-author">Answered by: FoodSaver Brand</div> <div class="bvseo-pubdate">Date published: 2020-03-31</div> </div> </div> <div class="bvseo-question-answer" data-questionid="4127342"> <h2 class="bvseo-question"> Are these the bags with the vacuum sealer hole in the top right corner? </h2> <div class="bvseo-question-detail"> </div> <div class="bvseo-author">Asked by: rballens</div> <div class="bvseo-answer" data-answerid="5089934"> We deeply apologize for the delayed response. The bags that have a hole in the top right corner is FoodSaver&amp;reg; Vacuum Zipper Bags. <div class="bvseo-author">Answered by: FoodSaver Brand</div> <div class="bvseo-pubdate">Date published: 2020-03-31</div> </div> </div> <div class="bvseo-question-answer" data-questionid="4061469"> <h2 class="bvseo-question"> It says add 6 to cart to get buy 3 get3 free and I get a total of over $87. What do I put in the cart to get the 3 plus 3 deal for the price listed for 3? </h2> <div class="bvseo-question-detail"> </div> <div class="bvseo-author">Asked by: pontoon16</div> <div class="bvseo-answer" data-answerid="5089603"> In order to get Buy 3 get 3, you just double your order. If you want to buy 3 and get 3 free, you will put a &amp;quot;6&amp;quot; in the quantity box. If you want to buy 6 and get 6 free, you will put 12.&#13;&#10;&#13;&#10;Think of it like being at the grocery store. Soup is on sale Buy 3 get 3. You must take 6 cans of soup to the check out but the cashier only charges you for three. Hope this helps! <div class="bvseo-author">Answered by: FoodSaver Brand</div> <div class="bvseo-pubdate">Date published: 2020-03-31</div> </div> </div> <div class="bvseo-question-answer" data-questionid="3874414"> <h2 class="bvseo-question"> What is the material thickness of your 8&amp;quot; and 11&amp;quot; vacuum seal rolls? </h2> <div class="bvseo-question-detail"> </div> <div class="bvseo-author">Asked by: BoPo</div> <div class="bvseo-answer" data-answerid="5088728"> All FoodSaver bags are multi-layered films of polyethylene and nylon. Total thickness is 4 Mil A mil is equal to one-thousandth of an inch (0.0254 millimeters), so FoodSaver bags are 0.1016 inches thick. See the breakdown below.&#13;&#10;&#13;&#10;Smooth side: 3mils thick Textured side: 11.5mils thick <div class="bvseo-author">Answered by: FoodSaver Brand</div> <div class="bvseo-pubdate">Date published: 2020-03-31</div> </div> </div> <div class="bvseo-question-answer" data-questionid="4157951"> <h2 class="bvseo-question"> Many of the bags are deeply creased as they are unrolled. &amp;nbsp;Have to cut a lot because crease will not seal. &amp;nbsp;I use the sealer constantly but the waste is annoying. </h2> <div class="bvseo-question-detail"> </div> <div class="bvseo-author">Asked by: AnneMC</div> <div class="bvseo-answer" data-answerid="5087927"> We are incredibly sorry to hear about this and even more sorry to disappoint you. We would love nothing more than to correct this issue and restore your faith in FoodSaver. We want to learn more about your situation and what exactly happened. This issue will not be disregarded, we encourage you to contact our customer care department at 1-877-777-8042. We are here for you Monday-Friday 9 am-6 pm EST, and looking forward to hearing from you. <div class="bvseo-author">Answered by: FoodSaver Brand</div> <div class="bvseo-pubdate">Date published: 2020-03-30</div> </div> </div> <div class="bvseo-question-answer" data-questionid="3731912"> <h2 class="bvseo-question"> When are the 3 roll boxes going on sale </h2> <div class="bvseo-question-detail"> </div> <div class="bvseo-author">Asked by: PGresham</div> <div class="bvseo-answer" data-answerid="5085334"> Thank you for reaching out! Our product developers are constantly coming up with new and innovative products to enhance your FoodSaving experience. Your feedback is very important to us. We will pass along your comments about the FoodSaver to the appropriate department. <div class="bvseo-author">Answered by: FoodSaver Brand</div> <div class="bvseo-pubdate">Date published: 2020-03-27</div> </div> </div> <div class="bvseo-question-answer" data-questionid="3859463"> <h2 class="bvseo-question"> Do you have to buy three boxes of three rolls to get the &amp;quot;buy three get three&amp;quot; deal or is the three referring to the three rolls in one box? </h2> <div class="bvseo-question-detail"> </div> <div class="bvseo-author">Asked by: FrankC51</div> <div class="bvseo-answer" data-answerid="5085268"> Thank you for showing interest in our product. Sorry for the delayed response. We may need to purchase the same product under buy 3, get 3 promos then place 6 quantity in the cart, click &#39;&#39;update cart&#39;&#39; then proceed to checkout and submit the order.&#13;&#10;The promo code will not work if we have multiple orders and it is a combination of different products.&#13;&#10;This must be the same size and the same product name. <div class="bvseo-author">Answered by: FoodSaver Brand</div> <div class="bvseo-pubdate">Date published: 2020-03-27</div> </div> </div> <div class="bvseo-question-answer" data-questionid="3833557"> <h2 class="bvseo-question"> Buy 1 &amp;nbsp;package do I have to buy three get three free?&amp;nbsp; </h2> <div class="bvseo-question-detail"> </div> <div class="bvseo-author">Asked by: David 212</div> <div class="bvseo-answer" data-answerid="5084898"> Amazing question! No, you will have to add 6 pieces of the FoodSaver&amp;reg; 11&amp;quot; x 16&#39; Vacuum Seal Roll, 3 Pack to your cart so that you can avail the Buy 3 Get 3 Promotion. <div class="bvseo-author">Answered by: FoodSaver Brand</div> <div class="bvseo-pubdate">Date published: 2020-03-27</div> </div> </div> <div class="bvseo-question-answer" data-questionid="3865963"> <h2 class="bvseo-question"> Do I have to buy 3 3packs to get 3 free? </h2> <div class="bvseo-question-detail"> </div> <div class="bvseo-author">Asked by: Ahimaster</div> <div class="bvseo-answer" data-answerid="5084031"> Thank you for bringing this to our attention. That is not typical for our FoodSaver and we&#39;d like to make this right for you. To better assist you with the issue, you are experiencing with your FoodSaver, give us a call at 877-777-8042. For your convenience, we are available 9 am-6 pm Mon- Fri, EST and 9 am-6 pm Saturday, EST. Our product specialist will be happy to assist you. We look forward to hearing from you! <div class="bvseo-author">Answered by: FoodSaver Brand</div> <div class="bvseo-pubdate">Date published: 2020-03-26</div> </div> </div> <div class="bvseo-question-answer" data-questionid="4197336"> <h2 class="bvseo-question"> Where are these rolls manufactured? </h2> <div class="bvseo-question-detail"> </div> <div class="bvseo-author">Asked by: Marburst</div> <div class="bvseo-answer" data-answerid="5083634"> Great question, the Foodsaver bags/ rolls are manufactured in China <div class="bvseo-author">Answered by: FoodSaver Brand</div> <div class="bvseo-pubdate">Date published: 2020-03-26</div> </div> </div> <div class="bvseo-question-answer" data-questionid="3706646"> <h2 class="bvseo-question"> If I by a box of three rolls do I get box of three rolls free or do I have to order three boxes to get thre free boxes. </h2> <div class="bvseo-question-detail"> </div> <div class="bvseo-author">Asked by: Rick Booher</div> <div class="bvseo-answer" data-answerid="5083520"> Thank you for showing an interest in our product.&#13;&#10;Sorry for the delayed response. We have to order 3 boxes to get free 3 boxes. We may need to purchase the same product under buy 3, get 3 promos then place 6 quantity in the cart, click &#39;&#39;update cart&#39;&#39; then proceed to checkout and submit the order.&#13;&#10;We hope this information helps. <div class="bvseo-author">Answered by: FoodSaver Brand</div> <div class="bvseo-pubdate">Date published: 2020-03-26</div> </div> </div> <div class="bvseo-question-answer" data-questionid="3705043"> <h2 class="bvseo-question"> Does that mean you get a total of six rolls&amp;nbsp; </h2> <div class="bvseo-question-detail"> </div> <div class="bvseo-author">Asked by: Buford T</div> <div class="bvseo-answer" data-answerid="5083247"> In order to get Buy 3 get 3, you just double your order. If you want to buy 3 and get 3 free, you will put a &amp;quot;6&amp;quot; in the quantity box. If you want to buy 6 and get 6 free, you will put 12.&#13;&#10;&#13;&#10;Think of it like being at the grocery store. Soup is on sale Buy 3 get 3. You must take 6 cans of soup to the check out but the cashier only charges you for three. Hope this helps! <div class="bvseo-author">Answered by: FoodSaver Brand</div> <div class="bvseo-pubdate">Date published: 2020-03-26</div> </div> </div> <div class="bvseo-question-answer" data-questionid="4212822"> <h2 class="bvseo-question"> i purchase 2 will i receive 4 boxes not very clear on the ordering </h2> <div class="bvseo-question-detail"> </div> <div class="bvseo-author">Asked by: kathleen p</div> <div class="bvseo-answer" data-answerid="5083089"> Thank you for asking! If you want to buy 1 and get 1 free, you should put 2 in the quantity box. If you want to buy 2 and get 2 free, you should put 4. &#13;&#10;&#13;&#10;To better assist you with further inquiries, please click on the live chat link here on our website. Agents are available Mondays to Saturdays from 9 am to 6 pm EST. <div class="bvseo-author">Answered by: FoodSaver Brand</div> <div class="bvseo-pubdate">Date published: 2020-03-26</div> </div> </div> <div class="bvseo-question-answer" data-questionid="3695259"> <h2 class="bvseo-question"> Are the buy 3 get 3 meaning 3 rolls or 3 boxes of three each? </h2> <div class="bvseo-question-detail"> </div> <div class="bvseo-author">Asked by: James I</div> <div class="bvseo-answer" data-answerid="5082966"> In order to get Buy 3 get 3, you just double your order. If you want to buy 3 and get 3 free, you will put a &amp;quot;6&amp;quot; in the quantity box. If you want to buy 6 and get 6 free, you will put 12.&#13;&#10;&#13;&#10;Think of it like being at the grocery store. Soup is on sale Buy 3 get 3. You must take 6 cans of soup to the check out but the cashier only charges you for three. Hope this helps! <div class="bvseo-author">Answered by: FoodSaver Brand</div> <div class="bvseo-pubdate">Date published: 2020-03-26</div> </div> </div> <div class="bvseo-question-answer" data-questionid="4182207"> <h2 class="bvseo-question"> Trying to purchase the rolls you have currently but 3 get 3 free. It is not showing the discounted price </h2> <div class="bvseo-question-detail"> </div> <div class="bvseo-author">Asked by: Nancy K</div> <div class="bvseo-answer" data-answerid="5082819"> In order to get Buy 3 get 3, you just double your order. If you want to buy 3 and get 3 free, you will put a &amp;quot;6&amp;quot; in the quantity box. If you want to buy 6 and get 6 free, you will put 12.&#13;&#10;&#13;&#10;Think of it like being at the grocery store. Soup is on sale Buy 3 get 3. You must take 6 cans of soup to the check out but the cashier only charges you for three. Hope this helps! <div class="bvseo-author">Answered by: FoodSaver Brand</div> <div class="bvseo-pubdate">Date published: 2020-03-26</div> </div> </div> <div class="bvseo-question-answer" data-questionid="4218197"> <h2 class="bvseo-question"> can I make a casserole and put in these bags to freeze ? </h2> <div class="bvseo-question-detail"> </div> <div class="bvseo-author">Asked by: dpapa</div> <div class="bvseo-answer" data-answerid="5080334"> No, We do not suggest for you to store your cooked meals on your FoodSaver&amp;reg; Vacuum Seal Roll as these were specially designed to store dry raw meat. &#13;&#10;&#13;&#10;We suggested that you store your casserole on one of our FoodSaver&amp;reg; Fresh Container, 10 cups with the link provided for your reference:&#13;&#10;&#13;&#10;https://www.foodsaver.com/food-storage-bags-and-containers/vacuum-food-containers/10-cup-food-storage-vacuum-containers/foodsaver-fresh-container-10-cup/FAC10-000.html&#13;&#10;&#13;&#10;To better assist you with further inquiries, please click on the live chat link here on our site. Agents are available Mon-Sat 9 am-6 pm EST. <div class="bvseo-author">Answered by: FoodSaver Brand</div> <div class="bvseo-pubdate">Date published: 2020-03-24</div> </div> </div> <div class="bvseo-question-answer" data-questionid="4295677"> <h2 class="bvseo-question"> I would like to know when these will be available. I only use this size. </h2> <div class="bvseo-question-detail"> </div> <div class="bvseo-author">Asked by: FlyTyer</div> <div class="bvseo-answer" data-answerid="5075297"> We deeply apologize for the delay. We appreciate your patience as we diligently work on replenishing our stock. We do not have a firm date as to when this item will be available. Keep an eye on our site for availability. <div class="bvseo-author">Answered by: FoodSaver Brand</div> <div class="bvseo-pubdate">Date published: 2020-03-19</div> </div> </div> <div class="bvseo-question-answer" data-questionid="4280364"> <h2 class="bvseo-question"> what is the mil. thickness of these bags </h2> <div class="bvseo-question-detail"> </div> <div class="bvseo-author">Asked by: Chrisnjnc</div> <div class="bvseo-answer" data-answerid="5057810"> All FoodSaver bags are multi-layered films of polyethylene and nylon. Total thickness is 4 Mil A mil is equal to one-thousandth of an inch (0.0254 millimeters), so FoodSaver bags are 0.1016 inches thick. See the breakdown below.&#13;&#10;&#13;&#10;Smooth side: 3mils thick Textured side: 11.5mils thick <div class="bvseo-author">Answered by: FoodSaver Brand</div> <div class="bvseo-pubdate">Date published: 2020-03-03</div> </div> </div> <div class="bvseo-question-answer" data-questionid="4049017"> <h2 class="bvseo-question"> Your promotion says to add 6 to cart to get the buy 3 get 3 free. Is that 6 boxes for 6 rolls ? </h2> <div class="bvseo-question-detail"> </div> <div class="bvseo-author">Asked by: Pard</div> <div class="bvseo-answer" data-answerid="5038363"> Yes, that is correct! The FoodSaver&amp;reg; 11&amp;quot; x 16&#39; Vacuum Seal Roll, has 3 rolls per box. We hope this helps and if there&#39;s anything we can do to assist you or for updates, please send us a direct message via live chat here on the website or give us a call at 877-777-8042. For your convenience, we are available 9 am-6 pm Mon- Fri, EST and 9 am-6 pm Saturday, EST. <div class="bvseo-author">Answered by: FoodSaver Brand</div> <div class="bvseo-pubdate">Date published: 2020-03-25</div> </div> </div> <div class="bvseo-question-answer" data-questionid="4039992"> <h2 class="bvseo-question"> Will this work on V2490 system? </h2> <div class="bvseo-question-detail"> </div> <div class="bvseo-author">Asked by: Malia Dahl</div> <div class="bvseo-answer" data-answerid="5036776"> Yes, you can! By using our FoodSaver&amp;reg; 11&amp;quot; x 16&#39; Vacuum Seal Roll, 3 Pack on your FoodSaver V2490 Vacuum Sealing System you can get your desired food preserved. We hope this helps and if there&#39;s anything we can do to assist you or for updates, please don&#39;t hesitate to contact us at 1-877-777-8042. We&#39;re here for you Monday-Friday, 9 am-6 pm EST. <div class="bvseo-author">Answered by: FoodSaver Brand</div> <div class="bvseo-pubdate">Date published: 2020-02-20</div> </div> </div> <div class="bvseo-question-answer" data-questionid="3397373"> <h2 class="bvseo-question"> Do I have 4 Boxes for $ 39.99 ? </h2> <div class="bvseo-question-detail"> </div> <div class="bvseo-author">Asked by: Gianni</div> <div class="bvseo-answer" data-answerid="3607970"> For current pricing and availability, please click on the live chat link here on our site. Agents are available M-Sat 9a-6p EST. You may also give us a call at 877-777-8042. For your convenience, we are available 8a-8p Mon- Fri, EST and 9a-6p Saturday, EST. We look forward to hearing from you! <div class="bvseo-author">Answered by: FoodSaver Support</div> <div class="bvseo-pubdate">Date published: 2020-01-20</div> </div> </div> <div class="bvseo-question-answer" data-questionid="3396083"> <h2 class="bvseo-question"> How many rolls would I be getting at this price </h2> <div class="bvseo-question-detail"> </div> <div class="bvseo-author">Asked by: Annesal</div> <div class="bvseo-answer" data-answerid="3607904"> In order to better assist you with current pricing and availability, please click on the live chat link here on our site. Agents are available M-Sat 9a-6p EST. You may also give us a call at 877-777-8042. For your convenience, we are available 8a-8p Mon- Fri, EST and 9a-6p Saturday, EST. We look forward to hearing from you! <div class="bvseo-author">Answered by: FoodSaver Support</div> <div class="bvseo-pubdate">Date published: 2019-12-03</div> </div> </div> <div class="bvseo-question-answer" data-questionid="3367091"> <h2 class="bvseo-question"> When you purchase the three roll pack (11 in. X 16ft.) rolls at the buy one get one free price shouldn&amp;rsquo;t you get 6 rolls? </h2> <div class="bvseo-question-detail"> </div> <div class="bvseo-author">Asked by: Fisherman 7</div> <div class="bvseo-answer" data-answerid="3567305"> Yes, you should. In order to get Buy 1 get 1, you just double your order. If you want to buy 1 and get 1 free, you will put a &amp;quot;2&amp;quot; in the quantity box. If you want to buy 6 and get 6 free, you will put 12.&#13;&#10;&#13;&#10;Think of it like being at the grocery store. Soup is on sale Buy 1 get 1. You must take 2 cans of soup to the check out but the cashier only charges you for one. <div class="bvseo-author">Answered by: FoodSaver Support</div> <div class="bvseo-pubdate">Date published: 2019-08-19</div> </div> </div> <div class="bvseo-question-answer" data-questionid="3355279"> <h2 class="bvseo-question"> Can the Marinator, Vacuum storage containers, etc be used with the FM2100? </h2> <div class="bvseo-question-detail"> </div> <div class="bvseo-author">Asked by: Debbie45248</div> <div class="bvseo-answer" data-answerid="3562455"> They sure can! The FM2100 is compatible with all of our current containers and accessories. <div class="bvseo-author">Answered by: FoodSaver Support</div> <div class="bvseo-pubdate">Date published: 2019-05-15</div> </div> </div> <div class="bvseo-question-answer" data-questionid="3345238"> <h2 class="bvseo-question"> what is the length of a roll </h2> <div class="bvseo-question-detail"> </div> <div class="bvseo-author">Asked by: DTAD</div> <div class="bvseo-answer" data-answerid="3551314"> Great question! These rolls are each 16 feet long. <div class="bvseo-author">Answered by: FoodSaver Support</div> <div class="bvseo-pubdate">Date published: 2019-05-15</div> </div> </div> <div class="bvseo-question-answer" data-questionid="3331467"> <h2 class="bvseo-question"> do i get a second 11 inch roll free. it is not indicated in the bill amount. </h2> <div class="bvseo-question-detail"> </div> <div class="bvseo-author">Asked by: sparkle 77</div> <div class="bvseo-answer" data-answerid="3546490"> In order to get Buy 1 get 1, you just double your order. If you want to buy 1 and get 1 free, you will put a &amp;quot;2&amp;quot; in the quantity box. If you want to buy 6 and get 6 free, you will put 12.&#13;&#10;&#13;&#10;Think of it like being at the grocery store. Soup is on sale Buy 1 get 1. You must take 2 cans of soup to the check out but the cashier only charges you for one. Hope this helps! <div class="bvseo-author">Answered by: FoodSaver Support</div> <div class="bvseo-pubdate">Date published: 2019-05-15</div> </div> </div> </div> <script type="text/javascript"> if (document.getElementById('bvseo-questionsSection')) { document.getElementById('bvseo-questionsSection').style.display = 'none'; } </script> <!--end-questions--> <!--begin-pagination--> <ul id="bvseo-paginationSection"> <li class="bvseo-paginationItem"><a class="bvseo-paginationLink" href="https://www.foodsaver.com/bags-containers/standard-bags-rolls/foodsaver-11-x-16-vacuum-seal-roll-3-pack/SAP_FSFSBF0634NP.html?&bvrrp=Main_Site-en_US/questions/product/4/SP_447015.htm">FoodSaver&reg; 11&quot; x 16' Vacuum Seal Roll, 3 Pack Questions - page 4</a></li> </ul> <!--end-pagination--> <ul id="BVSEO_meta" style="display:none!important"> <li data-bvseo="bvDateModified">y_2022, m_5, d_16, h_21CST</li> <li data-bvseo="ps">bvseo_bulk, prod_bvqa, vn_bulk_3.0.27</li> <li data-bvseo="cp">cp_3, bvpage2n</li> <li data-bvseo="co">co_hasquestionsanswers, tq_202</li> <li data-bvseo="cf">loc_en_US, sid_SP_447015, prod, sort_[SortEntry(order=LAST_APPROVED_ANSWER_SUBMISSION_TIME, direction=DESCENDING)]</li> <li data-bvseo="diagnostics">clientName_foodsaver</li> </ul> <!--end-bvseo-questions--> <ul id="BVSEOSDK_meta" style="display: none !important;"> <li data-bvseo="sdk">bvseo_sdk, dw_cartridge, 18.2.0, p_sdk_3.2.0</li> <li data-bvseo="sp_mt">CLOUD, getContent, 0ms</li> <li data-bvseo="ct_st">questions, product</li> </ul>
product-detail-view
oos-pdp