FoodSaver® 8" x 20' Vacuum-Seal Roll, 2 Pack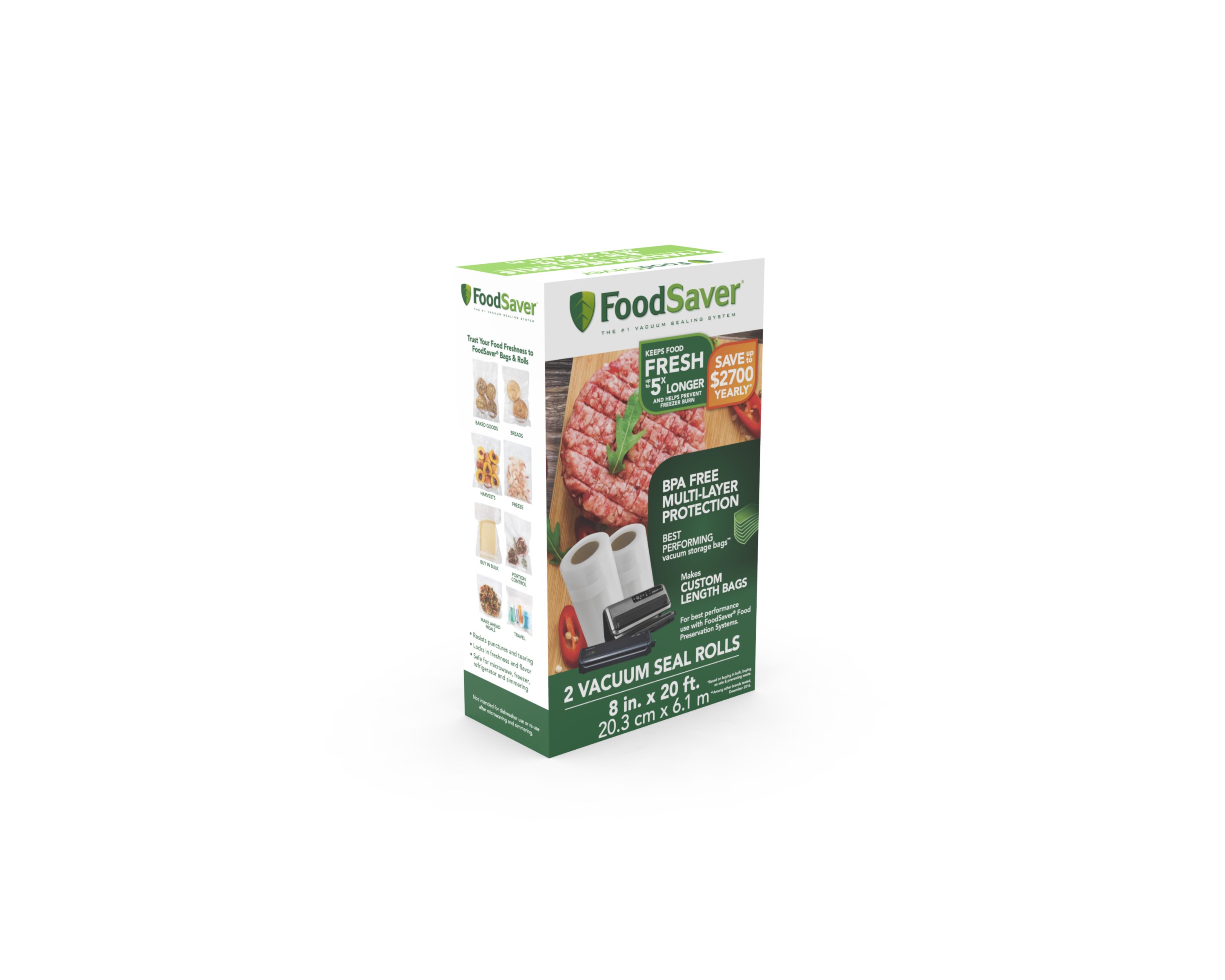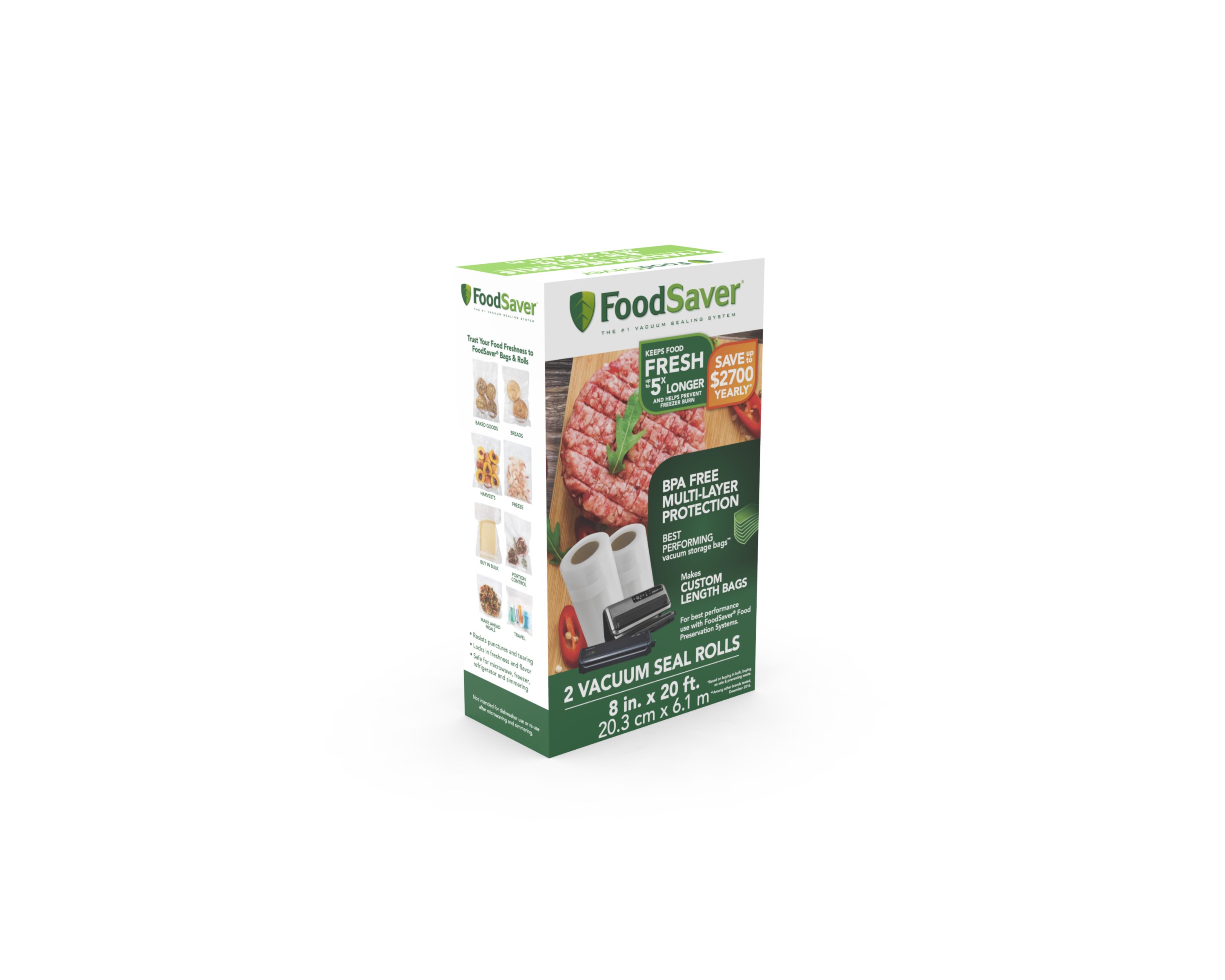 FoodSaver® 8" x 20' Vacuum-Seal Roll, 2 Pack
Become a FreshBucks Rewards member to earn points and save on FoodSaver purchases, Join Now
Already a member? Log in now
Final Sale: may not be returned or exchanged
Become a FreshBucks Rewards member to earn points and save on FoodSaver purchases, Join Now
Already a member? Log in now
Final Sale: may not be returned or exchanged
Want us to let you know when the item you wanted is back in stock?
---

Free Standard Shipping on Orders $50+

Free Express Shipping on Orders $100+ Details
---
Product Details
Description
FoodSaver® 8" Vacuum-Seal Rolls let you create custom-sized bags to package and protect food and non-food items using your FoodSaver® Vacuum Sealing System. Made from the exact same material as our bags, FoodSaver® Rolls give you great flexibility. Simply cut a piece to your desired length, seal one end, fill and then vacuum seal. Channels allow complete air removal and multi-layer construction blocks moisture and oxygen and makes the bags strong enough to simmer and microwave. BPA-free.
Features
2- 8" x 20' Vacuum Seal roll
Multi-ply material prevents freezer burn
Specially designed channels block oxygen and moisture to maximize air removal
BPA-free
Included Parts
2- 8" x 20' Vacuum Seal rolls
Rated

5

out of

5
by
pianoplayer
from
The right size for the right sized stuff!
The smaller bags work well for anything that isn't that big - right huh! The rolls I can determine how long for whatever is needed. Love these bags and I buy in bulk to always have on hand.
Date published: 2014-01-13
Rated

5

out of

5
by
nonniealice
from
Great product
I needed to package a large supply of meat for the freezer. These bags were the perfect answer. I was able to use the portion i needed to bag.
Date published: 2017-02-20
Rated

5

out of

5
by
Country Saver
from
Satisfaction
I have been using the Food saver for years now. I'm a young lady of 73 years. Since they is only my husband and myself now, I find I save SO much money by buying quantity and using my FS to package just enough for one meal at a time. The 8"x20: rolls great for sizing just what's needed the package and freeze. Also with the rolls, you can cut the package larger than needed and reseal. Love my FS.
Date published: 2019-07-15
Rated

5

out of

5
by
BobT706
from
Vacuum-Seal Roll
I purchased this Foodsave roll because it is the best on the market.
Date published: 2017-05-24
Rated

5

out of

5
by
flaknz
from
Top Quality
I prefer to use the rolls in my Foodsaver , that way I can cut the bags to the actual size needed for the job at hand. I don't know if it is just me, but the bags bought direct from Foodsaver seem to be better quality than those I have bought from Walmart, the same brand. I have noticed with the 11" rolls in particular, the store bought bags have many wrinkles throughout the rolls.
Date published: 2016-10-11
Rated

5

out of

5
by
TinaW
from
Perfect Portions
The 8" x 20' roll is the perfect size for repackaging "family pack" foods in usable portions. I often buy "family packs" of chicken breasts, pork chops, etc. and vacuum seal them individually before freezing them. Because they are not exposed to any air pockets, I know they will be free from freezer burn even if they're left in the freezer longer than recommended.
Date published: 2021-02-24
Rated

5

out of

5
by
Fastbird
from
Great for the home butcher.
I butcher lots of wild game and domestic raised animals and the original foodsaver bags are the only bags that stay sealed every time for me. I've eaten meat that has spent several years in the freezer and it is still very high quality with no freezer burn or off flavors. Bags are heavier that generic bags and therefore protect better. The ONLY bags I will use.
Date published: 2017-02-15
Rated

5

out of

5
by
AL Thurl
from
Flavor Savor
We had our FoodSaver for a number of years now. We use to use after market sealer bags and found them not to be nearly as good as the FoodSaver ones. They leaked after awhile and the food in them became freezer burned.. The FoodSaver bags did not do that at all. The food stayed frozen and also maintained the flavor of the food while frozen. We found that the food in the FoodSaver bags were not freezer burned at all. I have learned that their product is the best to buy if you want to maintain freshness and not freezer burned.
Date published: 2016-12-27
Rated

5

out of

5
by
Les41
from
Love our Food Saver
We use our food saver for everything. We live on the Gulf Coast where it is very humid. The food saver keeps crackers, chips and nuts from getting soggy. We put the nuts in Mason jars and use the adapter. Keeps them fresh. We buy meat and put it in the seal it. Never have ice crystals. Left overs don't go bad right away. We keep finding more uses.
Date published: 2017-05-31
Rated

5

out of

5
by
cmt112
from
food stays fresh
I've been sending homemade goodies to our troops in Iraq & Afghanistan for 10 years and have used your product to keep these items fresh for their journey overseas. I always receive positive feedback from the men and women who serve that everything is fresh even though it could take 2-3 weeks to get to them. I've even sent individual slices of apple pie!
Date published: 2014-12-24
Rated

5

out of

5
by
DireWolf
from
Versatile
These 8x20 rolls are my favorite. I have sealed food that lasts for 9 months, still fresh, no freezer burn. Occasionally a seal wont hold but that is rare, i would say 99 out of 100 times they stay sealed. I also use to seal non food items, anything you dont want air to get into and keeps things waterproof.
Date published: 2020-03-09
Rated

2

out of

5
by
Inspector157
from
Wrinkle Problem
Almost the normal stuff, but 1 thing made it less than average. One roll had a lengthwise wrinkle that took up and wasted about 5 or 6 feet because it would not seal right. got past that and all was good then. First time this has ever happen in the about ten years of using the product
Date published: 2017-04-28
Rated

5

out of

5
by
LaVerne
from
So Happy
I was so happy being able to find the 8" x 20' size online since there is just the 2 of us, I prefer the smaller size. The only always has the larger size included and I have enough of the larger size to last 2 lifetimes. Thank you for having the smaller size!
Date published: 2017-12-11
Rated

5

out of

5
by
Jo2007
from
Ability to size for multiple foods
I have been a fan of food saver products for 20+ years. I bought my unit over 20 years ago. It is the Food Saver COMPACT II and is still going strong. Love using the rolls as they are multipurpose and can be customized to fit. This eliminates waste when you are sealing foods in between the standard sizes. Even though my family has shrunk in size, I still find the products very useful for storing and freezing smaller portions. This allows me to still buy lower priced family size items and save money.
Date published: 2019-10-27
Rated

5

out of

5
by
Anonymous
from
Easy portions.
Perfect size roll for making individual portions. I spice and freeze, then when ready to make a meal, pull from freezer and straight into the sous vide to defrost and cook. Easy and convenient for singles or a retired couple.
Date published: 2021-05-17
Rated

5

out of

5
by
Cmk36
from
Quality product
We love our Food Saver! We also like using the vacuum saver rolls instead of bags as we never know the size we are going to need. We always get a perfect seal with the rolls. Highly recommend the Food Daver and their rolls.
Date published: 2018-01-11
Rated

5

out of

5
by
Charliecat
from
Make your own size
I love the rolls because I can make whatever size bag I need. Small bags for a single chicken breast, large bags for an entire casserole. Simple to do, easy to use and I'm not wasting a larger bag than I need.
Date published: 2016-03-10
Rated

5

out of

5
by
Thinkgreen
from
Great way to keep food fresh longer!
Foodsaver bags are amazing. We've had our Foodsaver unit for about 4 years now and don't know how we survived before owning it. When I saw Foodsaver had a sale on the 8" bag rolls I decided to stock up. I like this size the most because it seems to work on just about anything I need to freeze. I recently bought a sous vide machine and was pleased to discover that Foodsaver bags do not contain any harmful chemicals that will leech into the food while it's being cooked in a hot water bath!
Date published: 2017-12-28
Rated

4

out of

5
by
Skip001
from
Bags Galore
I bought a three pack, so I was to get 6 rolls. There was a buy 1 get one free, so I did that and got 12 8" X 20' rolls for the sale price plus the BoGo. Yup I am a Happy Sealer !
Date published: 2018-04-26
Rated

5

out of

5
by
smitty39
from
FoodSaver Bags
I have used the FoodSaver rolls for quite a few years and I think that they do work the best. I have tried other brands, but they don't seem to work the same as these.
Date published: 2017-05-24
Rated

5

out of

5
by
Elainecarol
from
Food saver rolls
I like this narrow width roll as it works really well for single items to vacuum seal. I buy meat in bulk and use this size for pork chops and petite sirloin steaks.
Date published: 2017-11-03
Rated

5

out of

5
by
rbloom888
from
Good deal
I found that the 2 packs were a better deal than the larger packs, so I bought 3 boxes. Now I need to order some 11" rolls, and will do the research. Thanks
Date published: 2014-05-07
Rated

5

out of

5
by
rr444
from
excellent product
I've been a food saver customer for many years. With so many products/bag sizes, food is never wasted or thrown out due to freezer burns.
Date published: 2017-09-20
Rated

1

out of

5
by
Anonymous
from
Great product, but they flood you with emails. Even after you unsubscribe to them. I'll not buy from them online ever again.
Date published: 2016-12-13
Rated

5

out of

5
by
DMLP
from
Great Product
I purchased the bags a month or two ago and I love the products. They do keep foods longer and is saving my family money.
Date published: 2017-06-21
Rated

5

out of

5
by
Microprof
from
Great Item!
I have been using FoodSaver rolls for over 20 years - use them just about every day. Great way to protect your food!
Date published: 2018-01-03
Rated

5

out of

5
by
Phil and Carol
from
Fantastic value
We've been buying them locally. We'll never buy them locally again. The BOGO here is the best deal.
Date published: 2017-04-03
Rated

5

out of

5
by
Techtrainer101
from
Best bags and rolls!
I have tried all makes of bags and rolls. Food saver seems to be the best material for the buck!
Date published: 2017-12-05
Rated

5

out of

5
by
spn104
from
great product
I actually bought this for a birthday gift but I use these myself and they are great
Date published: 2018-02-10
Rated

5

out of

5
by
sleepyhomemaker
from
Great quality
Great quality bags really do work to preserve food longer and prevent freezer burn.
Date published: 2020-05-06
bvseo_sdk, dw_cartridge, 18.2.0, p_sdk_3.2.0
CLOUD, getReviews, 0ms
reviews, product
---
<!--begin-bvseo-questions--> <!--begin-questions--> <div id="bvseo-questionsSection"> <div class="bvseo-question-answer" data-questionid="3196975"> <h2 class="bvseo-question"> it doesnt show that i buy one get one free??? </h2> <div class="bvseo-question-detail"> </div> <div class="bvseo-author">Asked by: hook fish</div> <div class="bvseo-answer" data-answerid="3451047"> In order to get Bogo, you just double your order. If you want to buy 1 and get 1 free, you will put a &amp;quot;2&amp;quot; in the quantity box. If you want to buy 2 and get 2 free, you will put 4.&#13;&#10;&#13;&#10;Think of it like being at the grocery store. Soup is on sale BOGO. You must take 2 cans of soup to the check out but the cashier only charges you for one.&#13;&#10;&#13;&#10;Hope this helps! <div class="bvseo-author">Answered by: FoodSaver Support</div> <div class="bvseo-pubdate">Date published: 2020-10-07</div> </div> </div> <div class="bvseo-question-answer" data-questionid="3196474"> <h2 class="bvseo-question"> How do I get the buy o,e get one </h2> <div class="bvseo-question-detail"> </div> <div class="bvseo-author">Asked by: Steve ht</div> <div class="bvseo-answer" data-answerid="3449961"> Thanks for asking! In order to get Bogo, you just double your order. If you want to buy 1 and get 1 free, you will put a &amp;quot;2&amp;quot; in the quantity box. If you want to buy 2 and get 2 free, you will put 4.&#13;&#10;&#13;&#10;Think of it like being at the grocery store. Soup is on sale BOGO. You must take 2 cans of soup to the check out but the cashier only charges you for one. <div class="bvseo-author">Answered by: FoodSaver Support</div> <div class="bvseo-pubdate">Date published: 2018-08-29</div> </div> </div> <div class="bvseo-question-answer" data-questionid="3157245"> <h2 class="bvseo-question"> how do i get one free </h2> <div class="bvseo-question-detail"> </div> <div class="bvseo-author">Asked by: ray246</div> <div class="bvseo-answer" data-answerid="3416958"> To get on free, it is just like your at the grocery store. Put both in your cart and the price will adjust. For assistance with placing an order, do not hesitate to give us a call at (877) 777-8042. Specialists are available Monday-Friday 8am-8pm EST, Saturday 9am-6pm EST. We will be happy to assist you! <div class="bvseo-author">Answered by: FoodSaver Support</div> <div class="bvseo-pubdate">Date published: 2018-07-30</div> </div> </div> <div class="bvseo-question-answer" data-questionid="3142231"> <h2 class="bvseo-question"> How and where do I go to activate 2X for the 2 for one sale ? </h2> <div class="bvseo-question-detail"> </div> <div class="bvseo-author">Asked by: bucketmouth</div> <div class="bvseo-answer" data-answerid="3405232"> The 2X is not a code. It is an instruction that indicates that you need to manually add the free material to your cart. The website will not automatically add the free item to the cart, as this promotion is a mix and match offer. For example, if you want to buy an 11&amp;quot; X 16&#39; roll you need to change the quantity to 2 and then one of the prices will automatically change in the cart to reflect the promotion. &#13;&#10;&#13;&#10;If you require assistance with placing your order or have further questions regarding this promotion, please call our toll-free number 1-877-777-8042. For your convenience we are available 8:00 am to 8:00 pm Monday - Friday, EST and 9:00 am to 6:00 pm on Saturday. Our Customer Service Representatives are completely knowledgeable about our products and can assist you. <div class="bvseo-author">Answered by: FoodSaver Support</div> <div class="bvseo-pubdate">Date published: 2018-07-18</div> </div> </div> <div class="bvseo-question-answer" data-questionid="3094693"> <h2 class="bvseo-question"> I order these every 2 years, which is perfect use for my husband and I. In 2016 I ordered a case which contained 8 boxes of the 2 roll pack. Is there an item number for that case pack? </h2> <div class="bvseo-question-detail"> </div> <div class="bvseo-author">Asked by: Coloradokat</div> <div class="bvseo-answer" data-answerid="3366249"> We currently offer the 8&amp;quot; rolls in in single, double, triple, and 6 pack. You can view these at the links below: &#13;&#10;&#13;&#10;https://www.foodsaver.com/food-storage-bags-and-containers/vacuum-seal-bags-and-rolls/8-inch/?src&#61;17ZS&#13;&#10;&#13;&#10;https://www.foodsaver.com/food-storage-bags-and-containers/wild-game-vacuum-seal-bags-and-rolls/8-vacuum-sealer-rolls/?src&#61;17ZS <div class="bvseo-author">Answered by: FoodSaver Support</div> <div class="bvseo-pubdate">Date published: 2018-06-11</div> </div> </div> <div class="bvseo-question-answer" data-questionid="3059253"> <h2 class="bvseo-question"> How do I join I would like to order some of your sale items </h2> <div class="bvseo-question-detail"> </div> <div class="bvseo-author">Asked by: do not have a nickname</div> <div class="bvseo-answer" data-answerid="3329374"> To sign up for FreshBucks Rewards on our site and start earning points today to use toward free products and more! &#13;&#10;&#13;&#10;https://www.foodsaver.com/blog/archive/2015/march/your-guide-to-the-freshbucks&amp;trade;-program.html?src&#61;17ZS <div class="bvseo-author">Answered by: FoodSaver Support</div> <div class="bvseo-pubdate">Date published: 2018-05-24</div> </div> </div> <div class="bvseo-question-answer" data-questionid="3032947"> <h2 class="bvseo-question"> How I I remove from cart. I want the 3 roll instead of 2 </h2> <div class="bvseo-question-detail"> </div> <div class="bvseo-author">Asked by: sue beth</div> <div class="bvseo-answer" data-answerid="3307361"> You will &amp;quot;view cart&amp;quot; and then click &amp;quot;remove&amp;quot; on the right side of the product picture. For further assistance with your order, be sure to give us a call at (877) 777-8042. FoodSaver specialists are available Monday-Friday 8am-8pm EST, Saturday 9am-6pm EST. We will be happy to assist you! <div class="bvseo-author">Answered by: FoodSaver Support</div> <div class="bvseo-pubdate">Date published: 2018-04-30</div> </div> </div> <div class="bvseo-question-answer" data-questionid="2897035"> <h2 class="bvseo-question"> What do I put in number wanted to get the sale, buy 3 get 3 free </h2> <div class="bvseo-question-detail"> </div> <div class="bvseo-author">Asked by: JKLR</div> <div class="bvseo-answer" data-answerid="3145838"> In order to take advantage of the Buy 3 Get 3 promotion, you will put a total of 6 of the sale items in your cart. You will only be charged for 3 of them, however. Think of it like buying being at the grocery store. You will need to take 6 boxes to the register but the cashier will only charge you for 3 of them. Hope this helps! <div class="bvseo-author">Answered by: FoodSaver Support</div> <div class="bvseo-pubdate">Date published: 2018-04-07</div> </div> </div> <div class="bvseo-question-answer" data-questionid="2886575"> <h2 class="bvseo-question"> how do I add 6X? </h2> <div class="bvseo-question-detail"> </div> <div class="bvseo-author">Asked by: joan123</div> <div class="bvseo-answer" data-answerid="3135841"> You will change the 1 to a 6 in the box that says Qty. For further assistance with your order, please give us a call at (877) 777-8042. Specialists are available Monday-Friday 8am-8pm EST, Saturday 9am-6pm EST. We would be happy to help you place your order! <div class="bvseo-author">Answered by: FoodSaver Support</div> <div class="bvseo-pubdate">Date published: 2018-03-28</div> </div> </div> <div class="bvseo-question-answer" data-questionid="2880780"> <h2 class="bvseo-question"> I CAN&#96;t FIND THE ROLLS THAT ARE SERRATED DOWN THE CENTER OF THE 8 inch rolls. </h2> <div class="bvseo-question-detail"> </div> <div class="bvseo-author">Asked by: skookie</div> <div class="bvseo-answer" data-answerid="3134364"> We would be happy to help! The portion pouch rolls are 11 inches. To check them out, follow the link below:&#13;&#10;&#13;&#10;http://www.foodsaver.com/food-storage-bags-and-containers/specialty-vacuum-seal-bags-and-rolls/lunch-portion-pouch-vacuum-sealer-bags/?src&#61;17ZS <div class="bvseo-author">Answered by: FoodSaver Support</div> <div class="bvseo-pubdate">Date published: 2018-03-27</div> </div> </div> <div class="bvseo-question-answer" data-questionid="2867406"> <h2 class="bvseo-question"> Are these bags ok for soups and stews once pre frozen overnite? Also how many cup can be placed in the quart size. Thank you LOVE YOUR PRODUCTS!! </h2> <div class="bvseo-question-detail"> </div> <div class="bvseo-author">Asked by: Bunny734</div> <div class="bvseo-answer" data-answerid="3128573"> The FoodSaver&amp;reg; 8&amp;quot; x 20&#39; Vacuum-Seal Rolls are perfect for soups and stews! You should be able to fit approximately 3.5-4 cups in a quart size bag. Hope this helps! <div class="bvseo-author">Answered by: FoodSaver Support</div> <div class="bvseo-pubdate">Date published: 2018-03-23</div> </div> </div> <div class="bvseo-question-answer" data-questionid="2838309"> <h2 class="bvseo-question"> Thickness of bags or rolls? </h2> <div class="bvseo-question-detail"> </div> <div class="bvseo-author">Asked by: Bonnie J</div> <div class="bvseo-answer" data-answerid="3094032"> Our FoodSaver bags and rolls have a total thickness of 4Mil. <div class="bvseo-author">Answered by: FoodSaver Support</div> <div class="bvseo-pubdate">Date published: 2018-03-23</div> </div> </div> <div class="bvseo-question-answer" data-questionid="2817445"> <h2 class="bvseo-question"> I purchase the Food Saver model 5480 and need to know if this&#13;&#10;the right vacuum seal roll for this model? </h2> <div class="bvseo-question-detail"> </div> <div class="bvseo-author">Asked by: Hana</div> <div class="bvseo-answer" data-answerid="3075964"> Yes! your FoodSaver is compatible with all of our bagging material, excluding our 15&amp;quot; long rolls. <div class="bvseo-author">Answered by: FoodSaver Support</div> <div class="bvseo-pubdate">Date published: 2018-02-12</div> </div> </div> <div class="bvseo-question-answer" data-questionid="2700756"> <h2 class="bvseo-question"> I was thinking about cooking with these using an immersion cooker...how hot can you safely get these bags before they will affect the flavor of the contents? </h2> <div class="bvseo-question-detail"> </div> <div class="bvseo-author">Asked by: Danno</div> <div class="bvseo-answer" data-answerid="2910454"> Yes! FoodSaver Vacuum Sealer bags and rolls are recommended for normal sous vide cooking method with a temperature range of up to 185 F degrees, when sealed with FoodSaver brand Vacuum Sealing Appliance. <div class="bvseo-author">Answered by: FoodSaver Support</div> <div class="bvseo-pubdate">Date published: 2017-12-11</div> </div> </div> <div class="bvseo-question-answer" data-questionid="2612218"> <h2 class="bvseo-question"> I would like to know the difference between this item and the item no. of FSFSBF0541-DTC? </h2> <div class="bvseo-question-detail"> </div> <div class="bvseo-author">Asked by: Sherie</div> <div class="bvseo-answer" data-answerid="2873133"> The only difference is the quantity that comes in each pack. One is a single roll and the other is a two pack. Happy sealing! <div class="bvseo-author">Answered by: FoodSaver Support</div> <div class="bvseo-pubdate">Date published: 2017-11-28</div> </div> </div> <div class="bvseo-question-answer" data-questionid="2416827"> <h2 class="bvseo-question"> How do I use it </h2> <div class="bvseo-question-detail"> </div> <div class="bvseo-author">Asked by: Chokk</div> <div class="bvseo-answer" data-answerid="2699661"> To use the 8 inch rolls would depend on what model FoodSaver vacuum sealer you have. For assistance with bags/ rolls, please contact us via live chat on our site. Our specialist are available Monday-Saturday 9am-6pm EST, and will be happy to assist you! <div class="bvseo-author">Answered by: FoodSaver Support</div> <div class="bvseo-pubdate">Date published: 2017-10-18</div> </div> </div> <div class="bvseo-question-answer" data-questionid="2414988"> <h2 class="bvseo-question"> How many mils are your rolls made of </h2> <div class="bvseo-question-detail"> </div> <div class="bvseo-author">Asked by: Sunshine55555</div> <div class="bvseo-answer" data-answerid="2697614"> Great question! All FoodSaver&amp;reg; brand heat-seal bags and rolls are constructed of multi-layer plastic for a durable, air-tight seal. FoodSaver&amp;reg; brand bags are constructed in the following thicknesses:&#13;&#10;&#13;&#10;FoodSaver Bags &amp;ndash; Heat-Seal (all)&#13;&#10;Smooth side: 3mils thick&#13;&#10;Textured side: 11.5mils thick <div class="bvseo-author">Answered by: FoodSaver Support</div> <div class="bvseo-pubdate">Date published: 2018-03-23</div> </div> </div> <div class="bvseo-question-answer" data-questionid="2408865"> <h2 class="bvseo-question"> if I get 3 of these do I get 3 free? </h2> <div class="bvseo-question-detail"> </div> <div class="bvseo-author">Asked by: Johnnie69</div> <div class="bvseo-answer" data-answerid="2695071"> In order to take advantage of the buy 3 get 3 free, you would click on the shop now option. To get the 3 free your would add 6 total to your cart, and the price will adjust . Happy shopping! <div class="bvseo-author">Answered by: FoodSaver Support</div> <div class="bvseo-pubdate">Date published: 2017-10-12</div> </div> </div> <div class="bvseo-question-answer" data-questionid="2406787"> <h2 class="bvseo-question"> What is the code for buy 3 get 3 ? </h2> <div class="bvseo-question-detail"> </div> <div class="bvseo-author">Asked by: Janabarnett</div> <div class="bvseo-answer" data-answerid="2692659"> The 6X is not a code. It is an instruction that indicates that you need to manually add the free material to your cart. The website will not automatically add the free item to the cart, as this promotion is a mix and match offer. For example, if you want to buy an 11&amp;quot; X 16&#39; roll you need to change the quantity to 6 and then one of the prices will automatically change in the cart to reflect the promotion. <div class="bvseo-author">Answered by: FoodSaver Support</div> <div class="bvseo-pubdate">Date published: 2017-10-09</div> </div> </div> <div class="bvseo-question-answer" data-questionid="2405895"> <h2 class="bvseo-question"> Will these work in the older model 370 food saver? </h2> <div class="bvseo-question-detail"> </div> <div class="bvseo-author">Asked by: Ladysda</div> <div class="bvseo-answer" data-answerid="2692143"> Hello! Yes, you can use the FoodSaver&amp;reg; 8&amp;quot; x 20&#39; Vacuum-Seal Rolls with your Vac370. You can use any 8 inch bags/ rolls for your FoodSaver. <div class="bvseo-author">Answered by: FoodSaver Support</div> <div class="bvseo-pubdate">Date published: 2017-10-10</div> </div> </div> <div class="bvseo-question-answer" data-questionid="2405294"> <h2 class="bvseo-question"> Why, when I set up my account (only let me put in name, email) could I not add anything to my cart? </h2> <div class="bvseo-question-detail"> </div> <div class="bvseo-author">Asked by: go away</div> <div class="bvseo-answer" data-answerid="2692123"> Hello! Try signing out and then signing back in and use a different web browser. For further assistance, please contact us via live chat on our site. Agents are available Monday-Saturday 9am- 6pm EST. You can also call us at our toll free number (877) 777-8042. Our phone agents are available Monday-Friday 8am-8pm EST, Saturday 9am-6pm EST. <div class="bvseo-author">Answered by: FoodSaver Support</div> <div class="bvseo-pubdate">Date published: 2017-10-09</div> </div> </div> <div class="bvseo-question-answer" data-questionid="2404363"> <h2 class="bvseo-question"> When i tap add to cart, nothing happens. &amp;nbsp;What is wrong? </h2> <div class="bvseo-question-detail"> </div> <div class="bvseo-author">Asked by: Homebody</div> <div class="bvseo-answer" data-answerid="2691815"> Hello! To place an order, try using a different web browser. For further assistance with your order, please call us at our toll free number (877) 777-8042. Agents are available Monday-Friday 8am-8pm EST, Saturday 9am-6pm EST. We will be happy to assist you with your order. <div class="bvseo-author">Answered by: FoodSaver Support</div> <div class="bvseo-pubdate">Date published: 2017-10-09</div> </div> </div> <div class="bvseo-question-answer" data-questionid="2402631"> <h2 class="bvseo-question"> Do you have free shipping on orders over $25.00? Or is there free shipping on subscription only? </h2> <div class="bvseo-question-detail"> </div> <div class="bvseo-author">Asked by: Kat1</div> <div class="bvseo-answer" data-answerid="2689738"> Currently, we&#39;re having free shipping on orders over $25. Please keep in mind that pricing and promotion are determined by our marketing department based on their research and is subject to change from time to time and/or without notice. <div class="bvseo-author">Answered by: FoodSaver Support</div> <div class="bvseo-pubdate">Date published: 2018-03-23</div> </div> </div> <div class="bvseo-question-answer" data-questionid="2397236"> <h2 class="bvseo-question"> If I order 2 of this product, you will automatically send me 3, is this correct? </h2> <div class="bvseo-question-detail"> </div> <div class="bvseo-author">Asked by: Jill R</div> <div class="bvseo-answer" data-answerid="2686177"> Hello! In order to get the FoodSaver&amp;reg; 8&amp;quot; x 20&#39; Vacuum-Seal Roll, 2 Pack free, you would need to add the 3rd one to the cart as well. The price will adjust in the cart. <div class="bvseo-author">Answered by: FoodSaver Support</div> <div class="bvseo-pubdate">Date published: 2017-10-02</div> </div> </div> <div class="bvseo-question-answer" data-questionid="2395435"> <h2 class="bvseo-question"> how do you take advantage of the buy 2 get 1 free </h2> <div class="bvseo-question-detail"> </div> <div class="bvseo-author">Asked by: rant</div> <div class="bvseo-answer" data-answerid="2684400"> To take advantage of the Buy 2 Get One Free, you have to add 3 of the same item to your cart. The system will only charge you for 2 of every three items. <div class="bvseo-author">Answered by: FoodSaver Support</div> <div class="bvseo-pubdate">Date published: 2017-09-29</div> </div> </div> <div class="bvseo-question-answer" data-questionid="2371702"> <h2 class="bvseo-question"> IS THIS ELIGIBLE FOR THE 2 FOR 1 LABOR DAY SPECIAL? </h2> <div class="bvseo-question-detail"> </div> <div class="bvseo-author">Asked by: lcue453</div> <div class="bvseo-answer" data-answerid="2667222"> Currently, the BOGO sale is not available for our bags, rolls and containers. To learn about our current promotions, follow the link below:&#13;&#10;&#13;&#10;https://www.foodsaver.com/deals/bags-rolls-and-containers-deals/?src&#61;17ZS <div class="bvseo-author">Answered by: FoodSaver Support</div> <div class="bvseo-pubdate">Date published: 2017-09-07</div> </div> </div> <div class="bvseo-question-answer" data-questionid="2370974"> <h2 class="bvseo-question"> What specific material are these made from? What is the weight of a roll? What is the size of the box these are shipped in (L/W/D)? What is your item number? </h2> <div class="bvseo-question-detail"> </div> <div class="bvseo-author">Asked by: Lina C</div> <div class="bvseo-answer" data-answerid="2666868"> Our FoodSaver bags are made of polyethylene with an outer layer of nylon for added strength and rigidity. For addition FAQs regarding our bags and rolls, follow the link below:&#13;&#10;&#13;&#10;http://bit.ly/2gMz7BL&#13;&#10;&#13;&#10;For additional information feel free to send us a direct message through our live chat here on the site. Our live chat agents are available Mon-Sat 9am-6pm, EST. <div class="bvseo-author">Answered by: FoodSaver Support</div> <div class="bvseo-pubdate">Date published: 2017-09-06</div> </div> </div> <div class="bvseo-question-answer" data-questionid="2370933"> <h2 class="bvseo-question"> Where do I add 2x </h2> <div class="bvseo-question-detail"> </div> <div class="bvseo-author">Asked by: Rwt47</div> <div class="bvseo-answer" data-answerid="2666857"> The 2X is not a code. It is an instruction that indicates that you need to manually add the free material to your cart. The website will not automatically add the free item to the cart, as this promotion is a mix and match offer. For example, if you want to buy an 11&amp;quot; X 16&#39; roll you need to change the quantity to 2 and then one of the prices will automatically change in the cart to reflect the promotion. <div class="bvseo-author">Answered by: FoodSaver Support</div> <div class="bvseo-pubdate">Date published: 2017-09-06</div> </div> </div> <div class="bvseo-question-answer" data-questionid="2363908"> <h2 class="bvseo-question"> 0n the buy one get one 2roll pack ,is the offer for 2packs ,or I pack of 2 </h2> <div class="bvseo-question-detail"> </div> <div class="bvseo-author">Asked by: wrangler</div> <div class="bvseo-answer" data-answerid="2661981"> This box includes two 8&amp;quot; x 20&#39; Vacuum-Seal Rolls.If you take advantage of the BOGO sale, you will receive the second box for free. Please keep in mind that you have to add 2 of this box to the cart. The system will charge you for one of every pair that you purchase. <div class="bvseo-author">Answered by: FoodSaver Support</div> <div class="bvseo-pubdate">Date published: 2017-08-31</div> </div> </div> <div class="bvseo-question-answer" data-questionid="2361784"> <h2 class="bvseo-question"> Where do I enter the 2x code? </h2> <div class="bvseo-question-detail"> </div> <div class="bvseo-author">Asked by: Moses</div> <div class="bvseo-answer" data-answerid="2660698"> To activate the Buy One Get One promotion you have to add 2 of the same item to your cart. The website will charge you for one of every pair that you purchase. <div class="bvseo-author">Answered by: FoodSaver Support</div> <div class="bvseo-pubdate">Date published: 2017-08-29</div> </div> </div> </div> <script type="text/javascript"> if (document.getElementById('bvseo-questionsSection')) { document.getElementById('bvseo-questionsSection').style.display = 'none'; } </script> <!--end-questions--> <!--begin-pagination--> <ul id="bvseo-paginationSection"> <li class="bvseo-paginationItem"><a class="bvseo-paginationLink" href="https://www.foodsaver.com/bags-containers/standard-bags-rolls/foodsaver--8-x-20-vacuum-seal-roll-2-pack/SAP_FSFSBF0526NP.html?&bvrrp=Main_Site-en_US/questions/product/3/SP_447018.htm">FoodSaver&reg; 8&quot; x 20' Vacuum-Seal Roll, 2 Pack Questions - page 3</a></li> </ul> <!--end-pagination--> <ul id="BVSEO_meta" style="display:none!important"> <li data-bvseo="bvDateModified">y_2022, m_1, d_16, h_20CST</li> <li data-bvseo="ps">bvseo_bulk, prod_bvqa, vn_bulk_3.0.20</li> <li data-bvseo="cp">cp_2, bvpage2n</li> <li data-bvseo="co">co_hasquestionsanswers, tq_42</li> <li data-bvseo="cf">loc_en_US, sid_SP_447018, prod, sort_[SortEntry(order=LAST_APPROVED_ANSWER_SUBMISSION_TIME, direction=DESCENDING)]</li> <li data-bvseo="diagnostics">clientName_foodsaver</li> </ul> <!--end-bvseo-questions--> <ul id="BVSEOSDK_meta" style="display: none !important;"> <li data-bvseo="sdk">bvseo_sdk, dw_cartridge, 18.2.0, p_sdk_3.2.0</li> <li data-bvseo="sp_mt">CLOUD, getContent, 0ms</li> <li data-bvseo="ct_st">questions, product</li> </ul>
product-detail-view
oos-pdp