FoodSaver® 11" x 16' Portion Pouch Vacuum-Seal Roll, Single Roll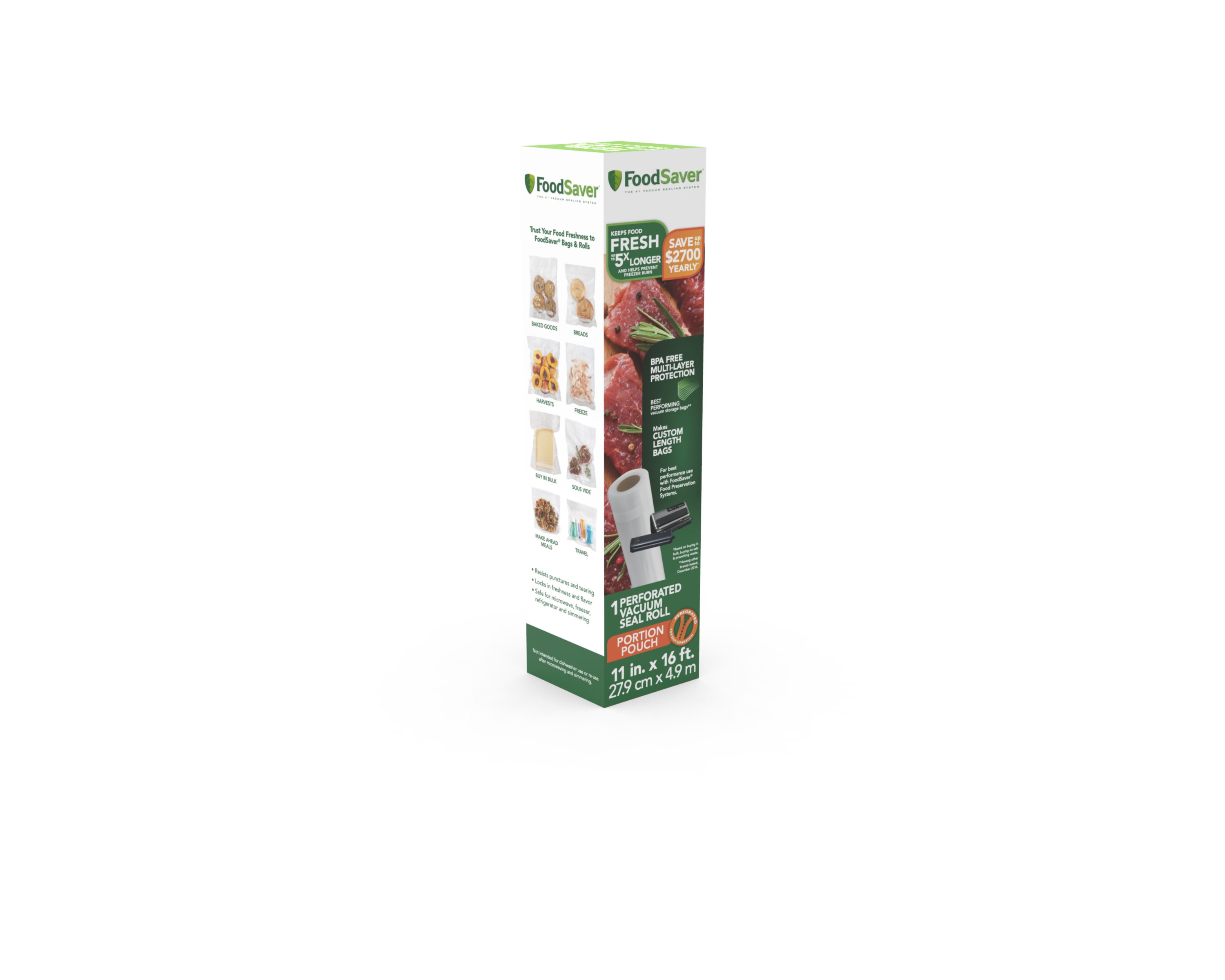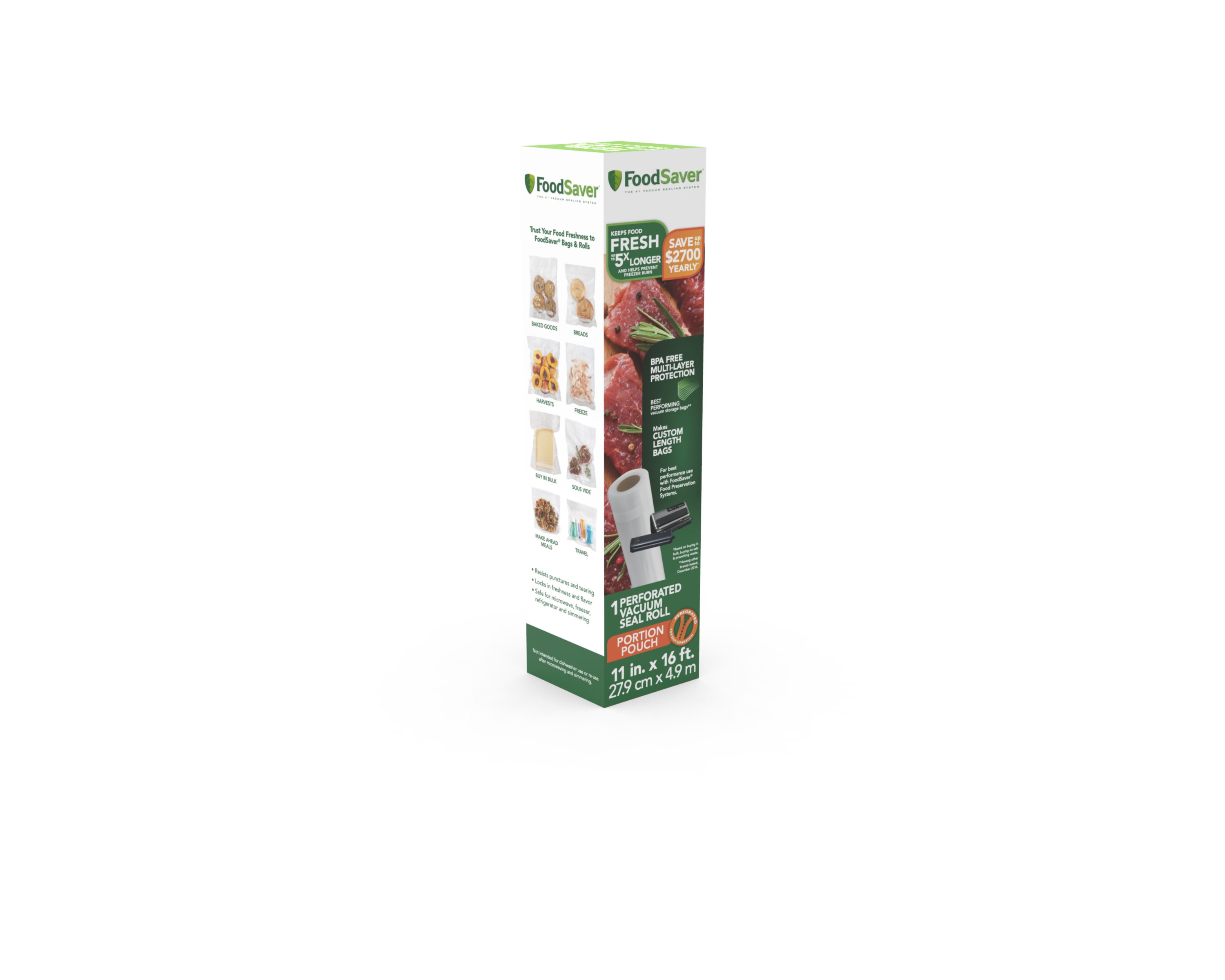 FoodSaver® 11" x 16' Portion Pouch Vacuum-Seal Roll, Single Roll
Become a FreshBucks Rewards member to earn points and save on FoodSaver purchases, Join Now
Already a member? Log in now
Final Sale: may not be returned or exchanged
Become a FreshBucks Rewards member to earn points and save on FoodSaver purchases, Join Now
Already a member? Log in now
Final Sale: may not be returned or exchanged
Want us to let you know when the item you wanted is back in stock?
---

Free Standard Shipping on Orders $50+

Free Express Shipping on Orders $100+ Details
---
Product Details
Description
The FoodSaver® 11" Portion Pouch Vacuumt-Seal Rolls seal in freshness and preserve food flavors. The roll is perforated in the middle to allow for sealing two things at once! Perfect for storing leftovers and individual size portions, or bulk seal your food twice as fast. BPA-free.
Features
1- 11" x 16' roll, center perforated roll
Multi-ply material prevents freezer burn
Specially designed channels block oxygen and moisture to maximize air removal
Simmer and microwave safe
BPA-free
Best performing vacuum bags (based on FoodSaver's 2020 competitive testing)
Included Parts
1- 11" x 16' Vacuum Seal Center Perforated Roll
Rated

5

out of

5
by
kittymama
from
quality product, convenient portion size
I have not had these bags long enough to get really creative, however...i have figured out that these save both time and money. The compartment is perfect portion size for chicken breasts, portions of fish, shrimp and ingredients for my favorite smoothie. My other half and I work a variety of shifts.... sometimes we get to eat together, sometimes we don't. So being able to pull out one OR two portions is convenient and economical. My new favorite is taking a portion of frozen cod and making poor mans lobster in the microwave. I get a hot healthy meal ( until i add the butter for dipping), and it beats anything the hospital cafeteria has to offer!
Date published: 2013-08-19
Rated

4

out of

5
by
JoEllen
from
Good for processing small portions
I bought this product for a second time because it is great for smaller portions; and because it is a roll, the length of each bag can be cut for your particular needs. The roll has two bag sections side-by-side which need to be separated (or will be separated) by pulling them apart. Because of what I'm packaging, I like to separate them before packing and sealing. Since pint-size bags are the smallest size that are offered for single, ready-to-use bags, this gives you a way to make and package smaller items without as much waste. I would like to see boxes of 1/2 pint bags available but these pouches work well.
Date published: 2013-06-20
Rated

3

out of

5
by
jott311
from
Was a little dissapointed, but worked it out.
I did not realize I had purchased an 11" roll that was divided down the center into two approx 5" pockets. At first I thought this is cool, can do two items at a time, then reality! Unless you have real narrow items, long skinny items (jerky sticks, fruit rolls), the divider is just too narrow. I had mini zucchini bread loafs and deep fried breaded egg plant slices that were pre froze, then sealed and it worked well for that, but not for the small two person meat loafs I pre freeze and seal. I will buy the standard 11" roll next time, if it's still available, unless I'm doing small things that will fit in the narrow pockets
Date published: 2013-08-24
Rated

5

out of

5
by
reddon
from
This product offers savings above and beyond
The portion control bags sold by food saver offer the best savings and utilization of any of the other food saver bags are roles. They hold even the largest chicken breast that I can get from whole foods. They allow me to store things in single serving size and only fallout as many items as I need. Even though I could use a regular bag/role it seems like a waste of space to only put one chicken breast are one fish fillet into a bag. On many occasions my wife once a chicken breast and I want to fish fillet. I just tear one off of the bag and cook the items. I use the roles and other bags, but the portion bag is my favorite now.
Date published: 2013-01-22
Rated

1

out of

5
by
DanInMiami
from
Unable to seal
I love Foodsaver and am happy with my machine but I really regret buying these rolls. They are the perfect size for single serving portions so I thought that by sealing 2 at once, I'm not only saving a tiny amount of electricity but also some plastic because the 8" bags are a little too wide. When I hit the vacuum/seal button the machine chugs and chugs, trying to get all the air out of the bags but it never can. So after a while I press the Seal button and the bags reinflate slightly, completely defeating the purpose of using a vacuum system. I've used half of one roll already and on only one occasion did the bag vacuum and seal properly.
Date published: 2011-09-11
Rated

5

out of

5
by
JadeKa4142
from
Wonderfully useful!
I love these bags. I live alone and loathe waste. I eat six very small meals each day and that means that often a pizza is far too large, or a meal made by an assistant is too big. Into the trash? Heaven's no! Give me portion bags and I'll put the leftover meatloaf on one side and the leftover potatoes and gravy on the other. The left vegetables go on one side and any leftover sides or bread goes on the side. And when sealed, the whole meal goes into a 2.5 gallon easily sealed storage bag called "Small Complete Meals." It stays gorgeous in the freezer and just try these bags in a pan of boiling water. They're perfect.
Date published: 2014-08-11
Rated

2

out of

5
by
pengwenhsd
from
good idea but
Seemed like a great idea, seal two bags at a time should equate to saving time and I like the small bags anyway since I cook mostly for two. But in reality. I usually fold the top of the bag down before filling it so the space where the seal will be stays clean, can't fold down bags that are attached so you end up trying to wipe the inside of the bag before it will seal. Plus they are a nuisance in general to try and fill one side at a time. They are also more tricky to get into the sealer with no wrinkles. I end up tearing 'em in half first and then filling them. Kinda defeats the purpose but they work well that way.
Date published: 2014-05-08
Rated

5

out of

5
by
Bobbeleh
from
This is a great innovation!
I've had a FoodSaver appliance for the last 22 years at least. It's the best appliance out there for people like myself, a single person, living alone. FoodSaver makes it possible to buy things in bulk, and most recently, using the portion pack bags made short work of a 14-count package of hotdogs, each snug in its own little vacuum bag. The portion pack bags seem less wasteful than making your own and I can see packing meat in one half and a vegetable or side dish in the other for an easy "TV dinner". Another advantage to the portion pack bags is that they cut the work of vacuum packing in half -- I only had to do 7, rather than all 14 separately. This is a great product and I will be using these regularly!
Date published: 2012-10-30
bvseo_sdk, dw_cartridge, 18.2.0, p_sdk_3.2.0
CLOUD, getReviews, 0ms
reviews, product
---
<!--begin-bvseo-questions--> <!--begin-questions--> <div id="bvseo-questionsSection"> <div class="bvseo-question-answer" data-questionid="5344301"> <h2 class="bvseo-question"> Why does the portion pouch vacuum seal single roll no longer include a cardboard insert. It is very difficult to maintain the roll tidy in the machine. </h2> <div class="bvseo-question-detail"> </div> <div class="bvseo-author">Asked by: wela2</div> <div class="bvseo-answer" data-answerid="5906333"> Hello, this is Mateusz from FoodSaver!&#13;&#10;Thanks for reaching out to us. We will be more than happy to answer your question!&#13;&#10;&#13;&#10;We have removed the cardboard insert from our rolls in order to reduce the amount of waste. Should you encounter any issues with the quality of the rolls as a result of this, please contact us through the web form below and we will be happy to assist you:&#13;&#10;https://www.foodsaver.com/support/contact-us&#13;&#10;&#13;&#10;Thank you and please stay safe!&#13;&#10;FoodSaver Care <div class="bvseo-author">Answered by: FoodSaver Brand</div> <div class="bvseo-pubdate">Date published: 2021-08-10</div> </div> </div> <div class="bvseo-question-answer" data-questionid="4564447"> <h2 class="bvseo-question"> Can I get a box (Multi Pack) of FoodSaver&amp;reg; 11&amp;quot; x 16&#39; Portion Pouch Vacuum-Seal Rolls instead of buying single rolls? </h2> <div class="bvseo-question-detail"> </div> <div class="bvseo-author">Asked by: gradyday</div> <div class="bvseo-answer" data-answerid="5430799"> We deeply apologize for the delay. We appreciate your patience as we diligently work on replenishing our stock. We do not have a firm date when this item will be available. Keep an eye on our site for availability. <div class="bvseo-author">Answered by: FoodSaver Brand</div> <div class="bvseo-pubdate">Date published: 2020-11-18</div> </div> </div> <div class="bvseo-question-answer" data-questionid="4541372"> <h2 class="bvseo-question"> when will the portion roll be available? </h2> <div class="bvseo-question-detail"> </div> <div class="bvseo-author">Asked by: Emily1</div> <div class="bvseo-answer" data-answerid="5235106"> We deeply apologize for the delay. We appreciate your patience as we are diligently working on replenishing our stock. We do not have a firm date as to when this item will be available. Keep an eye on our site for availability. You can also check our retailers that will surely have the FoodSaver&amp;reg; 11&amp;quot; x 16&#39; Portion Pouch Vacuum-Seal Roll, Single Roll, by using the link below:&#13;&#10;&#13;&#10;https://www.foodsaver.com/service-and-support/find-a-retailer/find-a-retailer.html <div class="bvseo-author">Answered by: FoodSaver Brand</div> <div class="bvseo-pubdate">Date published: 2020-07-09</div> </div> </div> <div class="bvseo-question-answer" data-questionid="4508784"> <h2 class="bvseo-question"> why no portion bags </h2> <div class="bvseo-question-detail"> </div> <div class="bvseo-author">Asked by: george brown</div> <div class="bvseo-answer" data-answerid="5221665"> We appreciate your patience as we are diligently working on replenishing our stock. We do not have a firm date as to when this item will be available. Keep an eye on our site for availability. Alternatively, you can search the part number of the product using the link below for our retailers:&#13;&#10;&#13;&#10;https://www.foodsaver.com/service-and-support/find-a-retailer/find-a-retailer.html <div class="bvseo-author">Answered by: FoodSaver Brand</div> <div class="bvseo-pubdate">Date published: 2020-06-26</div> </div> </div> <div class="bvseo-question-answer" data-questionid="4504931"> <h2 class="bvseo-question"> Where is this product for purchase? Or is there a replacement like this one? </h2> <div class="bvseo-question-detail"> </div> <div class="bvseo-author">Asked by: Tonituesday</div> <div class="bvseo-answer" data-answerid="5209696"> We deeply apologize for the delay. We appreciate your patience as we are diligently working on replenishing our stock. We do not have a firm date as to when this item will be available. Alternatively, you may search the part number FSFSBF2616-NP on other retailer websites which also brings out the best of the FoodSaver brand. You can use the link below to see the list of our retailers:&#13;&#10;&#13;&#10;https://www.foodsaver.com/service-and-support/find-a-retailer/find-a-retailer.html <div class="bvseo-author">Answered by: FoodSaver Brand</div> <div class="bvseo-pubdate">Date published: 2020-06-17</div> </div> </div> <div class="bvseo-question-answer" data-questionid="4305693"> <h2 class="bvseo-question"> Why does it show $10.99 with a slash across it and $0.99. When I put it I my cart it shows $10.99 each! Single 11&amp;quot; roll. </h2> <div class="bvseo-question-detail"> </div> <div class="bvseo-author">Asked by: psmithny2</div> <div class="bvseo-answer" data-answerid="5095511"> We deeply apologize for the delayed response. FoodSaver&amp;reg; 11&amp;quot; x 16&#39; Portion Pouch Vacuum-Seal Roll, Single Roll is $10.99. Kindly check the link below:&#13;&#10;&#13;&#10;https://www.foodsaver.com/food-storage-bags-and-containers/specialty-vacuum-seal-bags-and-rolls/lunch-portion-pouch-vacuum-sealer-bags/foodsaver-11-x-16-portion-pouch-vacuum-seal-roll-single-roll/FSFSBF2616-NP.html <div class="bvseo-author">Answered by: FoodSaver Brand</div> <div class="bvseo-pubdate">Date published: 2020-04-03</div> </div> </div> <div class="bvseo-question-answer" data-questionid="3933655"> <h2 class="bvseo-question"> I have try to vacuum pack it works sometime. What am I doing wrong. </h2> <div class="bvseo-question-detail"> </div> <div class="bvseo-author">Asked by: Sjyauger44</div> <div class="bvseo-answer" data-answerid="5088300"> Thank you for contacting FoodSaver. Sorry for the delayed response. We are sad to know that thew machine won&#39;t vacuum once in a while. We may need to check if both the gasket and drip tray are clean and dry.&#13;&#10;For better assistance, we may need to call at 877-777-8042 or send us a direct message via live chat here on the website.&#13;&#10;For your convenience, we are available from 9 am to 6 pm Mon &amp;ndash; Fri EST. We look forward to hearing from you. <div class="bvseo-author">Answered by: FoodSaver Brand</div> <div class="bvseo-pubdate">Date published: 2020-03-30</div> </div> </div> <div class="bvseo-question-answer" data-questionid="3933668"> <h2 class="bvseo-question"> The number on my food saver is not available it&#39;s 2500 can you send me website to go to. </h2> <div class="bvseo-question-detail"> </div> <div class="bvseo-author">Asked by: Sjyauger44</div> <div class="bvseo-answer" data-answerid="5088279"> Thank you for contacting FoodSaver. Sorry for the delayed response. We can find the model number at the bottom of the machine. It starts either letters FM of letter V, followed by a 4-digit number. You may visit the foodsaver.com website for further information. <div class="bvseo-author">Answered by: FoodSaver Brand</div> <div class="bvseo-pubdate">Date published: 2020-03-30</div> </div> </div> </div> <script type="text/javascript"> if (document.getElementById('bvseo-questionsSection')) { document.getElementById('bvseo-questionsSection').style.display = 'none'; } </script> <!--end-questions--> <!--begin-pagination--> <ul id="bvseo-paginationSection"> <li class="bvseo-paginationItem"><a class="bvseo-paginationLink" href="https://www.foodsaver.com/bags-containers/specialty-bags-rolls/portion-pouch-rolls/foodsaver-11-x-16-portion-pouch-vacuum-seal-roll-single-roll/SP_447029.html?bvrrp=Main_Site-en_US/questions/product/2/SP_447029.htm">FoodSaver&reg; 11&quot; x 16' Portion Pouch Vacuum-Seal Roll, Single Roll Questions - page 2</a></li> </ul> <!--end-pagination--> <ul id="BVSEO_meta" style="display:none!important"> <li data-bvseo="bvDateModified">y_2022, m_5, d_18, h_22CST</li> <li data-bvseo="ps">bvseo_bulk, prod_bvqa, vn_bulk_3.0.27</li> <li data-bvseo="cp">cp_1, bvpage1</li> <li data-bvseo="co">co_hasquestionsanswers, tq_29</li> <li data-bvseo="cf">loc_en_US, sid_SP_447029, prod, sort_[SortEntry(order=LAST_APPROVED_ANSWER_SUBMISSION_TIME, direction=DESCENDING)]</li> <li data-bvseo="diagnostics">clientName_foodsaver</li> </ul> <!--end-bvseo-questions--> <ul id="BVSEOSDK_meta" style="display: none !important;"> <li data-bvseo="sdk">bvseo_sdk, dw_cartridge, 18.2.0, p_sdk_3.2.0</li> <li data-bvseo="sp_mt">CLOUD, getContent, 0ms</li> <li data-bvseo="ct_st">questions, product</li> </ul>
product-detail-view
oos-pdp