FoodSaver® 11" x 16' Portion Pouch Vacuum-Seal Roll, Single Roll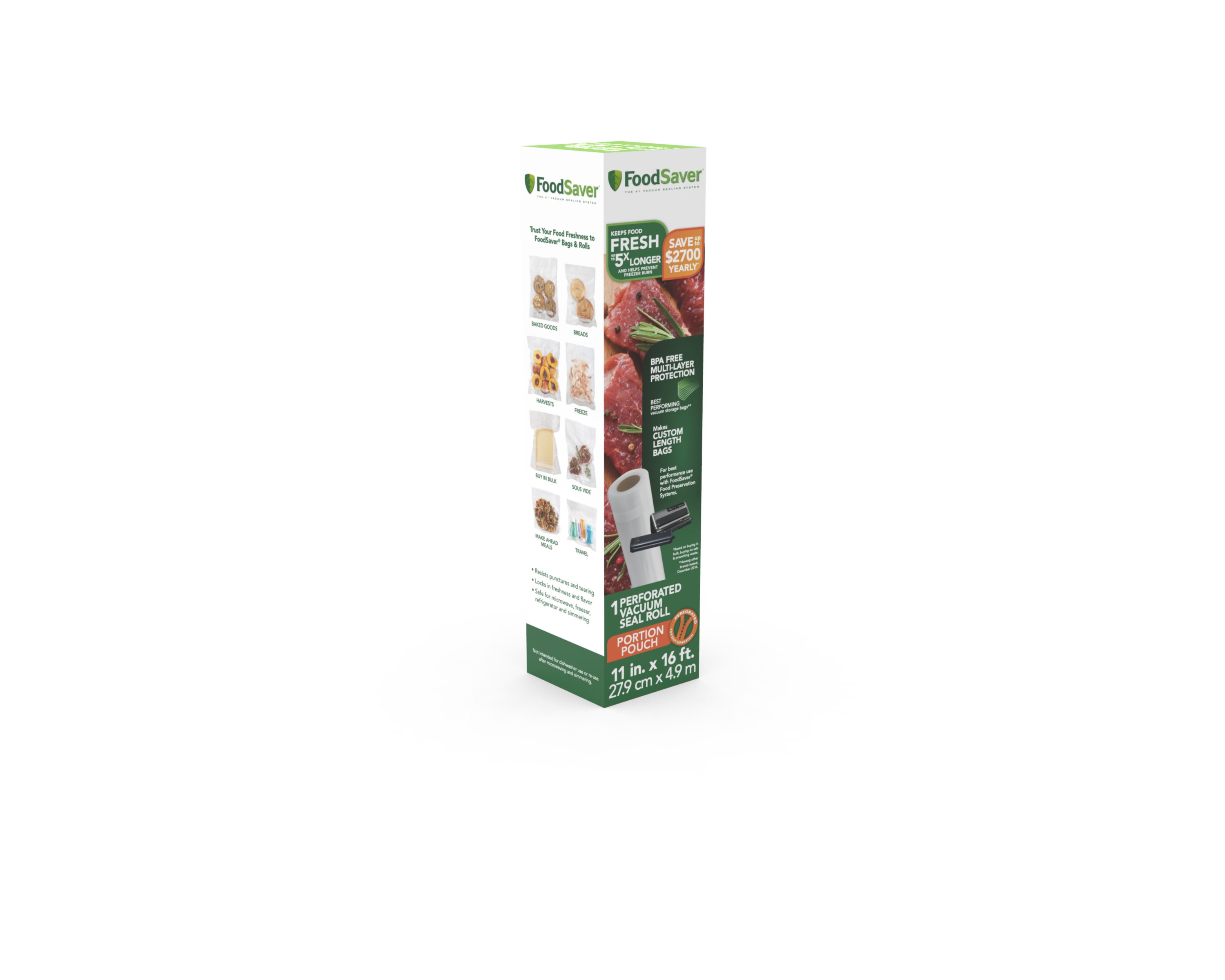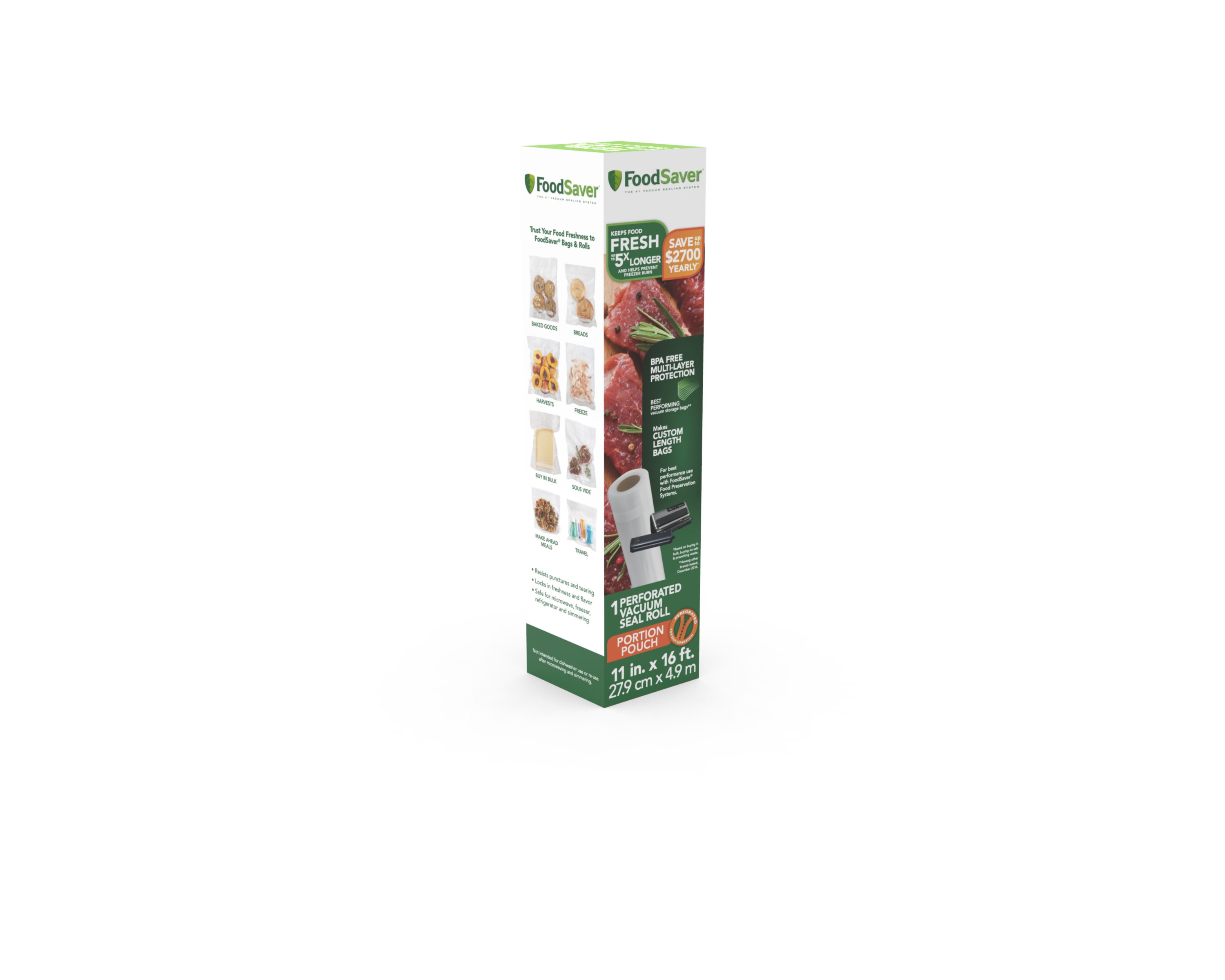 FoodSaver® 11" x 16' Portion Pouch Vacuum-Seal Roll, Single Roll
Become a FreshBucks Rewards member to earn points and save on FoodSaver purchases, Join Now
Already a member? Log in now
Buy 2 Get 2 Free! Add 4 to cart to receive discount
Buy 2 bags or rolls & get 2 free of equal or lesser value. Offer not combinable with Freshbucks reward coupons. Offer can only be used 5 times per customer
Final Sale: may not be returned or exchanged
Become a FreshBucks Rewards member to earn points and save on FoodSaver purchases, Join Now
Already a member? Log in now
Buy 2 Get 2 Free! Add 4 to cart to receive discount
Buy 2 bags or rolls & get 2 free of equal or lesser value. Offer not combinable with Freshbucks reward coupons. Offer can only be used 5 times per customer
Final Sale: may not be returned or exchanged
Want us to let you know when the item you wanted is back in stock?
---

Free Standard Shipping on Orders $50+

Free Express Shipping on Orders $100+ Details
---
Product Details
Description
The FoodSaver® 11" Portion Pouch Vacuumt-Seal Rolls seal in freshness and preserve food flavors. The roll is perforated in the middle to allow for sealing two things at once! Perfect for storing leftovers and individual size portions, or bulk seal your food twice as fast. BPA-free.
Features
1- 11" x 16' roll, center perforated roll
Multi-ply material prevents freezer burn
Specially designed channels block oxygen and moisture to maximize air removal
Simmer and microwave safe
BPA-free
Included Parts
1- 11" x 16' Vacuum Seal Center Perforated Roll
Rated

5

out of

5
by
Sawbones
from
Great idea
This is such a great idea. I had a problem and this solved it. I go salmon fishing in Alaska every summer and we vacuum pack our Sockeye salmon (very yummy). I like to create packages that are about meal size, but I have to be efficient to get it done pretty quickly, so I put 2 filets in each bag. The Portion Pouch Roll allows me to put a filet in each section and seal it in one operation. Then back home, I can just open one filet if that's all I need. No need to repackage and refreeze the second filet. So less work, no waste! And the salmon filets look great in the Portion Pouch Rolls when vacuum sealed!
Date published: 2011-07-01
Rated

5

out of

5
by
yttapb
from
I've been waiting for this one!
There's just two of us and I use the food saver bags for just about everything that I freeze and for some things that I refrigerate! The portion pouch roll is great for smaller portions and the perforation part is just what I needed. I was putting corn in small snack bags and freezing two or three bags in each quart foodsaver bag. Now I can put two portions of corn, one on each side of the bag and tear it apart when I need it. That applies to lots of other things that I freeze, especially blueberries. Now I won't have to open more than I need. Thanks Foodsaver!
Date published: 2011-12-10
Rated

5

out of

5
by
Fresh1
from
Useful solution that reduces bag waste.
The portion pouch rolls are ideal for my needs. I have to prepare bulk meals for my 89 year old mother. Originally I put her meals on a divided plate, froze it, and then sealed the entire plate using the standard 11-inch rolls. This was not effective, as some foods did not warm as fast as others in the oven or microwave. With the portion pouch rolls, I can freeze my foods in a muffin pan and then seal them individually side by side. This allows me to thaw them more easily and avoid over cooking. I love this idea and will definitely purchase more in the future.
Date published: 2013-07-27
Rated

5

out of

5
by
CathyInWV
from
Great for the single person!
This bag is wonderful for someone who lives alone and only needs to cook one portion at a time. I can fix a pot of spaghetti sauce, chili or favorite soups and have enough meals to last a month. I have found that if I let the food (liquid) chill overnight to become thicker, it's easier to get in the bag and seal. I can't wait till the next time I buy chicken breasts and can freeze each one individually. This has been my biggest food waste in the past because they get freezer burn fairly quickly in the bags they come in. I absolutely love my Food Saver and look forward to many happy months/years of "cooking for one". Thank you!!
Date published: 2015-08-19
Rated

5

out of

5
by
btruppert
from
Really like the portion pouches.
I really like the portion pouch concept. Makes a nice small bag for individual servings or small items. For example,. I usually put two chicken breasts in an 8" bag, but when my son comes home I have to defrost 4 chicken breasts, now using portion pouches, I only need to rip the bag in half and defrost one at a time. Great! I have used these to do chicken breasts and 1 pound portions of hamburger, Cost is the same as 11" bags, can't beat it.
Date published: 2011-10-10
Rated

5

out of

5
by
Mary1
from
Love this product!
I love these individual pouches! I love blueberries in my oatmeal but after opening a bag of frozen blueberries ice begins to build up and eventually ruins them. With the pouches I can measure out how much I need for a bowl and freeze it! Now I just take out a pouch and they are great! No ice at all on the berries! I also buy nuts and trail mix in bulk and freeze individual serving sizes. I fill two at a time and vacuum seal them at the same time. I keep empty ice cream containers to hold them in in freezer so there aren't packets all over!
Date published: 2013-07-13
Rated

4

out of

5
by
parabunny
from
wonderful for dried goods
My husband and I like to plan ahead in case of emergency. We had bought a large load of rice and wondered how best to protect it after weevils invaded one bag and we had to toss it. I decided to portion out the rice for how much I would normally cook for my family and then poured it into each pouch. It took a half hour of my time and a whole roll of the double pouches, but the rice is secure from those pesky weevils now and the next time I want to cook rice, I just rip off a package, open it up and dump it into the water, no measuring needed. The only thing that I noticed was that toward the end of the package, there were two partitions that didn't seal very well on one side as the air wasn't sucked out enough. I ended up wasting four bags, but the rest held up well.
Date published: 2012-06-22
Rated

3

out of

5
by
kmason
from
Won't seal wet items at times-but good for dry
I had problems sealing some wet items, I know you need to dry the inside and outside of bad where it is going to be sealed. But, if too much moisture is sucked up by the vacuam process it doesn't seal the bags completly, and you have to cut off enough to try it again, depending on how much spare bag you have left. Only one side sealed but not the other so I tore it into seperate portions, and tried to reseal the side that did not seal. I ended up having to try at least four times, with paper towels inside, but I should have just left in the frezzer until frozen to seal.
Date published: 2012-12-14
Rated

5

out of

5
by
Bonnie56
from
Easy to use and looks great on the counter
I purchased my Vacuum sealer to freeze vegetables from our garden every year. I have used it now for 3 years with no problem. You just have to make sure that after you blanch the veggies to dry them good before sealing them. I lay them out on paper towels so they drain really well before putting them in the bags and sealing them. Of course you can make small and large packages depending on what size your family is. I like to use the microwaveable bags for broccoli. It only takes 4 minutes in the microwave and it tastes like you just picked it. Thanks for such an easy to use kitchen appliance.
Date published: 2013-08-12
Rated

5

out of

5
by
Star
from
Easy to use, bag just the right amount!
I have used FoodSaver products for many years. One of my favorite products is the portion sized vacuum bags. I live alone, and with this product, I am able to easily prepare and store exactly what I will eat at one meal. When short on time, just tear off one pouch, and your meal is perfectly portioned. Also helps with that desire to eat more than you need! You could even weigh out and portion into bags exactly what your diet plan requires. No fuss, no mess to clean up, no weighing of foods as you have already done that when bagging! Try it, you will be glad you did!
Date published: 2015-04-30
Rated

4

out of

5
by
CDubs09
from
Great product but not for everything.
It was kind of difficult get chicken breasts into the pouches but extremely convenient for dinners because you can pull out individual chicken breasts instead of trying to thaw 4 frozen together! I also enjoyed tearing the perforated parts :) Overall I think it's a great idea but the pouches also have a place in the foodsaver world... in other words, I don't feel the perforated pouches can replace the standard roll for me anyway. This is because there is such a large variety of items I vacuum seal and not all of them will fit into the pouches.
Date published: 2012-10-09
Rated

5

out of

5
by
Lorien1
from
Useful addition to my food storage regimen
We live in 'earthquake country' so I tend to buy in bulk when things come on sale for longer-term food storage 'insurance'. Right now that seems to be pasta, so today I decided to try to vacuum seal unopened 1-lb packages of linguini, fettuccini,, and boccolini. I was delighted to discover that they fit perfectly into one side of the portion pouch rolls. I hope the vacuum seal will keep the products fresh past their 2021 'best by' dates plus the heavy rolls add another layer of protection from storage, moisture, etc. I'm pleased I thought to see if I could seal the original packages. I may have used a discount coupon for these bags.
Date published: 2018-11-04
Rated

5

out of

5
by
ClayMan
from
If your like me you, want to sav you ant o ve tha
If your like me, you want that leftover for a future lunch or you just made 6 servings of your favorite main course. You need to make your storage packaging single serving size for yourself to enjoy in the future. The problem in the past has always been that your Food Saver Bags are just too darn big. Not any more, because these 11, inch wide rolls are perforated in the middle. Perfect for leftovers and single size servings! Yep, You can even save to order time
Date published: 2013-02-06
Rated

4

out of

5
by
itzcyn
from
Nice idea
I like the idea of these. I haven't found that many foods yet that I have used these for - I typically am storing larger batches of food. I did use them for trail mix and nuts. My biggest issue with them is filling them. I've found it difficult to fill each side without losing control - I fill one side and haven't figured out how to fill the other without spilling the food. My husband helps. It would be great to have some sort of stand to hold the bags while they are being filled.
Date published: 2013-04-22
Rated

5

out of

5
by
rlee
from
Great for single households
These bags are perfect for me, I live alone and now I cook extra portions and freeze them separately in the bags...they have saved me a fortune...fast food places are a thing of my past. The bags are pricey and I don't usually re use them, but they are still cost efficient compared to eating out or throwing away spoiled food.
Date published: 2012-04-15
Rated

5

out of

5
by
LorienhoundsBC
from
Portion Pouches help me save money!
Even though there are only two of us, I still purchase 'family packs' from the meat section of the grocery store because they're so much cheaper. With Portion Pounches, I can easily package and freeze chicken breasts and pork chops individually in packs of two. Plus if I have leftovers, and can package the vegie on one side and main dish on the other; then just pull it out of the freezer and microwave a "free" healthy weekend lunch!
Date published: 2012-11-07
Rated

5

out of

5
by
ofcourseufreezeeverything
from
having fun with it
Always freeze everything in so called "freezer bags" and everything dries out and gets covered in ice crystals. Now anymore! But I had to learn how to use the "gentle" vacuum feature really quick. We buy a dozen bagels or cider donuts and freeze them in a bag. Not good, Now I can use the foodsaver and freeze them individually. However, I did not stop the machine in time and they are squished and funny looking. Still taste fresh though. Best thing I've ever purchased. Just needed to learn the vacuum feature properly.
Date published: 2011-11-28
Rated

5

out of

5
by
Goodsaver
from
Portion pouch
What I like about this product is the convience of two sides. I can put two servings in one side and another two servings in the other. If I need only two servings, just separate and I will have just two. Should I have company and need more then two, take out both and I will have enough for four. I can also put meat in one side and the marinade in the other. They are frozen together and the sauce won't get "lost" in the freezer.
Date published: 2011-06-30
Rated

4

out of

5
by
goodgriefletmepostthis
from
Nice to have a smaller size, but....
But....I didn't realize the roll [perforated down the middle] was not in two separate sections and forced you to feed both sides. So if you have two baguettes you are good to go. However, if you just want to make a small pouch for a smaller portion and don't have a second portion or item, you would lose half or have to figure out how to keep it out of the way. My solution? I unrolled the entire thing, split in half at the perforation, cut the tube in half and re-rolled each length around the tube. I now have two rolls that will let me make a narrow pouch of any length. I would recommend to a friend and just let them know the option of dividing.
Date published: 2018-02-04
Rated

5

out of

5
by
Bill35
from
Ease of filling
I live alone and find Portion Pouches perfect for cooking ahead. I found them a little difficult to fill while keeping the sealing area clean. Finally settled on a hot beverage cup with the bottom cut off. Works like a charm. Easy to find and replace.
Date published: 2012-02-29
Rated

5

out of

5
by
Yankeetandum
from
One of the best money saving device .
Use all the time to save food, when we get home wife puts food away and I package most everything in Food Saver Bags. Like to cook ribs on the grill Marinate them overnight in the Food Saver bags as they will force the marinate into the meat overnight Drive the wife crazy I put everything in Food Saver bags. I always make them extra long that way I can open and then reseal . Example head of lettuce stays fresh for weeks no mater how many times I open it. The secret is not to crush it but stop when most air is gone then seal and it will be fresh next time you open. Same with extra Hot Dog and Hamburgers rolls They can then be frozen and when open just as fresh as the day you bought them SUPER PRODUCT
Date published: 2013-08-13
Rated

5

out of

5
by
pulltabbob
from
Good Value for your buck
With the kids gone from the house and just the wife and I left, we often have leftovers. The portion bags allow us to freeze the leftovers in portions that we would eat. It is also great for bulk purchases. We now package everything in portions that we would eat therefore cutting down on wasted food or having to eat the same food until we were sick of it. I would recommend these portion bags to anyone who owns a Foodsaver system.
Date published: 2012-08-27
Rated

5

out of

5
by
Justski2it
from
Reply to Dan in Miami's sealing problem
I think you have the same problem sealing as I did before I figured out what the problem was. When you store your machine in the closed and locked position, the two rubber gaskets tend to stick to each other when you open the machine. Make sure each gasket is where it belongs before you try to seal. Once this is done, you should have no more problems.
Date published: 2011-11-16
Rated

5

out of

5
by
dgibbs2
from
great product for individual portions
I used this product after making up a batch of hamburgers - it was great for making a 2 person serving and only using the sealer one time. My only advice is if you are using this for something moist, such as my hamburger, don't make the bags too long - it took a little maneuvering to get the burger to slide to the bottom of the bag - but practice makes perfect and I got the hang of it after a few tries. I would definitely recommend this.
Date published: 2012-09-07
Rated

5

out of

5
by
DanB
from
Handy -- 11" split bags
These handy bags are good for the meat/veggie split from the pasta. These cost more: you get 4 feet less than standard 11" roll, plus you get about 1/2 ' less for the seam in the middle, plus they can't get as fat/thick as a 11". Besides all that costing more for the same price as 11", their handiness is worth it. . .but on special meals, or just showing off. I recommend this product but not as a standard use bag.
Date published: 2013-08-05
Rated

5

out of

5
by
Happy Housewife
from
What I needed
I make a lot of homemade soups . Use the Portion Control bags to freeze them in. In case you are going - what? I fill the bags with the portion I want, stand them upright to freeze. I have a small 12 x 9 inch basket for this. Once frozen, simply Vacuum seal, write contents & date on bag, and store in my upright freezer. Perfect.
Date published: 2018-07-15
Rated

1

out of

5
by
Grandmaoffive
from
Product is wasteful
I thought I was doing something wrong - I couldn't get my machine to pull the air out of the bags. I tried several times, wasted several bags. Come to find out, instead of the usual couple of inches needed to suck out the air and seal properly, you must add an additional 2 to 3 inches. If you don't, the bag wrinkles and won't allow the machine to do it's job. This is very wasteful. Our son and daughter in law had the same problem. We both agree, waste of money and bags - defeats the purpose.
Date published: 2011-08-12
Rated

5

out of

5
by
Diane333
from
Favorite size
I am happy that you now have a smaller size bag-roll size. I have always liked the 6 " size. I have been unable to get them. This is a better size roll for me. It is perfect for freezing vegatables for 1 or 2 people. This will be my favorite size.
Date published: 2011-12-28
Rated

5

out of

5
by
ginsag
from
I'm really pleased with these bags
These bags are fantastic for empty nesters and families with children. I babysit my 19 month old granddaughter and they are perfect for freezing foods for her. I like to make pans of macaroni and cheese and casseroles to have on hand for her. Using this roll saves a lot of time. I can freeze two portions at once. There is much less waste than using pre made bags or making my own bags from a standard roll. I always cut my mac and cheese and casseroles into square portions and freeze them on a cookie sheet. Once frozen, it's a breeze to bag two portions at once. They're work great to freeze single chicken breasts and are perfect to freeze single portions of leftovers. This product is a great addition to the options Food Saver already offers and it'll be the one I use most often.
Date published: 2018-11-21
Rated

5

out of

5
by
AMC625
from
A "lightbulb" idea!
This is certainly one of those "why-didn't-I-think-of-that" ideas! You're putting up two foods that you'll eat together; why wouldn't you store them in a side by side bag? You've got an economy bag of chips but want to put them up in smaller portions; of course you'd use a side by side bag! Great product.
Date published: 2011-07-25
bvseo_sdk, dw_cartridge, 18.2.0, p_sdk_3.2.0
CLOUD, getReviews, 0ms
reviews, product
---
<!--begin-bvseo-questions--> <!--begin-questions--> <div id="bvseo-questionsSection"> <div class="bvseo-question-answer" data-questionid="3728729"> <h2 class="bvseo-question"> Can you use these bags in the microwave or boiling water </h2> <div class="bvseo-question-detail"> </div> <div class="bvseo-author">Asked by: Garyc1371</div> <div class="bvseo-answer" data-answerid="5085746"> Thank you for showing interest in our product. Sorry for the delayed response. Yes, definitely we can use this to simmer and microwave-safe as well. <div class="bvseo-author">Answered by: FoodSaver Brand</div> <div class="bvseo-pubdate">Date published: 2020-06-02</div> </div> </div> <div class="bvseo-question-answer" data-questionid="4289307"> <h2 class="bvseo-question"> Can you pressure cook vacuum sealed frozen food at high pressure </h2> <div class="bvseo-question-detail"> </div> <div class="bvseo-author">Asked by: Victory87990</div> <div class="bvseo-answer" data-answerid="5072847"> Thank you for bringing this to our attention. We always strive to provide the highest quality products for our consumers. For us to provide the answer to your inquiry please send us a direct message via live chat here on the website or you can contact our customer care department at 1-877-777-8042 and allow us to turn this experience around for you. We are here for you Monday-Friday 9 am-6 pm EST, and looking forward to hearing from you. <div class="bvseo-author">Answered by: FoodSaver Brand</div> <div class="bvseo-pubdate">Date published: 2020-03-17</div> </div> </div> <div class="bvseo-question-answer" data-questionid="3223687"> <h2 class="bvseo-question"> What is the difference between &amp;quot;portion pouch&amp;quot; and a regular roll of 11&amp;quot; x 16&#39; </h2> <div class="bvseo-question-detail"> </div> <div class="bvseo-author">Asked by: Lewis5x</div> <div class="bvseo-answer" data-answerid="3471231"> Great question! The portion pouch roll is perforated in the middle to allow for sealing two things at once! It is perfect for storing leftovers and individual size portions, or bulk seal your food twice as fast. Each side would be 5.5&amp;quot; wide. The regular 11&amp;quot;x16&#39; roll is 11 inches across with no division. <div class="bvseo-author">Answered by: FoodSaver Support</div> <div class="bvseo-pubdate">Date published: 2020-01-26</div> </div> </div> <div class="bvseo-question-answer" data-questionid="3220882"> <h2 class="bvseo-question"> Solid roll 11 inch regular roll wanted, is this the one . </h2> <div class="bvseo-question-detail"> </div> <div class="bvseo-author">Asked by: DR71</div> <div class="bvseo-answer" data-answerid="3470456"> Thank you for asking! This is the FoodSaver&amp;reg; 11&amp;quot; x 16&#39; Portion Pouch Vacuum-Seal Roll which means it is perforated down the middle, You can find the non-perforated rolls at the link below: &#13;&#10;&#13;&#10;https://www.foodsaver.com/food-storage-bags-and-containers/vacuum-seal-bags-and-rolls/11-inch-vacuum-sealer-rolls/sous-vide/?pmax&#61;40.00&amp;amp;pmin&#61;10.00/?src&#61;17ZS <div class="bvseo-author">Answered by: FoodSaver Support</div> <div class="bvseo-pubdate">Date published: 2018-09-19</div> </div> </div> <div class="bvseo-question-answer" data-questionid="3145621"> <h2 class="bvseo-question"> Where do I add the 2x to get the special? </h2> <div class="bvseo-question-detail"> </div> <div class="bvseo-author">Asked by: JEK45</div> <div class="bvseo-answer" data-answerid="3407511"> In order to take advantage of the BOGO offer, simply double your order. For example, if you want to buy 1 and get 1 free, you will put a &amp;quot;2&amp;quot; in the quantity box. If you want to buy 2 and get 2 free, you will put 4. Hope this helps! <div class="bvseo-author">Answered by: FoodSaver Support</div> <div class="bvseo-pubdate">Date published: 2018-07-20</div> </div> </div> <div class="bvseo-question-answer" data-questionid="3113998"> <h2 class="bvseo-question"> Can I use food saver bags on another machine brand </h2> <div class="bvseo-question-detail"> </div> <div class="bvseo-author">Asked by: Debbi8217</div> <div class="bvseo-answer" data-answerid="3381453"> Thank you for asking! We have not tested our bags on other brands at this point. <div class="bvseo-author">Answered by: FoodSaver Support</div> <div class="bvseo-pubdate">Date published: 2018-06-25</div> </div> </div> <div class="bvseo-question-answer" data-questionid="2897841"> <h2 class="bvseo-question"> If I buy 3 different boxes of product rolls do I get 3 of the same free ?I need other sizes for my uses.dont want 6 rolls of same size. </h2> <div class="bvseo-question-detail"> </div> <div class="bvseo-author">Asked by: Miss kitty</div> <div class="bvseo-answer" data-answerid="3146899"> Absolutely! When the Buy Three Get Three free is available, you can mix and match bags and rolls. <div class="bvseo-author">Answered by: FoodSaver Support</div> <div class="bvseo-pubdate">Date published: 2018-04-09</div> </div> </div> <div class="bvseo-question-answer" data-questionid="2889229"> <h2 class="bvseo-question"> what is the difference between portion pouch and plain roll?? </h2> <div class="bvseo-question-detail"> </div> <div class="bvseo-author">Asked by: Lamar</div> <div class="bvseo-answer" data-answerid="3140365"> Great question! The portion pouch is perforated in the middle to allow for sealing two things at once. The roll will let you create custom-sized bags to package and protect food and non-food items using your FoodSaver&amp;reg; Vacuum Sealing System. <div class="bvseo-author">Answered by: FoodSaver Support</div> <div class="bvseo-pubdate">Date published: 2018-04-02</div> </div> </div> <div class="bvseo-question-answer" data-questionid="2877023"> <h2 class="bvseo-question"> Is this a buy 3 boxes and get 3 free or buy a box with 3 rolls and get another box free promotion </h2> <div class="bvseo-question-detail"> </div> <div class="bvseo-author">Asked by: Bubbie</div> <div class="bvseo-answer" data-answerid="3128604"> Great question! In order to take advantage of the Buy 3 Get 3 promotion, you will need to add &amp;quot;6&amp;quot; line items to the quantity box. <div class="bvseo-author">Answered by: FoodSaver Support</div> <div class="bvseo-pubdate">Date published: 2018-03-22</div> </div> </div> <div class="bvseo-question-answer" data-questionid="2864129"> <h2 class="bvseo-question"> How do I buy 3 get 3 free? </h2> <div class="bvseo-question-detail"> </div> <div class="bvseo-author">Asked by: Dny7099</div> <div class="bvseo-answer" data-answerid="3128424"> Thanks for being a FoodSaver fan! In order to take advantage of the Buy 3 Get 3 Free promotion, you will put a &amp;quot;6&amp;quot; in the quantity box. The price difference will show in your cart. <div class="bvseo-author">Answered by: FoodSaver Support</div> <div class="bvseo-pubdate">Date published: 2018-03-29</div> </div> </div> <div class="bvseo-question-answer" data-questionid="2855553"> <h2 class="bvseo-question"> Does the perforated bags come in longer lenghts </h2> <div class="bvseo-question-detail"> </div> <div class="bvseo-author">Asked by: Keith mount</div> <div class="bvseo-answer" data-answerid="3107390"> That&#39;s a great idea! Currently, our portion pouch rolls are only available in the same size as a our regular rolls. We will forward your suggestion over to the appropriate department to be taken in consideration. Thank you for the support! <div class="bvseo-author">Answered by: FoodSaver Support</div> <div class="bvseo-pubdate">Date published: 2018-03-13</div> </div> </div> <div class="bvseo-question-answer" data-questionid="2837999"> <h2 class="bvseo-question"> Hi! Can I use this roll for sous vide? </h2> <div class="bvseo-question-detail"> </div> <div class="bvseo-author">Asked by: rulrocks</div> <div class="bvseo-answer" data-answerid="3092189"> Yes, these FoodSaver rolls are good for regular sous vide cooking method with a temperature range of up to 185&amp;deg; F. <div class="bvseo-author">Answered by: FoodSaver Support</div> <div class="bvseo-pubdate">Date published: 2018-02-27</div> </div> </div> <div class="bvseo-question-answer" data-questionid="2825503"> <h2 class="bvseo-question"> Hi there - my son is backpacking this summer and I wonder if these pouches can have hot/boiled water added to them? Like the packages one buys that can have water added to them? </h2> <div class="bvseo-question-detail"> </div> <div class="bvseo-author">Asked by: KathyA</div> <div class="bvseo-answer" data-answerid="3085013"> Our FoodSaver bags can withstand hot water of up to 185&amp;deg; F. <div class="bvseo-author">Answered by: FoodSaver Support</div> <div class="bvseo-pubdate">Date published: 2018-02-20</div> </div> </div> <div class="bvseo-question-answer" data-questionid="2756723"> <h2 class="bvseo-question"> About what size portion would you say these would hold? One 1/4 lb burger, two or three? One cup or two? I usually free 3/4 lb of burger meat for tacos and I&#39;m not sure if the portion pouch of 5.5&amp;quot; would be big enough. </h2> <div class="bvseo-question-detail"> </div> <div class="bvseo-author">Asked by: Babs WI</div> <div class="bvseo-answer" data-answerid="3017939"> You would cut the portion bag as long as you would need. For further assistance, contact us via live chat on our site. Specialists are available Monday-Saturday 9am-6pm EST, and would love to chat with you! <div class="bvseo-author">Answered by: FoodSaver Support</div> <div class="bvseo-pubdate">Date published: 2018-01-05</div> </div> </div> <div class="bvseo-question-answer" data-questionid="2725780"> <h2 class="bvseo-question"> Hoe long is the roll? </h2> <div class="bvseo-question-detail"> </div> <div class="bvseo-author">Asked by: sherryc</div> <div class="bvseo-answer" data-answerid="2990384"> This Portion Pouch Roll is 11&amp;quot; wide and 16&#39; long. <div class="bvseo-author">Answered by: FoodSaver Support</div> <div class="bvseo-pubdate">Date published: 2017-12-15</div> </div> </div> <div class="bvseo-question-answer" data-questionid="2396656"> <h2 class="bvseo-question"> How many bags are there? </h2> <div class="bvseo-question-detail"> </div> <div class="bvseo-author">Asked by: JayPea</div> <div class="bvseo-answer" data-answerid="2686122"> The roll is perforated down the middle to allow for sealing two things at once. Depending on what you are putting inside, is how many bags you can make out of the roll. Happy vacuum sealing! <div class="bvseo-author">Answered by: FoodSaver Support</div> <div class="bvseo-pubdate">Date published: 2017-10-02</div> </div> </div> <div class="bvseo-question-answer" data-questionid="2351803"> <h2 class="bvseo-question"> I am looking for an 11&amp;quot; wile roll that is perforted down the center to create two 5.5&amp;quot; wild to vacuum pack trout. </h2> <div class="bvseo-question-detail"> </div> <div class="bvseo-author">Asked by: Loke</div> <div class="bvseo-answer" data-answerid="2651338"> This FoodSaver 11&amp;quot; x 16&#39; Portion Pouch Vacuum-Seal Roll, Single Roll is the one that you&#39;re looking for. Take advantage of this roll, add it to your cart and proceed to checkout. <div class="bvseo-author">Answered by: FoodSaver Support</div> <div class="bvseo-pubdate">Date published: 2017-08-22</div> </div> </div> <div class="bvseo-question-answer" data-questionid="2304632"> <h2 class="bvseo-question"> Can I vertically seal an 8&amp;quot; length (less than 11&amp;quot;wide) of regular Fresh Saver roll material, then seal one of the cut ends? This would create a double bag, sealed at one end, both sides could then be filled &amp;amp; vacuum sealed.&amp;nbsp; </h2> <div class="bvseo-question-detail"> </div> <div class="bvseo-author">Asked by: Blee</div> <div class="bvseo-answer" data-answerid="2613675"> We do not recommend sealing the vertical length or side seams as the vacuum pressure can cause them to open up. In addition, the difference between the portion pouch rolls and doing it as described is that the portion pouch have a built-in perforation to allow the two sides to easily be separated. Enjoy vacuum sealing to save money! <div class="bvseo-author">Answered by: FoodSaver Support</div> <div class="bvseo-pubdate">Date published: 2017-07-28</div> </div> </div> <div class="bvseo-question-answer" data-questionid="3728731"> <h2 class="bvseo-question"> Best way to freeze fried fish </h2> <div class="bvseo-question-detail"> </div> <div class="bvseo-author">Asked by: Garyc1371</div> </div> <div class="bvseo-question-answer" data-questionid="4425248"> <h2 class="bvseo-question"> can these perforation pouches be used in a chamber sealer? </h2> <div class="bvseo-question-detail"> </div> <div class="bvseo-author">Asked by: nepajohn</div> </div> <div class="bvseo-question-answer" data-questionid="3728725"> <h2 class="bvseo-question"> Best way to freeze fried fish already cooked </h2> <div class="bvseo-question-detail"> </div> <div class="bvseo-author">Asked by: Gary1371</div> </div> </div> <script type="text/javascript"> if (document.getElementById('bvseo-questionsSection')) { document.getElementById('bvseo-questionsSection').style.display = 'none'; } </script> <!--end-questions--> <ul id="BVSEO_meta" style="display:none!important"> <li data-bvseo="bvDateModified">y_2021, m_12, d_6, h_19CST</li> <li data-bvseo="ps">bvseo_bulk, prod_bvqa, vn_bulk_3.0.20</li> <li data-bvseo="cp">cp_2, bvpage2n</li> <li data-bvseo="co">co_hasquestionsanswers, tq_29</li> <li data-bvseo="cf">loc_en_US, sid_SP_447029, prod, sort_[SortEntry(order=LAST_APPROVED_ANSWER_SUBMISSION_TIME, direction=DESCENDING)]</li> <li data-bvseo="diagnostics">clientName_foodsaver</li> </ul> <!--end-bvseo-questions--> <ul id="BVSEOSDK_meta" style="display: none !important;"> <li data-bvseo="sdk">bvseo_sdk, dw_cartridge, 18.2.0, p_sdk_3.2.0</li> <li data-bvseo="sp_mt">CLOUD, getContent, 0ms</li> <li data-bvseo="ct_st">questions, product</li> </ul>
product-detail-view
oos-pdp