FoodSaver® 11" x 16' Expandable Vacuum Seal Rolls, 2 Pack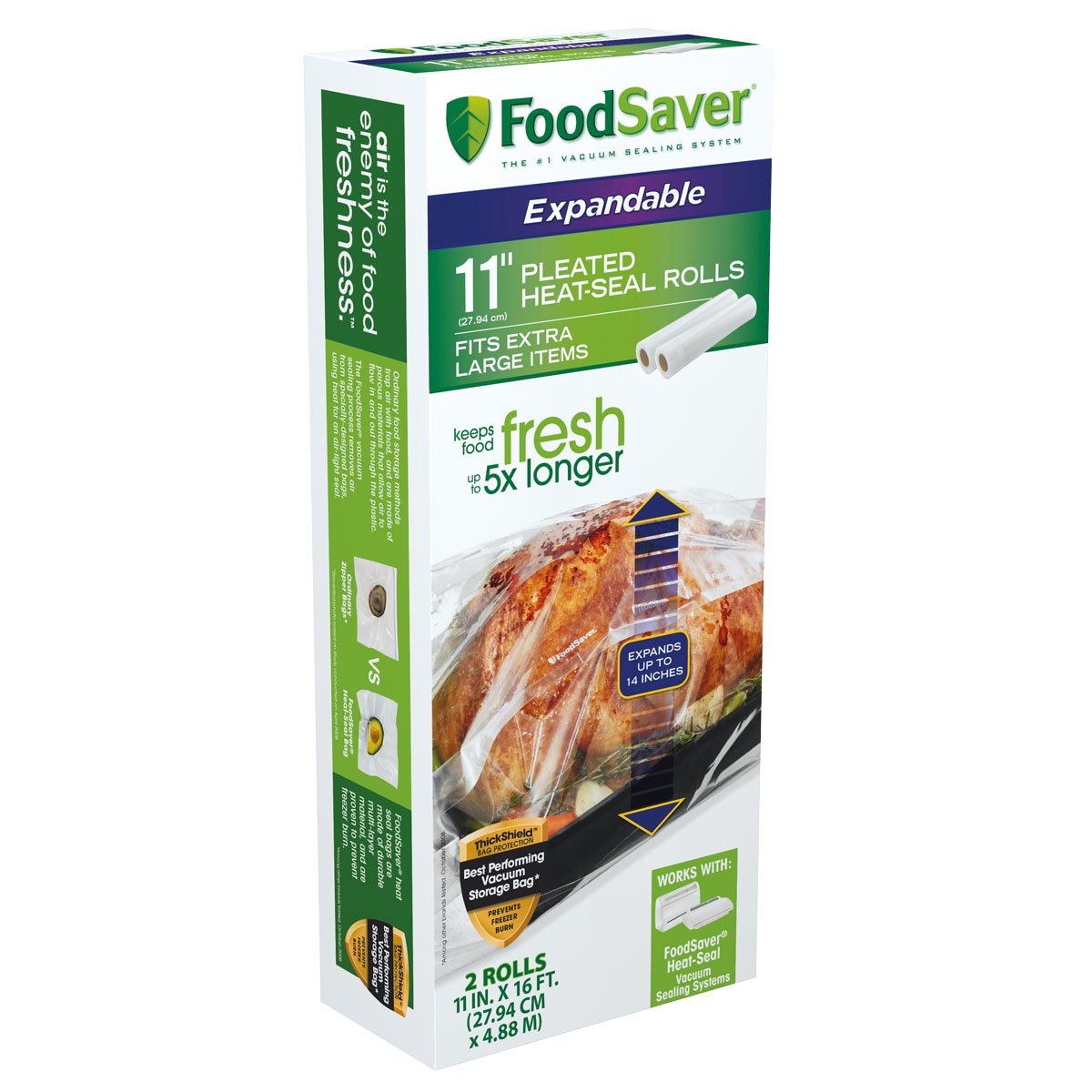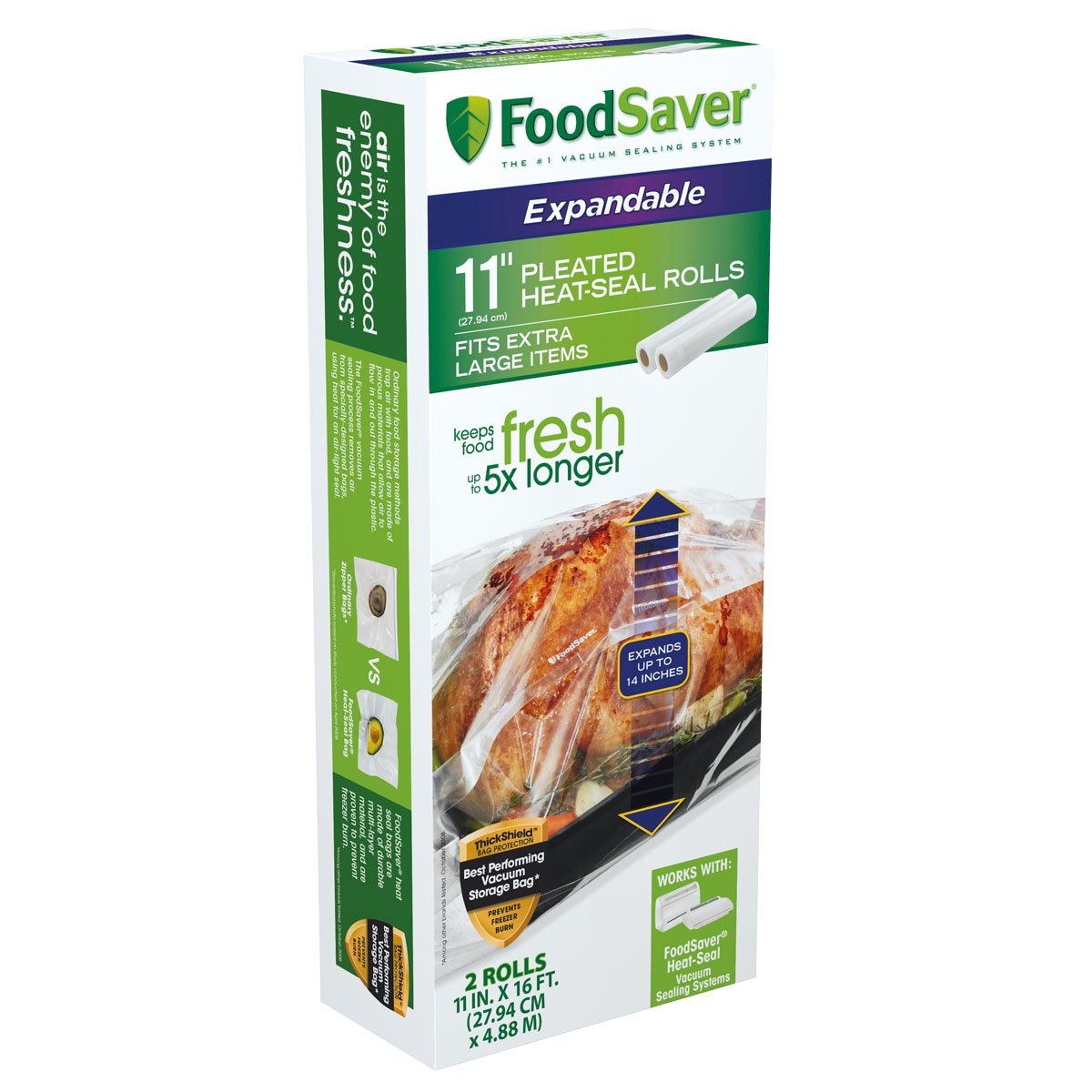 FoodSaver® 11" x 16' Expandable Vacuum Seal Rolls, 2 Pack
Become a FreshBucks Rewards member to earn points and save on FoodSaver purchases, Join Now
Already a member? Log in now
Final Sale: may not be returned or exchanged
Become a FreshBucks Rewards member to earn points and save on FoodSaver purchases, Join Now
Already a member? Log in now
Final Sale: may not be returned or exchanged
Want us to let you know when the item you wanted is back in stock?
---

Free Standard Shipping on Orders $50+

Free Express Shipping on Orders $100+ Details
---
Product Details
Description
The FoodSaver® Expandable Bag is the ultimate solution for storing extra large foods without cutting them up first. The Expandable Bag accommodates large roasts, whole turkeys, even casserole dishes with no mess and no fuss. Prepare meals ahead of time and transport them right in the pan without sacrificing freshness. BPA-free.
Features
2- 11" x 16' Expandable Vacuum-Seal Rolls
Multi-ply material prevents freezer burn
Specially designed channels block oxygen and moisture to maximize air removal
Simmer and microwave safe
BPA-free
Best performing vacuum bags (based on FoodSaver's 2020 competitive testing)
Included Parts
2- 11" x 16' Expandable Vacuum-Seal Rolls
Rated

5

out of

5
by
Farmer Jones
from
Whole chicken
Okay so here's the deal, if you follow the directions perfectly and flash freeze your bird for 1 hour prior to bagging, give yourself an extra 5 inches, and double seal, these bags will hold and seal a whole turkey or chicken every time without a problem. Some reviews say these won't seal or it's hard but if you show just a small amount of patience you will get the hang of it. I did over 50 home raised chickens in 2 days with these bags and each one turned out perfect. I would highly recommend these to anyone sealing whole birds. BTW my chickens dressed out at over 8lbs so they were pretty big and I still had room.
Date published: 2018-08-19
Rated

1

out of

5
by
Dummy
from
Too thick at folded edges.
I have used these on several occasions. I find that because the thickness of the bags is much thicker on the sides where the expandable part is, it does not seal completely all the time. I will never buy these again.
Date published: 2017-01-16
Rated

5

out of

5
by
Tonessa67
from
You won't believe what you can do!
I am a medieval/renaissance enthusiast. We decided to sous vide an entire suckling pig for a medieval feast. When researching this idea, one thought was to put the pig in a garbage bag and do a water replacement method. Well, I decided to try the expandable bag. Everyone was shocked but it worked perfectly. The pig came out perfectly and many stuffed (no pun intended) folks were happy! Thanks FoodSaver. These bags are a great idea!
Date published: 2019-04-10
Rated

1

out of

5
by
foody01
from
Not as good as the original
These rolls were the only ones available at my local Bed Bath and Beyond. I didn't realize they were pleated until I had them home. I use my Foodsaver constantly and these pleated bags were very difficult. They were difficult to cut, difficult to fill and very difficult to seal. It seemed I was using an extra large portion of bag and they didn't properly remove the air and seal. I will not buy this product again.
Date published: 2013-05-08
Rated

5

out of

5
by
Tina from PA
from
Useful type of bag
I like this type of bag. I got a promo roll with an order. I finally got to put it to good use. I recently bought high gluten flour for bagels, pizza, etc. I had to buy a commercial size of 50 lbs. to get more for my money. I divided the flour into 10 pounds in each of these bags. The expansion came in handy. I didn't have to make the bags too long because of the expansion. I think if I made bags from a regular roll, I would have had to use more. Plus, the filled bags sit nicely without falling over. I've also used this bag to wrap an entire leftover turkey, sort of like in the description photo, but without the pan.
Date published: 2021-03-15
Rated

5

out of

5
by
msembee
from
Great for casseroles!
Whenever I make a casserole, I try to double the recipe and make an extra to freeze for later. These bags have been the best at keeping the casseroles fresh for another meal. I freeze the casserole overnight first then take it out and put it in one of these bags. Works like a charm! On a busy day I just take it out to thaw in the morning and pop in the oven that night. Such a time saver!!
Date published: 2017-10-15
Rated

4

out of

5
by
brian56
from
great idea
I had an 8lb roast that would not fit in the 11" roll. This expandable roll worked out great. Was easy to use and a must for anyone with extra large items to seal.
Date published: 2012-12-08
Rated

5

out of

5
by
Big Daddy
from
Expandables
I've only used it once and that was to accommodate a casserole dish. There is no way I would have been able to do this with the regular size bags. It worked perfectly for the casserole dish!
Date published: 2016-10-23
Rated

5

out of

5
by
ziniti
from
Love the expandable bags!
These bags can be used to seal LOTS of items. I use them when I buy family sized trays of boneless chicken breasts. I put two trays in the bag and seal it. I use the chicken to make jerky treats for my dog and the dogs of family, friends and neighbors. When I'm ready to use the chicken, I open the bag, but save it to dispose of the smelly empty trays and other odor causing items. Using it that way not only keeps the chicken fresh, but also keeps my rubbish smelling fresh no matter the temperature, and keeps flies and maggots away! Yippee! I love the fact that I can now vacuum seal large items. I use it for roast turkeys, chickens and beef, as well. , The only draw back is the wasted ends. You need to over cut the size by at least 5". I hate wasting that much. But, overall, it's worth it!
Date published: 2014-08-22
Rated

2

out of

5
by
honeytapia
from
So excited to see this product
During the holidays I was wishing there were vacuum seal bags large enough for turkeys. Imagine my excitement when I actually saw them available now. I have tried them only once so far and not with much luck. I tried them on a half sized aluminum pan of lasagna. The Initial end appeared to seal fine, but when I vacuumed it the air didn't stay out. I attempted to reseal both ends, but no more air was suctioned out so I was stuck with a floppy bag full of air. The bag is a bit difficult to handle when folding the pleat on both left and right and trying not to have wrinkles in it. There is a lot of bag waste on the ends, also. So, my first attempt was not a success at all. I will try again soon and update the review. I would recommend these bags simply because they are large enough for turkeys, etc. Perhaps they take a bit of practice.
Date published: 2013-04-24
Rated

2

out of

5
by
Jane44
from
Not a fan
I am not a fan of this product and won't reorder. It is a great idea, but too hard to fold, tuck and get to seal. I can usually get it to work, but you really need two people to get wrinkles out and then try to seal it.
Date published: 2013-01-20
Rated

1

out of

5
by
ConsumerGuy
from
Please send a refund for the pleated bags...
The pleated bags are too difficult to seal. Maybe it has to do with our style of FoodSaver, the upright V3825. We are no rookies either, as we are using our second FoodSaver in a span of 15 years. Pretty frustrating....
Date published: 2014-01-19
Rated

1

out of

5
by
BobsYourUncle
from
flawed design
I get the need for an expandable bag. I often have things that won't quite fit in the regular bags. But, these bags are so cumbersome, I wonder if they were designed to use more (you need MORE than the 5" extra recommended for large items) or to make your vacuum sealer die before its time. Unfortunately, I bought a 3-pack and unpacked them all to store in my pantry or I would return all of the unused. Trying to get the wrinkles out is a true chore requiring you to handle the food to move things around. On my first few tries, I discarded 3+ feet of bags before getting it right. Now, I have to use almost double the plastic because you need so much extra to work the pleats flat. In fact, once you get into the inner parts of the roll, it is so wrinkled before you even cut, it is almost impossible to get them out. Add that to the fact that my vacuum sealer works overtime to 'not work' that it is running four or five times as long to seal each package. I recently replaced my old sealer - this is just a way to need a new one sooner! This product is a waste of plastic and frustrates what is typically an easy process. I am upset that I will need to use them - not waste them, but will never buy the expandable bags again. BTW - the resealable (zipper-style) bags that came with my sealer loose pressure after a week or so in the freezer - also a 'Do Not Buy.'
Date published: 2020-05-21
Rated

5

out of

5
by
lynnPA
from
Great Product!
I just love these expandable bags. It has opened up a better variety to my freezing needs than ever before. Now am I not only freezing vegetables out of my garden I can also freeze meats. Keep up the great work.
Date published: 2013-01-22
Rated

1

out of

5
by
No thanks
from
Expandable seal rolls
Super dissapointed. I spend more time trying to fit this into the vac seal than getting products into it. Sucks!
Date published: 2017-04-12
Rated

4

out of

5
by
Ready4WhateverComesMyWay
from
Not bad at all if you have a third hand
I found that using a pair of clip type clothes pins helped stabilize the bag while I was straightening out the wrinkles on each side. Once I got the hang of it, it was pretty simple. I will be making a simple clamp to help hold the bag while trying to insert it into the machine with a heavy load in the bag.
Date published: 2013-10-28
Rated

3

out of

5
by
Patti13
from
I'll stick with the regular bags
I ordered these expandable bags on a buy one get one free offer. I had trouble sealing them. I followed the instructions to the letter. No wrinkles, sealed twice etc. but I found that air still got into at least two bags of whole chickens. I'll stick to the regular gallon bags or the regular roll.
Date published: 2016-02-13
Rated

4

out of

5
by
llllizlll
from
The bags drive me CRAZY!!!!!!
The concept is awesome!!!! Until the end of the roll they wouldn't work. I raised my vote from a 2 star to a 4 star cause I found a way to make it work. I have used 2 hands and 4 and they never worked. The VERY Last bag I tried something. I taped the bag together in several places. 3 times on sides and 4 places on top. I used very little duct tape so as not to seal with bag or to keep bag from sealing. By myself I sealed the bag and not only did it vaccum it stopped AND sealed!!! I wish I had more to try, so when I have money, I will again with my experiment. Meanwhile, I hope they will read this review and maybe find a way to hold bag together easier than with the tape. Every time I would try to carefully get bag to be flat and then insert and it would crinkle in machine. Roll was given to me when I called to order other bags.
Date published: 2014-01-21
Rated

5

out of

5
by
PixieJean
from
Excellant Product
I purchased the 6 pack, it is a better deal and given that I go through so many rolls, it is a better value than the 2 pack box. The expandable bags are great for large roasts and weird shaped products. For Thanksgiving I always get my Turkey Breast early from the Honey Baked Ham store as I do with the Honey baked ham for Christmas. To preserve the freshness, I vacuum seal it and freeze it until the holiday.
Date published: 2020-05-01
Rated

5

out of

5
by
Chefking
from
The pleats really make this a useful purchase
I smoked 2 turkeys about 10.5 lbs each. I packaged 1 hot off the smoker to take to a dinner about 1 hour away. I put that into an insulated bag and it stayed hot and ready for carving. The other bird I left to cool, vacuum packed it and put it into the fridge. Took it out 5 days later, carved it up, portioned it out with side dishes, put into trays, used regular vacuum bags, froze them later use. I have found they last over a year. Put them into boiling water until hot and they are as good as the day they were made.
Date published: 2016-12-29
Rated

1

out of

5
by
john27
from
I thought my sealer was broken
I spent a week trying to vacuum seal corn, returned my sealer and exchanged it for a new one, it wasnt working, only to find out that it did not like to suck the air out of these,the bags that came with the food saver work great! the texture of these bags are different than the bags that come with the sealer. I dont recommend using these bags. I am leary about buying bags, not knowing if they will work or not.
Date published: 2013-08-15
Rated

1

out of

5
by
wesleygg
from
I bought these by mistake, but thought they'd be fine, boy was I wrong! It's ridiculous to try to reline the sides so there is no wrinkle, so they take several tries to get them sealed, not to mention the extra 5" you have to use. Then I went to lightly wipe near the seal & it opened! So I went back and put a second seal on everyone I had just sealed. I was only sealing small pork tenderloins. I will never make this mistake again!
Date published: 2017-03-01
Rated

5

out of

5
by
Daphne456
from
Great Stuff!
We are in Florida and we fish a lot... vacuum sealing the fish keeps them fresh as the day they were caught! Don't know how we lived without this tool! The canisters are great too! Love apples but they spoil anything near it! We vacuum apples in the canisters and not only do they last longer, they don't spoil things around it! Great product!
Date published: 2013-01-23
Rated

1

out of

5
by
jfrrt
from
not doing the job
I am on my fourth or fifth Food Saver, so I know how to use the machine. It was impossible to get all the air out almost every time I used one of these bags. Yes, they are a great idea for large items...as long as you don't need an air tight seal.
Date published: 2013-12-30
Rated

1

out of

5
by
heatjam98
from
A lesson in patience...
I, like most of the reviewers, love my FoodSaver sealer, but these bags (in my humble opinion) are horrible. I actually bought them by accident thinking that I was grabbing my regular ones. When I first opened the box, I thought it looked like a cool concept... and then I tried using them. They were impossible to fold the excess flat enough to get it to seal right on the first time. After several attempts and beginning to feel like I wanted to throw everything out the back door, I cut a much larger piece and started over. It took at least a third more than what I would use with standard bags before it finally sealed. Of course, several weeks later I also discovered that half of the bags lost the seal. I was just glad that I discovered it before everything got freezer burned. And then there is the wrinkled, nearly impossible to straighten, piece at the end of the roll which was the last straw and what prompted this less than flattering review. Sorry, won't buy again.
Date published: 2017-10-06
Rated

5

out of

5
by
Experienced Shopper
from
Works Great!
I've used these for freezing whole wild turkeys and it works great! Before this expandable roll we had to overlap freezer paper to cover the bird which didn't work well at all. I've used the expandable roll for other large items also such as a large ham. Very useful addition to my collection of Foodsaver rolls!
Date published: 2017-10-12
Rated

5

out of

5
by
karen50
from
SEALER OF LARGE ITEMS
These bags are awesome - I have used them several times now to seal up the following: Full 15 pound turkey carcass with the left over meat for boiling later; an 11 pound boneless ham, and another 10 pound bone-in spiral ham; and lastly have sealed up trays of manicottis & stuff shells and baked mac and cheese. You must leave the extra 5inches to get the bags to fold and seal just right; but it is so worth it. I will re-buy these bags when I use up my current supply.
Date published: 2015-03-29
Rated

1

out of

5
by
rancher
from
this product was very hard to use
this product was very hard to use. Getting it to fold properly at the sides before sealing was definitely a challenge. Often they wouldn't seal. I found that you had to use about a foot beyond the product you were sealing to make them work. They expand well but not worth the money in wasted bag space.
Date published: 2015-09-11
Rated

5

out of

5
by
Fairy
from
Excellent concept
This expandable bags are perfect for marinating my rack of ribs. I always used aluminum foil to store my dry rub ribs in the fridge and it was such a mess with bones poking holes in the foil. Now I pop my dry rubbed ribs into an expandable bags and viola. No mess in the fridge overnight.
Date published: 2017-03-15
Rated

1

out of

5
by
donbowhunter
from
Don't waste your time or money worst product ever
I purchased this hoping to put the venison roast in almost impossible to use and very wasteful. I've been using food saver products since they came out on the market.
Date published: 2016-11-09
bvseo_sdk, dw_cartridge, 18.2.0, p_sdk_3.2.0
CLOUD, getReviews, 0ms
reviews, product
---
<!--begin-bvseo-questions--> <!--begin-questions--> <div id="bvseo-questionsSection"> <div class="bvseo-question-answer" data-questionid="4482776"> <h2 class="bvseo-question"> If the product isn&#39;t available online, where can I purchase it? I&#39;m looking for bags to fit casseroles in. </h2> <div class="bvseo-question-detail"> </div> <div class="bvseo-author">Asked by: Becca1278</div> <div class="bvseo-answer" data-answerid="5195060"> We deeply apologize for the delay. We appreciate your patience as we are diligently working on replenishing our stock. We do not have a firm date as to when this item will be available. But rest assured that our retailers will surely have the FoodSaver&amp;reg; 11&amp;quot; x 16&#39; Expandable Vacuum Seal Rolls, 2 Pack for you. You can check our list of retailers using the link below: &#13;&#10;&#13;&#10;https://www.foodsaver.com/service-and-support/find-a-retailer/find-a-retailer.html <div class="bvseo-author">Answered by: FoodSaver Brand</div> <div class="bvseo-pubdate">Date published: 2020-06-05</div> </div> </div> <div class="bvseo-question-answer" data-questionid="4428036"> <h2 class="bvseo-question"> Does those bags works with model: V4880? </h2> <div class="bvseo-question-detail"> </div> <div class="bvseo-author">Asked by: Alejo1</div> <div class="bvseo-answer" data-answerid="5163360"> Great question! Yes, it will definitely work with the FoodSaver v4880 model. Our FoodSaver&amp;reg; 11&amp;quot; x 16&#39; Expandable Vacuum Seal Rolls, 2 Pack is compatible with almost all of our machines. Hope this helps and always stay safe! <div class="bvseo-author">Answered by: FoodSaver Brand</div> <div class="bvseo-pubdate">Date published: 2020-05-14</div> </div> </div> <div class="bvseo-question-answer" data-questionid="4407622"> <h2 class="bvseo-question"> How many bags on a roll? </h2> <div class="bvseo-question-detail"> </div> <div class="bvseo-author">Asked by: Ringlvr</div> <div class="bvseo-answer" data-answerid="5150884"> Great question! it depends on what item you put in the bag and how you cut them determines how many bags you can make from each roll. <div class="bvseo-author">Answered by: FoodSaver Brand</div> <div class="bvseo-pubdate">Date published: 2020-05-08</div> </div> </div> <div class="bvseo-question-answer" data-questionid="4385602"> <h2 class="bvseo-question"> Shows item in stock, will not let me add to cart. Have one item in cart already, but this item will not go into the cart. Cart button is not greyed out, acts like it is going to add to cart, but does not put it in the cart. </h2> <div class="bvseo-question-detail"> </div> <div class="bvseo-author">Asked by: Amethyst</div> <div class="bvseo-answer" data-answerid="5138869"> We&#39;re sorry to hear that the FoodSaver&amp;reg; website is not meeting your expectations. We pride ourselves on being the best in the business and would like the opportunity to turn this experience around for you. For us to assist you with the issue you are experiencing, please give us a call at 877-777-8042 or send us a direct message via live chat here on the website and allow us to turn this experience around for you. Our representatives are available from 9 am to 6 pm Mon to Fri, EST and 9 am to 6 pm Saturday, EST. <div class="bvseo-author">Answered by: FoodSaver Brand</div> <div class="bvseo-pubdate">Date published: 2020-04-29</div> </div> </div> <div class="bvseo-question-answer" data-questionid="4365332"> <h2 class="bvseo-question"> I want to purchase the 3 rolls for 39.99 but I don&#39;t see a button for it. How do I do it? The 2 rolls for 25.99 are the same price at the store. </h2> <div class="bvseo-question-detail"> </div> <div class="bvseo-author">Asked by: Judith718293</div> <div class="bvseo-answer" data-answerid="5135735"> We currently have no option to modify the existing promotions we have on our system. Please consider purchasing the package deal for 2 rolls or 4 rolls accordingly. <div class="bvseo-author">Answered by: FoodSaver Brand</div> <div class="bvseo-pubdate">Date published: 2020-04-28</div> </div> </div> <div class="bvseo-question-answer" data-questionid="4380424"> <h2 class="bvseo-question"> how many bags in a roll </h2> <div class="bvseo-question-detail"> </div> <div class="bvseo-author">Asked by: pattid</div> <div class="bvseo-answer" data-answerid="5130581"> Thank you for your question! It depends on which item you put in the bag and how will you cut them determines how many bags you can make. <div class="bvseo-author">Answered by: FoodSaver Brand</div> <div class="bvseo-pubdate">Date published: 2020-04-24</div> </div> </div> <div class="bvseo-question-answer" data-questionid="4221551"> <h2 class="bvseo-question"> Will these bags fit over a 9x13 casserole dish? </h2> <div class="bvseo-question-detail"> </div> <div class="bvseo-author">Asked by: Rory0911</div> <div class="bvseo-answer" data-answerid="5083026"> Great question! These bags can expand both up and out as the sides are pleated. <div class="bvseo-author">Answered by: FoodSaver Brand</div> <div class="bvseo-pubdate">Date published: 2020-03-26</div> </div> </div> <div class="bvseo-question-answer" data-questionid="3317720"> <h2 class="bvseo-question"> Can you brine a turkey using these rolls? Will the fluid be evenly distributed around the bird? </h2> <div class="bvseo-question-detail"> </div> <div class="bvseo-author">Asked by: Jbell</div> <div class="bvseo-answer" data-answerid="3539627"> Thank you for asking! We haven&#39;t tested our bags for this purpose, however, we do not recommend sealing bags for of liquid as moisture could not only compromise your seal but also cause damage to the vacuum sealer itself if pulled inside. <div class="bvseo-author">Answered by: FoodSaver Support</div> <div class="bvseo-pubdate">Date published: 2018-11-26</div> </div> </div> <div class="bvseo-question-answer" data-questionid="3257952"> <h2 class="bvseo-question"> Is this compatible with the FM5460 model? </h2> <div class="bvseo-question-detail"> </div> <div class="bvseo-author">Asked by: Quap</div> <div class="bvseo-answer" data-answerid="3495576"> They certainly are! The FM5460 can accommodate all of our current rolls (except the 15&amp;quot; wide rolls) and pre-made bags. <div class="bvseo-author">Answered by: FoodSaver Support</div> <div class="bvseo-pubdate">Date published: 2018-10-15</div> </div> </div> <div class="bvseo-question-answer" data-questionid="3200735"> <h2 class="bvseo-question"> How or is it ok to vacuume seal fresh cookie? </h2> <div class="bvseo-question-detail"> </div> <div class="bvseo-author">Asked by: Jodylynngs</div> <div class="bvseo-answer" data-answerid="3454330"> Vacuum sealing cookies is easy with the FoodSaver. Simply place them in the bag and vacuum seal! <div class="bvseo-author">Answered by: FoodSaver Support</div> <div class="bvseo-pubdate">Date published: 2018-09-04</div> </div> </div> <div class="bvseo-question-answer" data-questionid="3181510"> <h2 class="bvseo-question"> I can see how these bags would expand to accommodate tall food, but how about a 13&amp;quot; frozen pizza from the grocery, when the bad must expand in the other direction to over 13&amp;quot;? </h2> <div class="bvseo-question-detail"> </div> <div class="bvseo-author">Asked by: gowens3262</div> <div class="bvseo-answer" data-answerid="3439844"> Great question! These bags can expand both up and out as the sides are pleated. <div class="bvseo-author">Answered by: FoodSaver Support</div> <div class="bvseo-pubdate">Date published: 2020-10-12</div> </div> </div> <div class="bvseo-question-answer" data-questionid="2955496"> <h2 class="bvseo-question"> I have wedding cake top that is 9&amp;quot; round buy 7&amp;quot; high. Will a 11x16 expandable vacuum bag work for this. Also, will it stay fresh for one year in this kind of vacuum bag? Please let me know asap. Thanks </h2> <div class="bvseo-question-detail"> </div> <div class="bvseo-author">Asked by: Sally Parker</div> <div class="bvseo-answer" data-answerid="3232433"> Yes, these rolls can accommodate your 9&amp;quot; x 7&amp;quot; cake, as they expand up to 14 inches. When you vacuum-seal your food and you place them in the freezer, they will last up to 5x longer compared to non-vacuum storage methods. If you have any further questions, feel free to send us a direct message via live chat here on the site. For your convenience our chat team is available Mon-Sat 9am-6pm, EST. <div class="bvseo-author">Answered by: FoodSaver Support</div> <div class="bvseo-pubdate">Date published: 2018-04-20</div> </div> </div> <div class="bvseo-question-answer" data-questionid="2882159"> <h2 class="bvseo-question"> how do you seal this bag. we&#39;re sure it&#39;s easy but can&#39;t see it yet. </h2> <div class="bvseo-question-detail"> </div> <div class="bvseo-author">Asked by: Garylynn</div> <div class="bvseo-answer" data-answerid="3134565"> Yes! You vacuum seal these FoodSaver&amp;reg; 11&amp;quot; x 16&#39; Expandable Vacuum Seal Rolls just like you would a regular roll / bag. <div class="bvseo-author">Answered by: FoodSaver Support</div> <div class="bvseo-pubdate">Date published: 2020-10-06</div> </div> </div> <div class="bvseo-question-answer" data-questionid="2621365"> <h2 class="bvseo-question"> How much do these bags expand? </h2> <div class="bvseo-question-detail"> </div> <div class="bvseo-author">Asked by: Barb34</div> <div class="bvseo-answer" data-answerid="2880748"> This rolls / bags can be expanded up to 14&amp;quot; to accommodate these large foods. Happy sealing! <div class="bvseo-author">Answered by: FoodSaver Support</div> <div class="bvseo-pubdate">Date published: 2018-08-26</div> </div> </div> <div class="bvseo-question-answer" data-questionid="2436936"> <h2 class="bvseo-question"> Having trouble ordering now the item has a different price </h2> <div class="bvseo-question-detail"> </div> <div class="bvseo-author">Asked by: maria1</div> <div class="bvseo-answer" data-answerid="2713663"> For assistance with placing an order, please contact us at (877) 777-8042. Our FoodSaver specialists are available Monday-Friday 8am-8pm EST, Saturday 9am-6pm EST. We look forward to hearing from you! <div class="bvseo-author">Answered by: FoodSaver Support</div> <div class="bvseo-pubdate">Date published: 2017-11-02</div> </div> </div> <div class="bvseo-question-answer" data-questionid="2350452"> <h2 class="bvseo-question"> Can you sous vide with these bags???? </h2> <div class="bvseo-question-detail"> </div> <div class="bvseo-author">Asked by: bonerep</div> <div class="bvseo-answer" data-answerid="2650144"> Yes, our heat-seal bags and rolls are recommended for regular sous vide cooking method with a temperature range of up to 185&amp;deg; F. <div class="bvseo-author">Answered by: FoodSaver Support</div> <div class="bvseo-pubdate">Date published: 2019-01-28</div> </div> </div> <div class="bvseo-question-answer" data-questionid="2326126"> <h2 class="bvseo-question"> what does add 2x to activate mean? </h2> <div class="bvseo-question-detail"> </div> <div class="bvseo-author">Asked by: jayfredmugs</div> <div class="bvseo-answer" data-answerid="2627923"> Add 2X will be next to participating items on the Buy One Get One promotion. This means that to activate the BOGO sale, you have to add 2 of the same item to your cart. <div class="bvseo-author">Answered by: FoodSaver Support</div> <div class="bvseo-pubdate">Date published: 2017-07-31</div> </div> </div> <div class="bvseo-question-answer" data-questionid="2310066"> <h2 class="bvseo-question"> All the Expendable bags compatible with v2244 </h2> <div class="bvseo-question-detail"> </div> <div class="bvseo-author">Asked by: RNJulia</div> <div class="bvseo-answer" data-answerid="2614650"> Yes, the expandable rolls are just like any other 11&amp;quot; roll and they fit in any FoodSaver system, including your V2244. <div class="bvseo-author">Answered by: FoodSaver Support</div> <div class="bvseo-pubdate">Date published: 2018-08-26</div> </div> </div> <div class="bvseo-question-answer" data-questionid="2310068"> <h2 class="bvseo-question"> Are the expandable bags compatible with v2244 </h2> <div class="bvseo-question-detail"> </div> <div class="bvseo-author">Asked by: RNJulia</div> <div class="bvseo-answer" data-answerid="2614626"> Yes, your FoodSaver V2244 is compatible with all FoodSaver bags &amp;amp; rolls, excluding the 15&amp;quot; rolls. <div class="bvseo-author">Answered by: FoodSaver Support</div> <div class="bvseo-pubdate">Date published: 2017-07-19</div> </div> </div> <div class="bvseo-question-answer" data-questionid="2293803"> <h2 class="bvseo-question"> what preparation dose it take to seal avacados asparagus to freeze </h2> <div class="bvseo-question-detail"> </div> <div class="bvseo-author">Asked by: money pincher 2</div> <div class="bvseo-answer" data-answerid="2598029"> For best results preserving avocados, we would recommend you cut them in half and remove the seed. <div class="bvseo-author">Answered by: FoodSaver Support</div> <div class="bvseo-pubdate">Date published: 2017-06-29</div> </div> </div> <div class="bvseo-question-answer" data-questionid="4743520"> <h2 class="bvseo-question"> Can you cook in the expandable bags, roasts or ribs </h2> <div class="bvseo-question-detail"> </div> <div class="bvseo-author">Asked by: JenA</div> </div> <div class="bvseo-question-answer" data-questionid="4584063"> <h2 class="bvseo-question"> Hi. I want to vacuum full racks of pork spare ribs. Will they fit in these expandable bags? And will these bags work with model FFS016X? </h2> <div class="bvseo-question-detail"> </div> <div class="bvseo-author">Asked by: macnmotion</div> </div> <div class="bvseo-question-answer" data-questionid="3565791"> <h2 class="bvseo-question"> After freezing food can you put bag and food in boiling water to cook? </h2> <div class="bvseo-question-detail"> </div> <div class="bvseo-author">Asked by: curious 12</div> </div> <div class="bvseo-question-answer" data-questionid="3732913"> <h2 class="bvseo-question"> Would it be possible to use the expandable roll for a 9 1/2 by 8 inch 3 divided food container for meal prep? </h2> <div class="bvseo-question-detail"> </div> <div class="bvseo-author">Asked by: Robin2372</div> </div> <div class="bvseo-question-answer" data-questionid="3668515"> <h2 class="bvseo-question"> How many bags on a roll? </h2> <div class="bvseo-question-detail"> </div> <div class="bvseo-author">Asked by: Rindie</div> </div> <div class="bvseo-question-answer" data-questionid="3567926"> <h2 class="bvseo-question"> What type of plastic is this? I can recycle films near me, but only if it&amp;rsquo;s #2 or #4 plastic film.&amp;nbsp; </h2> <div class="bvseo-question-detail"> </div> <div class="bvseo-author">Asked by: DebDebDeb</div> </div> </div> <script type="text/javascript"> if (document.getElementById('bvseo-questionsSection')) { document.getElementById('bvseo-questionsSection').style.display = 'none'; } </script> <!--end-questions--> <ul id="BVSEO_meta" style="display:none!important"> <li data-bvseo="bvDateModified">y_2022, m_5, d_16, h_21CST</li> <li data-bvseo="ps">bvseo_bulk, prod_bvqa, vn_bulk_3.0.27</li> <li data-bvseo="cp">cp_2, bvpage2n</li> <li data-bvseo="co">co_hasquestionsanswers, tq_34</li> <li data-bvseo="cf">loc_en_US, sid_SP_447028, prod, sort_[SortEntry(order=LAST_APPROVED_ANSWER_SUBMISSION_TIME, direction=DESCENDING)]</li> <li data-bvseo="diagnostics">clientName_foodsaver</li> </ul> <!--end-bvseo-questions--> <ul id="BVSEOSDK_meta" style="display: none !important;"> <li data-bvseo="sdk">bvseo_sdk, dw_cartridge, 18.2.0, p_sdk_3.2.0</li> <li data-bvseo="sp_mt">CLOUD, getContent, 0ms</li> <li data-bvseo="ct_st">questions, product</li> </ul>
product-detail-view
oos-pdp